Making some quick cash by placing bets, winning games, or chancing your luck at an online casino might seem like harmless fun. However, using the wrong website can quickly lead to disappointment and regret.
Fortunately, there are trustworthy sites out there, and one of them is 1xBet.com. As a bookmaker website with an Eastern European background, 1xBet has gained popularity in Europe, Africa, and the CIS (Commonwealth of Independent States) countries.
If you want to know more, you've come to the right place as we do a full 1xBet.com review.
About 1xBet.com
1xBet.com is a bookmaker website, which launched back in 2007. It has a Curacao license and more than 400,000 active players.
Because of its Eastern European background, most of its users come from CIS countries, like Ukraine, Georgia, Azerbaijan, Belarus, and Armenia. However, the site is also popular in Germany, Portugal, and Africa, where it has obtained local licenses.
1xBet stands out of the pack thanks to its high odds, rich live betting section, and quick withdrawals. The online bookmaker offers you several categories to bet your money, whether you're a soccer fan, UFC enthusiast, or follow basketball, among much more.
Features of 1xBet.com
1xBet offers a broad selection of betting opportunities, spanning from sporting events, TV games, and online casinos. The website hosts a forum that launches several competitions every month, and an annual tournament for the most active users called the 1xBet Cup.
Types of Bets
1xBet offers multiple markets on specific events that you can bet on. This includes European handicap, run of play, correct score, and team to score first. The site also provides a range of selections on international games, either at the club or country level.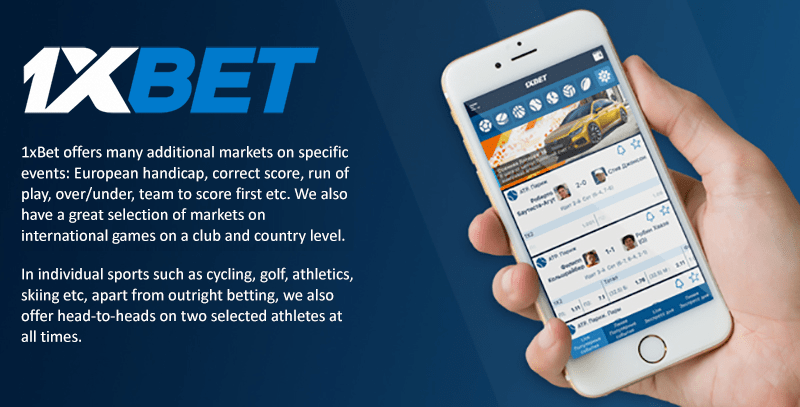 You can choose between bets like singles, system, accumulators, and chain bets. There's also TOTO-15 and TOTO Correct Score.
Here's a quick breakdown of the various bets you can participate in:
Sports
The bookmaker's Sportsbook comprises over 1,000 daily events where you can bet on several popular sports, including:
Volleyball
Golf
Ice hockey
Boxing
Basketball
Tennis
Table tennis
Biathlon
Hockey
American football
Soccer
Aussie rules
Bandy
Cricket
Formula 1
Cycling
Curling
Ski jumping
Inline hockey
Water polo
Snooker
Floorball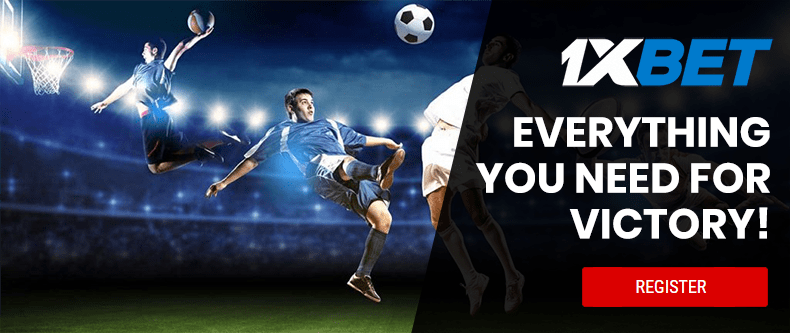 1xBet.com states that you can place bets on several sporting events, depending on what you're interested in or feeling lucky with.
Live Bets
You also have the opportunity to place live, in-the-moment bets in most of the sports categories. Here you can bet on yellow cards, free kicks, corners, among others.
Why Join
If you enjoy the excitement of betting, 1xBet has a lot to offer. Its more than 60,000 monthly events span across over 50 sports genres. Additionally, if you're a soccer fan, the bookmaker has even more to offer.
Soccer lovers can place bets on over 500 exotic bets, such as Penalty Awarded, How the Goals Will Be Scored, and Cards and Corners.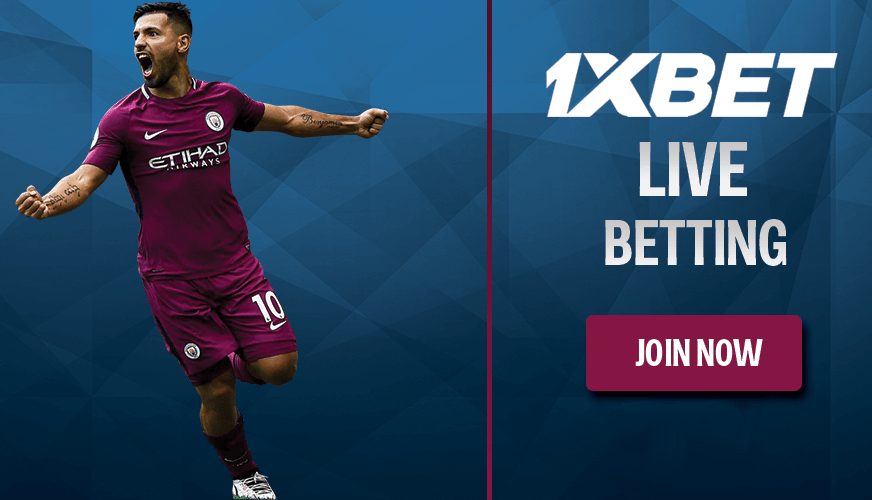 Besides soccer, basketball and tennis enthusiasts will find various alternative HCs. There are also a significant number of political, entertainment, and outrights bets.
To enhance your user experience, 1xBet offers features such as the Bet Builder, Asian View, and Edit My Bet.
On sections such as the live betting, you can expect a high payout of 97% on W-D-W and secondary markets. Besides placing bets on the sports listed above, live betting offers categories including horse and greyhound racing.
FC Barcelona Partnership
As of 2019, 1xBet agreed on a new partnership with FC Barcelona, making the betting company a Global Partner for five seasons. The agreement began July 1st, 2019, and will continue until June 30th, 2024.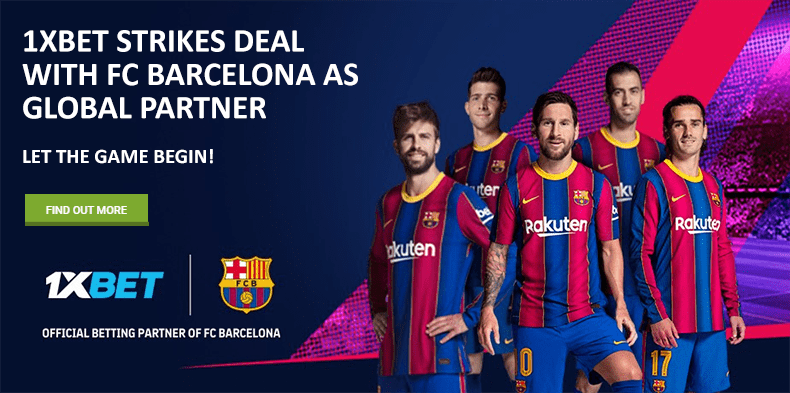 The bookmaker company states that FC Barcelona hopes to continue its global expansion through the partnership while highlighting the importance of building strategic alliances in different categories. This is to raise awareness and establish a dominant position both on and off the field.
The soccer club and 1xBet will collaborate on several scopes of assets through the partnership, including access to the player for marketing campaigns and promotional materials.
Registration Process
1xBet's registration process is straightforward. Once you open the website, you begin at the home page. From there, you'll see the "Registration" button at the top right of your screen—click it, and it will direct you to the enrollment page.
However, it does give you a choice between four registration mediums:
One-Click
With the "One-Click" registration medium, you have to select your country of residence and preferred currency. Following this, click the "Register" button, and it will take you to the page where you'll get your username and password—1xBet will provide these details, so note them for future reference.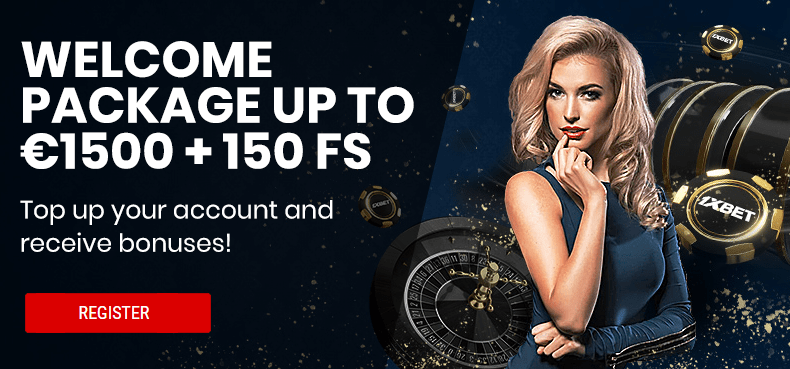 By Phone
If you want to register through your phone, choose the "By Phone" process. Select your country of residence and enter your phone number. Click "Send SMS," and the website will send you a confirmation code, which you have to enter in the directed section.
The bookmaker will then ask you to choose your currency, followed by the "Register" button. It will redirect you to the page where you get your username and password. Remember to write them down.
By Email
When registering by email, you have to select your country of residence, current city, region, and preferred currency. Next, it will ask for your email address, first name, and surname.
As you register by email, the site allows you to choose your own password, as long as it complies with its conditions.
Social Networks and Messengers
The last option is to register through social networks. Again, here you have to select your country of residence and the currency you want to use on 1xBet. Next, choose the social media platform you wish to register through—connect your account and select the "Register" button.
The site will take you to a new page to give you your username and password; jot these down for future reference.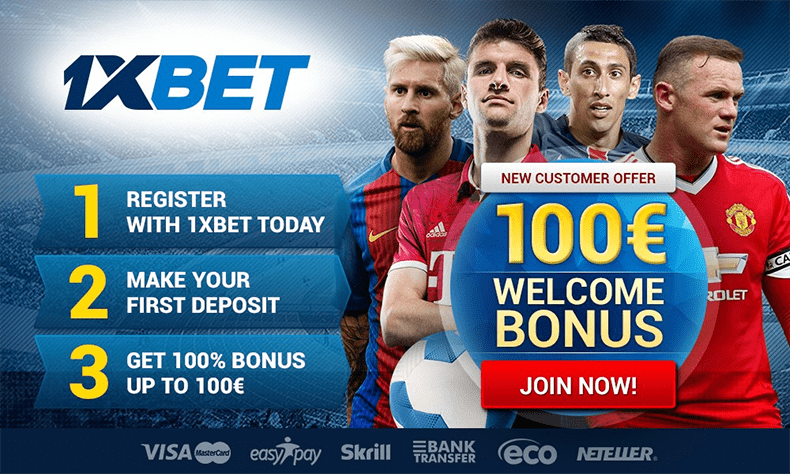 My Account
Once you're registered at 1xBet, select the "My Account" button at the top right of the page. Here it will ask you to fill in a few more details about yourself. This is to be eligible for the website's welcome offer and unlock all the features available.
However, keep in mind that it won't direct you to the deposit page; you have to visit this section before you can start betting.
Deposits and Withdrawals
After you've registered and set up your account details, it's time to place a deposit, so you can begin betting.
You'll find the "Deposit" button on the home page at the top right of the screen. However, we suggest that before you make a deposit, explore the different markets to ensure you set yourself up for success.
Because of its global presence, 1xBet offers roughly 200 payment options. These include:
MuchBetter
Cash on Delivery
You could use credit cards in the past, but the site banned this method as of 2020.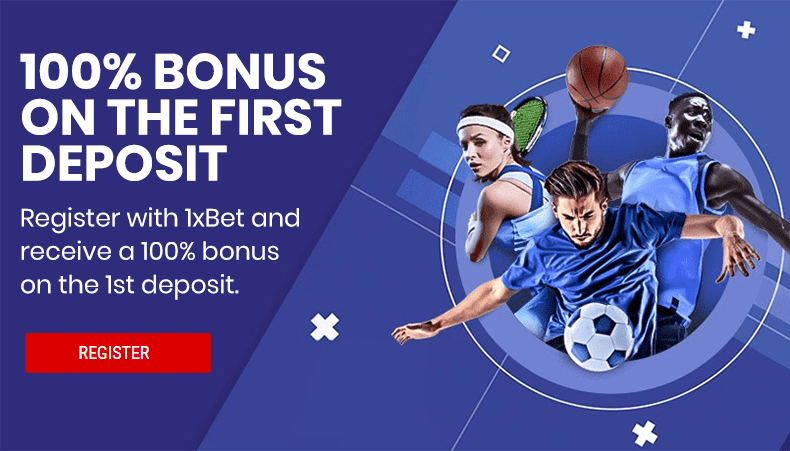 The minimum deposit amount you can offer is €1.00, although the maximum depends on the various deposit options. 1xBet also allows you to choose between 25 cryptocurrencies, a more unique feature of this bookie than its competitors.
One of the more unusual options is the "Cash on Delivery." Here, 1xBet sends out a customer support representative to your address to collect the funds you want to deposit. However, as of writing, we're unsure if additional fees apply for this option or what the minimum deposit amount is.
Still, on any of the other options, 1xBet doesn't charge any withdrawal or deposit fees, and it processes deposits almost instantly.
With that said, before you withdraw your winnings from the bookmaker, it may ask you to submit documents to verify your identity.
Withdrawals through bank transfer can take anywhere from one to seven working days. Other withdrawal methods are generally processed in 24 hours.
License and Overall Security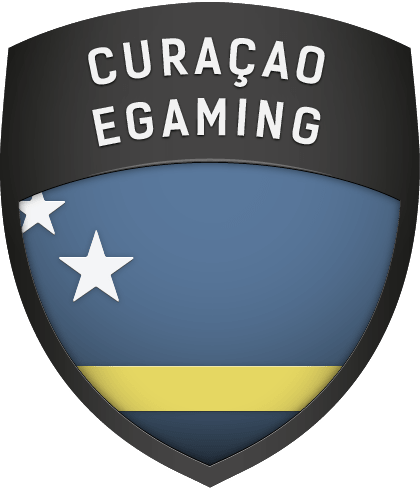 The bookmaker works under the Curacao Gaming Authority license and is currently legally available in over 50 countries. It also has a grant from the Betting Control and Licensing Board, allowing 1xBet to operate in Kenya.
Additionally, it holds a license in Nigeria, allowing it to operate until the year 2024. Because it's quite popular in African countries, it gained licenses in Senegal, Ghana, Cameroon, Uganda, DRC, and Burundi.
When it comes to safety, all transactions on the site are SSL encrypted, and your personal information and funds are not leaked to any third-party organizations.
The only potential drawback is that the bookie doesn't offer a responsible gambling section, meaning that there's essentially no limit on your betting. It's crucial that you take responsibility and resist overindulging, which could otherwise result in you losing a significant amount of money.
Conclusion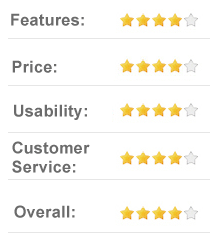 Online bookmakers are a fantastic way to earn some fast cash, and 1xBet.com is a great bookie to get started on. With low minimum deposits, several currencies available, and a plethora of sports, games, and entertainment to choose from, it's a versatile site, suitable for anyone.
However, always bet responsibly and limit yourself to avoid losing your money.