If you're a restaurant owner or manager, you know that creating a schedule, adjusting it when something changes with an employee, and changing it again when another employee has a conflict can feel like a full-time job.
Furthermore, you need to take overtime, time off, and shift breaks into account.
That's where 7Shifts.com comes into play. Not only will 7Shifts return your precious time so that you can work on more challenging tasks, but it'll do its job managing repetitive restaurant employee paperwork more accurately than a human.
About 7Shifts.com
7Shifts is a company built by Jordan Boesch, who watched his dad struggle with creating shift schedules for his Quiznos employees.
Jordan believed there had to be a less time-consuming approach, so he began developing 7Shifts, team management software that over 500,000 happy restaurant workers currently use.
Since its inception in 2014, 7Shifts has strived to support restaurants to manage their employees better. As a result, both the workers and customers are happier and receive a more customized experience.
Aside from automating employee schedules, 7Shifts.com also supports managers with hiring, retaining talent, paying employees, and more.
Currently, more than 25,000 restaurants use 7Shifts across North America. One of the best parts about 7Shifts is that employees can actively engage with the app, making them feel like they have more of a say with their schedule and being able to track their payments.
Given that 7Shifts has helped managers schedule one billion restaurant shift hours, it's no wonder that this company has several awards under its belt, including being a category leader on GetApp.
Top Features of 7Shifts.com
By signing your restaurant up for 7Shifts, you'll have access to numerous features. Keep in mind that some of the features below are dependent on the pricing tier, so read what's included carefully before choosing the best fit plan for your business.
Restaurant Scheduling
Restaurant scheduling is one of the most iconic features of 7Shifts. A mobile app makes it easy for you to check, update, and change shift assignments at your restaurants.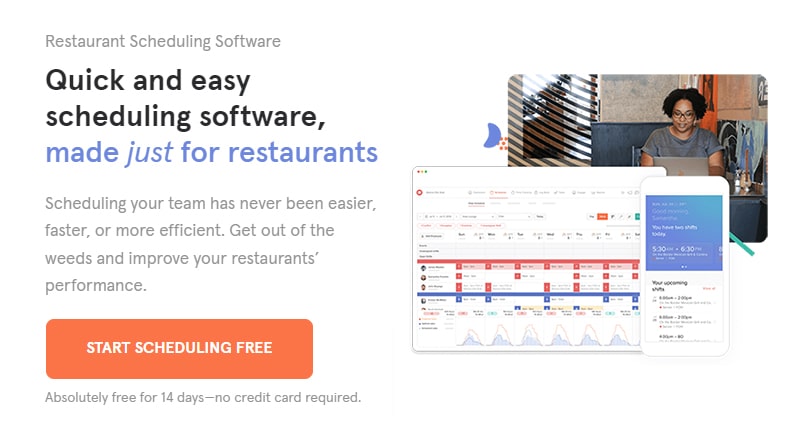 You can review the schedule for any period you need, and if you make a schedule change, the platform will automatically notify the affected staff members.
Employee Attendance Support
There are fewer bigger challenges in the restaurant business than when employees call in sick or request late-minute schedule changes. With 7Shifts, your staff can find other people to cover their shifts via the Shift Pool without involving you.
It also offers a "Find Who's Available" feature to quickly identify a staff member who can cover a shift during a no-show or call-out situation.
Time Clocking
Using 7Shifts' software makes tracking time a breeze. Your employees can clock their time on a tablet, smartphone, or POS. Then, 7Shifts will catch inconsistencies.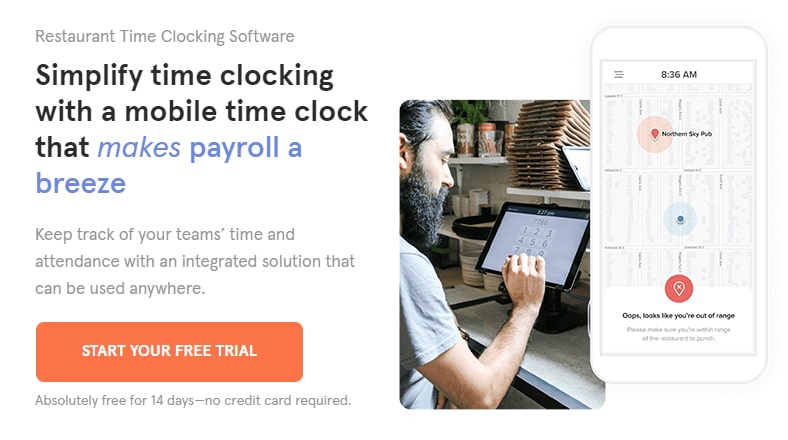 For example, it'll prevent early clock-ins, take a photo of the employee at the restaurant, and ensure the GPS location of the clocked-in device matches your restaurant's location.
Communication App
The communication app will notify your staff about their upcoming shifts, keep everyone up-to-date with announcements, and have private communication with managers.
You'll also see when staff read your messages or notifications so that no one can say they didn't get a memo.
Restaurant Reporting
The restaurant reporting dashboard offers a quick overview of the most pertinent restaurant stats for you to know how your business is running.
For example, you can compare the number of sales made to the number of employees you had during that time and how much that labor cost.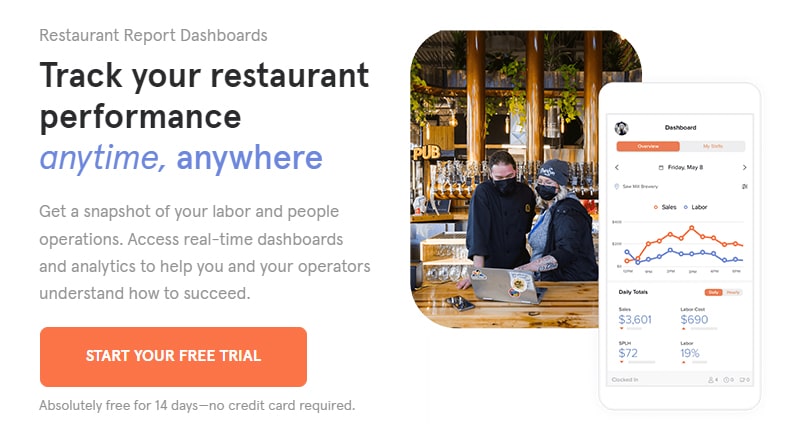 That way, you'll know if you're over or under compensating the amount of staff you need during different hours of operation.
Manager Log Book
The manager log book decreases the amount of phone communication managers need to have by 70%. Furthermore, it allows you to stay up-to-date on daily operations, including sharing shift notes and follow-up tasks with other managers.
Prevents Labor Penalties
7Shifts will alert you if you're on the brink of making a shift change that can run you into trouble with local labor laws. Therefore, you'll ensure that there are enough breaks built within the schedule for all employees.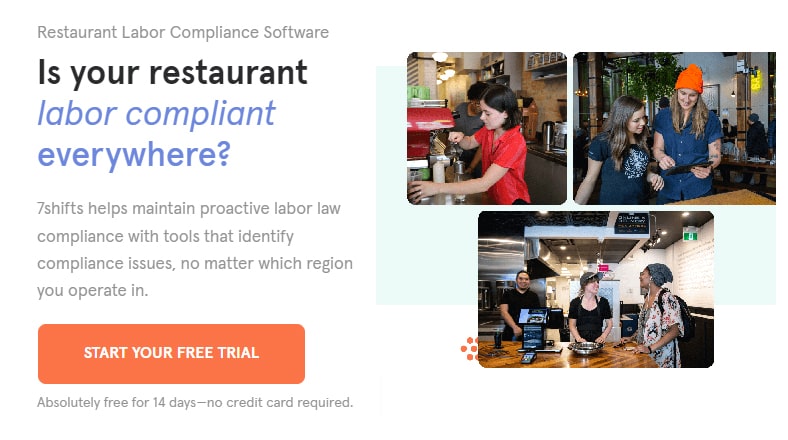 It'll also let you know if you're about to schedule a staff member for overtime, helping you avoid potentially unnecessary expenses.
Real-Time Feedback
Staff retention is a common issue among restaurant owners. By using 7Shifts, you can expect to increase your employee retention by 13%, thanks to a feedback feature. As a result, employees can give feedback on items that are bothering them or share ideas for how you can improve operations.
Similarly, managers can share feedback on streamlining processes and offer other insights. As a result, you'll reduce the chances of employees looking for another job, assuming you act on helpful advice.
Builds Team Camaraderie
Your customers will only be as happy as the restaurant staff that serves them, and 7Shifts offers several features to help keep team spirit high. They offer an extensive selection of emojis so that managers can motivate and praise employees.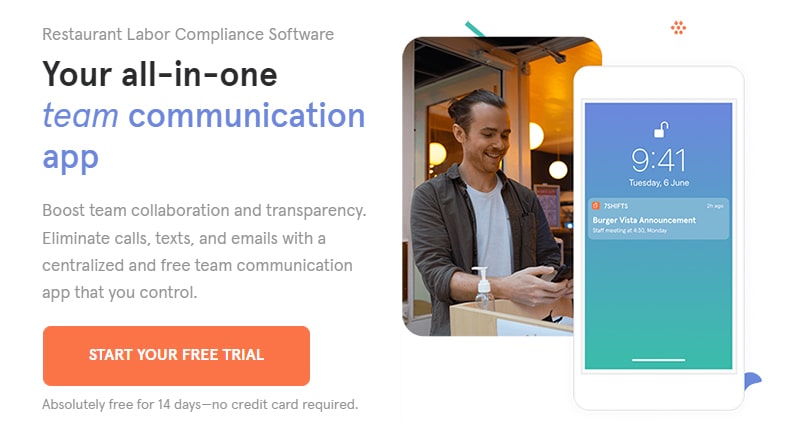 7Shifts also allows staff members to communicate with one another, getting peer advice and support. They'll also feel empowered, have more control over their schedule, and have potential opportunities to take on more shifts.
7Shifts Costs
Most restaurant owners agree that the time 7Shifts.com saves them more than makes up for its fee. Furthermore, 7Shifts operates on a four-tier plan, with the first 14 days being a free trial without a credit card.
We'll share 7Shifts' monthly price here. However, if you sign up for an annual plan, you'll receive a 10% discount.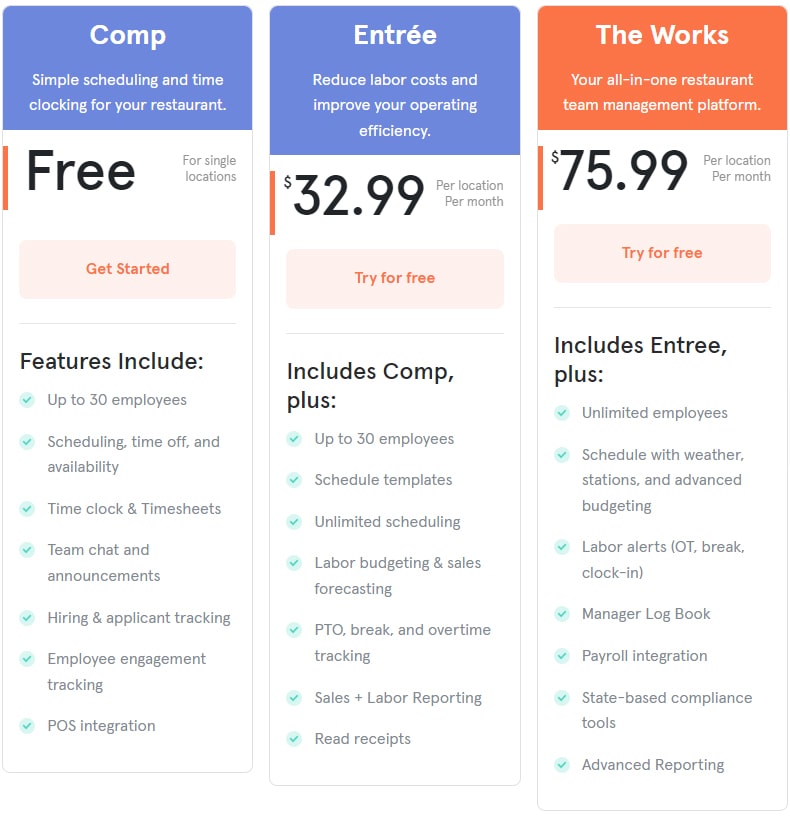 Comp
If you have a single restaurant and want basic scheduling and shift pool support for 30 or fewer employees, 7Shifts offers these features for $0. You read that right—you'll get them for free. Furthermore, you'll have access to team chats, announcements, and basic reporting tools.
Entrée
Entrée is an ideal option if you have up to 50 restaurants and no more than 30 employees per location.
With the help of attendance reporting, unlimited scheduling, and SMS notifications, you'll reduce your need for administrative employees. The Entrée plan starts at $39.99 per month and per location.
The Works
If the Entrée plan sounds too limiting, you'll be glad to know that The Works allows you to register an unlimited number of employees for up to 50 locations. You'll also have access to features such as department budgeting, an optimal labor tool, and advance time clocking and compliance. The Works starts at $79.99.

Gourmet
If you own a chain or enterprise restaurant, 7Shifts' Gourmet plan is your best option. They offer outstanding perks like a machine-learning auto-scheduler, onboarding services, and task management. Gourmet's price varies according to the situation, so you can book a demo to receive a custom quote.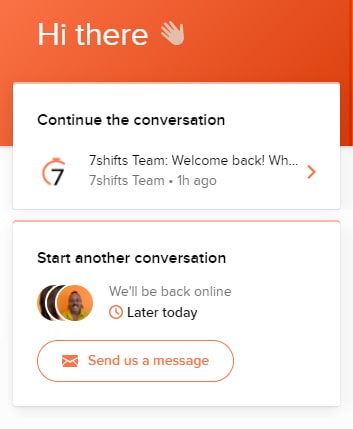 Customer Support
You can contact 7Shifts.com's friendly customer support team via phone or email. Their contact information is as follows:
Phone: 1-888-979-5877
Email: support@7shifts.com
While 7Shifts has knowledgeable and helpful customer service employees, they don't offer a live chat feature, which is uncommon these days.
7Shifts and Labor Laws
With an ever-changing table of regional labor laws, it's easy to fall out of compliance due to new or updated legislation. So, 7Shifts will help you ensure that you stay compliant.
Examples of regions with special labor laws include predictable scheduling in San Francisco and a fair workweek in New York City and Philadelphia.
There are many ways that 7Shifts helps you avoid a run-in with the law. For example, it'll let you make and enforce mandatory breaks. If you accidentally scheduled an employee for a "clopen" shift, it'll also notify you.
7Shifts will inform you if you've built over time into an employee's schedule and help you maintain compliance records that your state or city requires.
Final Thoughts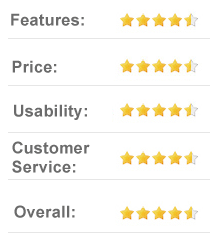 Managing one or more restaurants is a time-consuming and challenging task. It's easy to overlook something when working with dozens or hundreds of employees, and even accidental negligence could land you in trouble with the law.
By using 7Shifts.com, you'll have peace of mind knowing that this savvy software is doing the hard work. It'll also reduce the amount of scheduling and time-off questions your employees have, for they can use the platform to log any changes.
Since the first 14 days of 7Shifts are free, we encourage you to give it a try and see for yourself if it transforms your restaurant management.