What is the deal with Allbirds? The shoes came out of nowhere a few years ago and made a huge splash in the industry. They claim to be "the world's most comfortable shoes," so we put them to the test to see if the slogan fits.
About Allbirds.com
Allbirds.com started with an idea born on a football field in New Zealand. Vice-captain Tim Brown, armed with some business experience and bad experiences with uncomfortable shoes, sought to make a new sneaker.
In 2014, the New Zealand wool industry gave Tim a grant to pursue his goal. Brown launched a Kickstarter for additional funding and managed to raise an additional $119,000.
Though Tim had some knowledge of shoemaking, he needed help to explore renewable materials. Joey Zwillinger, a biotech engineer, fit the bill. Through a lot of innovation and experimentation, the pair developed a line of shoes made with custom wool fabric.
Allbirds.com officially launched in March 2016 and quickly attracted investors. For most of the company's first year, they sold one style of shoe, the Wool Runner. In 2017, they launched a second shoe and a line for children.
Today, Allbirds.com boasts several corporate partnerships, including Shake Shack and Air New Zealand. They continue to expand their product lines without compromising on the quality or sustainability of the materials.
What Makes Allbirds Special
Brown and Zwillinger sought to do something different in the shoe industry. They wanted comfort and sustainability without sacrificing the design. While they still look like shoes, Allbirds stand out for a few of their unique features.
Simple, Lightweight Design
When you hear simple, you might think dull, but there's nothing boring about these sneakers. They aren't flashy or covered in multiple colors, but they're functional and attractive. Plus, they come in neutral colors, so they match anything. How many shoes do that?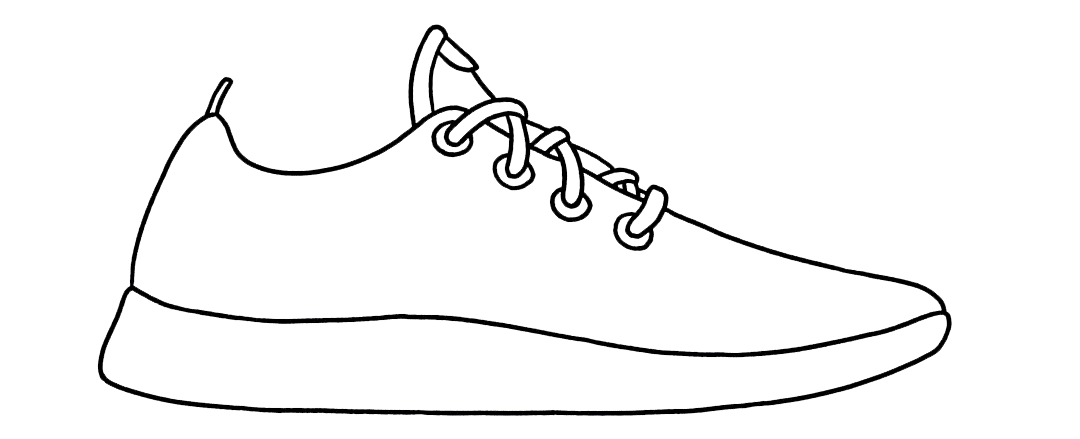 These shoes are also exceptionally lightweight. You won't notice the weight or bulk if you have to pack them for a trip.

Comfort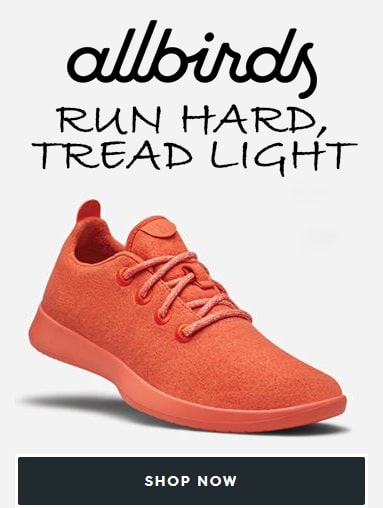 Have you ever purchased a pair of shoes, worn them a few times, and realized they are really uncomfortable? What these shoes lack in flashiness they make up for in comfort.
The soles are cushy, and the material is soft enough that it doesn't rub and create blisters. They are so comfy that you don't need to wear socks! However, you may want to break them in a bit before going sockless.
One tiny issue we noticed is the tongue. Sometimes it rolls or folds up, which is super uncomfortable. Just a little stability would go a long way in solving that little discomfort.
Environmentally Friendly
Remember, a big part of Tim's idea centered on using sustainable materials. They skip over the synthetic options and focus on sustainable, natural options. Their wool comes from New Zealand sheep and uses 60% less energy than synthetic shoes.
Allbirds also has a Tree line of shoes made from eucalyptus trees. They have a slightly different look but are still eco-friendly.
Okay, so they use sustainable materials for the base, but what about the rest of the shoe? They also use laces made from recycled plastic bottles and incorporate castor bean oil into the insoles for comfort and sustainability. Additionally, their packaging is 90% recycled cardboard.
Easy to Clean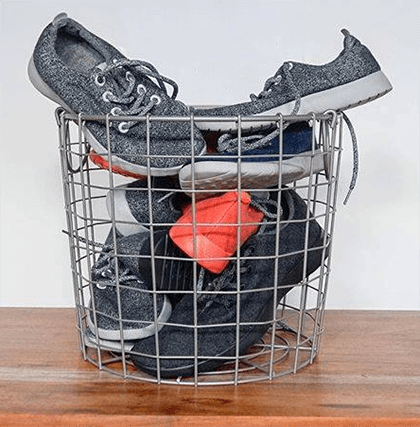 How many of your shoes can go in the washing machine when they're dirty? Allbirds' Wool and Tree shoes can go in the wash on a wool or gentle cycle like any other delicates. They do have to air dry, and you have to remove the laces and insoles before washing them.
As a bonus, Allbirds are odor-resistant. There's a good chance you won't have a problem with smell unless you wear them a lot without socks. If your insoles wear down or start to smell, you can purchase replacements from Allbirds.com.
Return Policy
Allbirds has a set 30-day return policy that allows you to return or exchange your shoes for free if you're not happy with them. Just send them back by mail or take them to a store.
Allbirds Product Lines
There's a decent selection available, though they all have similar profiles. You do have plenty of color choices in each of the three lines – Men, Women, and Kids. We should note that these shoes do not work well for strenuous activity, like running or workouts.
Wool Runners
The shoe that started it all remains a popular option, and a top seller. They are lightweight, flexible, and oh-so-comfy. You can choose from four neutral colors or a selection of limited-edition color combos.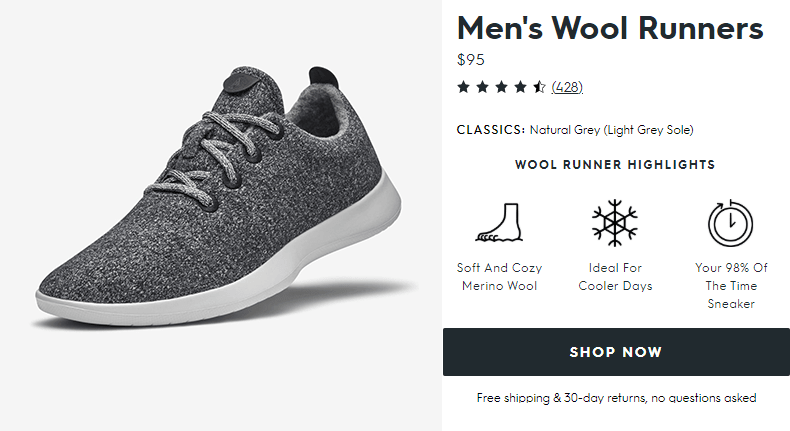 We love how lightweight they are and appreciate the neutral colors, even though some of the limited-edition options are fun. During our research, we found hundreds of reviews commending the comfort of these shoes in comparison to others, and we have to agree.
Since these are wool, your feet will stay warm in winter and cooler in summer. They also have moisture-wicking properties to keep your feet at a comfortable temperature.
Tree Runners
Tree runners use the same general design as their wool counterparts, but they have fewer color options. The big difference is that the material for this line is made from eucalyptus trees instead of wool.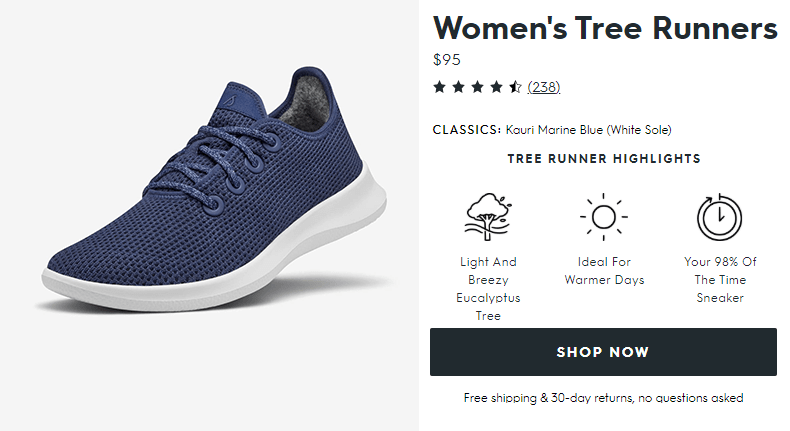 Casual Loungers
If you're looking for a slip-on, Allbirds has you covered with their loungers. The designs are similar to their runners, and you can choose from wool or tree materials.
Tree Breezers
Ladies looking for comfortable flats should check out the Tree Breezers. They have a lot of positive comments and a solid color selection. Plus, they come in half sizes!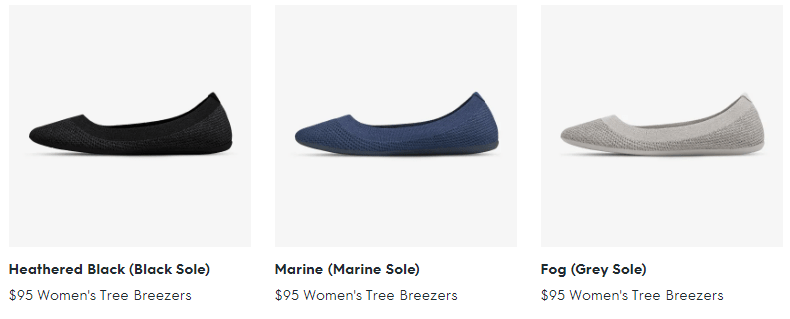 Socks
The company recently expanded its catalog to carry Trino socks in three different and multiple colors. Like their shoes, Allbirds makes the socks from sustainable materials.
The Cost of Allbirds
Adult shoes start at $95, so they are a little above average for a pair of sneakers, but like everything else, you get what you pay for. There's a lot to be said for the comfort and use of sustainable materials.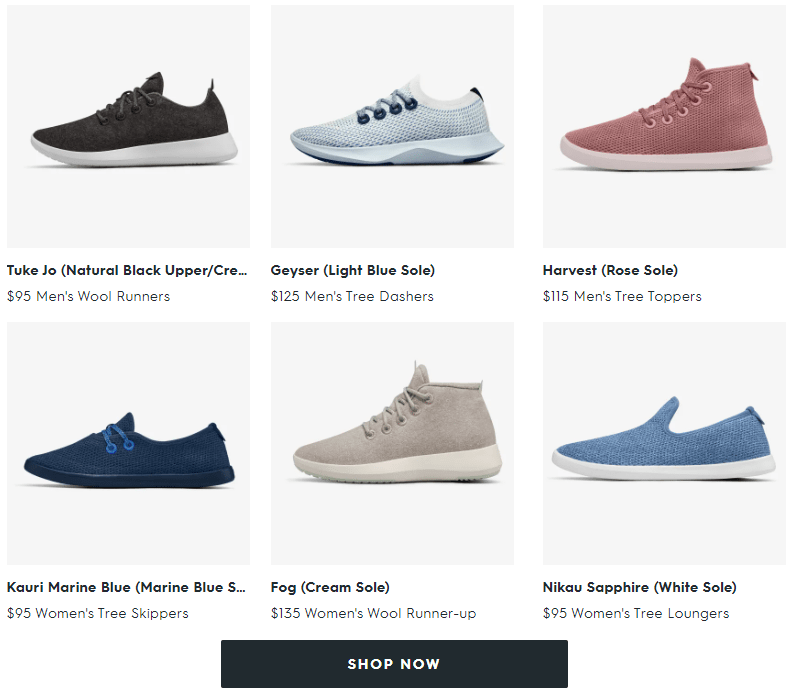 We did a little research on the durability factor since it's a big selling point for the company. It looks like most users get a good eight to ten months of use out of their Allbirds with daily wear. That seems about average for experiences with similarly priced sneakers.
Criticism of Allbirds.com
No product is perfect, and Allbirds are no exception. We happen to like them, but there are a few things they could improve on. Just to be fair, we did some additional research and read up on other reviews to see what other people reported.
Sizing is Problematic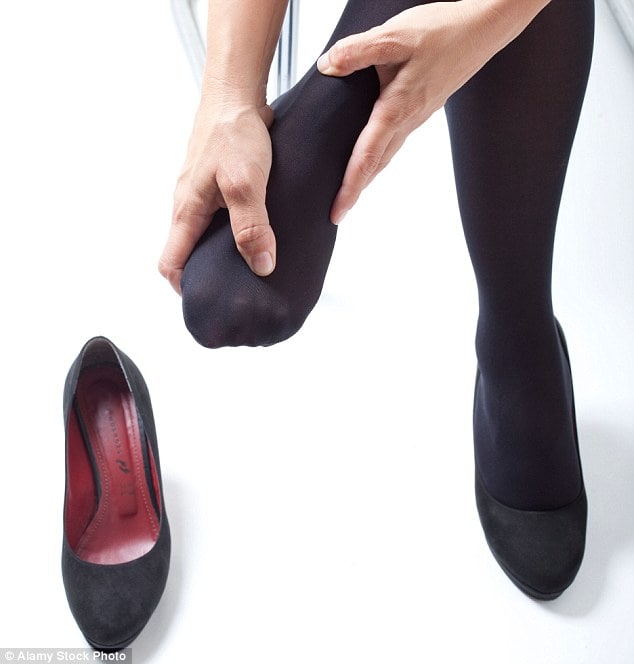 They are only available in whole sizes, so all of you half-size people need to go up or down a half-size. These are also all medium width shoes, so people with wide feet may need to go up a size.
Several reviewers complained about the women's sizing. It turns out that women's shoes were a little snug in the toes for some ladies. These women noted that they eventually developed holes in the tops of their shoes.
Can You Wear Them Without Socks?
Supposedly, these shoes are so comfortable you can wear them without socks. We gave it a try a few weeks into wearing them and didn't have any issues. They didn't smell or cause any blisters.
However, in our research, we found plenty of reviewers who reported blisters. It seemed like they were all first-time wearers who pulled them out of the box and took off for the day without socks.
Don't Get Caught in the Rain
Getting caught in the rain sounds like no problem for shoes you can wash, but that's not the case. There's not a lot of traction on the soles, so they aren't great in the rain. It's easy to slip on a wet sidewalk, so you should check the weather before heading out in these.
Customer Service
We had no complaints about our customer service experience with Allbirds.com. The website is easy to navigate and packed with useful information. We chose and ordered without difficulty. The free shipping is awesome, and we received our shoes fast.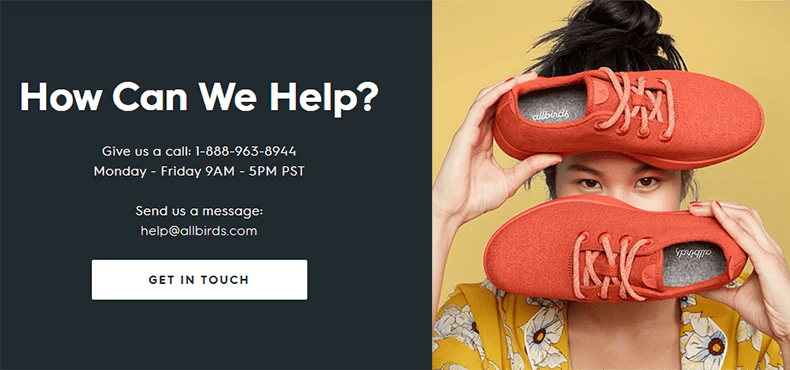 Since we love our Allbirds, we didn't have experience with returns or exchanges, so we did some research. Based on what we found, the return process is as easy and convenient as the site suggests. You can choose to mail them back or take them to a store.
Final Thoughts on Allbirds.com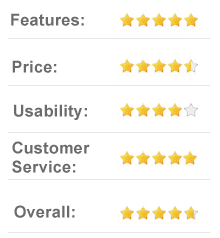 These are versatile and lightweight shoes for a fair price. As long as you break them in a bit before going sockless and follow the suggested care instructions, you should get good use out of them.
The classic design, eco-friendly materials, and comfort for days make Allbirds an excellent choice for somebody seeking a daily, general wear sneaker. If you need a dependable, everyday shoe that can handle a lot of walking, you could do a lot worse than a pair of Allbirds.