Axi is an Australian forex broker, which is a helpful platform that lets traders buy and sell foreign currencies. With access to over 140 currencies, Axi offers a wide range of features and benefits to its users.
Let's dive deeper into this Axi.com review.
About Axi.com: A Brief History
Axi was founded back in 2007 with the original name AxiTrader. In 2020, the company rebranded to become Axi. Although the name has changed, the mission has not. Axi strives to be the broker that any knowledgeable trader wants to work with.
Axi is founded and run by traders, which gives them the know-how to establish a well-run broker platform. Their culmination of combined experience delivers a strong understanding of trust, regulations, and trading tools.
Since its founding, Axi has grown from an Australian company to a global business. In 2012, the corporation opened its London branch. Since then, it has also expanded into China, Germany, Latin America, the Middle East, Dubai, the Philippines, and more locations worldwide.
In total, over 30,000 traders use Axi across a span of 100+ countries with client trading volumes exceeding US$100 billion.
Top Features
As one of the top ten global FX providers, it should come as no surprise that Axi comes jam-packed with attractive features.
ECN Broker Speeds
Axi offers ECN broker speeds, which means that clients can trade directly with global liquidity pools rather than using a dealing desk. Axi works to connect its clients with 14 of the world's leading banks, making trading much more effortless.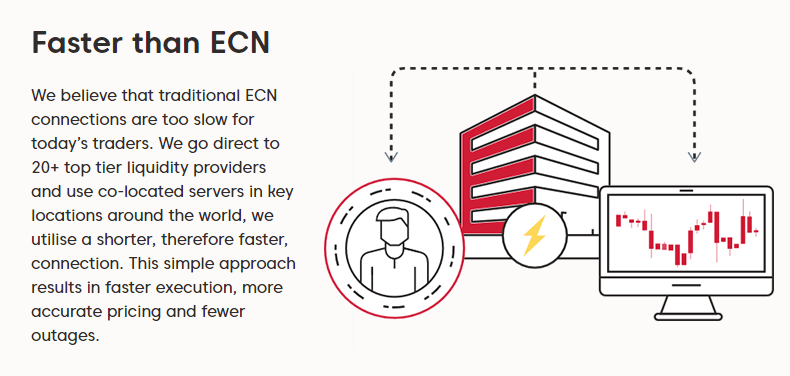 Low Trading Fees
Compared to other forex brokers, Axi's fees are considerably low. This spans across the board and includes low fees for:
Starting with non-trading fees, Axi ranks as excellent. They do not charge any fees for opening an account, nor do they impose a fee for inactivity. Likewise, they also charge zero fees for deposits or withdrawals, which is different from other platforms.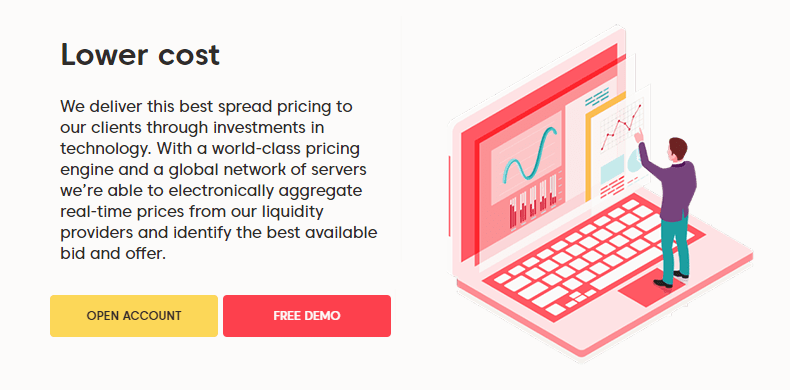 Axi also charges low fees for Forex trading and CFD trading, although you can find similar prices among other platforms.
Overall, Axi is a great platform to use if you're wary of accumulating a host of fees during your activity.
Deposits, Withdrawals, and Currencies
As we mentioned above, Axi does not charge fees for deposits or withdrawals. In fact, they make it easy to accomplish these tasks by allowing you to deposit using bank transfers, credit and debit cards, and electronic wallets.
Withdrawals are also simple, but you can only use wire transfers or electronic wallets for this task.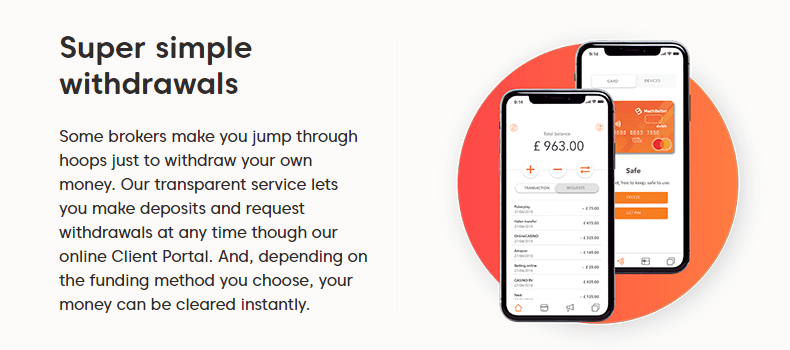 The steps to do so are straightforward. All you have to do is log into your client portal, select "withdraw funds," choose your method and add your account details. Then you can initiate withdrawals.
Axi currently has 11 currency options for users to choose from. They are:
Compared to other similar and popular platforms, Axi offers a good range of currencies and more than many of its competitors.
Markets and Products
The bad news is that Axi only offers forex products and CFDs. However, the good news is that it provides a wide selection of forex products along with a reasonably average range of CFD trading.
CFDs can be challenging to understand and come with many risks, so Axi tends to focus more on forex products.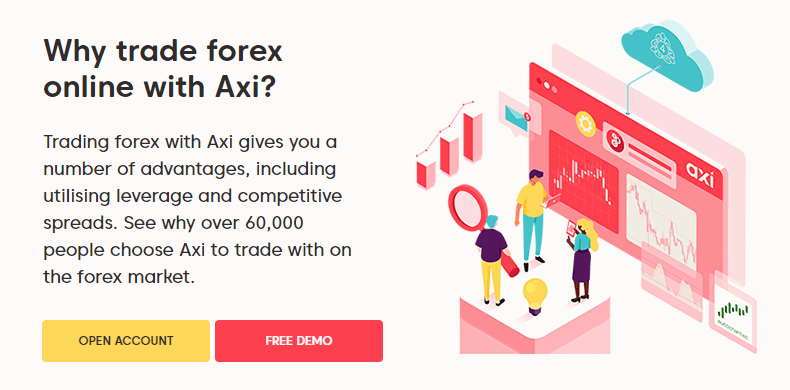 When it comes to forex trading, account holders can buy and sell from major, minor, and exotic currencies. However, the platform also offers trading across:
Cryptocurrency
Other precious metals
There's a little something for everyone. You can learn more about their markets and products on their webpage.
Live Spreads & Other Tools
One of the best things about Axi is all of the trading tools they have to offer. Not only do they provide live spreads so you can compare pricing for all of their trading products, but they also offer the following tools:
Sentiment Indicator
Helps traders see how other people are trading through live market insights and trends.

Economic Calculator
Tracks major upcoming market events, like trade announcements and rates.
New Terminal Window
Enables alerts, group functionals templates, and OCO management to improve trading within international markets.
Session Map
Global map that lets users monitor when markets open and close.
Mini Manager
Tool that quickens complicated trades so that diverse traders can focus on other markets simultaneously.
Alarm Manager
Helps traders avoid missing market opportunities by sending alerts about the market automatically.
Also, their website is super easy to navigate with a clean design and an impressive user interface. Forex traders of all experience levels can figure it out, and the design translates well to smartphones and other devices.
Axi Prices
One of the most important details to consider about a trading platform is the cost of its various account structures.
The standard account is best for beginners and offers wider spreads, while the pro account is ideal for pro traders with its very tight spreads.
Standard
A standard account with Axi comes with generally higher speeds and has no commission fees. It does require a minimum deposit of $10USD, and its minimum trading spread is 1.1 pip.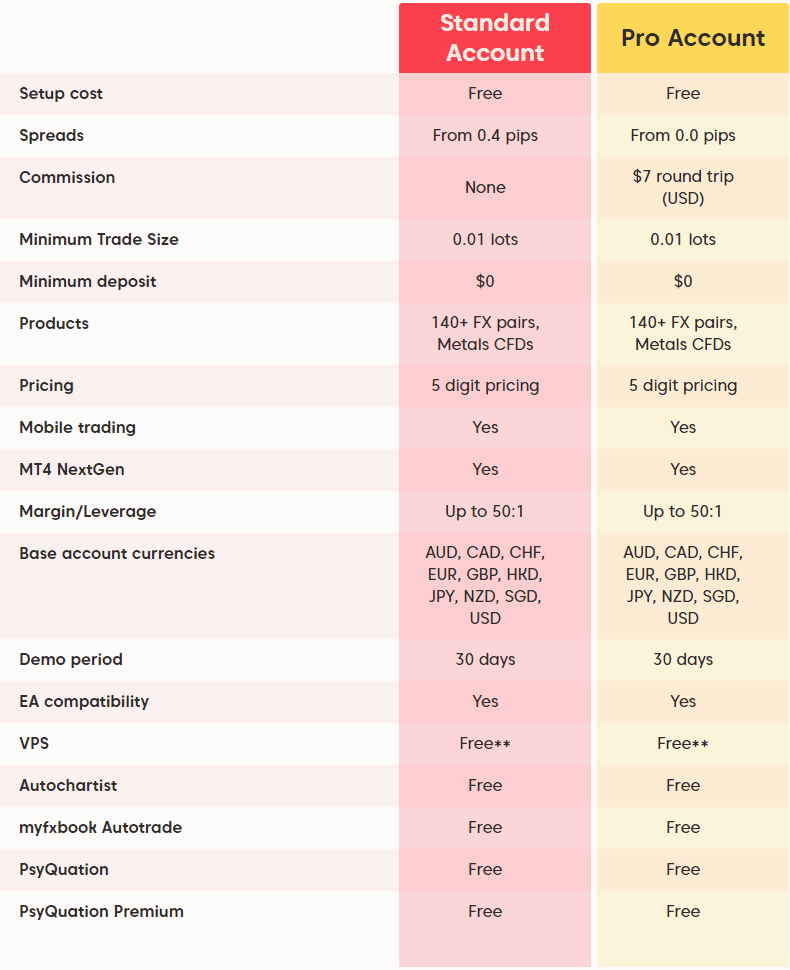 Pro
The pro account generally has lower speeds, and it entails a $7 round-trip commission-free. To open an Axi Pro account, you must deposit a minimum of $1,000USD. The minimum trading spread for a pro account is 0.0 pip.
Free Demo
If you're unsure if you want to work with Aix or are new to forex trading, you can always try it out using their free demo feature.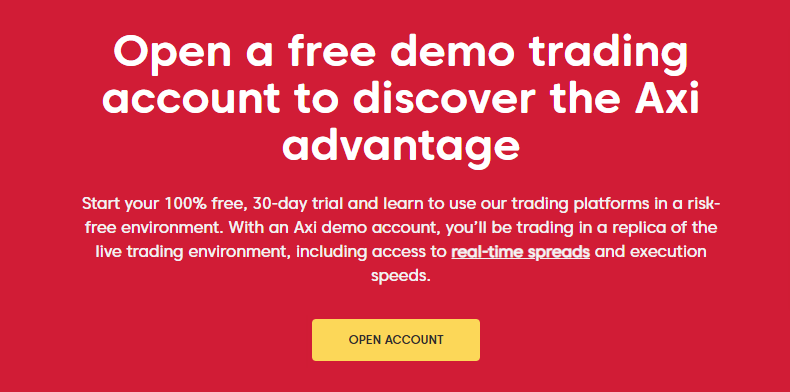 Axi lets you try a 100% free, 30-day trial so you can explore their platform and learn how to use it without worrying about costs. It's a completely risk-free trial that allows you to trade in replica environments and gives you access to real-time spreads and execution speeds.
Your free demo account gives you $50,000 of play money to toy around with, which really lets you get a feel for the platform and trading in general. It's an incredible resource for beginners!
Account Types
In addition to choosing from a pro or standard account, you can also open various types of accounts. These are:
As you would expect, an individual account is one owned by you and only you. A joint account can be owned by multiple people, while a corporate account is held by a legal entity.
Opening your account with Axi is super easy, too. You can accomplish everything you need to do right on their website.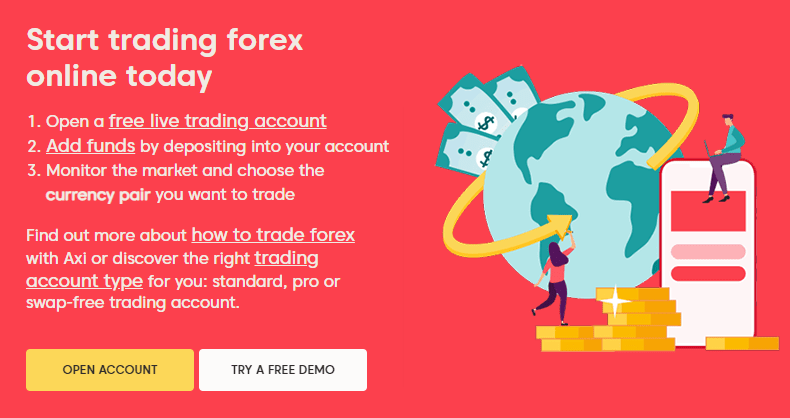 A user must provide a range of personal information. From there, you can select your preferred account type and answer a few questions. These questions will help Axi determine your level of understanding of the trading world.
You'll need identification of some sort, whether it's a driver's license or a passport, and the site also requires that you upload either a bank statement or a utility bill.
From there, it will take around two business days for Axi to approve and activate your account.
Axi Customer Support
While Axi's customer support isn't the absolute best we've seen on the internet, they do a good job of resolving issues and answering questions quickly, and we like that about them.
The only main downside to their customer support is that it's not offered 24/7 as other companies have. But with support 24/5, that's not too much of a loss.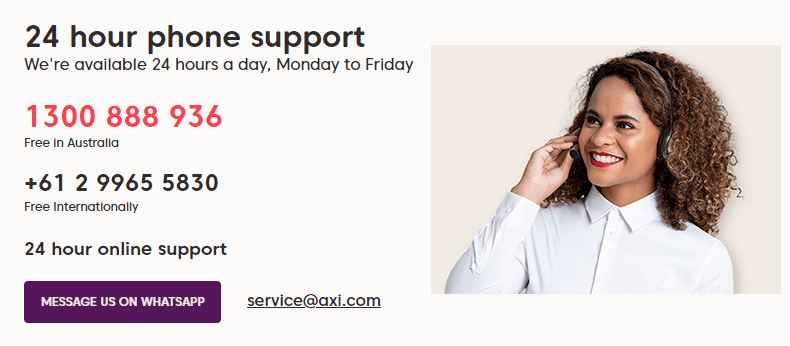 They do deliver support over the phone, on live chat, and through email, giving users plenty of options to choose from.
One of our favorite customer support features is the live chat. It's an incredibly efficient way to get an answer to a quick question. Live chat agents are available almost immediately, letting you get to solve your problem faster.
However, the agents don't always give the best or most comprehensive answers. The information isn't always accurate either, so it seems there's a bit of a disconnect there.
You can expect their phone support to be pretty average, although the phone operators tend to give more relevant information than the live chat agents. Any way that you contact them, you can expect relatively quick responses appropriate for the platform.
Licenses and Regulations
Axi is within full compliance with the necessary financial rules that three tier-one regulators enforce. These regulators are:
Australian Securities and Investments Commission (ASIC)
Financial Conduct Authority (FCA)
Dubai Financial Services Authority (DFSA)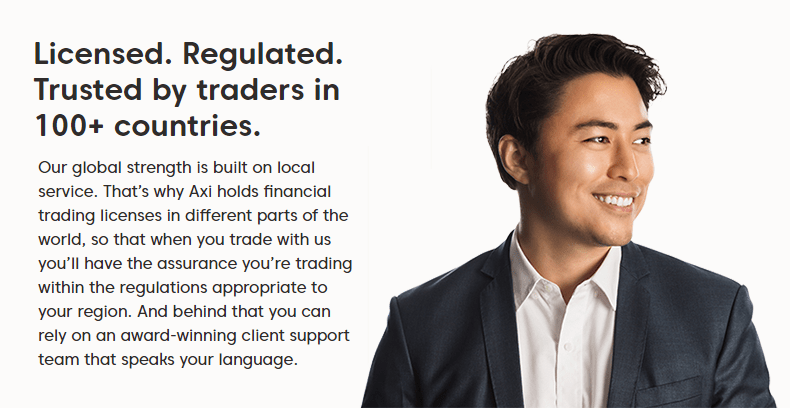 It may be worth noting that Axi was temporarily suspended in New Zealand in 2019 for not complying with the Financial Markets Conduct Act of 2013. This has prevented New Zealand retail traders from applying for an account.
However, Axi maintains a solid reputation by complying with many regulatory standards established by some of the world's most renowned financial regulators.
Final Thoughts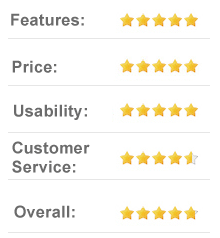 Overall, Aix is an entirely legitimate, trustworthy company that serves as an excellent option for anyone interested in forex trading. With only a couple of negatives under their belt, their platform is full of positive features and tools that prove useful to its users.
With free training available, minimal fees, and many resources like their demo trial, it's the ideal site for beginners and experienced traders alike.