Bet365.com is one of the biggest and best online sports betting and casino game websites available. Over 53 million people worldwide trust Bet365 for their betting needs.
Bet365.com has been in business since 2000. It is a licensed and regulated business monitored by the New Jersey Division of Gaming Enforcement. In addition to placing bets on multiple sports, you can also access popular casino games and other betting services.
Today, we're going to look at the company Bet365. We'll discuss the company and its history, current offerings, fees, and everything else you need to know about this sports betting site.
About Bet365.com
Bet365.com is an online gambling company from the UK and operated in New Jersey that offers sports betting and casino games, including Poker, Bingo, and others. This company is run by joint chief executive Denise Coates, who holds 50.1% of the company shares.
She shares the role with her brother John Coates, who is also a joint chief executive. Their father, Peter Coates, sits on the board as chairman, but his children run the company.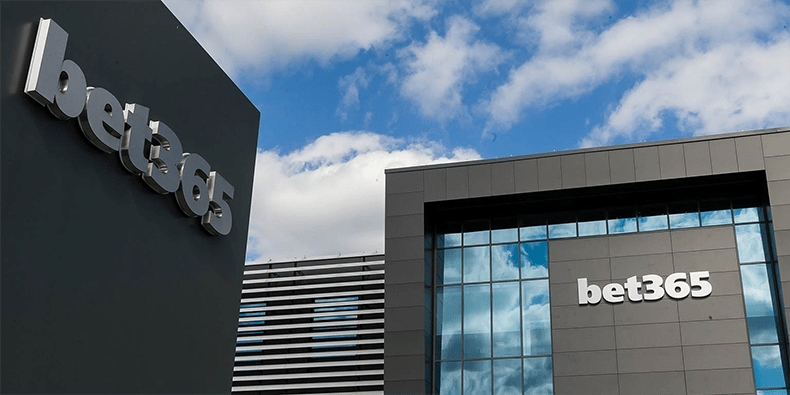 The company headquarters reside in Stoke-on-Trent, with other offices in Australia, Malta, Gibraltar, Manchester, and Bulgaria. Overall, this company has over 5,000 employees in total.
Bet365 operates as Hillside LLC at Suite 200, Two Greentree Center, 9000 Lincoln Drive East in Mariton, New Jersey, zip code 08053. They have an agreement with Boardwalk 1000, LLC.
In addition to being a betting site, Bet365 also participates as sponsors for multiple sports clubs, including Stoke City, Ludogorets Razgrad, and Slavia Sofia.
The financials of Bet365 convince us that they must know their business inside and out. As of 2018, users spent $70.94 billion on sports wagers. The company reached $3.86 billion in revenue and earned $891 million in operating profit.
History of Bet365.com
Bet365 started in 2000 in a small portable building. Denise Coates, the founder, opened the doors to a sports betting platform by March of 2001 with a £15 million loan.
Before starting Bet365.com, Coates cut her teeth working as managing director of the family estate's bet shop, founded by family member Peter Coates back in 1974.

Bet365 sold the betting shop to Coral in 2005 for a whopping £40 million, which helped pay off the loan used to get the business launched.
You can now sign up for an account and place bets worldwide, including New Jersey in the US, Canada, Australia, the UK, some of Asia (Japan, Thailand, and China), and most of Europe and Africa. Locations where you can't use Bet365 include:
Philippines
Belgium
Venezuela and French Guiana in South America
Top Features
Bet365 offers a ton of features for users to partake in online sports betting. We're going to look at some of the most significant parts of Bet365.
Bet Builder
One of Bet365's best features is the Bet Builder. Using this software, you can place a bet on any football (soccer) match on the schedule.

While placing your bet, you can customize your terms to include six criteria. They offer multiple markets and selections. Some of the choices you can use to customize your wage include:
Total number of goals at the end of the match
Match result – at half-time or final score
Qualify or raise the trophy
Player(s) that score. You can choose – any time, last point, first point, or two or three more
Cards – bet on red cards, player cards, or total number of cards
Corners – place a bet for over or under, over or under and total team corners, or total match corners
However, be aware that there are restrictions and T&Cs on bets, so be sure you check out this link before placing your bid.
Cash Out
The Cash Out feature lets you collect a return before the completion of your chosen event. When you enroll in this selection, you can Cash Out to receive a full payout of your bet while your match is still going. Or you can choose to retrieve part of your wager while leaving some to finish the remainder of the game.

This feature is only available for selected matches, fixtures, and events, either during In-Play or pre-match. Sports you can Cash Out for are basketball, horse racing, soccer, tennis, and cricket.
Partial cash-outs are available for multiple or single bets and straight accumulator bets.
Each Way Extra
This feature allows you to decrease or increase how many places you bet during a horse race. You can use this option to add new slots to your Each Way bets, which reduces your payout. Or you can remove places to increase your odds.

It is important to note that bets played in Each Way Extra does not qualify for bet365's other offers such as ITV Racing 4/1 Offer, Best Odds Guaranteed, Feature Race 4/1 Offer, or Price Promise. However, this does not apply to new or eligible customers who place bets that are the same as the Each Way or Win market standards.
Edit Bet
You can use Edit Bet to change, add, or remove selections so you can increase the bet on unsettled matches. This feature is for both In-Play and pre-match bets.

You can use this feature for select events, markets, and fixtures for sports betting on tennis, horse racing, basketball, cricket, and soccer (football).
Match Live
You can use Match Live to track your sports matches in real-time. You can follow baseball, tennis, basketball, soccer, American Football, and tennis, among other sports.

This section produces graphic and provides alerts that report all key actions of the match, including:
Baseball – reports player positions like batter, pitcher, men on base, and statistics like balls, outs, strikes, and home runs.
Basketball – reports free throws, possession, fouls, time outs, and points scored (two and three-pointers)
Tennis – tracks all points, double faults, aces, and more
Soccer – reports which team has possession and position on the pitch, free kicks, goal kicks, corners, and throw-ins
American Football – reports touchdowns and field goals for NCAAF and NFL
You can also follow other sports events like Rugby League and Rugby Union, Handball, Ice Hockey, Golf, Cricket, Darts, Water Polo, and Volleyball.
My Alerts
Bet365 makes it easy to stay up-to-date with your chosen teams by setting up alerts in the My Alerts section. You can receive notifications on your mobile or desktop.

Details your alert may include are:
Tennis – match start, game and set results, and the final score
Basketball – point score, match results, quarter and half time results, and alerts for start times for beginning, quarter, and half.
Soccer – kick off, substitutions, corners, goals, cards (red and yellow), penalties and missed penalties, and results for half time and final score. You can set team alerts for one week or the entire season.
Reasons to Join Bet365.com
Bet365 is a great site to join if you want to participate in sports betting. But you can also gamble in the casino to access progressive jackpot slots, virtual slots, and table games like blackjack or roulette.
The Live Casino lets you access roulette or blackjack and other poker and game shows. Then you can play Bingo, which is open 24 hours a day. This game offers cash prizes for 75 or 90 ball games.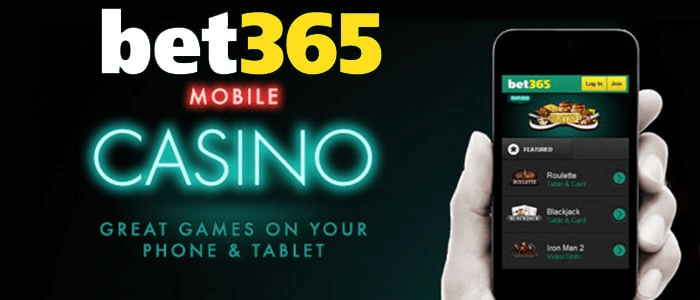 Given the wide range of game offerings and the high payouts, Bet365 is top of its class for high-quality streaming of casino games and sports betting. Get your betting done from the comfort of your home with activities that make it feel like you're at a real casino.
Are you still not sold on why to sign up? How about Bet Credits for new users? Depending on the amount of your first deposit and your location, you can get free bet credits when you sign up for a new account.
And Bet365 has the best odds with an expert team of trading experts who place betting odds early so you can increase your odds. And there are Asian handicaps, accumulator bonuses for 70% bonuses on soccer and tennis matches, and frequent promotions for horse racing, tennis, and soccer matches.
Customer Support
Bet365 offers customer service twenty-four hours a day, seven days a week. No matter what issue you are facing, there's a representative ready to assist. You can reach help through a live chat, a private email, or by calling the toll free number 1-888-8BET-365 or 1-833-754-8200.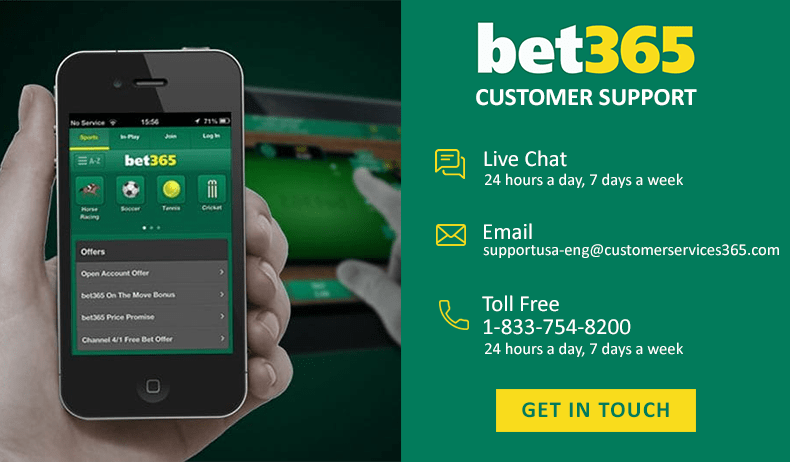 You can also reach them by standard-mailing their customer service at:
Customer Services
Suite 200 Two Greentree Center
9000 Lincoln Drive East
Marlton, New Jersey 08053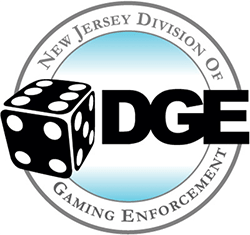 Bet365 Licenses/Regulation
Bet365, operated by Hillside LLC (New Jersey) New Jersey, falls under the licensing, regulation, and oversight of the New Jersey Division of Gaming Enforcement (NJDGE).
Final Thoughts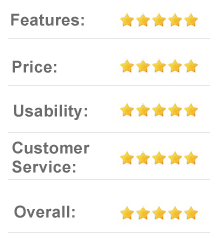 Overall, Bet365 is one of the best sports betting and online casino game sites to create an account and place bets. Whether you want to place wagers on a sports match or spend some time at the slots, Bet365 has something for you. And it's widely available throughout the world, including the US and UK.