BigMarker is one of the best platforms for developing and hosting webinars, summits, and virtual conferences. It offers a range of features designed to make recording and delivering customized videos a simple task.
Several well-known companies and universities utilize its services, including Google, Samsung, New York University, and Stanford University.
In fact, BigMarker is so popular that it ranked as the #1 video platform for webinars.
Let's take a closer look at the best features of BigMarker.com, its price plans, and the advantages and disadvantages of using it.
About BigMarker.com
BigMarker launched in 2010 and currently has its headquarters in Chicago. Their mission is to help their customers engage in a meaningful conversation with their audiences as a way of teaching, training, or even marketing.
The list of top companies and schools that use BigMarker is impressive, though perhaps not surprising once you take a look at its extraordinary features. Wells Fargo, McDonald's, PBS, USC, and more take advantage of BigMarker's software.
BigMarker is a browser-based software, which means you don't have to download it, and it works on all devices. You can share all kinds of automated content with it, including webinars, web conferences, and training and onboarding videos. Users can host live videos, record on-demand ones, and even automate webinars to run on autopilot.
BigMarker's clients can also use their software to interact with customers, clients, educators, businesses, and organizations, transforming the webinar experience into an engagement instead of a lecture.
Top Features of BigMarker.com
BigMarker earned its position as the top-rated video platform because of its extensive list of features explained here.
Recording Tools
BigMarker provides over 15 templates that users can use to make their videos look as professional as possible. They can set up videos as live, recurring, on-demand, or automated depending on their needs.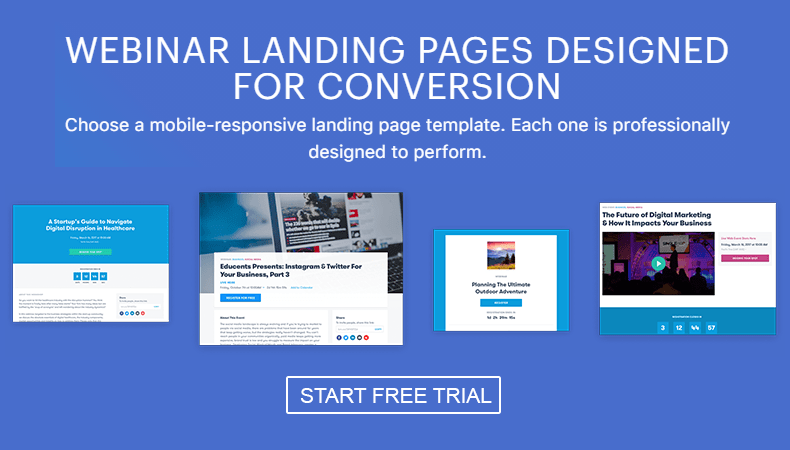 Users can even configure email invites and reminders, so they are sent automatically to viewers.
Customer Engagement Options
The ability to interact with the audience during a webinar is a unique feature and distinguishes BigMarker from its competition. There are several ways to achieve customer engagement.
You can use chats, both public and private, or initiate a Q&A with upvoting, so the best questions rise to the top. You also have the ability to send pop-up offers to attendees if you are selling a product or need to inform viewers of the next step.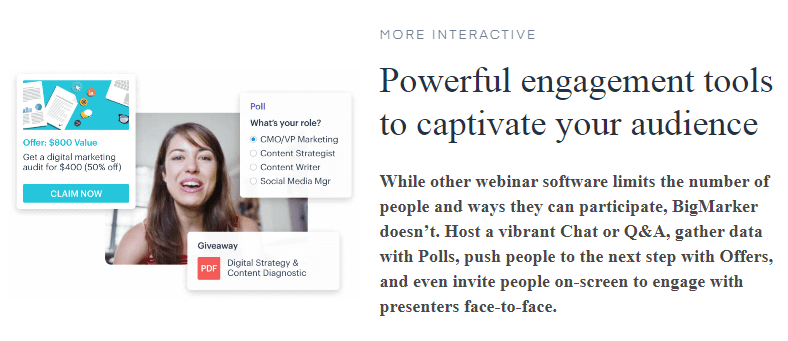 One of the most useful tools to communicate with the audience is the on-screen invitation, which allows you to invite viewers to interact with the presenter face-to-face.
These tools will help create customer value and foster community among your audience.
Onboarding and Training Services
BigMarker.com automates onboarding, which saves time when training new employees or orienting new customers. This feature even allows you to onboard many people at once for extra convenience.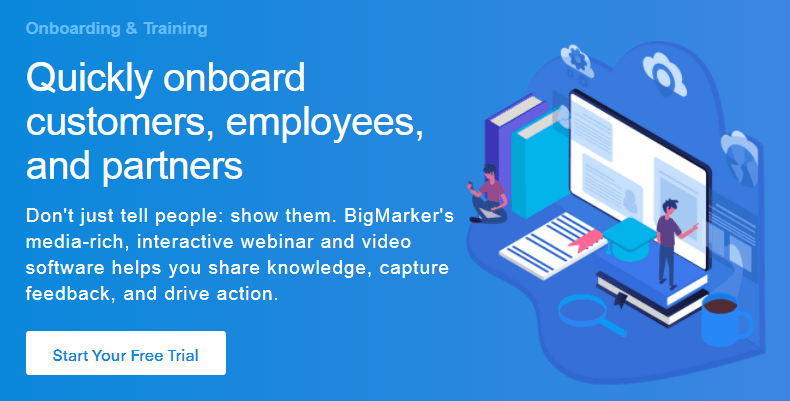 You can add assessments before and after the video to keep track of how well your training webinars are working.
Or you can use the customer engagement tools to keep the viewer listening and encourage better comprehension.
Meeting Coordination
BigMarker allows you to schedule meetings with ease thanks to its software capable of integrating with your calendar and email.
You can conveniently record meetings and conferences for future use.
Your audience does not need to sign in to participate in the meeting, and you can grant user access to whomever you want.
Branding
The creator and host of the webinar can add their own branding to videos. They can adjust the color or add logos to enhance the customized look of their videos.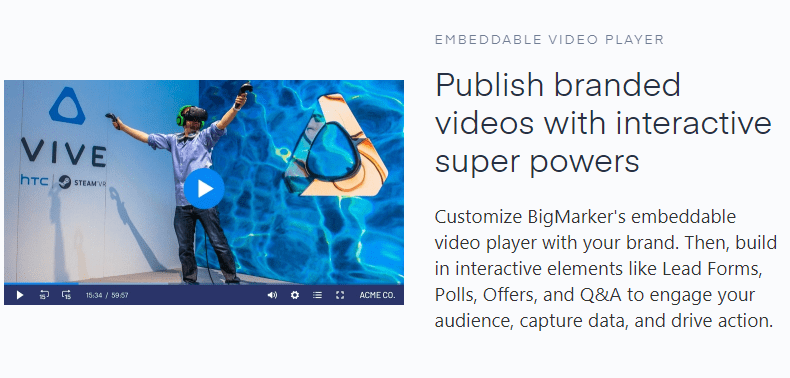 Whiteboard
The whiteboard is a unique feature that allows you to make notes on presentations and emphasize important points.
It's an excellent collaborative tool that multiple users can participate in at the same time.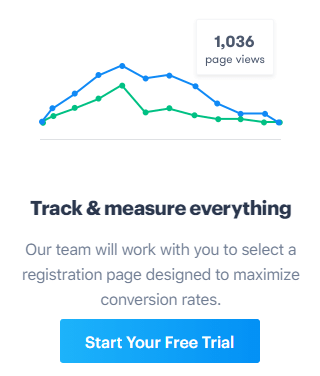 Post-Event Analytics
Another critical feature of BigMarker.com is its ability to keep track of the success of your videos.
You can monitor your presentation's effectiveness with polls and quizzes or analyze performance, like viewers and downloads.
You can also access clear and concise attendee reports to understand audience engagement better.
Integration with Other Applications
BigMarker integrates with tons of other applications, most notably Facebook and YouTube. You can stream your webinar on both of these sites, as well as integrate with Twitter for chats during your webinar.
Outside of social media, BigMarker offers server CRM, email, and marketing integrations.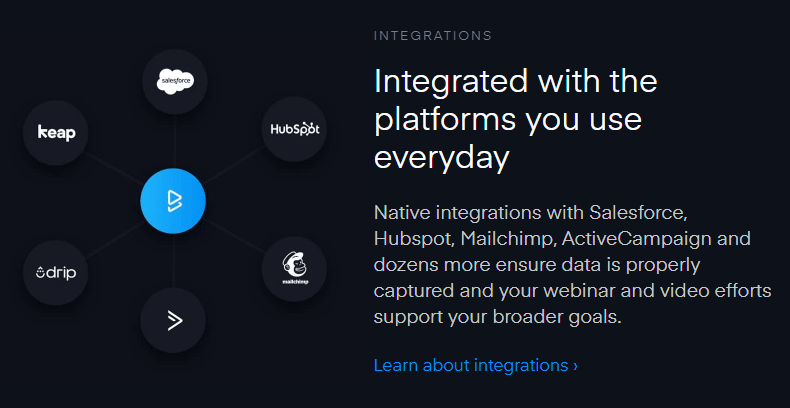 You can also connect with landing page builders, analytics platforms, course builders, payment processors, and workflow optimizers.
Among the programs you can integrate with are Hubspot, Mailchimp, Stripe, Dropbox, and Slack.
Hand Raise
Hand Raise is a useful function that allows attendees to alert the hosts when they want to speak. It boosts audience engagement and helps with marketing products and services.
Additional Features
There is no presenter limit with BigMarker.com, and you can co-present with guests.
Another helpful feature is the ability to incorporate presentations into your webinars smoothly.
All audio and video are HD-quality, even with screen sharing. If you have a website, you can embed your video, along with registration forms.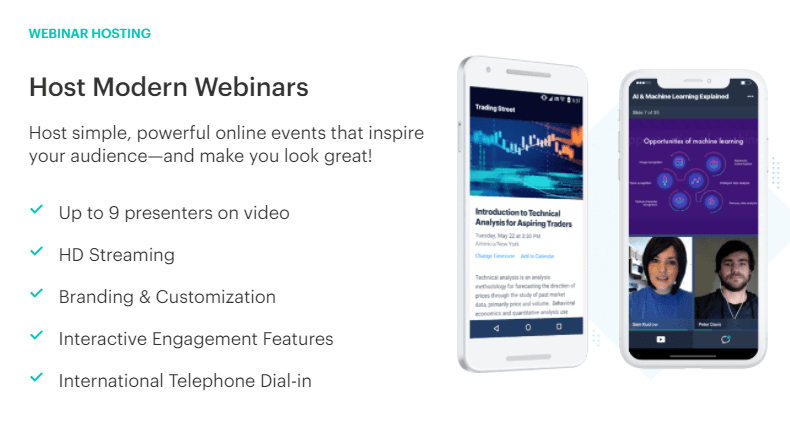 Prices and Plans of BigMarker.com
There are two methods of testing BigMarker's program. You can sign up for a free 7-day trial without providing credit card information. You can cancel at any time.
Or, for a more personalized trial experience, you can arrange a one-on-one demo with a staff member.
BigMarker's webinar software plans are probably the most common. You can choose from the Starter, Elite, and Premier Plans, or choose a White Label plan for more advanced services.
Starter Plan
The Starter Plan costs $79 per month and includes unlimited webinars with marketing and automation features.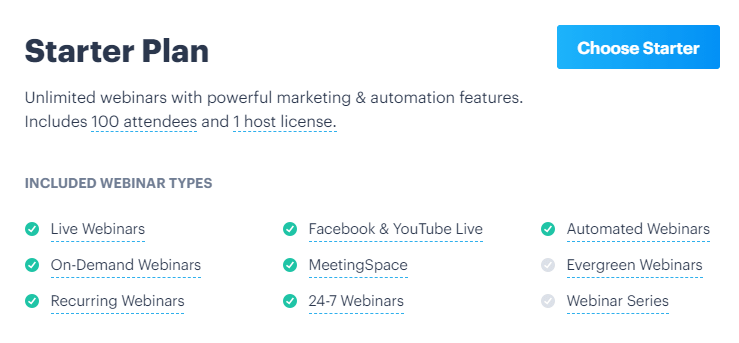 You get 100 attendees and one host license, along with the majority of the company's integrations, including Google Analytics, Zapier, and Salesforce.
This plan also comes with some other bonus features, like marketing email templates, custom URLs, recording, and the capability to sell tickets.
Elite Plan
The Elite Plan costs $159 per month. BigMarker recommends this plan for most users because it includes up to 500 attendees and two host licenses.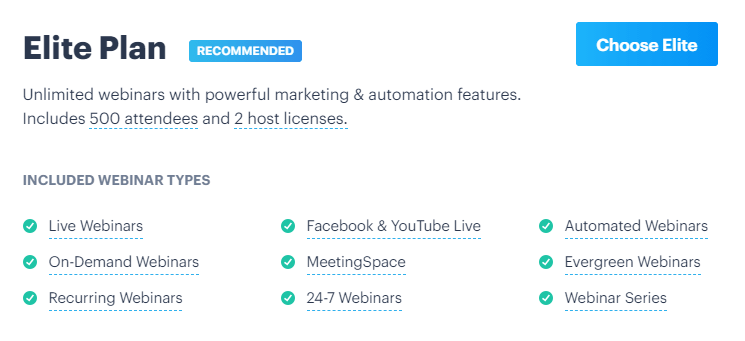 You receive all of the company's webinar types and integrations, as well as the bonus features included with the Starter Plan.
Premier Plan
The Premier Plan costs $299 per month. It allows for up to 1,000 attendees and four host licenses.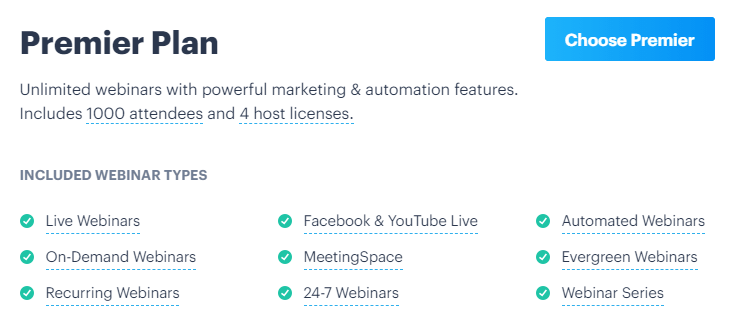 The other features included with this plan are the same as in the Elite Plan.
White Label
If you are interested in White Label services, you must contact the company for further details on pricing.
This option is for users who want advanced customization with complete branding control.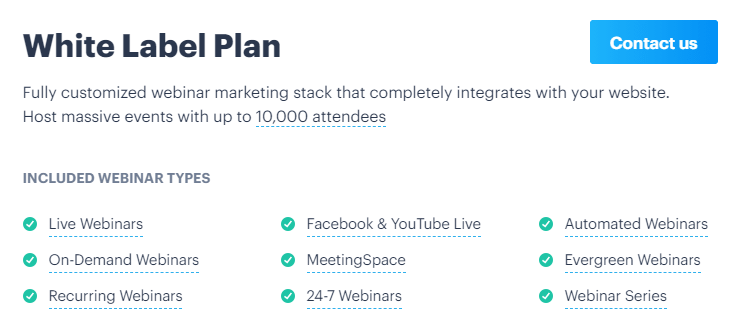 You also get assistance from Big Marker's design, software, and marketing teams to help you realize your business plans.
Service Packages
Big Marker offers advanced service packages for additional costs. You can reach out to the sales team for information on marketing, production, and technical packages.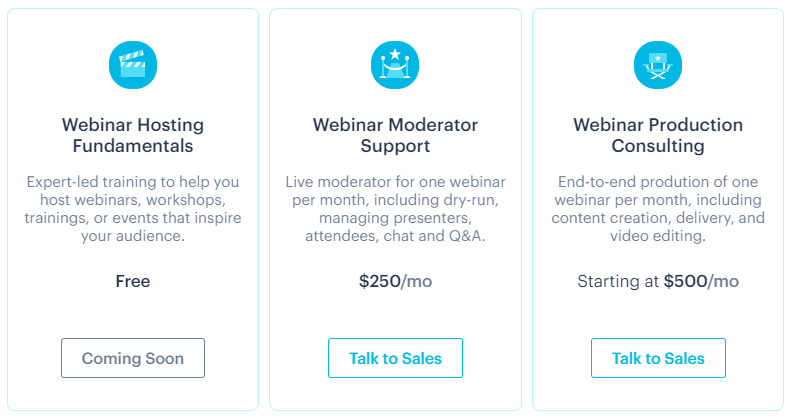 These packages usually range from $250 to $500 per month.
Criticism of BigMarker.com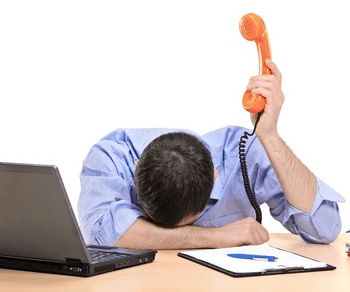 While BigMarker.com is an excellent service overall, there are some minor complaints from customers about its customer support. They feel support is slow and that the staff does not always address the specific problem.
There are also complaints about the cost of the plans, though the services offered in return are extensive and run well.
Several customers wished there was a free or basic plan available.
Customer Support
You can contact BigMarker's customer support staff through live chat or email.
They also have a Help Center with plenty of resources, including articles, frequently asked questions, how-to guides, and troubleshooting.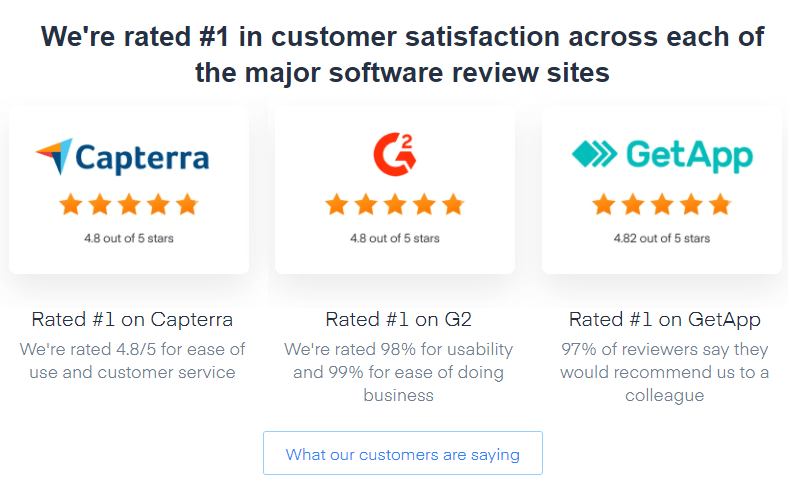 A user community allows you to interact with other customers to explore solutions to similar problems.
They also have several customer guides on their website, including ones for webinar marketing, preparing guest speakers, and hosting webinar panel discussions.
Final Thoughts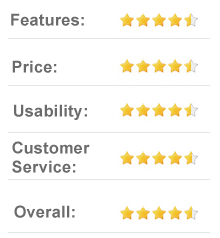 Whether you need to host a one-time conference or need software to upload live webinars, BigMarker can help. Users have the ability to record live, on-demand, and even recurring videos. It's one of the best platforms available for creating and sharing webinars, so much so that many reputable universities and companies utilize its services.
One feature that users love and that sets BigMarker apart from its competitors is the capacity to engage with the audience. BigMarker offers several ways to connect with viewers, including chat and on-screen meetings. This interactive tool fosters a sense of community and helps with marketing your service or product.
Even though BigMarker.com receives occasional complaints about its customer support, they have tons of resources on their website that provide advice and how-to guides. There are several plans to choose from, so you can select one that fits your price point and includes all of the features you need to enhance your videos.
When it comes to video platforms, BigMarker is leading the pack. Its bug-free software runs smoothly, its features are easy to use, it optimizes your videos, and its ability to record videos and schedule them at your convenience saves you time. It streamlines the entire delivery process and is a wise choice for webinars, summits, meetings, and conferences.