Unless you've been living under a rock for the last few years, you're probably well aware that Bitcoin is one of the most popular cryptocurrencies on the market.
There are numerous dedicated wallets available for storing bitcoin, including Bitcoin.com. In this review, we'll cover everything you need to know about Bitcoin.com and whether it's right for you.
We'll touch on several aspects of the site, such as:
The history
It's legitimacy
Top Features
Customer Support
License & regulations
And more
First, let's dive into the history of Bitcoin.com.
History of Bitcoin.com
Without a doubt, Bitcoin.com is a massive project, but how did it all start? The winning domain name "bitcoin.com" has been in circulation since 2008. It was passed around until finally nestling into the dedicated crypto wallet it is today.
The first business to run the site as a trading platform was Tradehill, a crypto trading company. However, that didn't last long due to banking and regulation issues, and the site was sold to the previous Bitcoin.com CEO Roger Ver in 2014. Ver originally partnered with OkCoin to operate the site, but OkCoin breached an agreement and eventually left the project.
Ver stepped down as CEO in August of 2019, but some of the principles he applied to the site are still around.
Today, the company has several experts on its payroll that are all extremely passionate about Bitcoin and cryptocurrencies in general. The site's list of useful features (see below) attracts millions of visitors every month, and the company strives to turn it into billions over the next few years.
Top Features/ Reasons To Join Bitcoin.com
Bitcoin.com has a vast array of useful features for both beginner and experienced traders. While the company started more as a digital wallet, today, you do a lot with your Bitcoin to set up a solid financial position.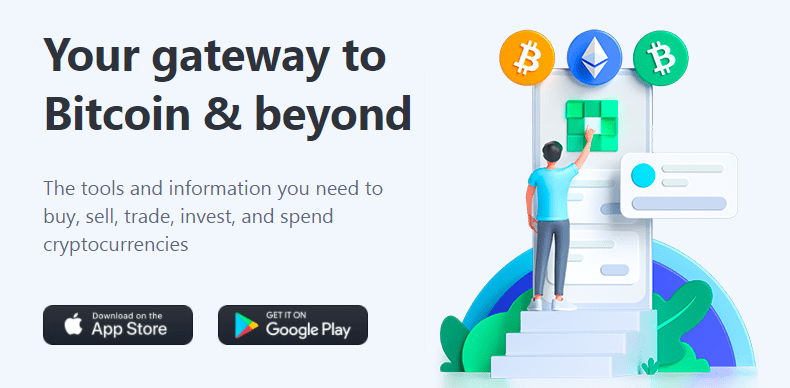 Some of the website's top features include:
1. Buy/Sell Bitcoin
If you're looking to get your hands on some bitcoin, you can buy the cryptocurrency easily on the Bitcoin.com website. Users can link a credit or debit card to their account to make a purchase.
Being able to buy bitcoin using fiat currencies (USD, GBP, EUR) makes Bitcoin.com a leading choice for those just getting their feet wet with crypto.
2. Available on Almost Every Operating System
Since Bitcoin.com's digital wallet is software-based, you don't need to connect to the internet to access it.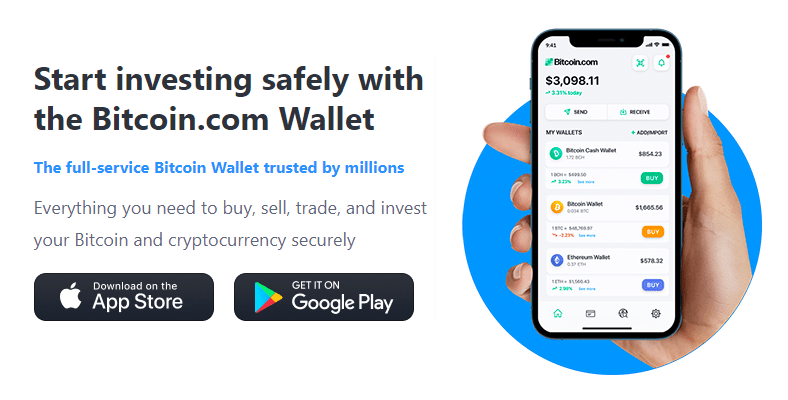 Bitcoin.com is a dedicated software that's available on almost every operating system, so users can access their funds from virtually any device. Not only does this software make for easier access, but it's also more secure than those that are web-based.
3. Live Price Charts
Bitcoin.com has live charts that contain useful data points for those trading Bitcoin, Ethereum, Litecoin, and several other cryptocurrencies. The charts provide useful insights on the current market valuation, 24-hour volume, market cap, and more.
4. Bitcoin Cash Map
Looking to spend your Bitcoin at a physical storefront? Bitcoin.com has a Bitcoin cash map that shows global vendors that accept Bitcoin for their products/services.
The map currently has over 1,000 businesses in the United States alone. You can also browse websites that take Bitcoin if you're buying goods online.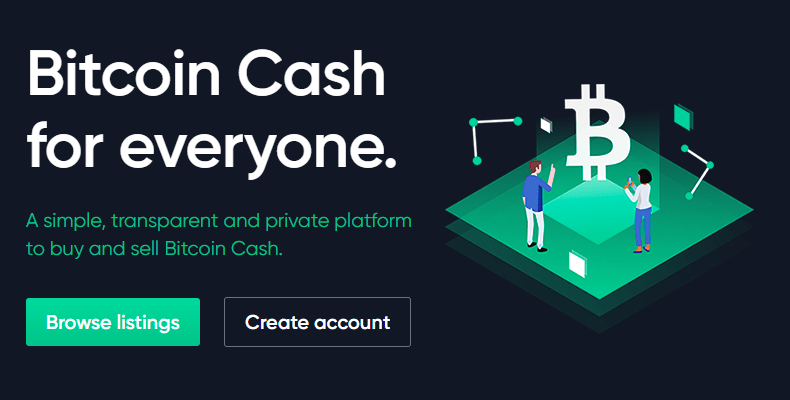 5. Buy Bitcoin Cash to Trade Locally
With Bitcoin.com, users can quickly trade their Bitcoin cash with local and international users. One reason why several users prefer Bitcoin.com for this service is that they don't require you to put in any of your personal information.
More on the privacy aspect, the messaging platform between users is fully-encrypted.
Bitcoin.com Commissions/Costs
Anyone looking for a digital wallet for their Bitcoin should be concerned about the fees involved. You can buy/sell Bitcoin within your Bitcoin.com wallet, but you're subjected to a fixed fee for your transaction. Fortunately, Bitcoin.com's fees are super straightforward.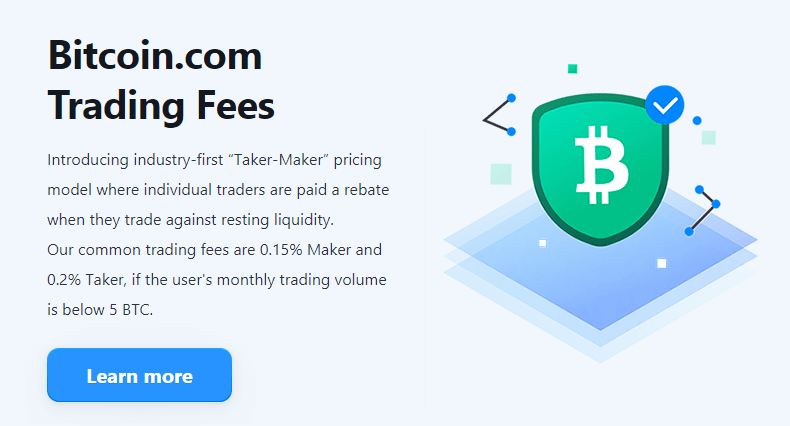 The company splits users into two parts: makers and takers. The fees for each go as followed:
Makers need to pay a flat fee of 0.15% per transaction
Takers pay 0.2%
In short, makers (also known as market makers) are those that are buying Bitcoin at a future price. For example, Bitcoin is trading at $50,000, and someone wants to buy when it reaches $51,000. Takers purchase Bitcoin at its current value.
When compared to other Bitcoin trading platforms, these fees are considered quite high. Bitcoin.com's pricing structure tends to turn experienced traders away or those looking to scale their strategies. Nonetheless, one could argue that the company justifies its higher fees through an easy-to-use platform and a seamless transaction process.
Customer Support
With all its great features and easy setup process, Bitcoin.com doesn't provide users with any live customer support. For any trading platform, this is considered without prejudice, not good. When it comes to their money, users should want a live customer support team ready to tackle any sudden issues that may arise.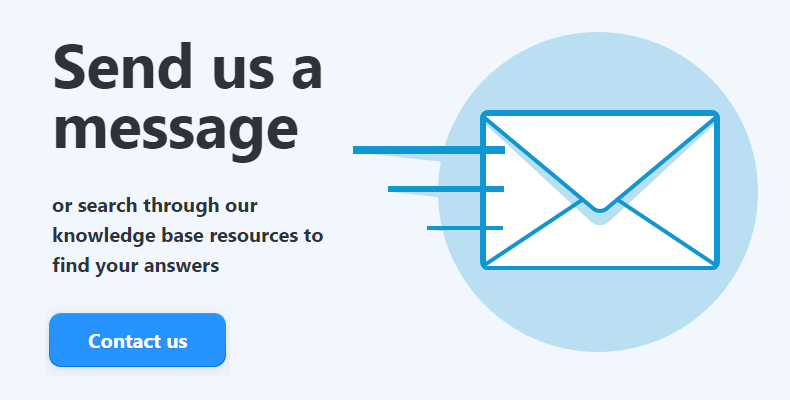 That said, no live support tends to be a common issue in the world of crypto trading. Instead, users have to rely on the community for help which usually means inconsistent quality and no trusted guidance.
However, Bitcoin.com does have a large arsenal of articles that provide somewhat valuable information, especially for new traders. The only downside is you don't know the intentions of those offering to help. Some are genuinely trying to assist you, where others are looking for creative ways to steal your Bitcoin.
Bitcoin.com Security
The general crypto community's view on Bitcon.com's security features is a bit spotty. However, if you sift through countless claims (like we have), you can come to a consensus. Since Bitcoin.com is trading with a high volume of global users, they do have a tight security protocol to help protect their users' information and money.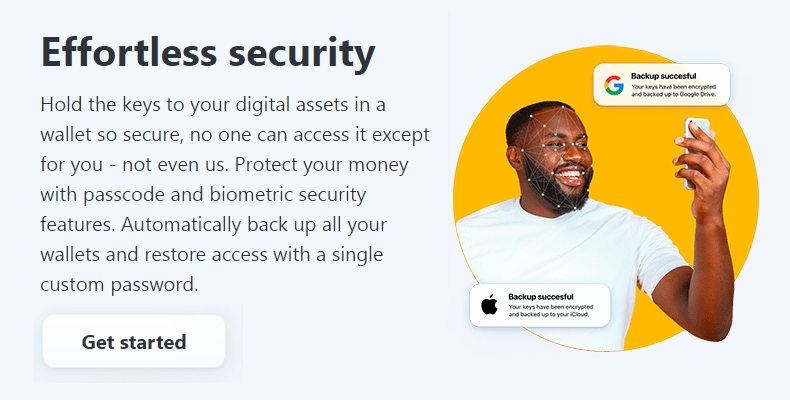 Users have a non-custodial wallet meaning they're the only one who has access to it. Right from the get-go, that protects users from several hackers that are looking to attack web-based trading platforms. The software also allows users to take personal notes about their transaction history to spot out any discrepancies.
Bitcoin.com's wallet app also uses fingerprint scanning technology, adding another layer of safety. The wallet also offers a paper backup in case of emergencies.
That said, users still need to be aware of all the potential risks of having a non-custodial wallet. If you lose your phone, you can potentially lose your funds. You also need to be careful about accidentally downloading viruses and malware.
How Easy Is It to Get Started?
If you dig around the internet for Bitcoin.com reviews, you'll notice that one of the biggest benefits is how easy it is to set up an account and start trading. User-experience isn't typically that great when it comes to crypto wallets, but Bitcoin.com seems to pay a lot of attention to this area of their website.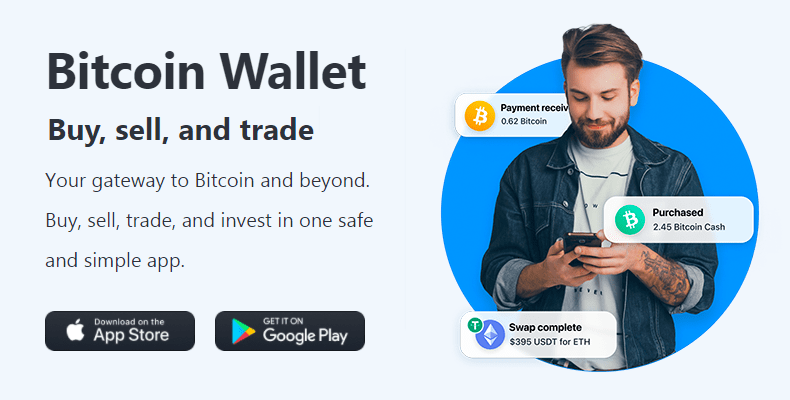 Here's a breakdown of how to get started with Bitcoin.com:
Install your wallet directly from their website
Choose your wallet of choice from the home screen
Backup your information and store your 12-word recovery phrase somewhere safe (Very Important!)
Transfer or buy Bitcoin using your debit or credit card and store them in your wallet
That's it!
Once your wallet is set up, you're ready to start sending and receiving Bitcoin.
Who Should Use Bitcoin.com?
Without a doubt, Bitcoin.com could potentially be useful for certain people. Overall, the software is incredibly easy to use, and getting started is almost instant. Bitcoin.com has a comprehensive breakdown of Bitcoin, how it works, and how to trade in their beginner section. The quality of information is solid, and it's more effort than seen on other trading platforms.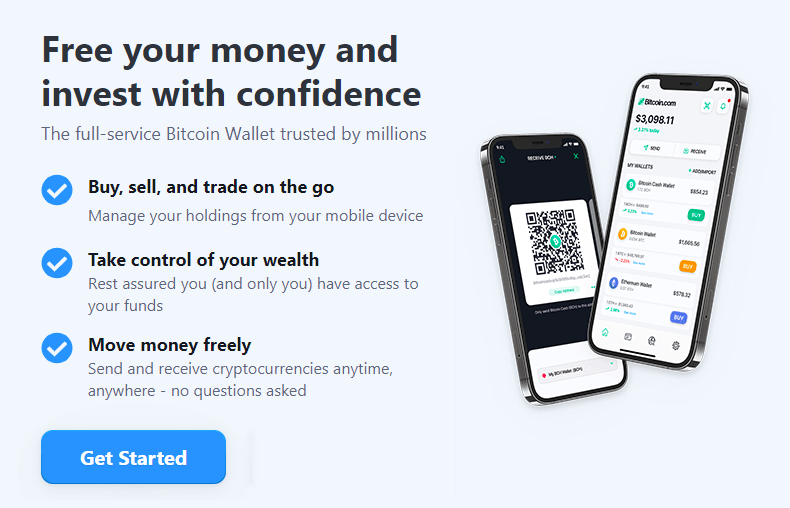 Here's a checklist to see whether Bitcoin.com is the right software for you:
You're new to trading Bitcoin and you need easy-to-use software to get started
You want to buy/sell Bitcoin on any device
You're looking to use Bitcoin cash immediately for fast payments (Bitcoin.com uses InstantPay)
You want to buy Bitcoin with a fiat currency
You're looking for easy-to-read live Bitcoin charts & reports
Here are some details that may mean Bitcoin.com isn't right for you:
You're looking for live customer support
You're looking for the lowest transaction fees
You're not interested in a mobile wallet
Final Thoughts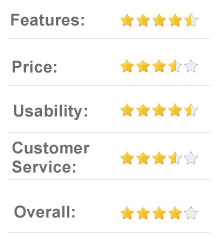 Bitcoin.com is a leading trading software trusted by millions of users. The company may not be perfect, but it does have several incredible features that allow its users to make money trading and storing their Bitcoin.
Some of the major downsides of Bitcoin.com are the high transaction fees and the fact that you can only store Bitcoin and Bitcoin cash in your wallet. That said, if those are the only forms of currency you're interested in, that may not affect you.
The future of Bitcoin.com, however, is promising. Company executives claim that they're looking to expand their customer support systems, improve security, and make their app even more accessible.