Bitget.com is a newer Singapore-based website that hosts the trading of crypto-currencies. Despite its relative youth, the website has comprehensive features that fans of all varieties of cryptocurrency will appreciate.
Bitget features contract and spot trading and supports a long list of crypto options. The platform also has over one million registered users from across the globe, with further plans to expand.
From beginners to seasoned investors, anyone can get started on Bitget in just a few minutes. Then, you can trade anywhere with the mobile apps and various online access options. Plus, you can get support when and how you need it.
Ready to learn whether Bitget might be the crypto trading platform for you? Read on for all the details.
Bitget.com History and Now
A relatively new crypto currency company, Bitget emerged from Singapore in 2018. According to the company, it currently ranks in the top five highest-volume contract trading sites globally. It's also worth $1 billion and bills itself as the "world's largest crypto derivatives copy trade platform."
Bitget is diligent about keeping up with regulatory requirements and expanding its reach. Though it has some limitations legally speaking (access is limited to a long albeit selective list of users based on their country of residence), the organization is vocal about plans to expand.
If Bitget isn't available to you at the moment, it may be soon.
What BitGet Offers
Bitget is a cryptocurrency platform, but what does it really offer that helps it stand apart from the competition? From how you use it to where, here's what Bitget offers for every consumer on the platform.
Versatility
Bitget supports a long list of coins, from Bitcoin to BF Token plus Ethereum (and ETC), Ripple, Bitcoin Cash ABC, EOS Token, Litecoin, and more. Rates and withdrawal fees vary based on the currency, but the variety is ideal. You can also use BFT at a lower transaction fee amount (30 percent lower).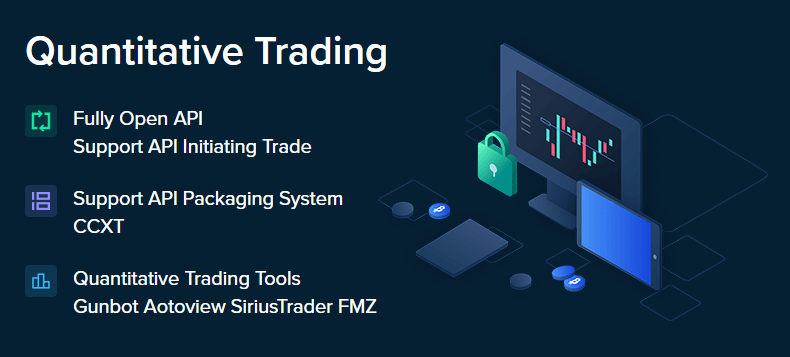 Detailed User Interface
As a registered user, your dashboard is a detailed screen that highlights all your coins and transactions. It's a slick interface that feels professional yet simple, and you can see where you stand with a glance on your mobile device, desktop, or elsewhere.
If you're a newbie and need a clear way to see your coin and trading activity, Bitget fits the bill.
Convenience
Bitget's tagline is "Trade. Anywhere." and it makes sense. You can access the crypto trading platform via desktop, whether on Mac or Windows. Or, download an app — via Google Play, Android APK or iOS — or scan a QR code for on-the-go mobile access.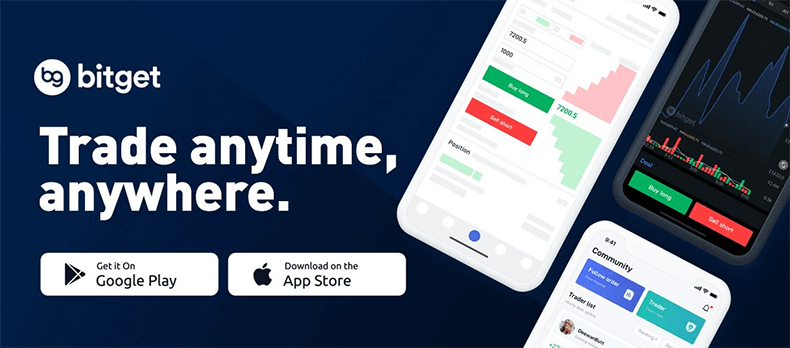 You can even integrate your trading app with Bitget API, so there are no limits to how you can access your coin, or from where. That is, as long as you live in an area that permits Bitget to operate.
Perpetual Contracts
Bitget offers perpetual contracts, which are a derivative product that does not expire. A crypto derivative is tradable securities or contracts that derive their value from underlying assets. The underlying asset that the cryptocurrency derives its value from is usually another cryptocurrency.
A perpetual contract means that it may be traded or held onto for any amount of time. There will be no expiration or time within which you must sell or trade.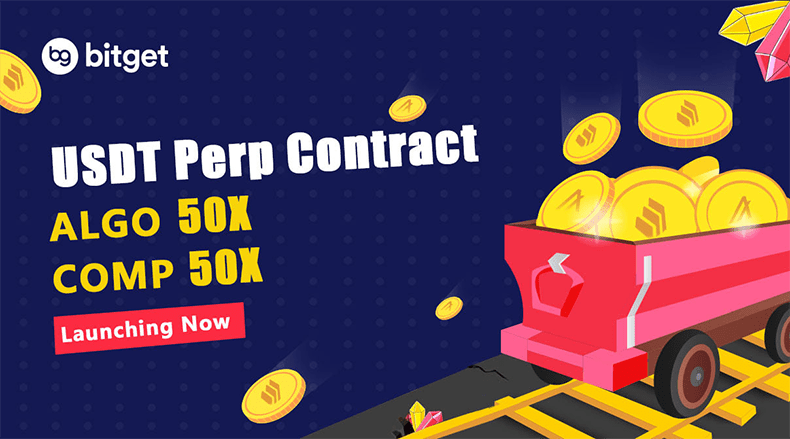 Perpetual contracts are the main allure of Bitget.com. The perpetual contracts aspect of the platform has been thoroughly executed as its the most important part. Bitget offers both long and short term contracts.
Over the Counter Trading
An over-the-counter trading exchange is an exchange in which there is no third party involved at all. There are no brokers involved in over-the-counter trading. Over-the-counter trading is all online and can be done from home as there are no physical places to conduct the trading.
Bitget.com provides an over-the-counter trading system through a third party that only allows for selling. OTC trading through Bitget doesn't allow for buying. Selling your cryptocurrency requires removing them from the platform altogether.
Spot Trading
Spot trading is how you can trade commodities, currencies, and securities for immediate delivery. Spot trading ensures your transaction is finished immediately instead of concluded at a later date.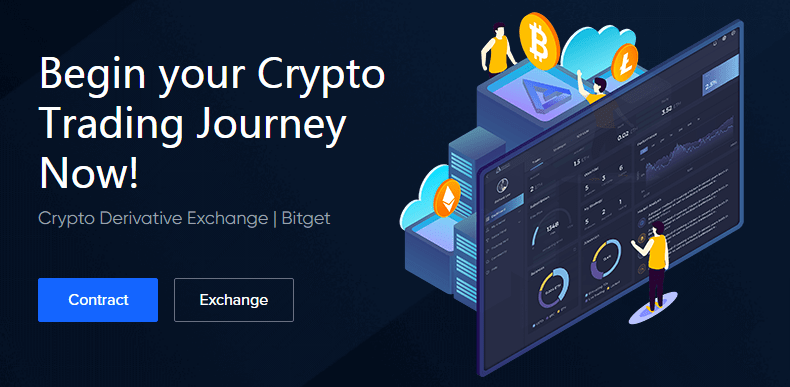 Bitget offers spot trading for its highest performing cryptocurrencies, of which there are currently 11. Bitget uses real-time data to determine the best-performing currencies to engage in spot trading.
Leveraged Trading
Leveraged trading may be risky, but smart action can pay off in big ways. Luckily for Bitget users, the platform offers leveraged trading — only perpetuals, however — with a maximum of 100x. It will take some effort to dial in your risk versus reward potential, but it's a nice touch for more advanced coin traders.
Comprehensive Guides
While the main allure of Bitget.com is its trading features, the site also offers a large information section. Bitget guides help teach users about trading, how it works, how to do it efficiently, and more. In short, if you don't want to seek out customer service, you can get a rundown on how Bitget operates based on reading their guides.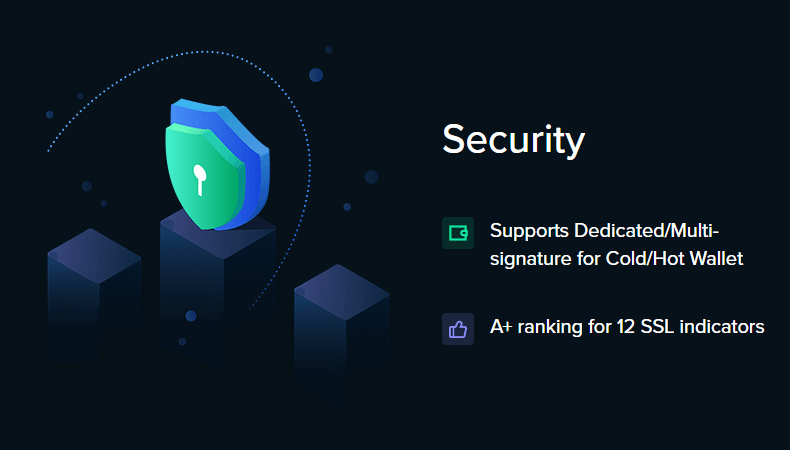 Security
Bitget isn't flashy about its security promises, but it does note that the site maintains an A+ ranking for 12 SSL indicators. Plus, the site supports dedicated and multi-signature functions for cold/hot wallets.
Growth
Growth may not be crucial to you if Bitget's services are currently available in your country. Regardless, their hunger for scaling up is impressive. Bitget partnered with South Korean game company SNK and was co-invested by Anlan Capital, which drove up its value.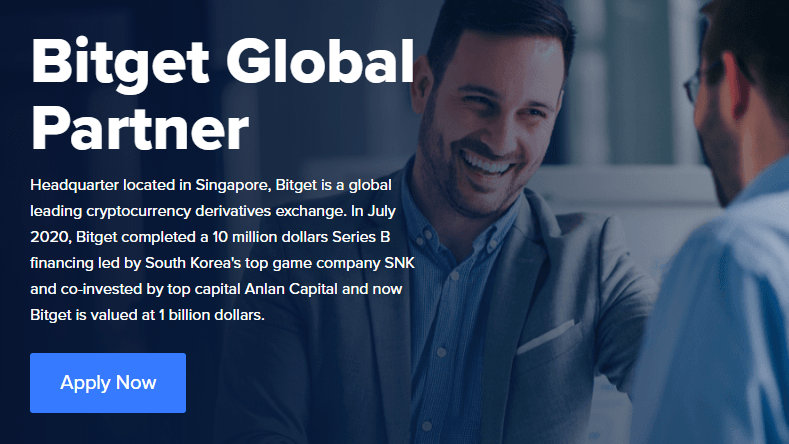 Since 2020, Bitget started focusing on deploying in overseas markets. They maintain a Global Partner Program to recruit additional partners — and there are currently over 2,000. The $2 billion 24-hour trading volume is another indicator of the site's potential for even more astronomical growth.
Bitget Commissions & Costs
Bitget has an up-front fee schedule, so you know what you're getting and how much you're paying for it. Spot rates are .20 percent regardless of trading pair, while contract fee rates are a flat .04 percent for makers and .06 percent for takers. You can also use BFT payment, which involves lower fees. A flat .14 percent fee applies for both maker and taker fees for BFT.
Withdrawal fees vary, starting at .0005 for BTC withdrawals and a flat fee of 10 BFT given a minimum 100 BFT withdrawal. Limits apply, with a maximum withdrawal of 2 million BFT or 200 BTC. Plenty of other coin types are available as well, of course.
Customer Support
Bitget's customer support is comprehensive. Not only do they offer 24/7 multilingual support, but they also have 1-on-1 services for their elite clients. Deposits and withdrawals are fast, but if you encounter a problem, the FAQ section is a solid place to start.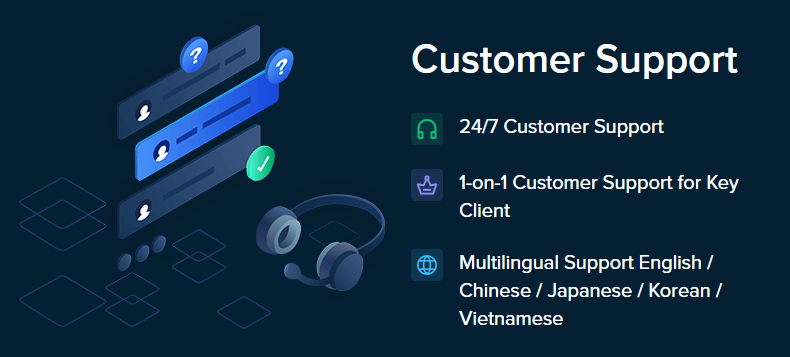 If you need more hands-on help, you can call Bitget or submit an online request for support. Whether you fill out their on-site support request or send an email directly, service should be prompt.
Plus, Bitget is active on countless social media platforms, from Twitter to Facebook to YouTube and even Reddit. Odds are, if you have a question, they'll have a ready answer.
Regulations
Bitget is listed on CMC and CoinGecko and has licenses from Canada, Singapore, Australia, and the USA. While the organization aims to expand further, its current licenses include:
U.S. MSB License under the Financial Crimes Enforcement Network (FinCEN)
Canada MSB license via the Financial Transactions and Reports Analysis Centre of Canada (FINTRAC)
Australia Digital Currency Exchange (DCE) License with the Australian Transaction Reports and Analysis Centre (AUSTRAC)
Exemption of Provision of Cryptocurrency Payment Services in Singapore per the Monetary Authority of Singapore (MAS)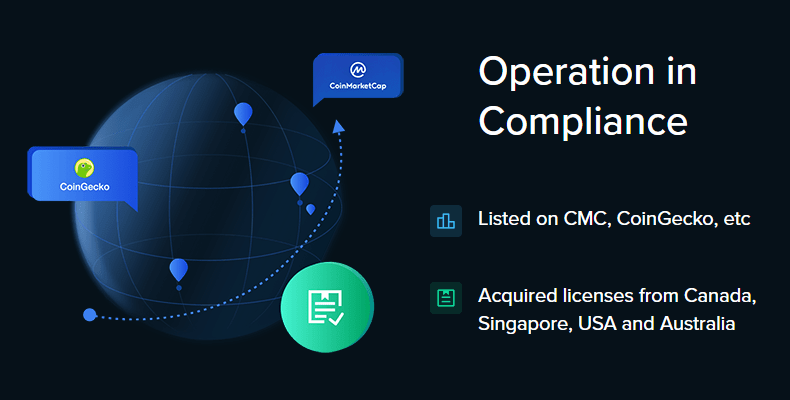 Some locations require specific sign-up details, such as your driver's license or another form of identification. Bitget notes that they're responsible for sticking to the rules of each country, so they might request additional information from you to verify your identity.
However, it's worth noting that Bitget is unable to offer services in specific countries, including the United States and its home base of Singapore. In fact, the list is quite extensive of countries where Bitget has not sought authorization.
The site states that currently, it cannot support customers from: Singapore, United States, Canada (Ontario, Quebec), Cuba, Iran, North Korea, Crimea, Sudan, South Sudan, Syria, Libya, Malaysia, Bangladesh, Bolivia, Ecuador, Kyrgyzstan, Republic of Seychelles, Bermuda, Republic of Congo, Federal Republic of Somalia, Yemen.
Final Thoughts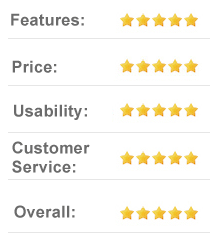 Whether you're new to bitcoin trading or want to explore what else is out there, Bitget shows promise. Not only has the company grown since its debut in 2018, but it's constantly adapting and changing — plus aiming to expand even more.
Its success is a clear indicator that Bitget is worth a look, but the level of customer service available is a highlight, too. Plus, you can't beat the convenience of accessing Bitget from your desktop, app, or even API. In short, if you want to dive deeper into cryptocurrency trading, Bitget is a great place to start.