Bitmex is a next-generation trading platform that is registered in Seychelles and operates worldwide.
Standing for Bitcoin Mercantile Exchange, Bitmex is one of the most highly used Bitcoin trading platforms on the market, with over 540,000 accesses monthly, a daily trading volume exceeding 35,000 BTC, and a history of trading over $34 billion worth of Bitcoin since its founding.
Unlike other trading companies, Bitmex only accepts Bitcoin deposits. Deposits made through Bitcoins can then be used to purchase other cryptocurrencies. Bitmex specializes in margin trading.
Like many other trading platforms of its kind, Bitmex is currently unregulated in any jurisdiction.
Now let's take a closer look at what Bitmex.com has to offer cryptocurrency traders.
Bitmex Company Details
Former bankers Samuel Reed, Ben Delo, and Arthur Hayes founded Bitmex in 2014 via HDR Global Trading Limited. The group registered the company in Seychelles and took it global, which gave it a strong start.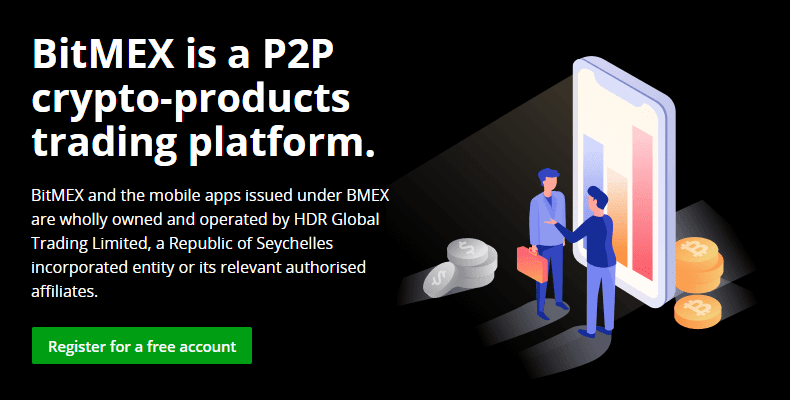 The expert bankers also diversified the platform into derivative trading, and more specifically, margin trading, which gave the business a solid foundation to build upon.
Now, Bitmex is one of the most trusted and significant platforms available to Bitcoin traders around the world.
Bitmex Top Features
Bitmex has a host of features for traders considering this online platform.
Some of the top features include:
Bitmex is specifically designed for cryptocurrency trading, making it more streamlined and intuitive to use.
Specialized service, along with general trading, attracts a focused audience.
There's a wide range of cryptocurrencies available.
Traders have access to global trading and can chat with other traders from around the world via the platform chat function.
Users can customize their experience using widgets on the desktop platform.
Bitmex offers vast amounts of free information on their website to educate and inform traders.
Bitmex provides secure trading 24 hours a day, seven days a week.
Types of Contracts on Bitmex
Bitmex is a derivative trading platform that focuses on margin trading, meaning you don't actually trade cryptocurrencies. Instead, you trade contracts that follow your chosen cryptocurrency's price. You can also leverage a trade up to 100x.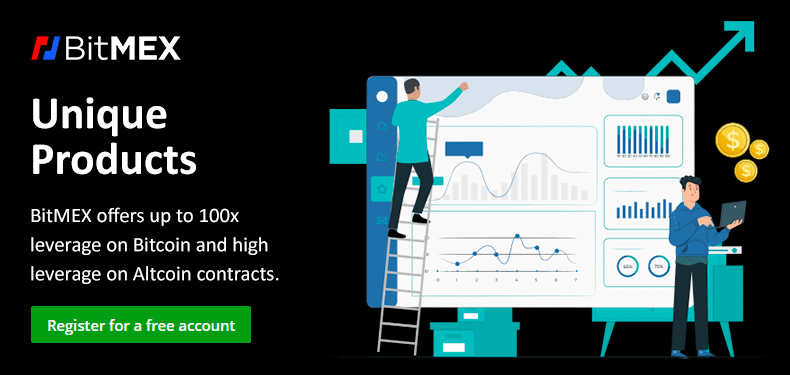 The good news is that you can invest small amounts of money and generate large profits. The bad news is, you can also lose everything, and quickly.
Leveraged derivative trading is typically an experienced trader's game, so Bitmex is not recommended for absolute beginners. That being said, Bitmex does offer a support team, contract guides, resources, and references for anyone interested in this kind of trading.
The types of contracts Bitmex provides are:
Futures Contracts
A futures contract is an agreement to buy or sell a cryptocurrency for a set price at a future date. Bitmex users can leverage up to 100x on certain futures contracts.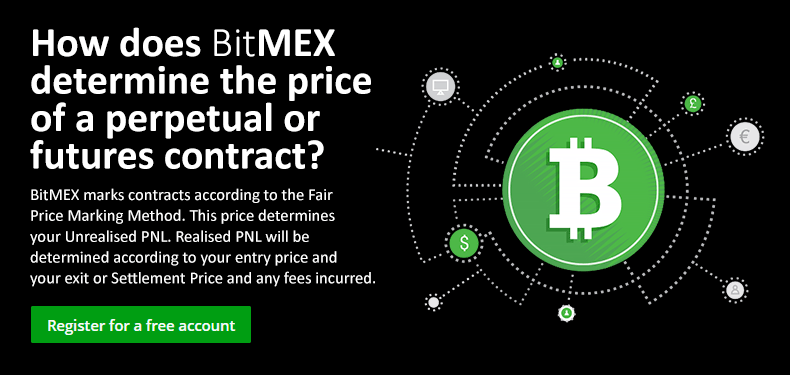 Perpetual Contracts
Perpetual contracts are similar to futures contracts, except that they have no expiration date or settlement. Unlike futures contracts, perpetual trades close to the underlying reference index price.
Bitmex Leverage Types
Bitmex users are allowed to leverage their position on the platform. This means they can place orders that are larger than what's in the user's account balance. Leveraging can lead to higher profits than when placing orders only using what's available in the wallet balance.
This is called Margin Trading, and there are two types:
Isolated Margin Trading
This type of trading allows the user to select the amount of money available in their wallet that should act as a deposit to hold their position after they've placed an order.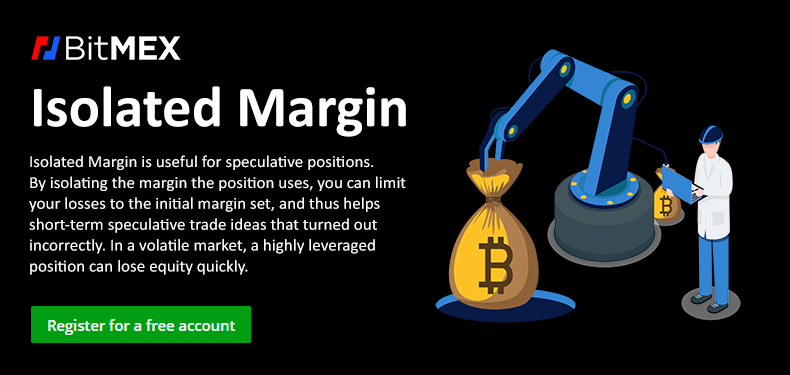 Cross-Margin Trading
All of the money in a user's wallet can be used as a deposit to hold their position after they've placed an order in cross-margin trading.
Bitmex gives users the ability to set their leverage level by using a sliding scale. On average, trading platforms offer leverages not exceeding 1:20, but Bitmex sets a max leverage of 1:100.
Bitmex Currencies and Payment Methods
Although all trading and deposits must be in Bitcoin, the Bitmex service allows users to trade different cryptocurrencies against flat currencies like the Japanese Yen and U.S. Dollar. Once you deposit Bitcoin, you can then use it as a method to purchase a range of cryptocurrencies, including:
Bitcoin
Bitcoin Cash
Cardano
Chainlink
EOS Token
Ethereum
Litecoin
Polkadot
Ripple Token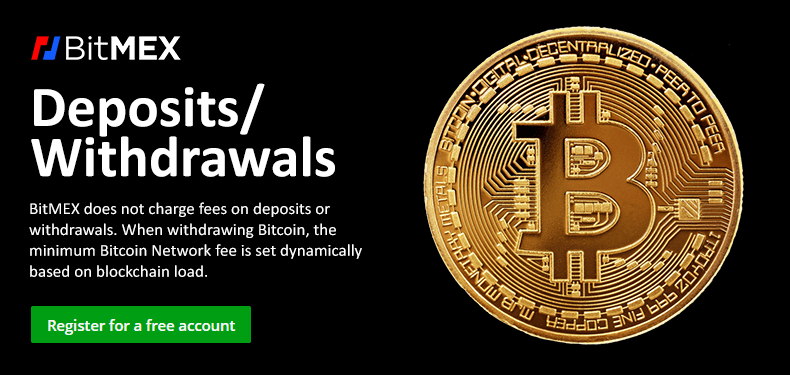 The Bitmex niche platform is an ideal fit for traders who want a narrow scope that allows them to leverage trades. Another benefit Bitmex offers users is that it does not charge fees for Bitcoin deposits or withdrawals.
Since Bitcoin is the only form of payment the service accepts, the zero-fee charge is especially beneficial. The only related costs are based on network fees calculated from the blockchain load.
Users can deposit a minimum amount into a trading account of 0.001 BTC 24 hours a day.
There is no limit for withdrawing Bitcoin, and all withdrawals are processed in-person to reduce fraud. Hand-processing adds another layer of security to the process, which everyone can appreciate.
Bitmex Fees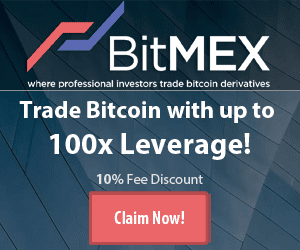 Bitmex offers competitive fees, which most experienced traders find minimal in relation to the platform's large profit opportunities.
Maker fees start at -0.0250%, while taker fees are set at 0.0750%. As noted before, withdrawals and deposits are always free of charge, and there are no hidden costs associated with trading. You can take a look at the full list of fees at the Bitmex website.
Bitmex Additional Features
For traders wanting to get their feet wet, Bitmex offers a full demo version of their platform called Bitmex Testnet. Users can register separately for access to the test site and use the sandbox version to try out Bitmex services without the risks involved with live trading.
Bitmex traders can simultaneously use the demo version and live version, so you can virtually fund your account and test trading methods before attempting anything permanent.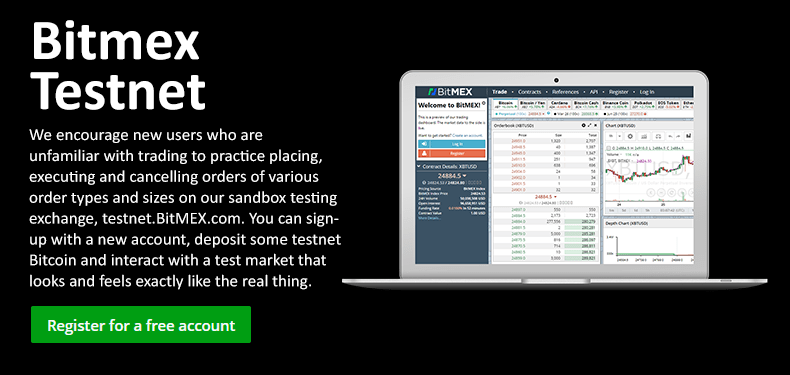 Additionally, Bitmex offers a variety of order types to appeal to a larger audience. Order types include:
Users also have the ability to leverage as soon as they create an account. Interested traders can quickly and freely open an account, choose their leverage level using the slider, and immediately begin the process. This is a great advantage for experienced traders, but isn't recommended for beginners.
Bitmex Customer Support
Bitmex values its customers and is big on support, whether through useful information or customer service.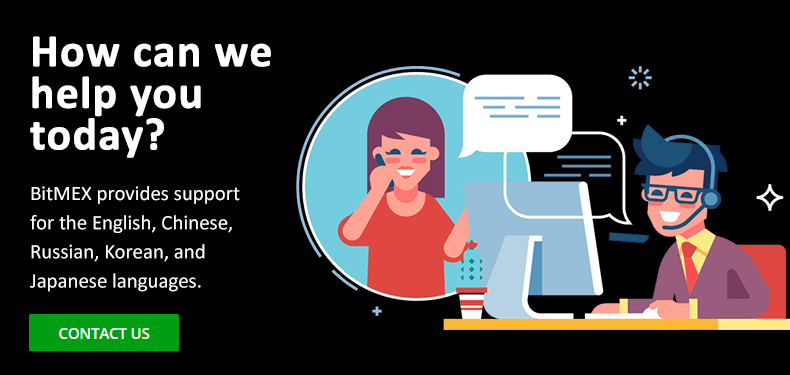 The company's website provides a Reference tab that contains guides, trading overviews, and a plethora of practical trading knowledge to support traders using the platform. There is also a FAQ that covers basic questions concerning trading and using the Bitmex platform.
Should you have more questions or need assistance, the website offers 24/7 support in English, Chinese, Russian, Korean, and Japanese. Customers can use email, ticket systems, and social media to contact the customer support team and generally receive a response within one hour.
Additionally, users have the opportunity to interact with other traders via the website's chat tool.
Final Thoughts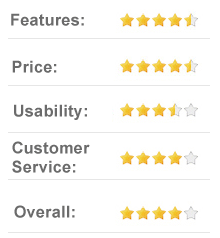 Bitmex is a niche trading platform with low trading fees and a worldwide audience (excluding the U.S.). These factors have led to the company's success, and it continues to grow in popularity thanks to its high-level trading, leveraging, and unique features.
The platform is designed for experienced investors, and beginners may find the interface and general complexity of the platform and trading system difficult to navigate. That's not to say the average trader can't enjoy using Bitmex. The platform provides a variety of tools, information, and support to guide users through the process.
It's worth noting that margin trading and engaging in leveraged trading is risky. Even advanced traders describe the process as a high risk, but it can also produce high rewards when you know what you're doing.
Beginners and intermediate traders interested in Bitmex should spend time learning all they can about margin trading and using the demo version of Bitmex before opening a live account.
Overall, Bitmex is an excellent trading platform for advanced investors who already know their way around cryptocurrency and margin trading.