Bittrex.com is a well-known cryptocurrency exchange with a long history of offering crypto trading opportunities. It provides hundreds of coins, many fiat pairs, and the ability to trade on the go with a mobile device.
You'll be among over half a million people if you decide to create an account with Bittrex. So, we'll help you understand the benefits you'll receive with signing up for them, the quality of their customer service, and how they manage regulations, among many more.
About Bittrex.com
Bittrex.com is a trusted name in the cryptocurrency industry, as its 2014 start means that it's a relatively senior crypto exchange.
Users from around the world can use Bittrex, except for a handful of countries like North Korea and Cuba. Furthermore, residents from a few states in the U.S. can't use Bittrex. However, Bittrex is continually working with them to see if they can get approval.
Many features make Bittrex unique from its competitors, including a custom-built trading engine that allows orders to execute in real-time. They also offer over 250 cryptocurrency trading pairs, exceeding the number on many other crypto platforms, such as Coinbase.
Security and governmental compliance are at the forefront of Bittrex's mission. They offer multiple layers of protection to keep their customers' assets safe and comply with whatever regulations the countries they operate in have in place.
Top Features of Bittrex.com
Many attractive features draw people to Bittrex.com. So, below are some of their most stand-out qualities.
Custom Trading Engine
Bittrex is proud that its trading software is unlike any others, thanks to the in-house developers who made it. As a result, you can expect your crypto buy and sell orders to execute at ultra-fast speeds.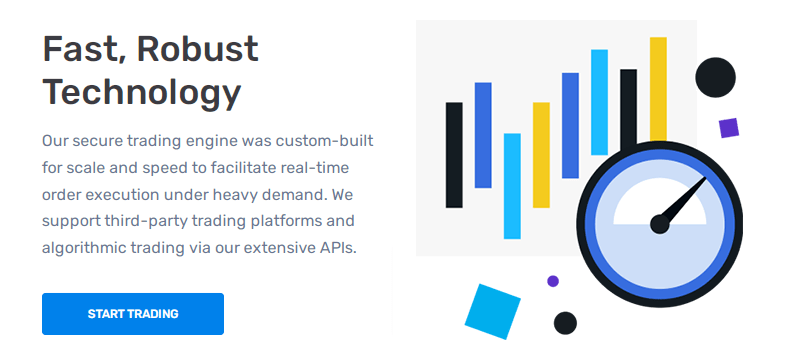 Furthermore, Bittrex doesn't ban the use of third-party trading platforms and algorithmic trading. That's especially useful for traders looking to use application programming interfaces (APIs) to use bots or design their own trading tools.
Hundreds of Cryptocurrencies
Bittrex offers over 250 cryptocurrencies that you can trade with, spanning a variety of fiat and stable coin pairings. From big names like Bitcoin and Ethereum to smaller cap cryptos like Validity and Render, you'll have access to more cryptocurrencies than many exchanges offer.
That said, Bittrex.com isn't the largest exchange, as some offer more coin selections. However, they put the crypto projects they accept through a vetting process, so there's less likely a chance of you buying into crypto that becomes a rug pull.
Outstanding Internal Security
Bittrex will never promise that you won't lose money on a crypto trade that you initiate. However, they take responsibility for securing the fiat and cryptocurrency coins you hold on their platform.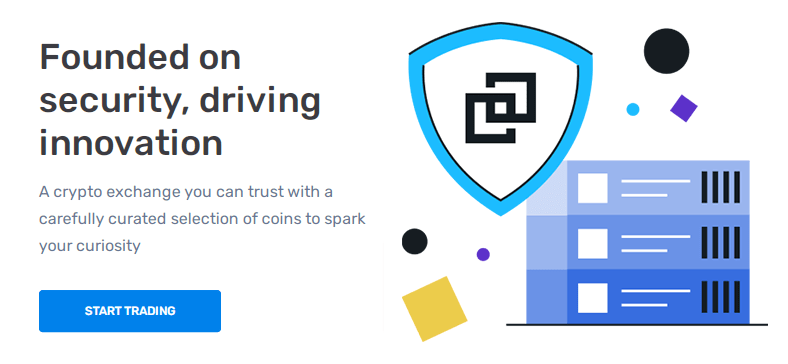 They do this by using a multi-stage wallet strategy and keeping the majority of all funds in offline cold storage. That way, if someone hacks them, they won't be able to steal all user funds.
Robust User Security
Hackers don't always go to the exchanges to steal crypto and fiat. Instead, it's often easier for them to take funds directly from you, the user. So, Bittrext.com thwarts the likelihood of this by offering security features, including two-factor authentication and a disabled account email link.
Furthermore, you can opt to safelist wallets that you approve. That way, you'll only be able to withdraw funds to wallet addresses you pre-approved. So, if a hacker gets into your account, it'll be nearly impossible for them to transfer your funds to their own wallet.
Instant Buy and Sell
If you're new to trading cryptocurrency, seeing endless candles and chart tools can feel overwhelming. That's why Bittrex.com offers an instant buy or sell button on its homepage.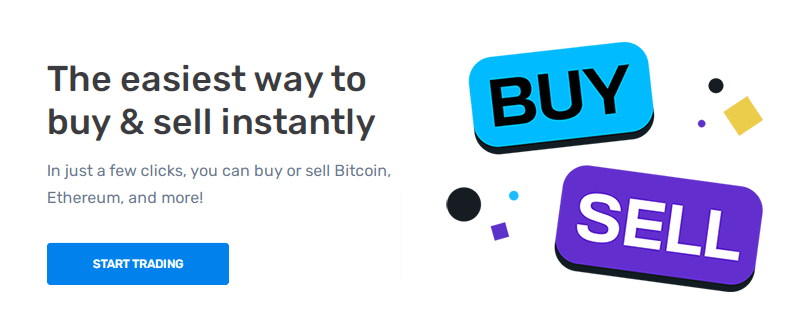 All you have to do is connect your bank account, debit card, or credit card to make your first crypto purchase or trade. Bittrex will make these purchases on a market order basis. So, you might pay a little more in fees, depending on your trading amount, but it's undoubtedly an easy way to become the proud owner of crypto.
Fast Transfers
Whether you want to deposit or withdraw crypto or fiat, Bittrex takes the stress out of waiting for it to happen. They pride themselves in using an automated monitoring platform that will get your crypto or money where it needs to go in the shortest amount of time.
Plus, they'll never leave you wondering where it's at in the transfer process. Instead, you can check your account for up-to-date information on your current balance, trade, and wallet details.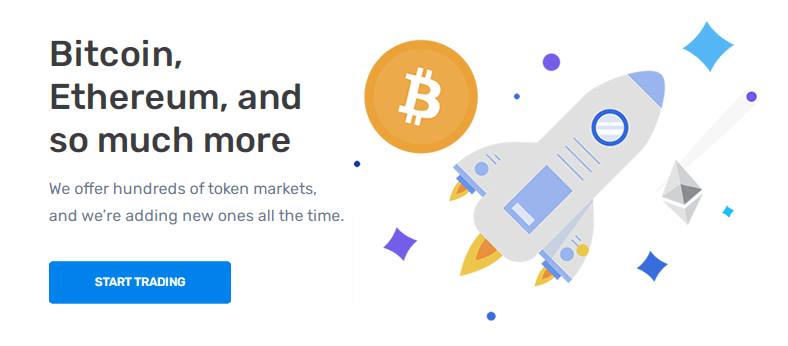 Many Order Type Options
If you're a more advanced trader, you'll appreciate that you can visit a more complex trading page that Bittrex offers to arrange your thought-out trades. Some of the types of trades you can set up include:
That said, keep in mind that Bittrex.com doesn't offer margin trading.
Bittrex.com Costs
Bittrex's low fees are one of the most common reasons that people choose them as their cryptocurrency exchange. They operate on a tiered system based on your rolling trading volume over the past 30 days.
They provide a detailed breakdown of trading fees. But to give you an overview, if you have less than $25,000 in trading volume over any 30-day period, you'll pay 0.35% in both maker and taker fees.
In contrast, people with over $100 million in 30-day trading volume will pay 0% maker fees and 0.5% taker fees.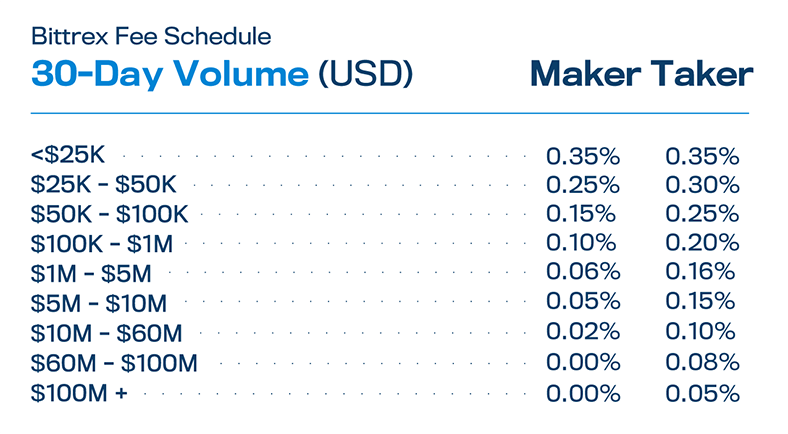 Keep in mind these numbers focus on trading volume, not the amount of capital you deposit. Therefore, even day traders using a small bankroll can quickly move down the price tier into a lower fee territory.
As for deposits and withdrawals, you won't have to pay any money for depositing money or cryptocurrency into Bittrex. However, you'll need to pay a small network transfer fee if you wish to withdraw your cryptocurrency and send it to a different address.
In contrast, Bittrex usually doesn't charge if you decide to take out your money in fiat via an ACH withdrawal. There are always fees for wire transfers, though, and you'll need to check with your bank to see if they'll charge additional fees on their end.
Customer Support
While Bittrex offers customer service options, they aren't the easiest to get ahold of. One of the biggest downsides that prospective customers experience is that they have a chatbox, but it's not live. Instead, you can chat with a bot named Trexie, who can point you towards Bittrex's online information that might be able to answer your question.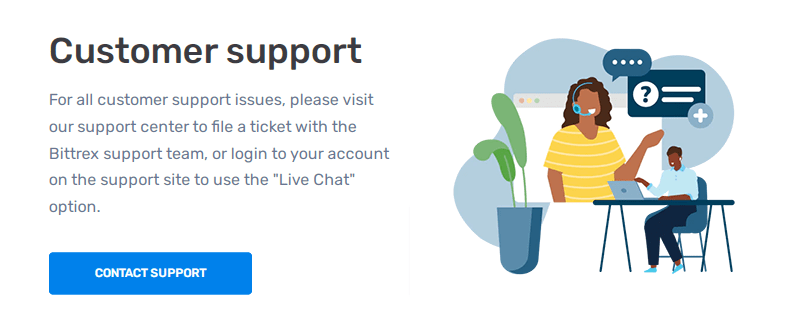 Here's the good news, though: If you're already a customer, you can log into your Bittrex account and chat live with customer service.
Furthermore, should you be a current customer with an account and have a question or issue, you also have the option to open a ticket. That way, you can include a detailed account of your situation and wait for a real customer service representative to contact you.
Bittrex also publishes their Seattle, Washington address on their contact us page, although we don't recommend using snail mail to get your questions answered.
Bittrex.com Regulation
As a Seattle, Washington-based company, Bittrex complies with U.S. governmental laws, including allowing residents from 46 out of 50 states to use its services. That said, since U.S. securities laws don't currently regulate crypto exchanges, it doesn't have regulation under the United States government.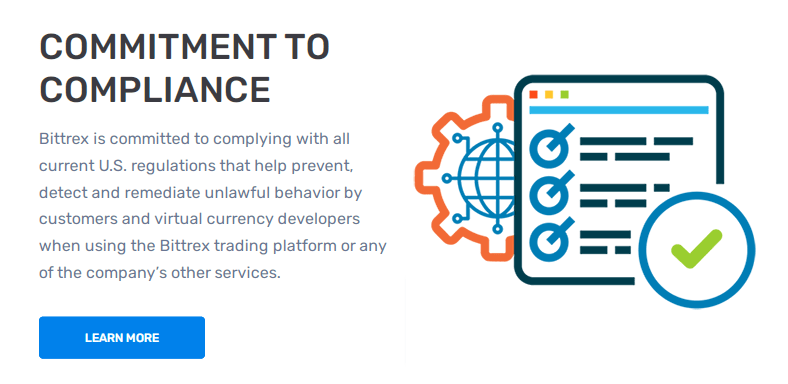 However, they require U.S. customers to complete the Know Your Customer (KYC) survey and follow the U.S.'s anti-money laundering laws.
Similarly, Bittrex complies with all other laws in the countries they operate in. For example, the Office of Economic Affairs of Liechtenstein and the Liechtenstein Financial Market supervise them. They're also in compliance with Bermuda's Digital Asset Business Act (DABA).
Final Thoughts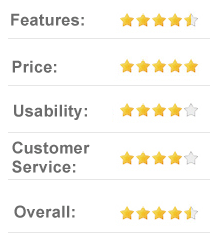 Bittrex.com is a trusted name in the cryptocurrency space. It has many security measures to prevent a hacker from taking your assets, and its platform is suitable for beginners and advanced traders alike.
Trading cryptocurrency is a risky activity, given its volatile nature. Therefore, before embarking on your Bittrex.com journey, it's crucial to educate yourself on basic trading techniques. Furthermore, you should only invest as much money as you're willing to lose.
Whether you're ready to try trading cryptocurrency for the first time or you'd like to switch crypto exchanges, you can register for an account today.