About BitYard
BitYard , created in November 2019, is a derivative cryptocurrency contract exchange system. Rather than directly trading cryptocurrency, BitYard allows investors to trade options contracts, thereby controlling the price movements of assets. Buyers are not required to have any cryptocurrency of their own to participate in the exchange.
The exchange portal's founding goal was to simplify and facilitate the complex maneuver of trading options contracts online. Plethoras of new cryptocurrency investors have taken advantage of the platform's tools to learn the art of contract trading. Since its founding, BitYard has continued to garner worldwide traders' attention.
BitYard has trading licenses in Singapore, the United States, and Estonia. The service is based in Singapore and is regulated by
The American Money Services Businesses;
The Singaporean Accounting and Corporate Regulatory Authority;
The MTR of Estonia in the EU;
and AUSTRACE from Australia.
As of September 2021, 43 cryptocurrencies are available for contract trading with BitYard, including BTC, ETH, XRP, and more. Over 500,000 traders from over 150 countries are involved, and trading support is available in eight languages.
BitYard Features
The platform prides itself on its accessibility to both new and experienced traders. Its features are designed and organized with inexperienced users in mind, making it a great place for newcomers to learn and experience crypto trading. It's available on PC, Android, iOS, and the Google Play store, making the service mobile phone-compatible.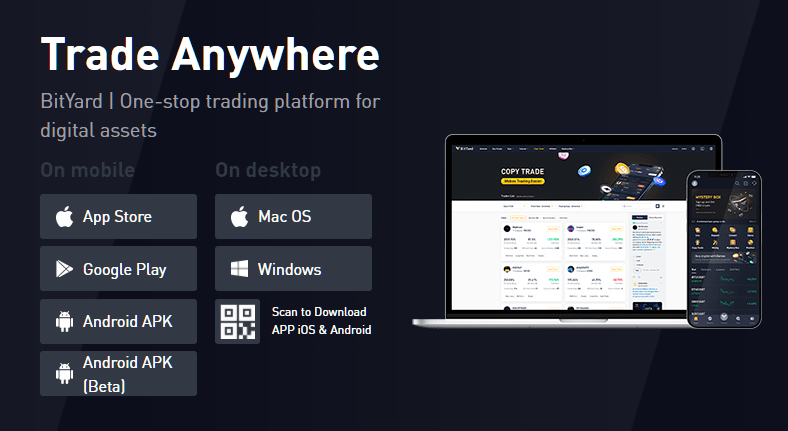 Users can customize their layouts and charts to match their specific needs. The platform has a help center that contains helpful guides and tutorial videos for beginners. You can also find contract conditions, frequently asked questions, announcements, and other helpful information here.
There are two levels of traders on BitYard: ordinary traders and star traders. The latter enjoys higher profit margins on copies and other exchanges. Traders can learn more about BitYard happenings and trading through social media outlets like YouTube, Facebook, and Twitter.
Copy Trading
Copy trading is one of BitYard's unique, beginner-friendly features. This option lets users copy others' contracts, eliminating the need for constant market monitoring. Users can mimic the moves of professional traders through this more automated method. While ordinary users can expect an 8% profit from copy trades, star users enjoy a 10% profit.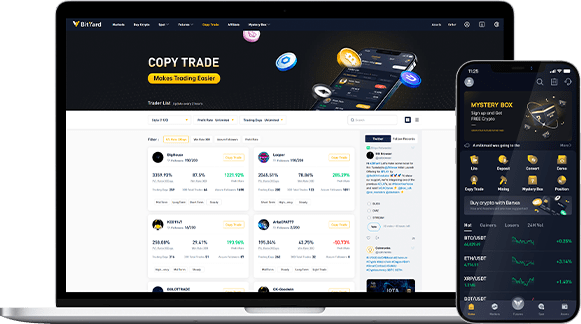 Spot Trading
In response to the emerging bull market, BitYard and Binance, another popular crypto exchange service, teamed up to create spot trading. Today, over thirty cryptocurrency pairs are available through spot trading as well as coins. This convenient system allows users to tactfully make profits in both bear and bull markets.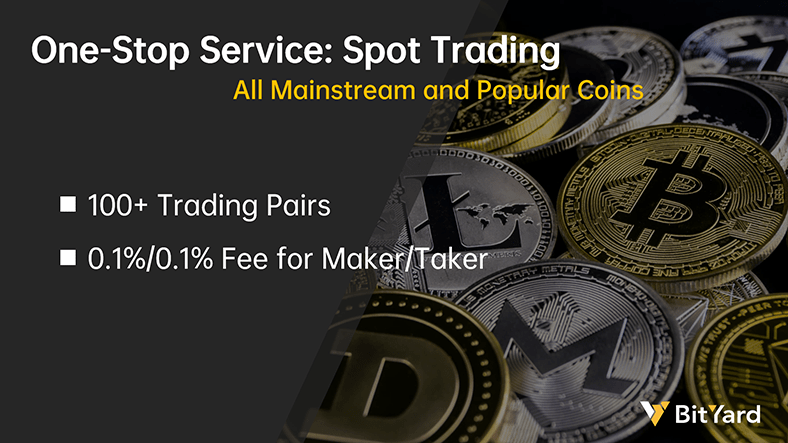 Leverage and Margin Trading
BitYard is unique in the amount of exchange leverage the platform provides. The service has experienced generous leverage rates between five and one hundred times, but these change regularly. Leveraging enables margin trading, in which users can leverage trades by only demonstrating a fraction of the entire trade amount.
BitYard's design seeks to simplify the margin trading process, which is often difficult for newcomers to participate in.
Withdrawing and Depositing Currencies
Any currencies can be used for withdrawal and deposit features, with some exceptions. A withdrawal fee of two dollars will apply to each instance, and there is a fifty-dollar minimum on this service. Users are free to set up withdrawal addresses within their settings.
Privacy
Security is essential for protecting the investments of traders. BitYard strongly safeguards users' information and balances with multi-layered security measures. These can be accessed and changed at any time through the platform's "Account Security" page.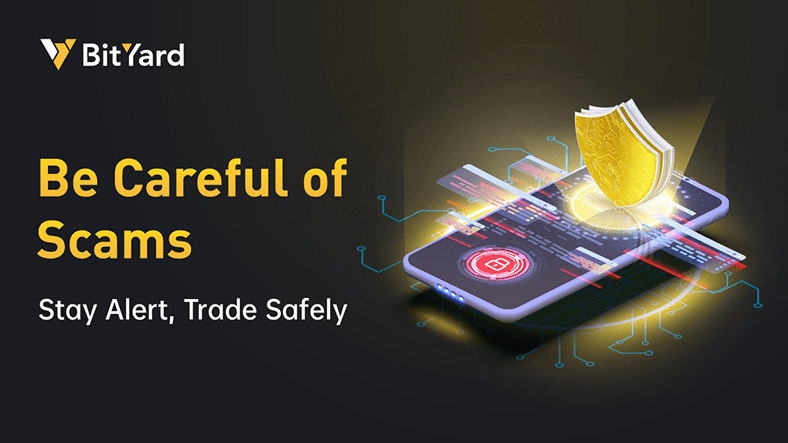 When making a BitYard account, users are asked to establish a secure pin for withdrawals and deposits. Traders can toggle an option for verification via email before any exchanges are authorized, which will notify the account bearer of any unexpected movements. This authentication is also available through instant messaging.
If a user's desktop and phone accounts are linked, a one-time password will always be sent for authentication before completing any exchange.
All written communications, including documents and texts, are SSL-encrypted, making the messages more resilient to hackers and other cyber threats.
Withdrawal addresses are another secure option for users. When withdrawing a fiat currency, a KYC verification must be completed.
Users can view login records on their accounts, meaning that they can monitor any suspicious or unintended activity. Changing passwords often and consulting expense records helps to prevent any unexpected interference.
BitYard stores your wallet offline through cold storage. Because it isn't connected to the Internet, storing currency in this way is safer from cyberattacks of all kinds. A small portion of your wallet is kept available for withdrawals at any time.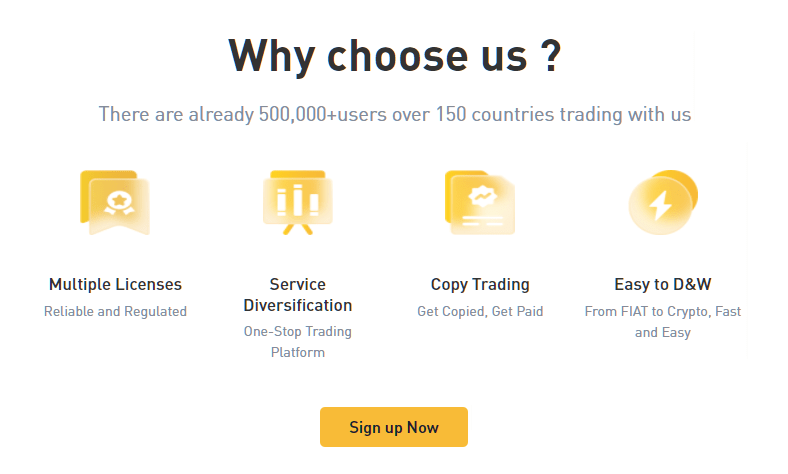 The service doesn't have an insurance fund for buyers against market risk. Instead, BitYard has a constantly updating risk auditing tool that allows users to monitor exposure and market positions. The platform also encourages traders to know the associated risks of trading and to always "trade less than you can afford to lose."
Between passwords, OTPs, and pins, as well as several monitoring tools, BitYard is one of the safest crypto exchange services available. With personal safety measures added, the platform is very secure from threats and fraudulence.
Commissions and Costs
BitYard has commission costs of 0.05% on all trades, which is considerably less than the standard 0.075%. However, since its initial launch in 2019, BitYard has introduced an event called "Happy Friday" in which users can trade for a chosen token at 0% commission for one day. The chosen tokens rotate and are announced on the same day the event is active.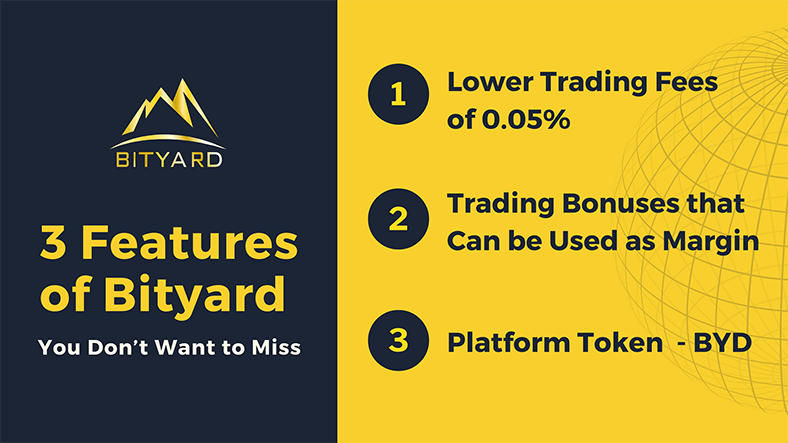 Coupon credits on commission fees are available for beginners as part of a rewards program.
While there is no fee for deposits, a withdrawal fee of two dollars is applied to each instance. The minimum amount to withdraw is fifty dollars at a time.
Customer Support
For a rapidly moving interest like crypto trading, reliable customer support is critical. Being emphatically beginner-friendly, BitYard has many customer support options. Written and video guides and tutorials are always available for viewing, as well as frequently asked questions. The BitYard Help Center page has these and more, available for free for users and non-users.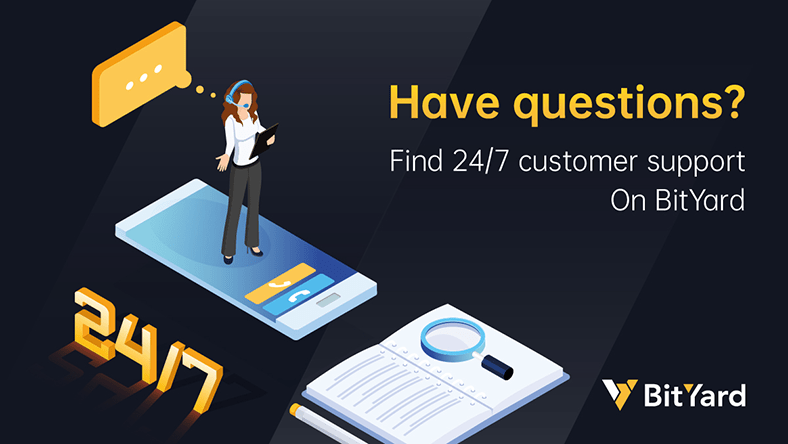 It is easy to communicate with the exchange platform through their website. Users can have customer support conversations with bots or live operators. The platform is also accessible through email and Telegram for customer questions and help.
Help is also available through BitYard's social media pages on Facebook, Twitter, YouTube, and more.
If you are a dedicated BitYard affiliate, you are eligible for one-on-one support.
Licenses and Regulations
BitYard is protected with licenses under authorities from Singapore, the United States, and Estonia. Each of these licenses is present on its website with links to the proofs of authorization. The dates of issue and license numbers are also available.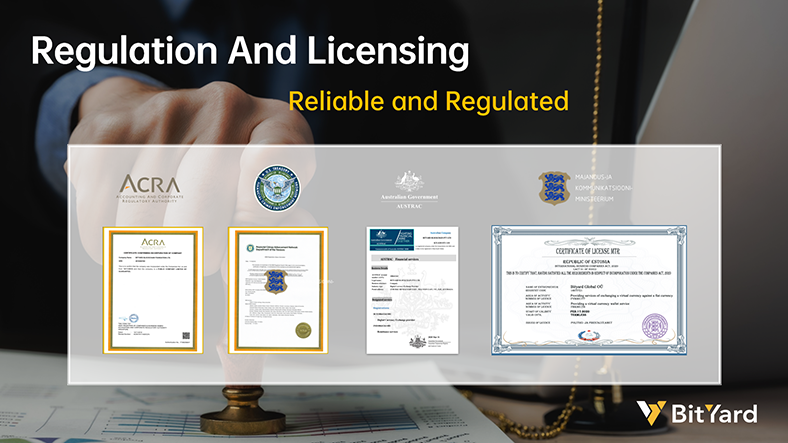 Final Thoughts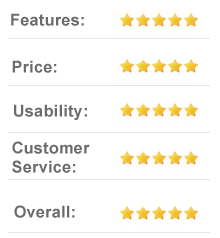 Thanks to the many novice faculties and simplifications BitYard has, the platform is easily one of the most accessible to any trading newcomer. Endorsements from authorities such as News BTC and FX Empire confirm that anyone can "trade like a professional" using the service. Its website features more endorsements from big names like Bitcoin and Bloomberg.
Part of its appropriateness for beginners comes through accessibility. BitYard's support of eight major languages across 150 countries helps to spread the art of contract trading to the world. Furthermore, users can use whichever devices they prefer, be it PC, Android, or IOS.
Customer service is always within reach across many platforms, and the Help Center page is adept at explaining critical information to new hobbyists and investors.
The system itself has many convenient affordances, which it has gained a large online presence for. Copy trading, margin trading, and more are simple to understand and easy to do through BitYard. The platform allows newcomers to observe and copy the work of professionals, learning to invest more strategically as they go.
Privacy is extremely important to crypto trading, and BitYard doesn't cut any corners. Logins and exchanges are secured at multiple levels with a handful of different codes and addresses. Buyer wallets are out of the reach of cyberattacks, stored safely offline. Furthermore, BitYard doesn't hide its licenses, so there is no doubt that the system is safe to use.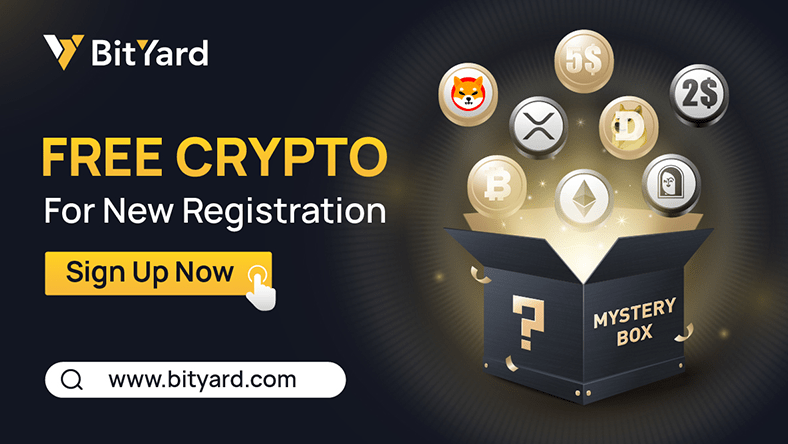 BitYard doesn't have any obnoxious hidden fees or high commission costs, so you will always be more likely to get a higher return on your investments than with other platforms.
Overall, BitYard is an excellent platform for crypto exchange, especially for newcomers. Even though the platform is only two years old, it continues to expand its reach to accommodate new ways to trade across the world.