In this article, we're taking an in-depth look at Bitz.com, and breaking down why this trading platform is a solid choice for the cryptocurrency market.
About BitZ
BitZ is a digital asset trading platform founded in 2016 in the British Virgin Islands. The headquarters is in Hong Kong, and the platform has a global presence. Since then, the platform has exploded into the cryptocurrency scene and become the fourth most popular trading website.
By the end of 2018, BitZ had one million registered traders and traded in ten countries. Currently, most traders are in Japan, but the website has user traffic from all ten countries.
BitZ offers both professional digital asset trading and over-the-counter (OTC) services.
BitZ has all of the conveniences of a standard digital trading platform and a few novel features that make it stand out as a solid choice.
Reasons to Join BitZ
This section will go into a few of the best features and other reasons to consider using BitZ. If you find any of these reasons appealing, it might be worth your time checking out this platform.
Liquidity
Trading on BitZ is fast. The platform has real-time market information and graphics that are easy to track and read. Liquidity isn't a con problem when trading on BitZ.
Due to its functional user interface and servers worldwide, users can trade cryptocurrencies in an instant. Even with super high liquidity, users will still get their trades done right away.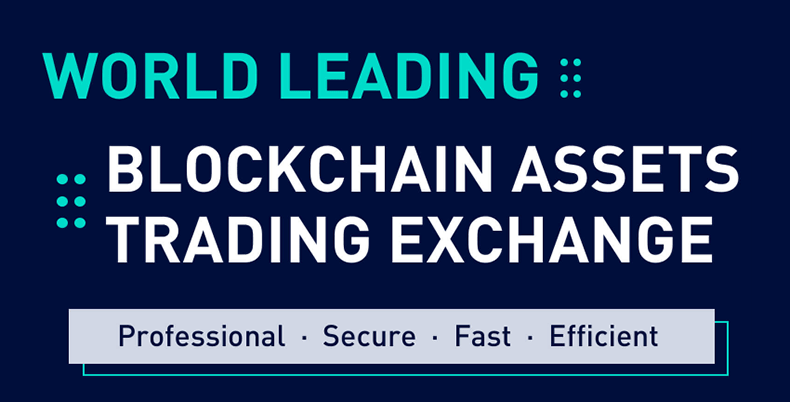 The fast, high liquidity is an exceptional feature because some sites can get bogged down. When seconds make all the difference between buying at the perfect price and missing out, BitZ delivers results.
This liquidity is a perfect feature if you can find the exact cryptocurrency that you want to trade. Luckily, BitZ has a wide variety of cryptocurrencies available on the platform.
Supported Cryptocurrencies
The native token for BitZ is BitZ Token (BT). The website primarily trades huge volumes of Bitcoin (BTC), Ethereum (ETH), Tether (USDT), and DKK Token (DKKT).
That said, users can also buy 105 different cryptocurrencies. Some of these other cryptocurrencies are Dogecoin (DOGE), BitRent (RNTB), and Litecoin (LTC).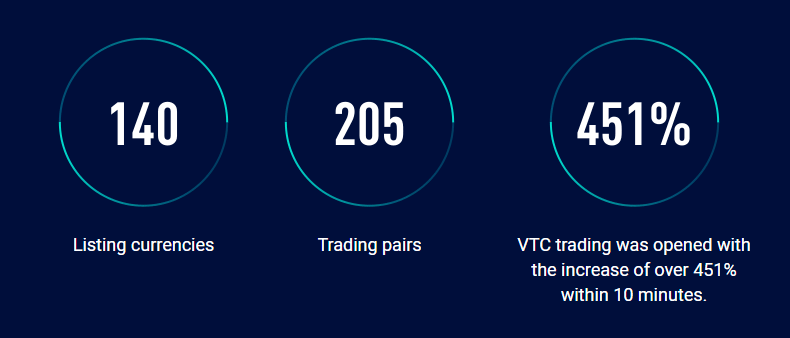 The sheer number and range of cryptocurrencies available through BitZ is a huge draw. Users don't have to feel limited or look elsewhere for certain currencies. These options are a great advantage of trading on BitZ, and it makes the platform shine compared to competitors.
When trading over a hundred different cryptocurrencies, users might have some concerns about their security and if BitZ will adequately protect their funds.
Security
BitZ is a secure website that hasn't been breached by hackers to date. Security is one of the most crucial aspects of buying and trading cryptocurrency, or any online banking for that matter.
BitZ uses the same SSL protection as banks to keep information safe. BitZ also uses GSLB technology which distributes web traffic to prevent servers from overloading.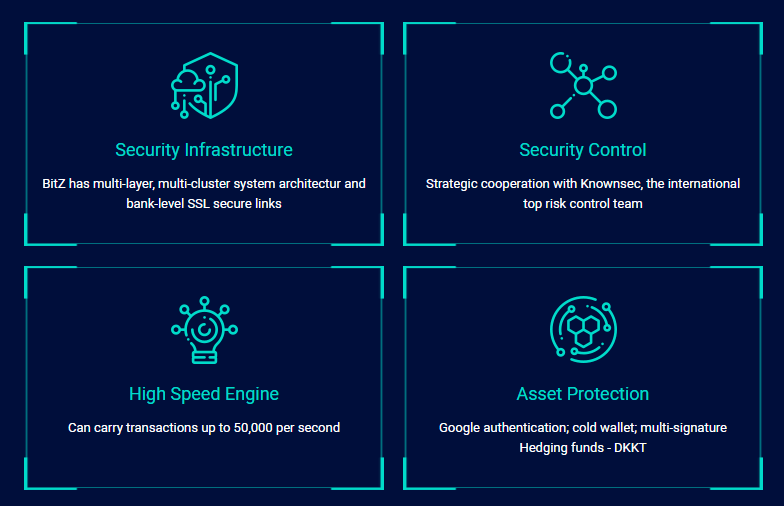 On the user side, all accounts must be verified with an e-mail address. Once users are ready to purchase, they must verify their account before every transaction. Setting up an account isn't difficult, but generating passwords and verifying your account before each time might be off-putting for some people.
All these factors combined make BitZ an exceptional site in terms of safety. Admittedly, some users might find the rigorous verification processes time-consuming, but it's well worth the effort to trade on such a reliable platform.
BitZ Fees
There are no fees for depositing funds into the platform, which offers BitZ an aggressive advantage. Users can deposit funds either through money wire or credit cards. Other methods of depositing are not accepted.
For trading fees, there are a few things to understand. Trading fees are determined between the trader and the taker. BitZ has a flat fee of 0.2% for both traders and makers, which is reasonably low compared to other digital asset trading platforms. BitZ also has occasional discounts on trading fees, which is a nice perk from time to time.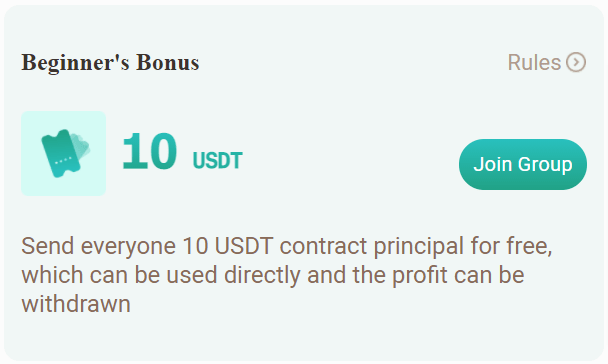 As for withdrawal fees, they vary depending on the cryptocurrency and its value. There's no blanket fee for the site, which means BitZ can adjust prices accordingly to keep them low. Typically the withdrawal fee is 0.05%. It can be as low as 0.001%, so keep an eye on what you're trading to get the best deal.
With both of these aspects considered, BitZ has low fees compared to its competitors. If you're looking for a platform that's cheap to use or won't cost you extra, then BitZ may be a contender to keep an eye on.
Mining Bao Pocket
Mining Bao Pocket is a service provided by BitZ that allows users to mine for new cryptocurrencies and liquidity using BitZ technology. After participating in the mining, users will get a snapshot of how the mining went and receive funds the next day.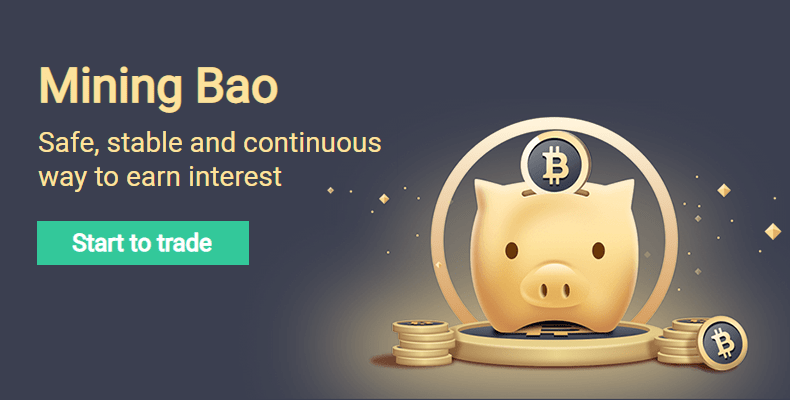 Users can't back out of mining early, and funds are locked immediately. If you're unsure if you want to participate, tread carefully. The profitability will fluctuate depending on how much cryptocurrency is actually mined, so there is no guarantee of profits, especially skyrocketing profits.
However, like with any cryptocurrency mining, profits can be massive with good luck. There are chances for profits that are unrivalled with cryptocurrency mining. If this sounds like an exciting option, then Mining Bao Pocket is an excellent way to make money with cryptocurrency.
If this sounds like an appealing option and you'd like assistance getting involved, it might be beneficial to contact customer support.
Customer Support
BitZ has 24/7 live customer support. There is a live chat and ticket-based support system for users to use no matter what problems or questions arise.
Ticket-based support is a little slower than live chat and is intended for questions or concerns that require a more in-depth response. You can choose whichever method of support best fits your needs and what you aim to get out of using BitZ. Some users have noted that it can take a little while to get ticket responses back during high-volume trading periods.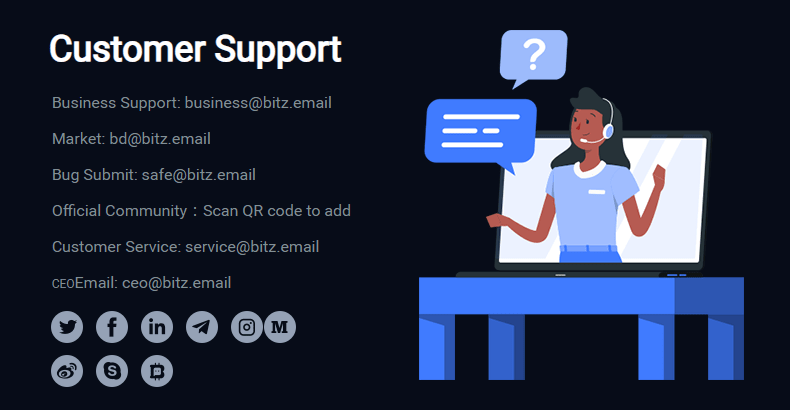 Fortunately, if you are waiting and looking for some resources, there are also tons of articles on the platform to help educate users and build understanding. Combined with the help, these resources make BitZ reliable for people new to cryptocurrency and experienced traders.
While most people won't notice too much delay with the ticket process, this might be something to be aware of if you need guidance or have not used a digital asset trading platform before.
While the platform is still suitable for beginners, there are also some features that more seasoned cryptocurrency traders might enjoy. In particular, experienced traders might also be interested in setting up an application programming interface.
BitZ API
BitZ offers an application programming interface (API) for certain activities, so you can get tasks done quickly and easily. It's not necessary for trading but is a helpful tool. The required coding is available on BitZ.com for easy setup.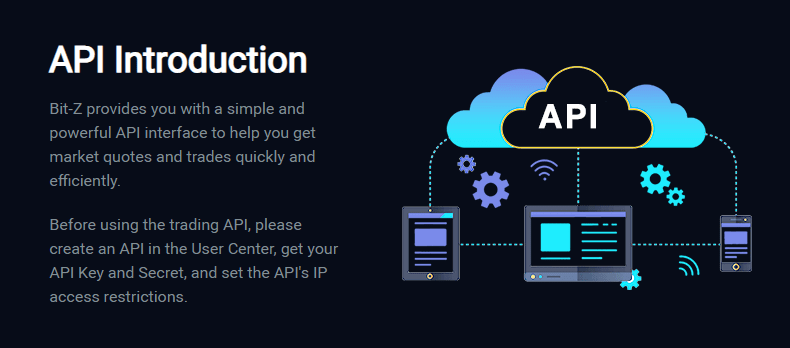 A user could set up an API to collect online information about specific cryptocurrencies, monitor the market, or aggregate prices to one feed that goes straight to their smartphone. While the setup is slightly involved, the result is a more streamlined process when trading multiple cryptocurrencies.
BitZ also has technical help online if you're looking for assistance setting up the API.
Having an API set up can aid in accessibility since it makes some processes more manageable.
BitZ Accessibility
BitZ is available on the website BitZ.com, an iPhone app, and an Android app. BitZ currently services these ten countries: America, France, Turkey, Denmark, Russia, Japan, South Korea, Singapore, Australia, and Vietnam.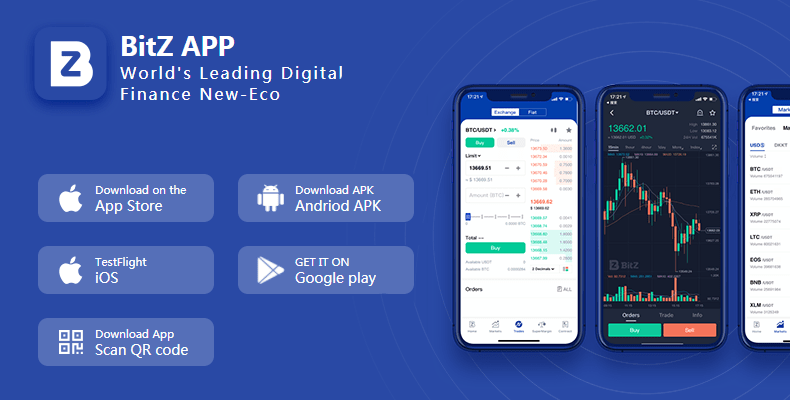 All of these facts combined are what make BitZ a powerful platform. Not every aspect will be best suited to each person, but with the pros and benefits taken into consideration, it's time to wrap up the platform.
Final Thoughts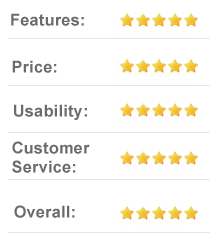 BitZ is a reliable, secure, and competitive digital asset trading platform. The robust security is where BitZ shines bright compared to competitors in its field. Not having to worry about your assets or personal information being stolen or corrupted is a huge relief, especially if you're trading high volumes of crypto.
Of course, it's also another great feature that BitZ supports an impressive number of cryptocurrencies. For users who are quick to monitor trends, this is an excellent advantage. This way, whether you're hopping on Dogecoin or a longtime fan of Bitcoin, you can trade whatever you please.
The last stand-out has to be that BitZ has low fees, an easy-to-use UI, and exciting new options with Mining Bao Pocket. If you're in the market for a new trading platform to try out, then consider using BitZ.
All things considered, this is a reliable platform that is hugely popular for a good reason. People new to the world of trading and old pros tend to have positive experiences using Bitz, and I can see why. It's worth checking out and investigating BitZ further if you found any of these features important to you when you're trading cryptocurrencies.