If you're new to the cryptocurrency world, you likely feel overwhelmed with trying to find the best exchange for trading. And if you're a crypto veteran, you already know the importance of an exchange that offers quick and secure trades.
Blockchain.com is an excellent contender to add to your list as you do your due diligence on which cryptocurrency exchange to use. Millions of users trust them with their money, and they offer a substantial rewards program that defies the phrase "Too good to be true."
In this guide, we'll walk you through the history of Blockchain.com, its unique features, fee structure, and the quality of its customer support team. By the time you finish reading this, you'll have a good handle on whether Blockchain is the right choice for your crypto needs.
About Blockchain.com
Blockchain.com started in 2011, which means it was a company before most people ever heard the word "Bitcoin." It has an impressive portfolio, with 31 million verified users and over $1 trillion in transactions.
According to Blockchain, one-third of all Bitcoin transactions happen through their exchange. That's no doubt helped by the fact that they serve over 200 countries.
Throughout the years, Blockchain.com has created an API that allows companies to build on Bitcoin. They also offer a secure wallet so that users always remain in control of their investments.
Top Features of Blockchain.com
Before investing in cryptocurrencies, it's crucial to do your due diligence. We think Blockchain.com will impress you, but don't just take our word for it. Below are their top features that draw in millions of users.
Multiple Currency Compatibility
Blockchain.com lets you trade fiat using three of the world's leading currencies—USD, EUR, and GBP. That means if you hold any of these currencies, you can purchase any coin on Blockchain directly without having to waste money on currency conversions.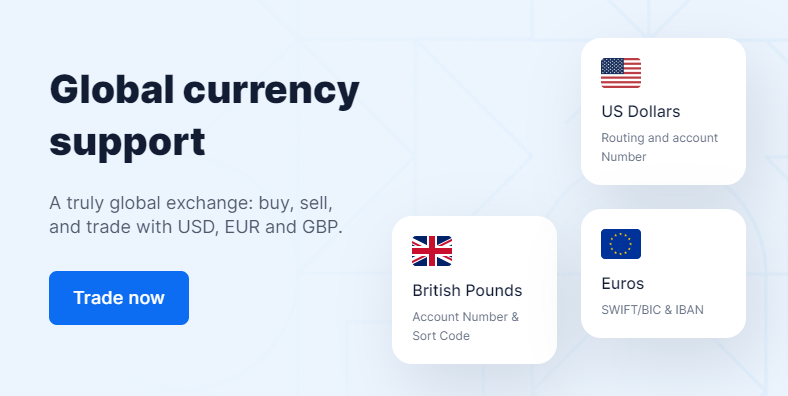 To transfer fiat to Blockchain.com, you'll need to provide the following bank details according to your currency:
USD — Routing and accounting number
EUR — SWIFT/BIC and IBAN
GBP — Account number and sort code
Connecting your bank account with Blockchain is a quick process. And once you do so, you can easily transfer money in and out of your account with the click of a button.
Secure Wallet
Keeping your cryptocurrency in an online exchange opens the opportunity for hackers to steal your money. For this reason, keeping your crypto in a wallet is crucial.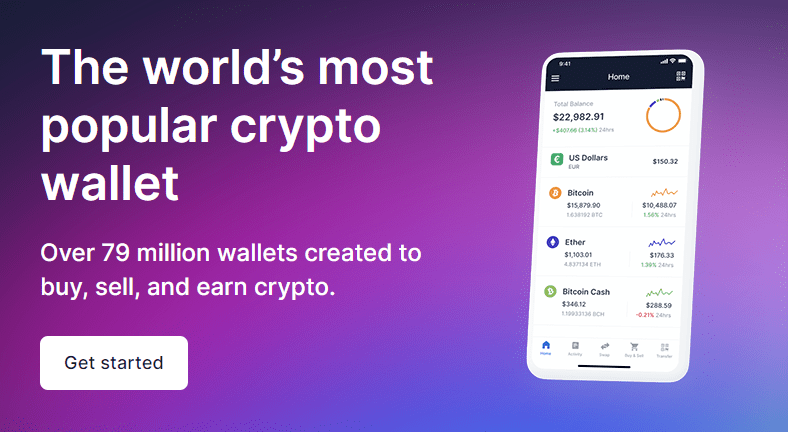 Offline hardware wallets are one option for storing your crypto. But if you like the thought of being able to access your wallet at any time from any location, Blockchain's online wallet is an excellent solution.
Their highly secure crypto wallet allows you to create a private key. Therefore, you're the only one that will have access to your wallet—even Blockchain won't know what your key is.
Furthermore, you can download your wallet on your desktop or mobile device. Since Blockchain securely links your wallet with their exchange, you'll be able to view and manage your crypto from a single wallet dashboard when you log in.
High Rewards
If you sign up for Blockchain.com's rewards program, you can earn interest for holding crypto coins in your wallet. At this time, they offer rewards on the following six coins:
Of these coins, you can earn an impressive 13.5% on an investment of Tether and Paxos. In addition, Blockchain offers a 3.5% reward for holding Bitcoin and a 4% reward on the remaining coins.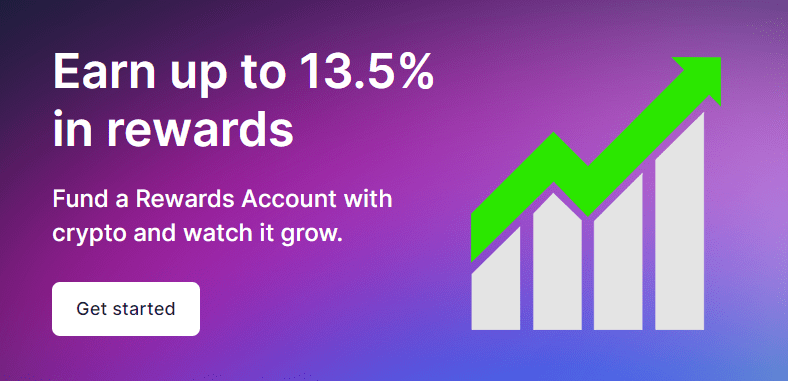 You'll get to see your rewards adding up daily, and every month you'll receive payment. The earnings will go right into your rewards account, where you can choose to either cash out or reinvest them to earn more rewards.
Most countries where Blockchain.com operates allows its users to earn rewards. However, Canada, Japan, and certain U.S. states don't permit it. You can learn more about eligibility requirements for Blockchain's reward program here.
Finally, Blockchain.com offers airdrop rewards. Should you hold cryptocurrency in your wallet that qualifies, you'll automatically receive free crypto.
User-Friendly Interface
There's a reason millions of people use Blockchain.com—they make trading cryptocurrency easy for beginners thanks to their user-friendly platform.
For starters, their trading platform is among the cleanest looking for new traders. They show you a selected chart, the order book for that chart, and an intuitive buy and sell section.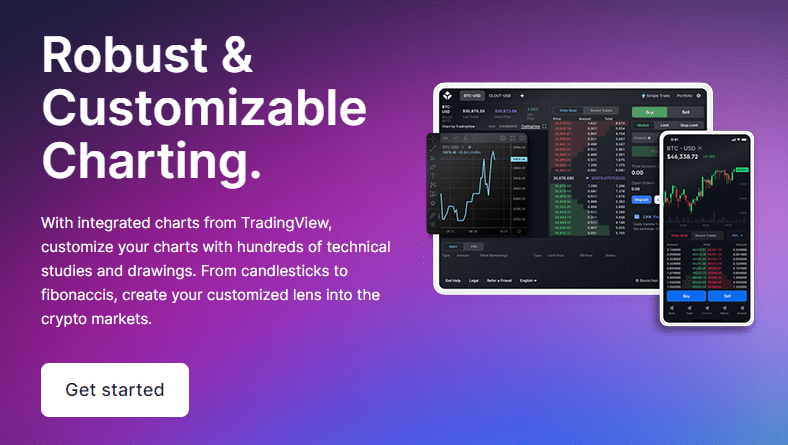 Experienced traders will appreciate that they can click on TradingView for a more in-depth look at a chart.
Blockchain.com's dashboard is also easy to navigate. There, you can quickly view your balance and holdings. You can also update your account settings and get in contact with customer support.
Fast Trades
Cryptocurrency is arguably the most volatile of any asset you can trade. So, it's crucial to work with an exchange that can handle fast trades instantly; a one or two-second delay can cost you hundreds of dollars.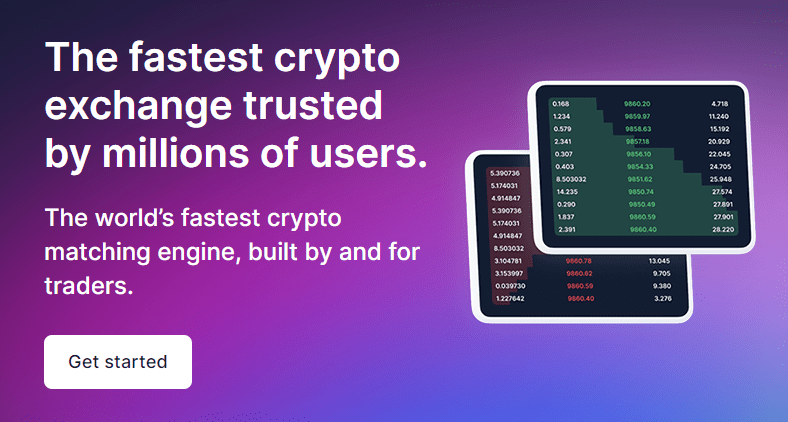 Since Blockchain.com makes transactions in microseconds, you won't even have time to blink before your buy or sell order goes through.
They also offer the most up-to-date cryptocurrency prices and charts. That way, you can confidently make split-second decisions about buying or selling a coin.
Needless to say, Blockchain's slogan "From zero to crypto" couldn't be more accurate.
Trusted Crypto Pairs
Blockchain.com offers over 40 cryptocurrency trading pairs. If you're new to the crypto world, that's not much.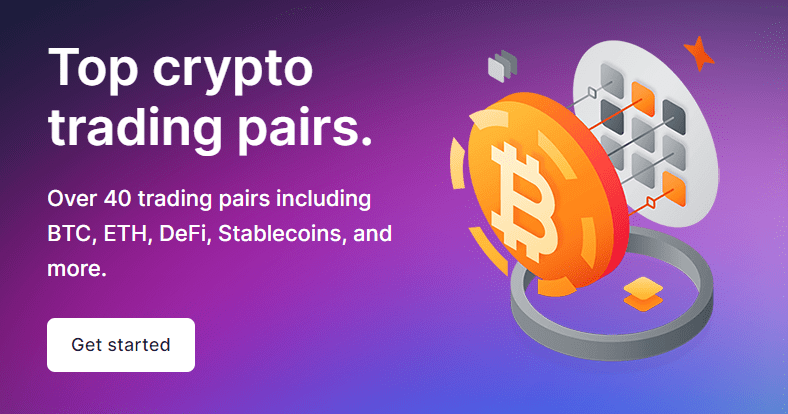 However, the coins they offer have among the most promising projects. Therefore, while trading cryptocurrency always comes with risks, there's less of a chance that you'll end up purchasing a coin that will plummet in value overnight or one that becomes a "scam coin."
Some popular crypto you can trade on Blockchain include:
For this reason, Blockchain.com is an excellent option for beginner traders. However, even experienced traders can benefit from the speed and reliability of this exchange.
Blockchain.com Costs
The fees on Blockchain teeter somewhere between the low and high end of the spectrum.
If you're trading with less than $10,000, they'll charge you 0.20% in maker fees and 0.40% in taker fees. The trading fees decrease from there based on a 12-tier fee scale.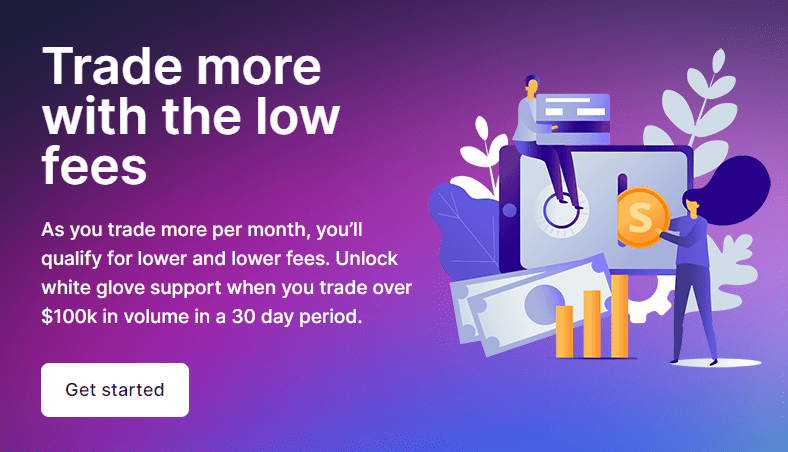 In fact, if you happen to trade over $1 billion, you won't pay any maker fees and only 0.06% in taker fees. Now there's a goal!
Blockchain.com bases its fees on trading volume in a 30-day period. Therefore, you only need to buy and sell $10,000 worth of crypto to reach the second tier; you don't have to invest $10,000 of your own money to get to that point.
You can view the complete list of Blockchain.com's tier fees here.
Customer Support
Blockchain.com designed their software so that you should need little customer support. Nevertheless, there are moments when you may need a knowledgeable human hand.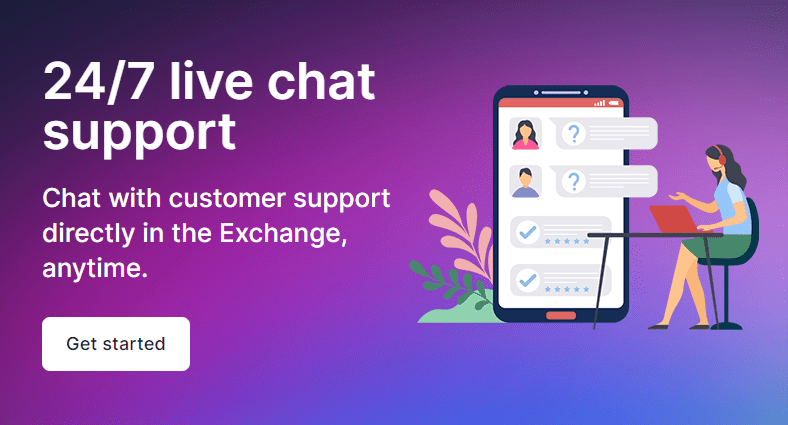 Their customer support team works strictly in an online setting. Therefore, you can go to submit a request if you need help. Once there, they provide a list you can choose from based on the topic of your issue.
They'll then ask you for your account details and an open-ended response section where you can explain your issue. If you have any data to share with them that you think could help them identify the problem faster, there's a section where you can upload attachments.
Blockchain.com is also active on Twitter, Facebook, and Instagram. Since sometimes a little social pressure can go a long way, you can always try contacting them there as well.
Blockchain.com Regulations
Blockchain is careful about upholding national and local laws. Therefore, you may not be able to sign up for an account if you're a resident of certain countries or U.S. states.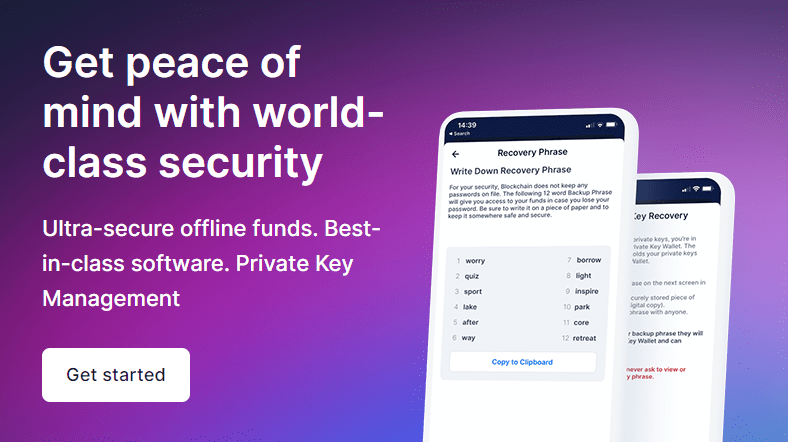 While some people may use a VPN to bypass Blockchain's servers that detect IP addresses, we do not recommend this. Not only is it illegal, but you could lose access to any money you uploaded to their system if they discover that you reside in an area where they don't have the license to operate.
Final Thoughts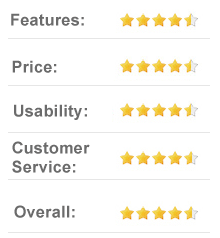 Blockchain.com offers limited but quality coins and a user-friendly interface that makes it an especially excellent option for new cryptocurrency traders.
Their online wallet makes it easy for you to securely store your cryptocurrency, where you can access it from any device and location in the world.
You won't have to hold your breath about missing a trade because of their fast servers. Furthermore, if you plan on keeping your cryptocurrency long-term, you can earn great interest through their rewards program.