With so many options to trade and hold cryptocurrency, it can feel overwhelming to know which service is the best fit for you.
So, if you're looking to hold your cryptocurrency instead of actively trading it, BlockFi.com is an excellent choice. They offer competitive interest rates, a Bitcoin Visa card, and loans that you can take out against your crypto.
We'll delve into these topics and more so that you can decide if BlockFi is a service that fits well with what you're looking for.
About BlockFi.com
BlockFi.com made its entrance into the world in 2017 when the cryptocurrency market was in the midst of a bull run. It has a broad team with a strong background in technology and finances.
BlockFi's mission is to help people gain access to credit and cryptocurrency markets that otherwise have limited or no options.
They strive to offer competitive trading and lending rates. You'll also receive several other benefits by using their services, which we'll cover next.
Top Features of BlockFi.com
Understanding the ins and outs of a company is crucial before choosing an exchange to trade and hold your cryptocurrency. Below are some of the top features that make BlockFi.com stand out from its competitors.
BlockFi Interest Account
If a bank's low-interest rates make you cringe, you might perk up at this one—BlockFi offers up to an 8% APY on the cryptocurrency you hold in their exchange.
Best of all, you don't have to have a minimum balance, your interest accrues daily, and you'll receive your interest payment every month.
As of right now, there are over a dozen cryptocurrencies you can hold and earn interest on at BlockFi.com. Some of the most notable include Bitcoin, Ether, and USDC. You'll receive your interest in the type of crypto that you hold.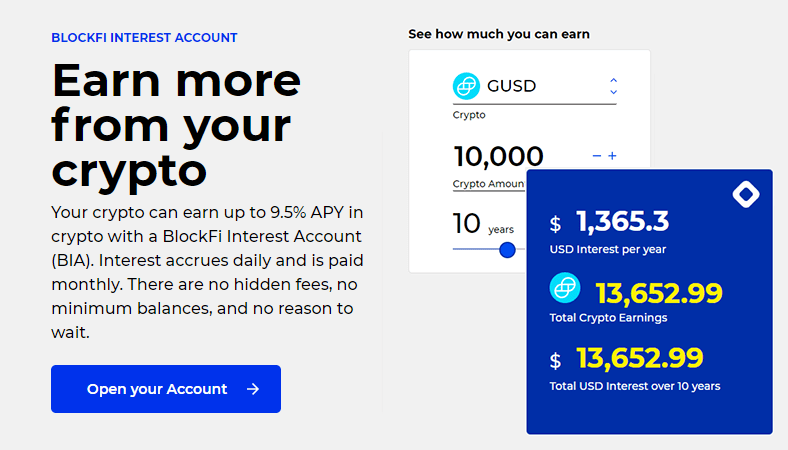 If you're curious about how much money you could earn by holding your crypto on BlockFi, they offer a user-friendly calculator that offers instant estimates. All you have to do is select the type of crypto you want to hold, the amount you want to hold, and the number of years you want to hold it for.
That said, keep in mind that since you'll receive your earnings in crypto, the ultimate USD earnings shown may vary as time passes. If you believe in the coin, that's good news for you—your USD returns will, in theory, be higher than the calculator's estimate.
Holding cryptocurrency on an exchange comes with the risk of attacks. BlockFi takes this seriously and has strict security measures to keep your money safe. We recommend taking advantage of their two-factor authentication, which will help ward off attackers.
Crypto Loans
Some people choose to take out crypto loans for personal expenses, while others want to boost their trading bankroll. In either case, borrowing money against your cryptocurrency is an excellent way to get extra cash in your pocket without having to sell your crypto and pay taxes on the gains.
To be fair, crypto lending programs aren't unique to BlockFi, and they have a higher minimum loan amount than certain other exchanges. However, if you plan on borrowing at least $10,000, you can take advantage of their APR rates, which get as low as 4.5%.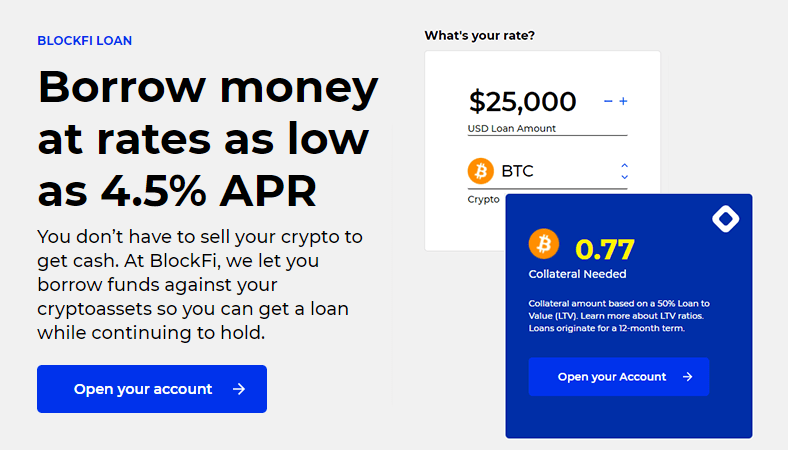 To get a crypto loan with BlockFi.com, you simply need to hold Bitcoin, Ether, Litecoin, or PAXG on their exchange. You can then calculate how much of your holdings you'll need to use as collateral based on the USD loan amount you want.
BlockFi's crypto loans work on a 50% Loan to Value (LTV) basis. Their speed and fee structure beat that of nearly any bank—they'll send you your loan on the same business day, and there aren't any fees for paying it back early.
You also don't have to jump through hoops to complete their application process. All it takes is two minutes. Then, within 90 minutes, you'll receive USD, GUSD, or USDC in your crypto wallet or bank account.
Since banks offering items like mortgages and car loans don't typically accept crypto, BlockFi's willingness to offer USD as a loan option is a massive advantage for people looking to use their loans for traditional purposes.
Bitcoin Visa Card
Cryptocurrency cards are becoming a big deal in the exchange space, and BlockFi.com is keeping up with the demand. Their Visa Signature Credit Card offers an unlimited 1.5% back in Bitcoin with any purchase you make.
But it gets even better. During the first three months of using the card, you'll receive 3.5% back on Bitcoin. Furthermore, you can earn 2% in Bitcoin on every purchase over $50,000 in annual spending. You also don't have to worry about annual fees.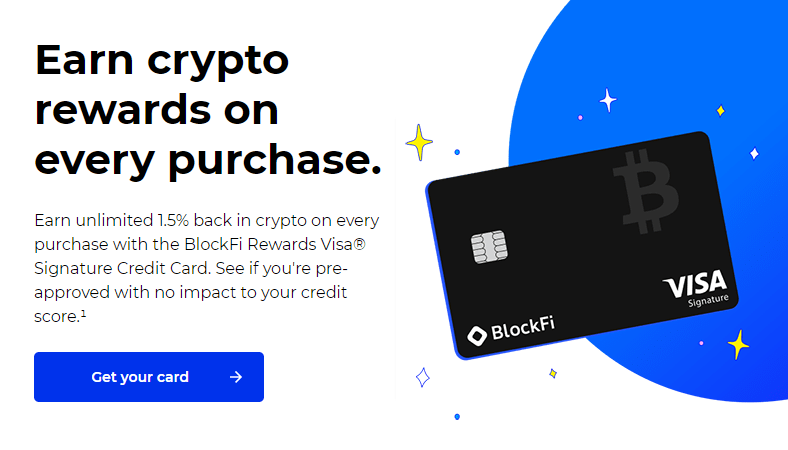 That said, only U.S. residents residing in specific states can use BlockFi's Visa card at this time. You'll also need a BlockFi.com account before you sign up for the card. It's worth it, though, since that's where they'll send you your Bitcoin rewards.
You also might want to consider trading on BlockFi, if you don't already. As a Visa cardholder, they'll offer you a 0.25% back trading bonus on any eligible trade up to $500 each month.
Furthermore, if you refer a friend, you'll receive $30 in Bitcoin. There's an unlimited number of friends you can refer to the Visa program, and this reward is in addition to BlockFi's regular Refer-a-Friend program.
If you're concerned about your credit score hindering your ability to apply for this Visa card, BlockFi offers the chance to see if you're pre-approved. They can do this without it impacting your credit score. If you have a credit score of good or excellent, you can expect them to accept you.
Refer-a-Friend Program
Once you start using BlockFi, you'll likely be gushing about it to your family and friends. So, if and when they show interest in signing up for an account, you can send them your referral code.
Provided that they fund their BlockFi interest account with at least $100, you and your friend will each earn $10 in Bitcoin.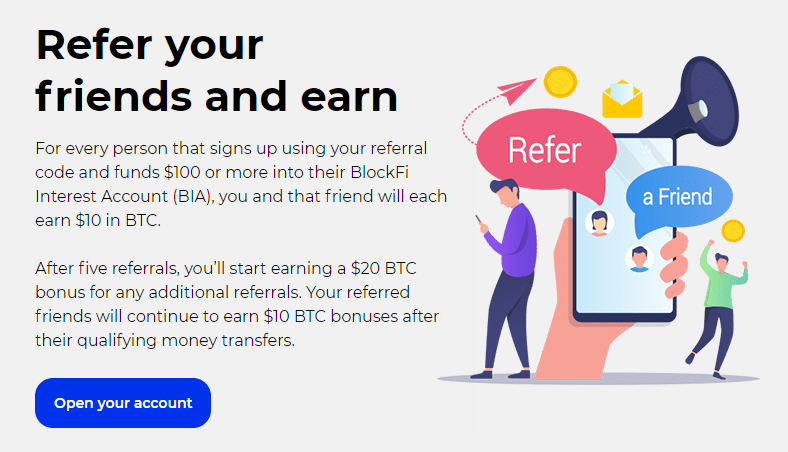 Setting up your Refer-a-Friend account is easy, but you must do so before your friends sign up for BlockFi. Simply head to your dashboard and click on the "Refer A Friend" button on the top right side of the page. It'll give you a URL, which will connect your account with that friend if they sign up using it.
Should you hit six referrals, you'll begin receiving $20 in Bitcoin for every referral. While that might make you jump for joy, just make sure your friends know that they'll continue receiving $10 for using your referral link.
BlockFi.com Fees
Many cryptocurrency exchanges are notorious for their high fees. But BlockFi's goal is to disrupt this practice.
Whenever you place a trade, the rate they display will be the amount you pay. So, once their system executes the trade, you don't have to worry about encountering unexpected fees.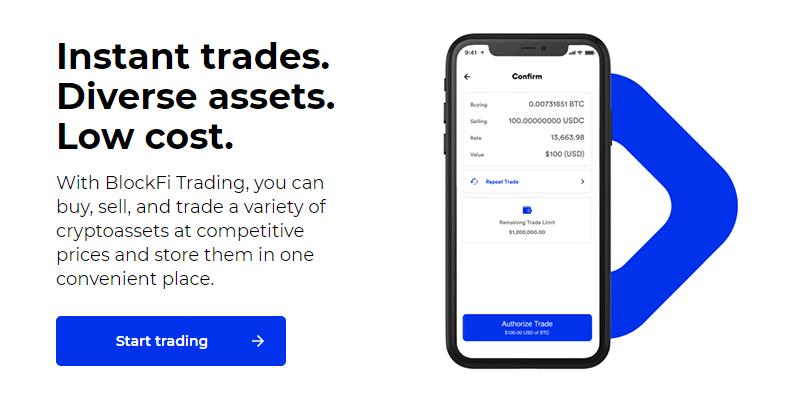 Furthermore, if you hold your cryptocurrency on their exchange after you make your purchase, it'll automatically begin earning interest the following day.
BlockFi offers you the opportunity to make one free cryptocurrency and stablecoin withdrawal per month.
If you need to make more than these two withdrawals, they charge a fee that varies depending on the coin you hold. You can view their withdrawal fee chart here.
Customer Support
BlockFi.com is unique in the crypto customer support space because they don't hide their help behind screens. If you have an active account and need urgent support, they have a customer service number you can call on the weekdays from 9:30 am – 5:00 pm ET.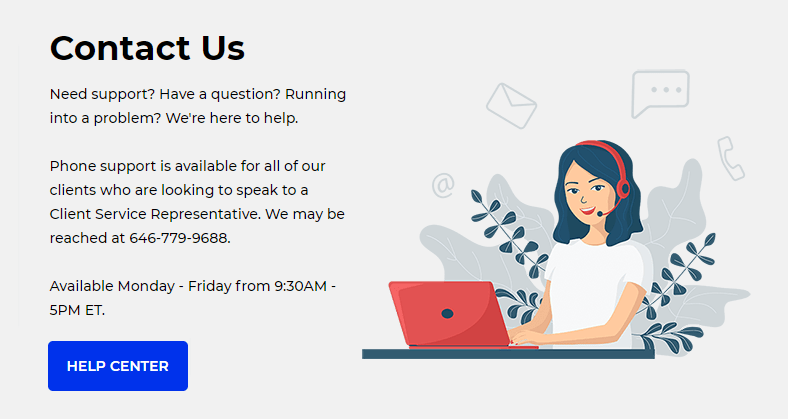 Of course, not everyone likes picking up a phone. So, BlockFi also has a bot-driven online chat that is effective at answering any questions.
If the bot can't help you, it'll support you by submitting a ticket where you'll get in contact with a human.
BlockFi.com Regulations
Regulation is a tricky topic in the crypto world, and BlockFi is careful to meet local laws. For this reason, their service is available in select locations.
The primary custodian of BlockFi.com is Gemini Trust Company, LLC. That's a big deal because Gemini is a trusted company that the New York State Department of Financial Services regulates.
Final Thoughts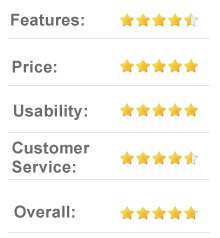 BlockFi is an excellent option for people looking to hold and earn interest on their crypto coins.
They don't offer an extensive selection of cryptocurrencies, but they make up for this by providing some of the highest APY rates on the market. Their Visa card and loan programs are also a huge advantage for its users.
All in all, we don't hesitate to recommend BlockFi.com for your cryptocurrency needs.