Finding the best online broker for your trading needs can be difficult with so many options out there. One of the highest-rated trading brokers in Australia, Blueberry Markets is an online broker that offers financial instruments such as Forex, indices, commodities, and metals, among many others on the MetaTrader 4 (MT4) platform.
They have several years of experience in trading commodities and always have professional account managers available to help. With commission-free trading and a free Virtual Private Server (VPS) for eligible clients, Blueberry Markets is dedicated to seeing their clients succeed.
History of Blueberry Markets
Blueberry Markets has been operating since 2016. The company was founded by Dean Hyde, the former AxiTrader Executive, in Sydney, Australia. He put together a team of experienced Forex pioneers with the vision to fully provide and deliver what other traders needed.
Eightcap Pty Ltd uses the name Blueberry Markets as a trading name. They are regulated by the Australian Securities and Investments Commission (ASIC), meaning they are required to meet the highest standards of Australian financial reporting, disclosure, and corporate governance. This guarantees a safe trading environment for their clients.
Top Features of BlueberryMarkets.com
Though they are a relatively new NDD broker, Blueberry Markets has gained a reputation for their quality customer service and highly-regulated trading practices.
They segregate client funds into a trust account that is in the National Australia Bank (NAB), ensuring that their client's money is not misused for other purposes. They also provide additional protection through a professional indemnity insurance policy.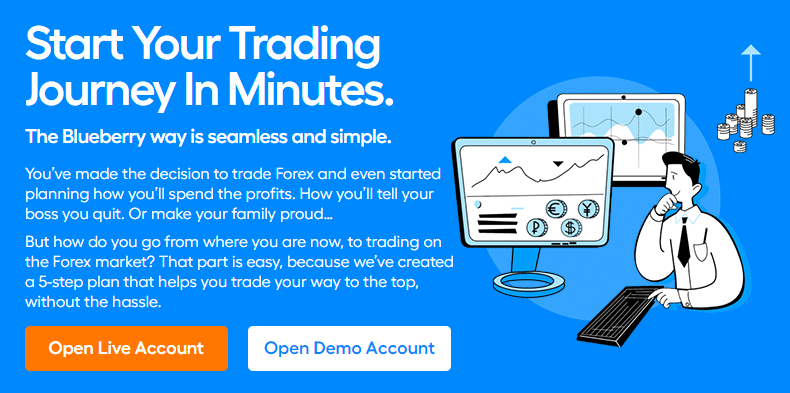 They also offer a highly popular trading platform, MT4, which is free and available to use on desktop, web, and mobile. Clients who trade a minimum volume of 10 lots each calendar month are offered a free VPS, enabling clients to continuously use the trading platform without needing to keep their computer on.
Another great feature of Blueberry Markets is the 54 Over-The-Counter (OTC) market instruments available for their clients. They can be separated into 5 categories: currency pairs, stock indices, metals, commodities, and oil.
Blueberry Markets: Opening an Account
Their user-friendly process guides you through the steps of opening either a Standard or Professional account with Blueberry Markets. It begins with registration and offers a demo account for you to get to know their system first.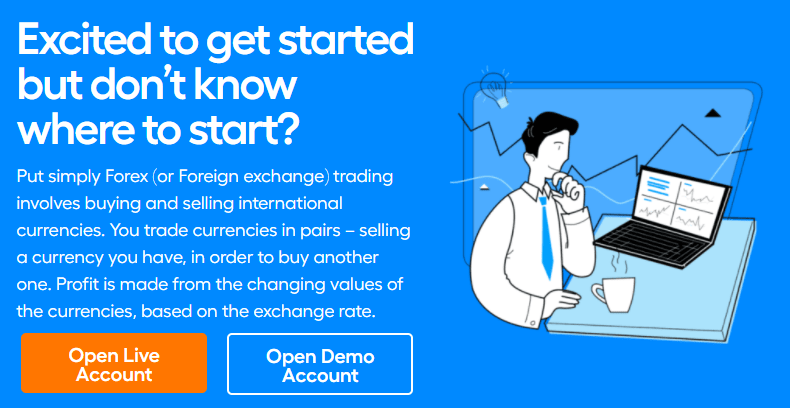 You will need to provide information such as proof of ID and a document that indicates proof of residency that is not older than 3 months. Once their team has verified your documents, your Blueberry Markets account will become active. Once your deposited funds in the account have cleared, you can begin trading.
Blueberry Markets: Countries Available
Blueberry Markets receive clients from all over the world. However, countries such as the United States and Japan are excluded because of regulatory constraints, Counter-Terrorism Financing (CTF), or Anti-Money Laundering (AML) deficiencies. Some features may also not be available in specific countries as a result of other legal restrictions.

Blueberry Markets: Trading Platforms
MT4 is one of the most popular trading platforms developed by MetaQuotes, a Russian software company. It has been utilized by traders of various skill levels all over the world. Their extensive assortment of trading tools include expert support for automatic trading, 23 analytical objects, and more than 30 built-in technical analysis indicators.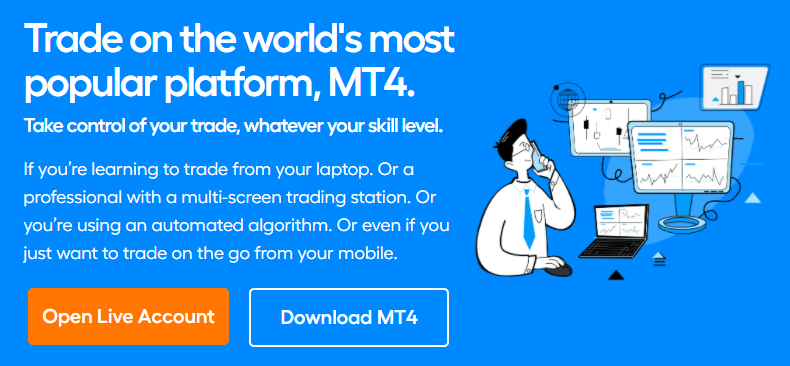 The MT4 also features real-time pricing in the window, multiple chart types, notification alerts, one-click trades, templates, marketplaces with thousands of more tools, and more. Their user-friendly interface runs directly in most web browsers on both the desktop and mobile without requiring additional software.
In the MT4 MetaEditor, you can code your own custom indicators and expert advisors in the MQL programming language.
Blueberry Markets: Commission
Blueberry Markets offers a choice between commission-free accounts that include a marked up spread or an ECN account with a tighter spread and includes a competitive charge on commission.
Their Standard account includes no commission charge since the broker charges are included in the spread. The minimum deposit to trade on this account is $100, and includes access to all trading instruments.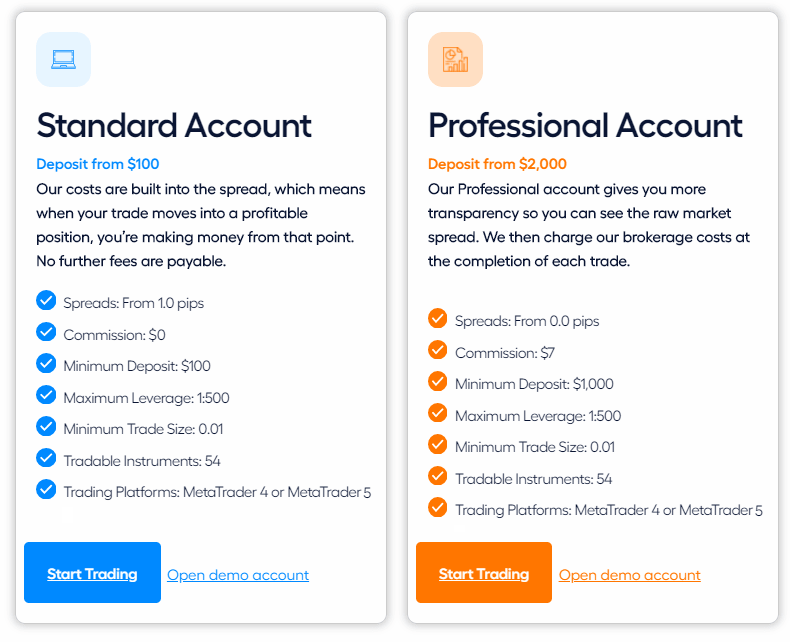 However, the Professional account charges a $7 competitive commission per standard lot. The fee is negotiable for more high-volume traders. The minimum deposit for this type of account is $1,000 and also includes access to all of the trading instruments.
There may be additional broker fees or overnight fees not listed here, so it is crucial to check the latest information from Blueberry Markets before opening an online trading account with them.
Blueberry Markets: Deposit & Withdrawal
There are a variety of ways you can deposit and withdraw money to and from your account. Convenient methods, which may not be available for all countries, include credit card, bank wire, and online payments through other systems such as UnionPay or Skrill.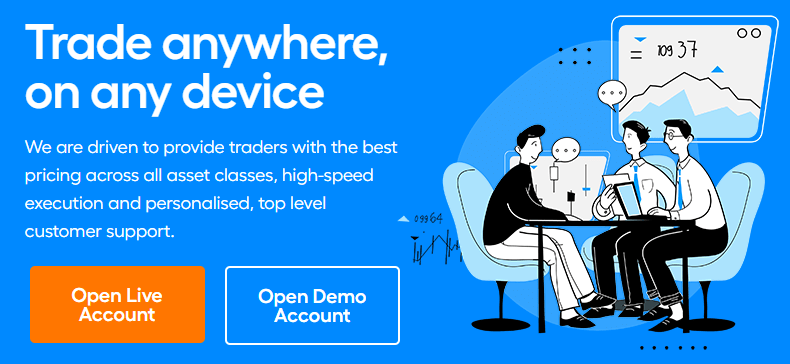 You can conveniently make a withdrawal by filling out the form in the protected client area. The forms get processed in up to one business day, and the bank transfer can clear within several business days. However, other methods can transfer your funds instantly. Blueberry Markets does not require you to pay any withdrawal fees.
However, your transfer account must match the name on your trading account with Blueberry Markets as they do not accept any payments from third-parties. Your account may also need to be verified in order to remove any transaction limits or restrictions depending on your country.
All accounts can be initiated using AUD, NZD, USD, EUR, GBP, CAD, or SGD currencies. The various options eradicate conversion fees when you are able to use your home currency.
Blueberry Markets: Customer Support
Blueberry Markets offers exceptional customer support. Their customer service is available 24 hours a day on weekdays. They respond quickly with helpful information and can be reached through email, phone, and their online live chat.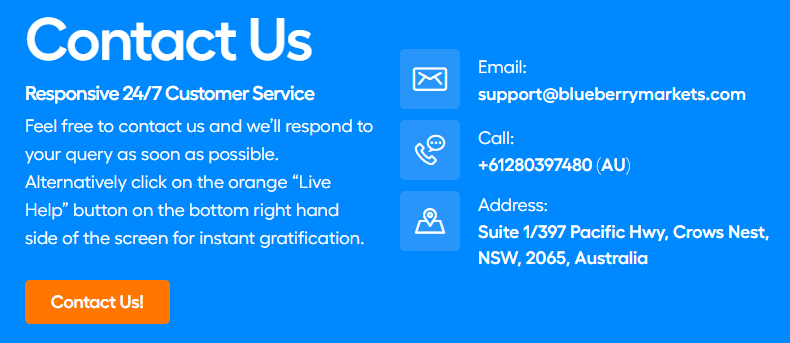 They also have their Blueberry Blog that includes a FAQ section with basic information and other relevant information. You can add more queries in the text box provided if you do not see one related to your question. Blueberry Markets is also present on social media platforms such as Twitter, Instagram, Facebook, and LinkedIn.
Blueberry Markets: Licenses & Regulation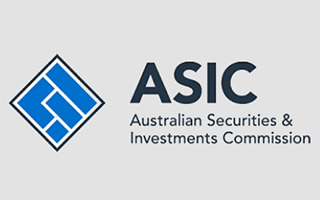 The Blueberry Markets Group is the trading name of Eightcap Pty Ltd. They are regulated by the Australian Securities and Investments Commission (ASIC), meaning they are required to meet the highest standards of Australian financial reporting, disclosure, and corporate governance. Their AFSL number is 391441.
Blueberry Markets: Education
Introductions to trading are offered to beginners through the demo account to teach them common terminology and the functions of various terms risk-free.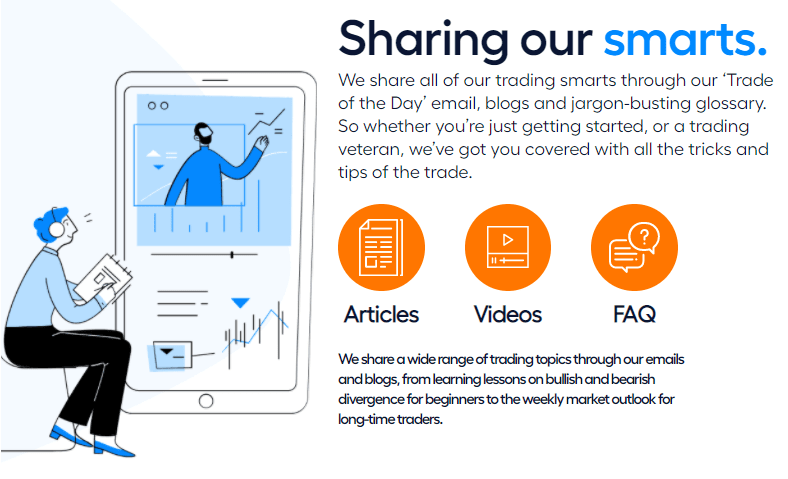 The practice account provides a virtual $50,000 to start with and gives them the opportunity to learn how to navigate the trading industry. It stays active for 30 days, allowing beginners some time to figure out how to trade and become comfortable using the system.
Blueberry Markets also offers trading tips apart from the practice accounts for all of their clients.
Final Thoughts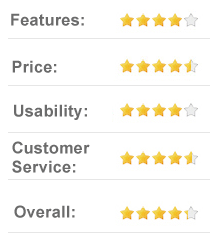 Blueberry Markets is a regulated online broker that provides a variety of options for both professional traders and beginners. They offer low spreads and commission-free accounts. They also offer a variety of market instruments as an included benefit that caters to various platforms.
They provide incredible customer service and have quick withdrawal times without fees. However, their services may not be available in all countries, such as the United States, and they do not offer many trading tools for new and professional traders. Cryptocurrencies are also not supported.
Regardless, it is clear that Blueberry Markets focuses on supporting their clients and providing efficient service with their knowledgeable team.