BTSE is a cryptocurrency exchange on a mission to offer the highest level of security and efficiency on the market. This platform offers an impressive margin exchange of up to 100x leverage on various cryptocurrencies.
In this review, we'll tell you everything you need to know about BTSE.com and its benefits.
History of BTSE.com
BSTE.com got its start in 2018. In a world that's beginning to adopt cryptocurrency, their exchange provides a bridge between traditional fiat markets and a crypto trading platform.
CEO Jonathan Leong, CPO Brian Wong, and COO Joshua Soh run BSTE.com and are a power team combining their years of technology and finance experience.
The "Built to last" structure of BSTE involves a self-hosted infrastructure, horizontal scaling, and over one million order requests per second.
Top Features of BTSE.com
BTSE prides itself on operating on a free market. Not only do they work with Bitcoin, but eleven other altcoins and stablecoins (a cryptocurrency that has reserve asset backing), including:
BTSE token
Ethereum
Tether USD
Cosmos
Dai
Polkadot
Litecoin
Paxos Standard
TrueUSD
USD Coin
Tether Gold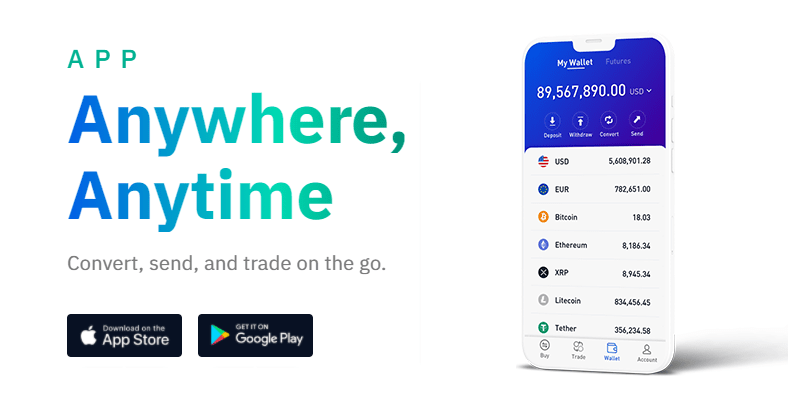 BTSE.com's easy-to-use website makes purchasing cryptocurrency easy. Simply select the cryptocurrency you'd like to purchase, followed by how you'd like to buy it.
You have the option to purchase your crypto using fiat or other stablecoins and crypto you already own (including cryptocurrency coins that BTSE doesn't currently offer, such as XRP and XMR).
Accessibility
In trying to make BTSE an accessible platform for users worldwide, they accept a wide range of currencies from the U.S. dollar to the Japanese Yen.
Going along with their easy-to-use theme, BTSE offers a clean-cut app that you can download in the App Store or Google Play. You can make deposits and withdrawals along with converting or sending someone crypto directly from the app.
Furthermore, you can set up notifications, so you stay up to date on your crypto's latest price status.
BTSE Earn
BTSE Earn is an excellent option for people on the fence about starting their cryptocurrency journey or those who simply want an income they can rely on from their crypto assets. There are three different options you can choose from with BTSE Earn.
The first is their Flexible package. With this, you can deposit, earn, and redeem USDT, USDC, Bitcoin, or Ethereum at any time.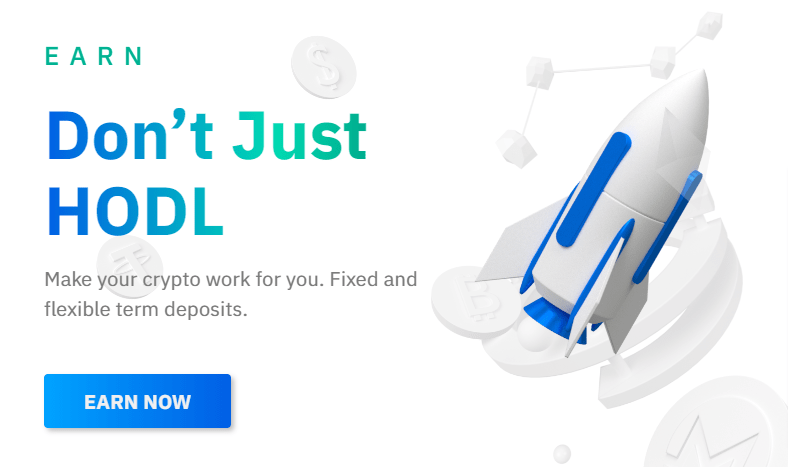 The interest rate will vary depending on the compounding interest you make when you decide to sell your assets. USDT currently has the highest estimated APY (annual percentage yield) at approximately 6.50%.
If you know you won't need your cryptocurrency for a while, you're better off choosing BTSE's Fixed package. That way, you'll earn a higher APY (at around 8% for USDT). You can opt for a fixed package of seven, fourteen, thirty, sixty, or ninety days in length. You have the option to select a Fixed package with USDT, USDC, TUSD, and Bitcoin.
Finally, you can earn interest by lending your cryptocurrency to BTSE's capital pool via their Lending package. The advantage of doing so is that you have access to work with different currencies than their flexible and fixed plans. You can lend wEUR, wSGD, BTSE, and wHKD ranging up to around 7.50% APY.
All-in-One Order Book
An order book is an overview of all the buy and sell orders you performed. Traditionally, cryptocurrency exchanges offer separate order books for each pair of transactions.
For example, if you trade Ethereum using the U.S. dollar, you would have a different order book than if you were to trade Ethereum using the Japanese Yen.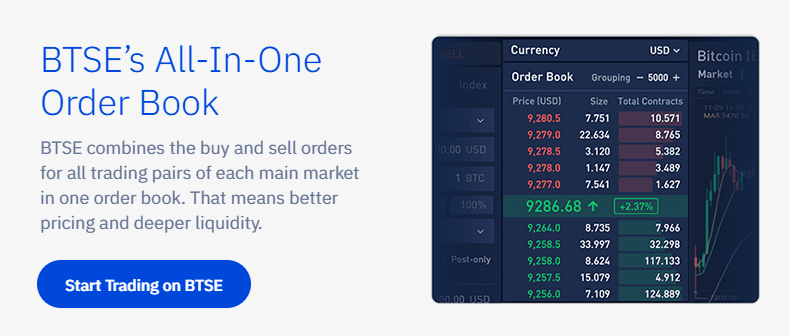 Separate order books are inconvenient, which is why BTSE combines all orders for the same trading pair (which would be Ethereum in the example above) into a single book. You might be wondering: aside from the convenience, are there any other advantages to having an all-in-one order book? Hands down, there are.
For starters, you'll get to take advantage of deeper liquidity, which gives you access to higher fill rates and improved price discovery. You'll also get fairer pricing since typically selling or buying a lesser-used trading pair results in less profit for you. Finally, you'll be able to quickly switch back and forth between different currency quotes to discover which will be most profitable.
BTSE Debit Card
By joining BTSE Elite, you'll receive a debit card that offers you the opportunity to earn Bitcoin as cashback. You can use your debit card anywhere in the world at locations that accept MasterCard, and you don't have to have a bank account.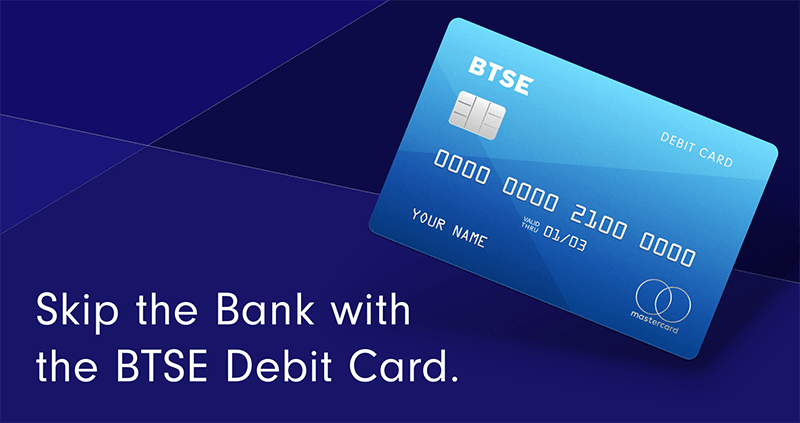 You can withdraw an impressive 2,000 Euro per day and spend as much as 100,000 Euro in a month. The only catch with obtaining a BTSE debit card is that you'll need to sign up for BTSE's Elite subscription-based membership program.
Before you run away shaking your head, know that by joining the program, you'll gain access to many discounts, bonuses, and upgrades.
BTSE Academy
BTSE understands that cryptocurrency can feel like an intimidating endeavor for new investors. They also know how crucial it is for new and experienced traders alike to have current information on crypto trends. For this reason, they launched their BTSE Academy.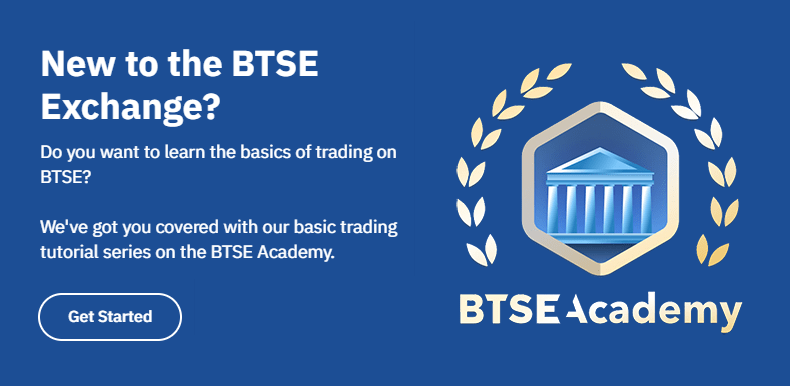 Topics cover the range from beginner's guides on volume-weighted moving average trading and the Williams Fractal to new BTSE crypto launches. BTSE Academy is free. You can access it either through their website or by signing up for BTSE's newsletter.
BTSE Token
It wouldn't be right to talk about the features of BTSE.com without mentioning its token. Like many crypto exchanges, BTSE has its own coin. They tout their coin as the first exchange token built on Liquide, which is a sidechain of Bitcoin.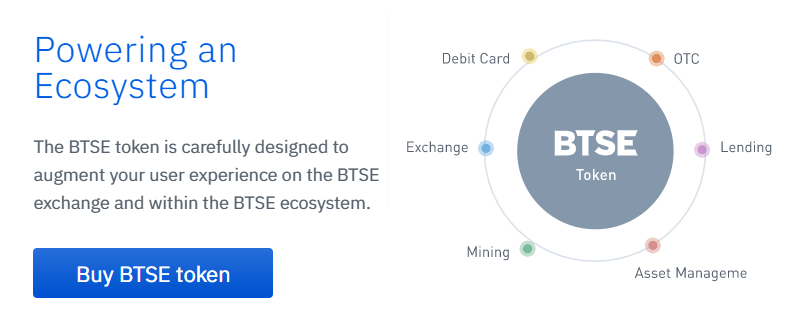 By purchasing BTSE, you'll get to enjoy confidential transactions thanks to them hiding transaction amounts and asset types. You'll also get to enjoy transactions that take only about two minutes. Finally, you'll benefit from inter-exchange settlements so that you can move your assets among member exchanges.
Holding BTSE tokens can also save you up to 60% on trading fees with BTSE.com. They bump up referral bonuses to up to 40% and allow you to take advantage of rewards in the campaigns and contests they run.
Referral Program
Speaking of referral bonuses, BTSE offers an impressive referral program regardless if you hold BTSE tokens.
Direct referrals will earn you a 20% commission on your friends' trading fees. But it doesn't end there—you'll make 10% of your friends' friends' referrals and their friends' referrals. If you're a trusted source among your friends, you can see how quickly that can add up.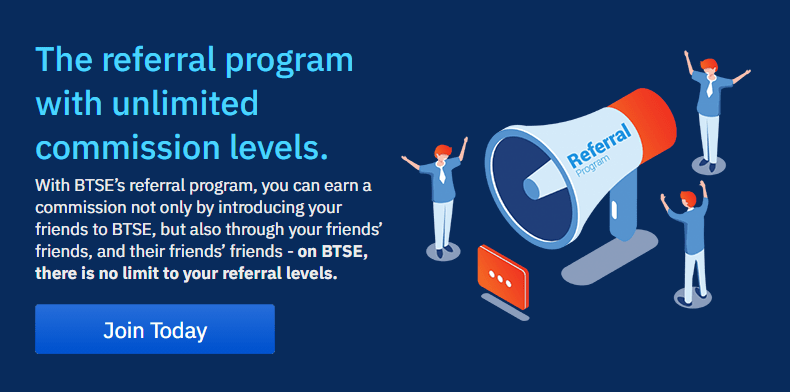 As an extra incentive for your friends, when they sign up for BTSE, they'll receive a 20% trading fee discount for thirty days. As long as your friends remain BTSE members, you'll earn commission on their trades for life.
Best of all, you don't have to jump through any hoops to take advantage of BTSE's referral program. Anyone with an account is eligible; simply sign onto (or sign up for) your BTSE account, copy the personal link located on your referral dashboard, and start sending it out to your friends.
BTSE.com Costs
Like most cryptocurrency exchanges, BTSE makes its money by charging fees. In the case of BTSE, they don't require a deposit fee or have a minimum deposit policy. However, they note that banks charge a fee for fiat deposits and withdrawals, and the amount will vary depending on your bank.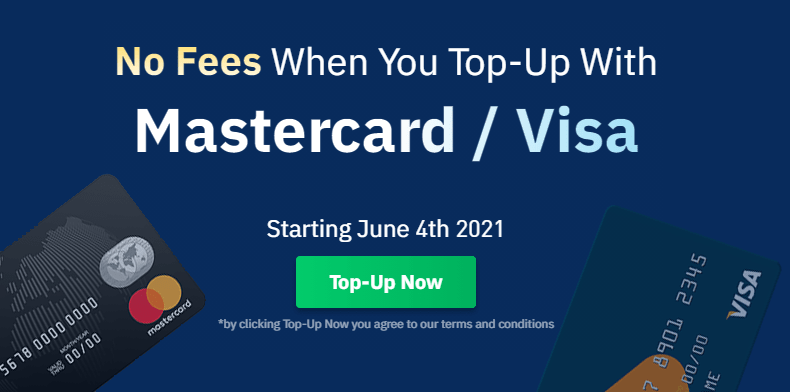 Once you're ready to withdraw your cryptocurrency, BTSE will take a small cut. They outline their withdrawal fees here, including the minimum amount of cryptocurrency you must withdraw to complete a transaction.
If you want to do an internal transfer (also called "Send To"), they won't charge you any fees. Overall, BTSE's exchange fees are modest.
BTSE.com Customer Support
Cryptocurrency exchanges are notorious for customer support, and BTSE, unfortunately, fits this stereotype pretty well. They use an internal ticket system with messaging online, the only option for getting help.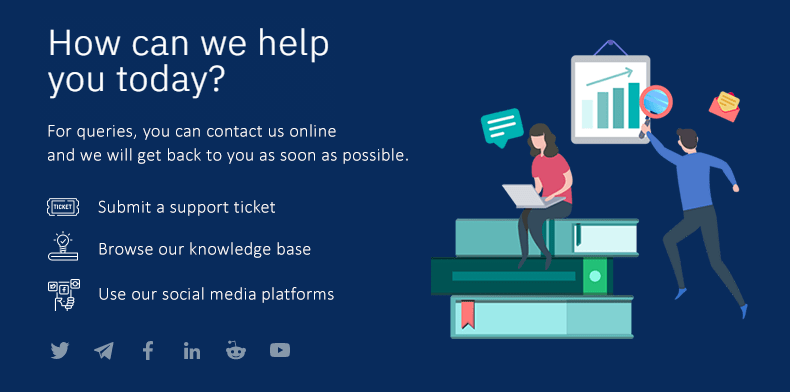 BTSE uses Telegram quite regularly, so this can be another option for trying to get customer support. You can also try to reach them via social media networks like Twitter, Facebook, and Reddit. It's not ideal, we know.
The silver lining is that BTSE has a chatbot that is quite useful for basic inquiries. Assuming you don't have any complicated questions, the bot can help you navigate BTSE's trading platform. You also might be able to find answers to your questions by using the BTSE Academy. The content helps budding cryptocurrency traders to learn the ins and outs of crypto trading.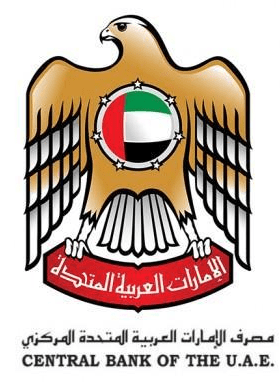 BTSE.com Licenses & Regulation
BTSE's headquarters are in Dubai. They are licensed with the Department of Economic Development via the Government of Dubai and perform all operations under the Central Bank of United Arab Emirates.
Since they're regulated, BSTE.com can provide trading between both cryptocurrencies and fiat currencies. Such fluidity between the crypto and fiat markets is ideal for the public since nearly all people still work primarily with fiat currency.
Final Thoughts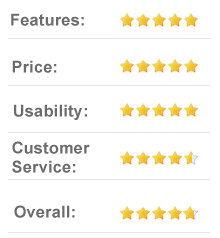 BTSE is an excellent crypto exchange if you're interested in trading a limited number of cryptocurrencies. It has a user-friendly app and website, making it perfect for people new to the crypto trading world.
Their fees are reasonable, and they offer benefits ahead of many of their competitors, such as an all-in-one order book and BTSE Earn.