Are you ready to start a podcast but need a hosting platform? Buzzsprout is a great place to start and has many features for podcasts with both smaller and larger followings. Read on to learn more about Buzzsprout and how it can help your podcast.
About Buzzsprout
Buzzsprout is a podcast hosting platform. It's designed with beginner podcasters in mind but has the capacity to host larger podcasts as well.
Buzzsprout offers many great features for both beginner and advanced podcasters. Not only will the company host your website, but they'll also help you optimize it, promote it, and track its progress.
There are very few issues with Buzzsprout. The only payment option they offer is a month-to-month subscription. As of now, the platform doesn't offer any annual subscription model to allow users to pay for at least a year at a time.
History of Buzzsprout
Buzzsprout started in 2009. The company's main goals were to provide a podcast hosting platform that would be affordable and easy to use for new to the podcasting medium. The company has grown in popularity and expanded its business to become one of the major podcasting hosting platforms.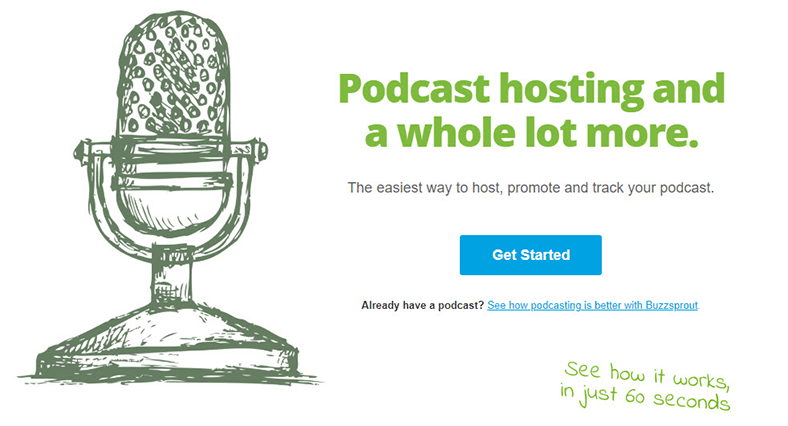 Buzzsprout now hosts over 100,000 podcasts. Some of the platform's most famous podcasts include Pat Flynn, Jared Easley, and Courtney Stephen.
Buzzsprout Features
Buzzsprout has many great features to help you publish and promote your podcast.
Get Listed
Buzzsprout lets you list your podcast with all of the major directories, including Apple Podcasts, Spotify, iHeartRadio, and Stitcher. You can upload your podcast once, and it'll show up in all of the directories you've chosen. There's no need to submit it to each directory individually.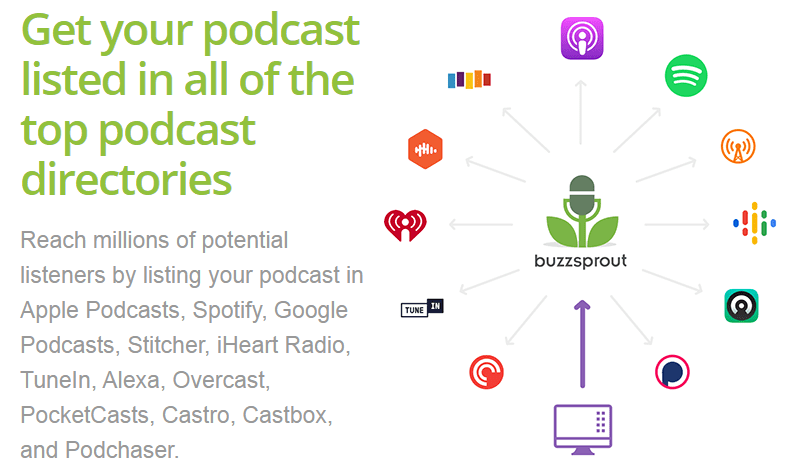 Statistics
As your podcast begins to grow, it's crucial to analyze statistics to grow your audience further. You'll be able to see demographics about your listeners, such as where they live. You can also see which apps are getting you the most listens and track how many downloads you get over time.
Magic Mastering
Unless you're a sound mixing expert, it can be challenging to give your podcast a professional sound quality. Buzzsprout offers Magic Mastering as an add-on feature. This feature will take your audio and act almost like an Instagram filter, giving it a higher quality, professional sound.
Episode Optimization
Have you been putting off starting a podcast because you're afraid of the technical aspect of it? Buzzsprout eliminates the need to do all of the technical stuff. Once you upload your episode, Buzzsprout will automatically optimize your episode. They handle the filetypes, bitrates, and tags. You also have the option to immediately publish your podcast or schedule it for a future upload date.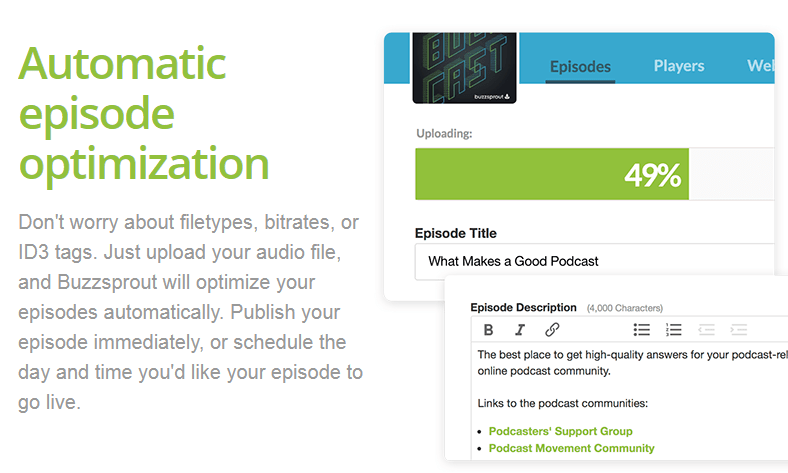 Transcription Services
Transcription is another add-on feature offered by Buzzsprout. The company will transcribe your podcast word-by-word. You can offer a text version to your listeners, making your content accessible to a broader range of listeners.
Podcast Player
Buzzsprout comes with a podcast player that you can embed directly on your website, making it easy for your site's visitors to find your content. You can easily add the player to your site with just a snippet of code, and you can customize it to fit your brand.
Controls allow your listeners to skip forward and backward or listen at twice the speed. It also includes buttons for Facebook and Twitter so that your listeners can easily share your latest episode with their followers.
Potential for Monetization
As your podcast grows, you may begin to think about monetizing it so that you can produce even better content. Buzzsprout makes monetization easy. You don't even have to leave the platform to start making money from your podcast.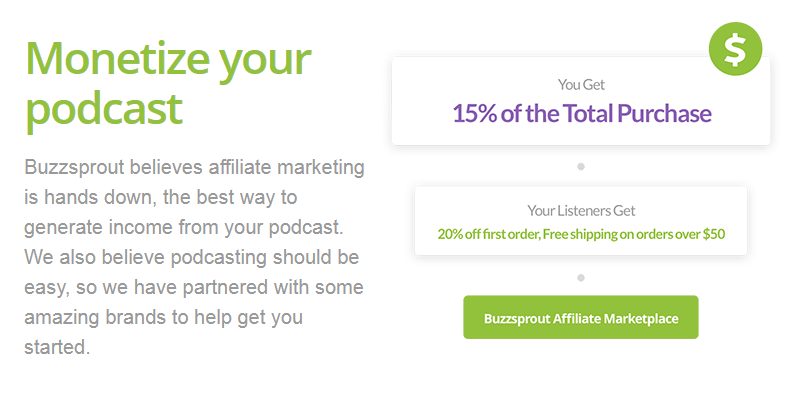 Buzzsprout partners with other brands to create affiliate marketing opportunities for their podcasters. You simply choose the brands that would be a good fit for your audience and then promote those brands during your podcast. If one of your listeners makes a purchase using the link you give them, then you'll make a profit. These brands will also often give your listeners special discounts.
Organize Your Podcast
If you create lengthy podcasts or split your show into segments, creating chapters within an episode can help listeners find a particular part. Buzzsprout lets you create chapter markers so that listeners can skip around within an episode.
Multiple Podcasts and Unlimited Team Members
If you have several podcasts that need hosting, you can upload them under the same account. This feature makes life easier for busy podcasters.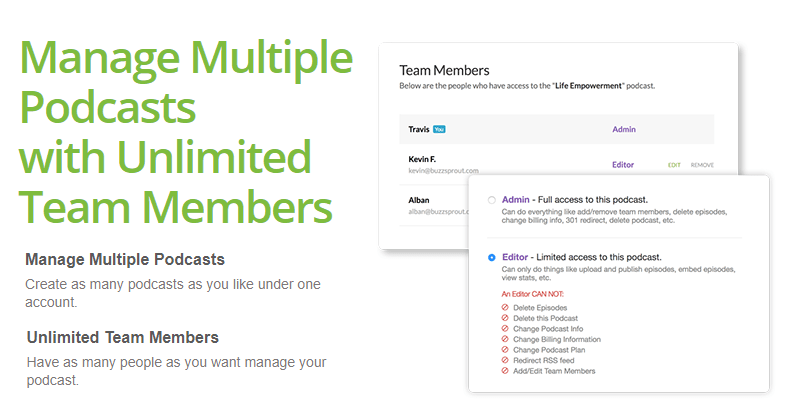 If you have others who are working with you, Buzzsprout allows multiple team members. You can let as many people as you want to have access to your podcast, which can be very beneficial if your podcast grows a following.
Integration Features
If you currently use other tools for your podcasts, such as Chartable or Hindenburg, Buzzsprout offers integration for most major podcast tools. There's also an API to help you with more technical integrations.
Custom Website
You don't have to leave the platform to create a professional-looking website for your podcast. Buzzsprout lets you create a website that is customized to your brand. You can use your URL and include any information you want. You even display your podcast feed directly on your website. Buzzsprout's website builder is simple enough that you can build your site.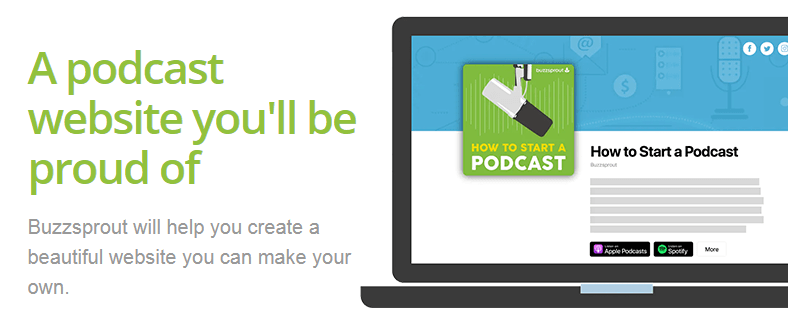 Visual Soundbites
You can create visual soundbites to promote your podcast. These images can be customized to your brand and can be used to garner new followers across all of your social media channels.
Buzzsprout Pricing
Buzzsprout offers four tiers of pricing. All of the pay plans include statistics, a podcast website, a podcast player that you can customize and embed, and the ability to get into podcast directories. You can add podcast transcription for $.25 per minute. Since payment is month-to-month, you can move to a different plan or cancel at any time.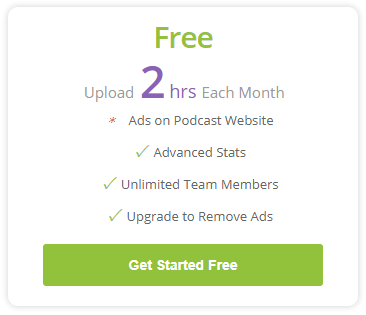 Free Plan
The free plan allows you to upload up to two hours of audio each month, and you'll be limited to up to 90 days of hosting, after which time your podcast will no longer be available to your audience. You'll also have ads on your podcast website.
You'll get advanced stats and unlimited team members. You can upgrade to remove the ads.
$12 Per Month Plan
For $12 each month, you can upload up to three hours of audio content. Your episodes will be hosted indefinitely, making it a more viable option for a long-term podcast. You have the option of uploading more content for $4 per hour.
You'll get the same features of the free plan, plus unlimited storage, and you can import your podcast for free. You can add Magic Mastering for an additional $6 each month.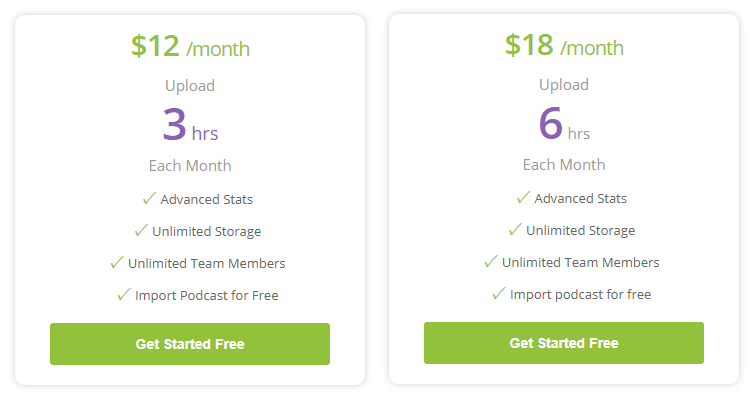 $18 Per Month Plan
The $18 per month plan allows you to upload up to six hours of content each month. You can upload additional content for $3 per hour. You get all the same features of the $12 plan, and you can add Magic Mastering for $9 each month.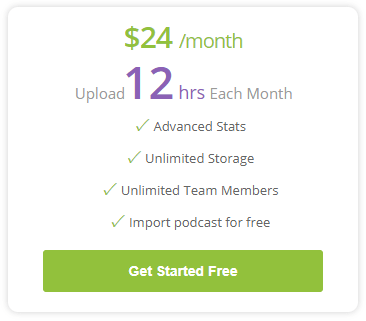 $24 Per Month Plan
For $24 each month, you can upload up to 12 hours of content each month and add hours for an extra $2 per hour. You'll get the same features as the other plans and can add on the Magic Mastering feature for $12 each month.
Buzzsprout Support
If you need help with your podcast, Buzzsprout offers several types of support. You can read their extensive library of helpful guides or watch tutorials on YouTube. If you need more support, the help team will respond to your email within hours, if not minutes.
Final Thoughts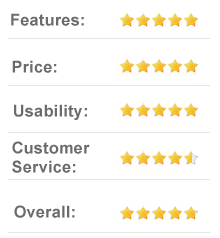 Overall, Buzzsprout offers a reliable platform for hosting your podcasts. Features like a well-designed interface, audio optimization, and affiliate connections make it easy for even the most novice of podcasters to get their start. The best thing about Buzzsprout is that it allows you to start small but also gives you room to grow your podcast into something much bigger.