With cryptocurrency gaining more traction than ever, it's a great time to learn about your options for jumping into this popular investment. There are many different cryptocurrency investment and trading platforms out there, and they all want your business.
As the popularity of digital assets grows, so does the risk associated with them and the number of platforms that have been involved in scams or security compromises.
Today, we're going to dive into the cryptocurrency platform ChangeNow.io and review its merits to see if it's worth your time, effort, and trust when it comes to digital assets.
History of ChangeNow.io
A relatively young cryptocurrency exchange platform, ChangeNow.io, was founded in 2017. During the end of that year, cryptocurrency was at an all-time high and was experiencing a huge boom.
Many online platforms had to temporarily bar the opening of new customer accounts due to systems that couldn't handle the traffic.
ChangeNow.io, born during this struggle, was developed to meet an important void that its founders noted in the industry. While many sites were crashing because of high volumes and data usage, ChangeNow.io emerged as a perfect middleman to facilitate a non-custodial crypto exchange or an exchange in which the platform doesn't store funds.
Although ChangeNow.io has expanded to include extra services, its appeal still largely resides with its exchange platform and is replicated in its other simple, secure, and convenient transaction offerings. The company is headquartered in the Seychelles.
Top Features and Benefits
As a crypto exchange platform, ChangeNow.io offers limitless and fee-free transactions. Because it functions primarily as a temporary exchange conduit, it never stores funds or requires users to create an account.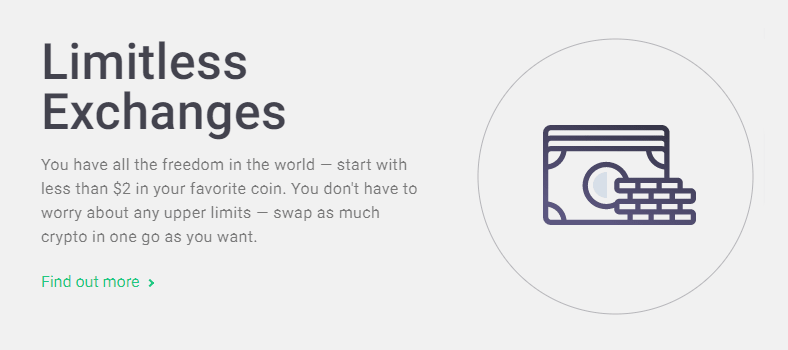 This makes exchange on the platform quick, smooth, and convenient for most users. Since the site acts as an intermediary only, you will need another wallet-enabled storage platform.
Although you can't store your currency on the ChangeNow.io platform, this distribution and exchange model keeps your assets extremely secure from hacking and fraud.
While many platforms have transaction limits, there are no exchange limits on ChangeNow.io. This great feature makes it the perfect place to get your crypto portfolio started or make multiple exchange moves to bolster it.
Although the company was founded on and specializes in customer-centered crypto exchange, its expanded offerings are likely to satisfy both customers who are new to crypto and old pros.
ChangeNow.io supports fiat-to-crypto transactions, meaning that customers can use debit or credit funds to purchase cryptocurrency. Again, the currency must be stored through other third-party sites, but the platform still offers a high level of convenience with its fiat-to-crypto services.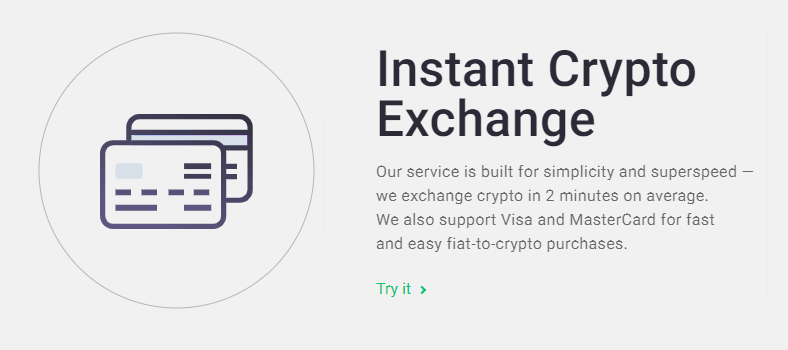 Another customer-favorite feature is the ease of use that CryptoNow.io offers with both its website and mobile app. Crypto holders know that sometimes good outcomes come down to decisions made and acted upon in mere moments.
CryptoNow.io has lightning-fast speeds in both its Android and iOS apps, as well as in the easy navigation and intuitive layouts of both its mobile and desktop sites. Instant exchanges on the go are convenient, easy, and worry-free.
ChangeNow.io also supports a wide variety of different crypto coins for both purchase and exchange for a relatively young platform. Over 200 coins are supported on the site, and there are nearly 13,000 trading pairs possible.
ChangeNow.io also helps to avoid multiple swaps, which are duplicate or multiple chain-like processes that sometimes occur on crypto exchanges.
While not all of ChangeNow.io's 200 supported coins are available for fiat-to-crypto purchase. Generally, most of the popular ones, including Bitcoin, Dogecoin, Ethereum, and more, are.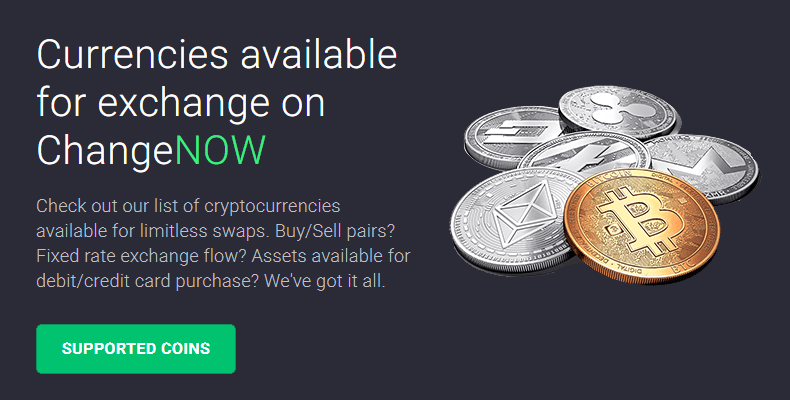 The platform is also available to users all over the world, with its website accessible in 28 languages. However, there are some territories and countries whose restrictions do not allow platforms like ChangeNow.io's. Part of the platform's terms of use involves verifying that you as the user do not live in one of these countries or territories.
Commission/Costs
Because ChangeNow.io maintains operations that are mostly fee-free, customers are frequently satisfied with the value of the platform and the services accessible on it. Like with any other platform, there are commission costs associated with some services.
Thankfully, ChangeNow.io's commitment to convenience and a smooth customer experience is reflected in how they approach their commissions. Any commission-associated fees are built into the up-front cost of your crypto exchange, removing guesswork and allowing you to make the quick, instant decisions and moves that build your crypto portfolio.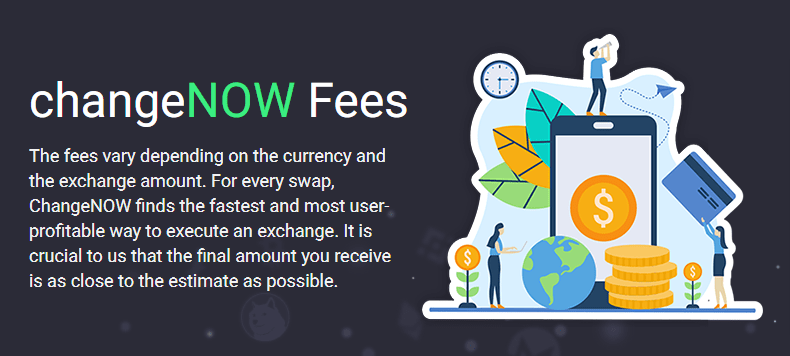 ChangeNow.io's commission fees are relatively low for small exchanges, generally from .4%–5%, and comparable to other platforms in the industry.
Due to the nature of commission fees, however, those who take advantage of the platform's no-limit trading policy will find that for large and multiple exchanges, commission costs will be significantly more. ChangeNow.io is a great value for the service it provides.
Customer Support
The platform's high levels of quality customer service are one of the key features that attract and keep its customers. ChangeNow.io has very high rankings of 4.6 out of 5 stars on Trustpilot.com for its great customer service.
Customers note exceptional responsiveness when it comes to availability for troubleshooting and answering questions. The platform offers many avenues for customers to contact them, including phone, email, or even one of its social media pages.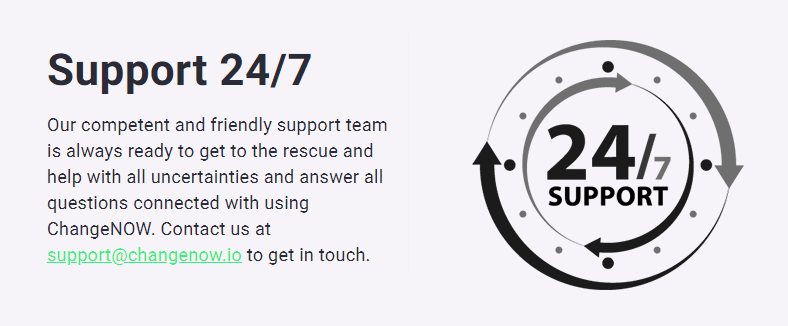 When reaching out by any of these means, customers report low wait times and fast responses that address their issues. According to customers, the interface and user systems are extremely intuitive, and the platform easy to use, making problems few.
For the customers that use it, many claim that ChangeNow.io is the best crypto exchange they've tried and that they will be repeated, and even lifetime, customers.
The few rare customer complaints on Trustpilot.com reference lags in exchange times and transactions that get "stuck" in waiting or ultimately fail. In these instances, the platform was quick and thorough in reaching out to customers who had left negative reviews to rectify the situation for them.
One of the unique and special aspects of ChangeNow.io's customer-centered platform is the well-run and consistently updated blog. This blog is aimed at customer education, helping to empower users to feel confident about their participation in an industry that can, oftentimes, be confusing and complicated.
Trustworthiness
As with any cryptocurrency-oriented service, it's important to find a platform that you can trust. However, in an increasingly digital age, our most valuable assets are becoming increasingly vulnerable to hacking and fraud, and other digital dangers.
Because of its non-custodial services, ChangeNow.io is considered extremely secure from these types of online threats. However, there are still sources that question whether ChangeNow.io is the most secure and trustworthy platform to use for crypto services.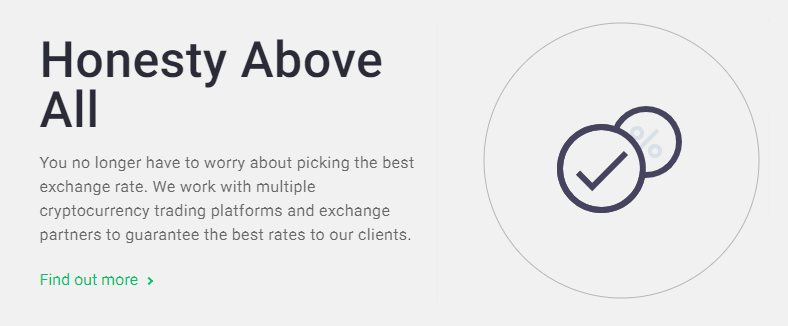 As the platform gets more popular, users cite more and more lags in trading speeds and glitches in the system, which result in exchange failures or delays. These results can be costly, especially if the delay or failure precedes a value drop that can lose users' money.
The rising rate of these kinds of glitches paired with the high commission fees associated with some transactions causes some customers to doubt the legitimacy of the site. However, the company is very open about its methods, giving customers access on its website to information about price predictions, its partners, the platform's responsibilities, and how its processes work.
Pros and Cons
Overall, ChangeNow.io offers secure and appealing services at prices comparable to other crypto platforms in the industry.
Some of the most notable drawbacks of the platform include its lack of crypto-to-fiat services or the fact that the customer can't trade his or her cryptocurrency in for its monetary value. In the same vein, many customers dislike having to use a third-party wallet platform, but both of these drawbacks help to keep the site and customer data secure.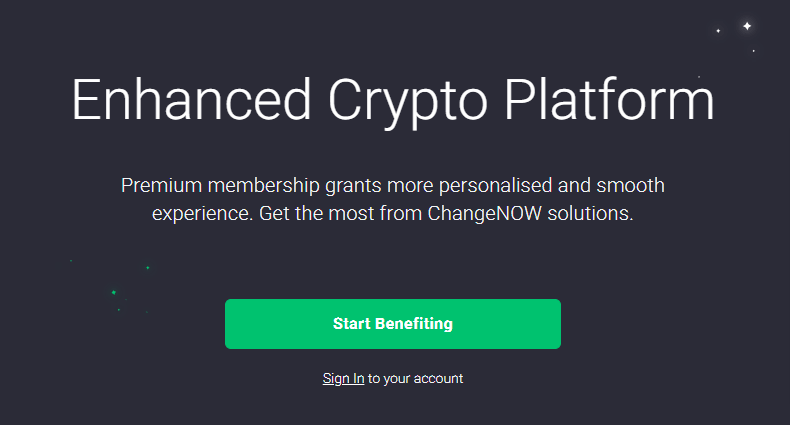 Large transactions on the site are subject to larger commission fees and may even be paused for legitimacy checks and verification. But, again, all of these components play into the security and safety that helps customers feel comfortable using the platform's services.
The key features that draw customers in are the non-custodial exchange abilities, the wide array of crypto offerings, the reasonable small-transaction fees, lack of registration requirements, and the notable customer service we've discussed.
In all, if you plan to engage in mostly small transactions centered generally around exchanges and want quick, smooth transactions and an easy-to-understand interface, then ChangeNow.io is a great option for you.
For those looking to do large volumes of crypto exchanges regularly, you might need to trade in the simplicity of ChangeNow.io for a more complex site with smaller commission fees.
Final Thoughts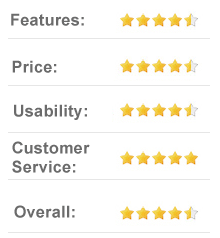 Now more than ever, digital assets are the popular way to build and diversify your portfolio. Security is of the utmost importance, and a simple and fast platform is necessary to build your crypto portfolio into the best it can be.
With ChangeNow.io, you can engage in non-custodial exchanges and fiat-to-crypto transactions to your heart's content with limit- and account-free activity. When it comes down to it, what's not to like?