If you own a subscription-based business, you probably want better, more efficient ways to bill your customers. Enter Chargify.com. Chargify helps you with the entire billing process, from the point of sale to contacting your customers to let them know their details need updating.
Billing is only one small aspect of the entire e-commerce process. The more popular and sophisticated online subscriptions become, the more complicated your billing process becomes. You have to be aware of regulatory changes, investor relations (if you have investors), market changes, and so much more.
Chargify removes the hassle, streamlines the process, and removes the aggravation of handling all the minutiae of the billing process. It also gives you an edge over your competition because your customers have a better billing experience overall, plus, despite the automation, Chargify makes everything feel personalized.
All of that leaves you with more time to do what you do best: Provide your customers with the quality products or services they've come to expect.
Chargify's Top 5 Features
Because Chargify has made its entire mission all about your billing process, its service has a lot of features. We've taken our five favorite features and listed them below for you.
1. Payment Gateway Options
Some people might not want to deal with putting a debit card on file. Others might prefer paying via PayPal. Chargify offers several different payment gateway options that will help you best address your customers' needs.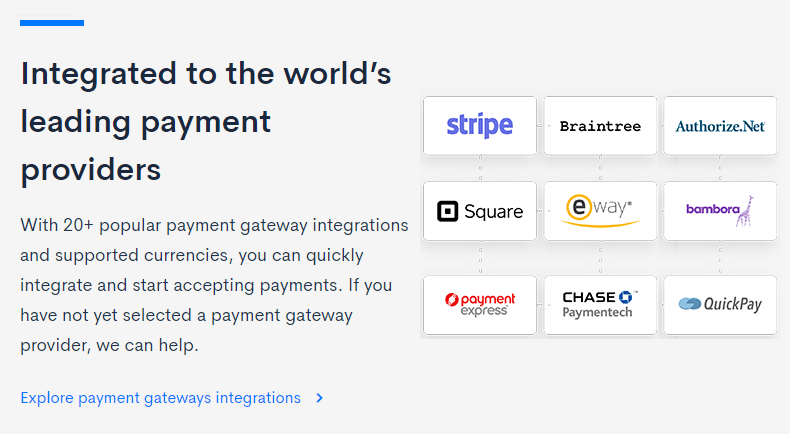 We also discovered that Chargify allows you to keep your existing payment gateway in most cases. Because we already have a preferred gateway, we found this feature very desirable. Why switch gateways if what you already have works, and you and your customers are already used to it?
Chargify is also PCI Level 1 compliant, meaning they must maintain extremely high security standards to ensure that your payment systems are as secure as possible. They go through rigorous annual audits to maintain that status so they can provide the security you require.
In other words, they do the hard security-compliance work for you.
2. Recurring Invoicing and Multi-Period Billing
Chargify's recurring billing features give you the ability to set billing dates, manage cancellations and downgrades, and put customers' payment methods on file. You can also manually manage things like one-time charges, subscription adjustments, and more when depending on automation isn't feasible.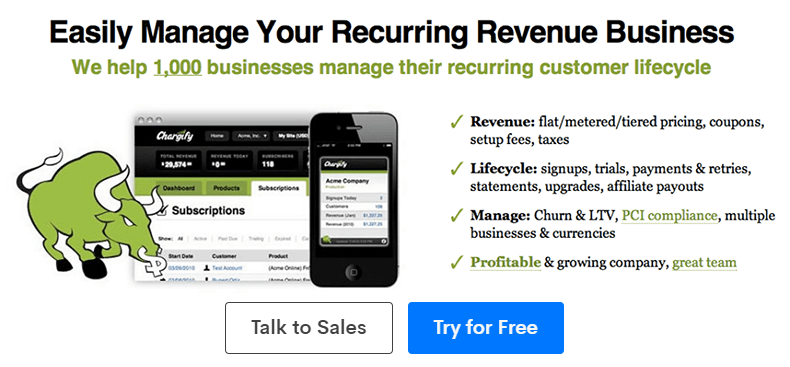 Our favorite part of all of Chargify's billing features, including this one, is the geolocated tax system. It allows us to collect the appropriate taxes no matter where our customers are. You can automate this for over 10,000 jurisdictions in the U.S., Canada, and the E.U., and you can create custom tax rules for customers outside those jurisdictions.
3. Self-Service Portals
If you're like the rest of us who shop online, you've probably had to change your billing info many times on many websites. Perhaps you've also had to change plans, update, or otherwise manage a subscription.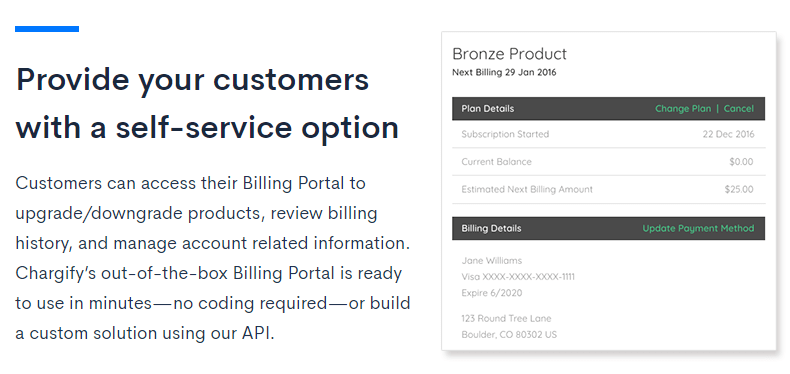 Chargify's self-service portal gives your customers the ability to manage their accounts on their own, quickly, easily, and securely.
4. Offer Management
We know we can't give our customers the absolute best without offering promotions from time to time. One of the things that Chargify has learned is that the idea that one offer fits everyone doesn't work very well. For instance, the promotions that we offer to prospective customers probably won't benefit our existing customers.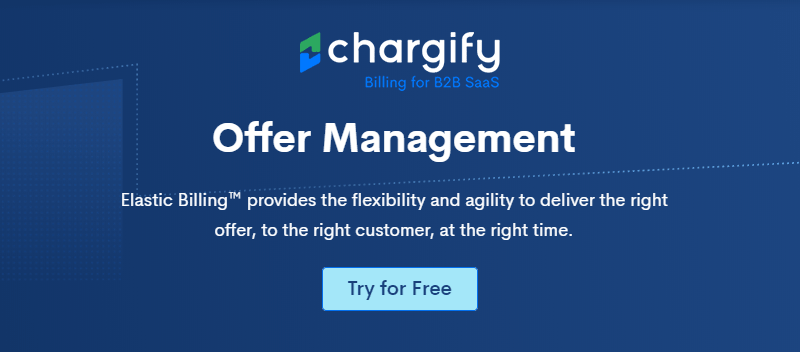 Also, one promotion will benefit some of our customers, while others can't make use of it at all. We prefer to offer customized offers to reach as many people as possible. That way, not only can we attract new business, but we can also better retain current business by treating them as though they're different people with different needs.
Chargify helps you manage the timing for your promotions, what type you offer (fixed dollar or percentage-based), set limits, determine whether they're one-time or ongoing offers, and so much more.
You can also limit your promotions to specific products or services to prevent people from misusing or abusing them.
5. Tax History Reporting
With Chargify, the headache you get from managing all the details of your taxes disappears. We absolutely adore that.
Our business taxes aren't just about making sure we file them on time. It also means ensuring that we're collecting all the appropriate taxes and producing accurate reports for all the taxes we've received and paid.

The problem is that we have an overly complicated tax code. You probably know that from merely doing your personal taxes, to say nothing of your business taxes. We've found it impossibly difficult not to despise everything about ensuring tax compliance in all areas.
What do you do then? You can hire an accountant to work full-time for you, or you can find a way to manage all of it yourself, so you remain in full compliance at all times. We would rather not have to spend hours upon hours working on every tax aspect of our business.
How Much Can You Expect to Spend with Chargify.com?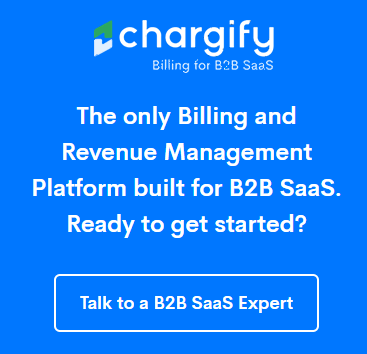 Chargify does not publicly disclose its prices or plans. To find out what you can expect to pay, you need to contact one of their experts to get started. However, you can rest assured that they won't rope you into a contract. They're a month-to-month service that you can end at any time.
They also offer a free trial. Answer a few questions, and Chargify will get you set up with a test account. If you decide that they're right for you, then you can work with them on setting up a merchant account and payment gateway. You can also connect your existing account and gateway.
Customer Service
Chargify's customer service is available 24/7, where you can get live help whenever you need it. You can also email them or chat with one of their representatives online to discuss your needs or any problems you have.
You can also log into your account and chat with a customer service representative there. They can link you directly to that which you're working on setting up or having problems, enabling them to help you quickly solve your problem.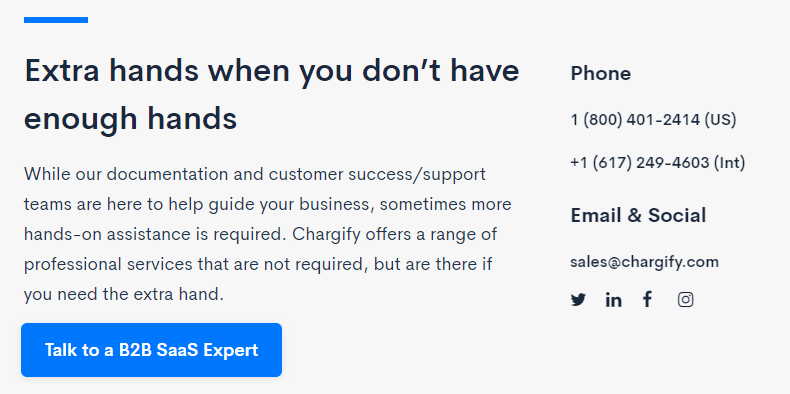 In addition to that, Chargify has an extensive FAQ section that gives you an excellent place to start with your questions before you contact them.
You'll also find a collection of blog posts and articles full of insights, detailed instructions, and even a Top 20 Questions and Answers section. You have access to webinars that help you through as well. In short, Chargify gives you access to a fount of information you can read and reread as many times as necessary.
Downsides of Chargify.com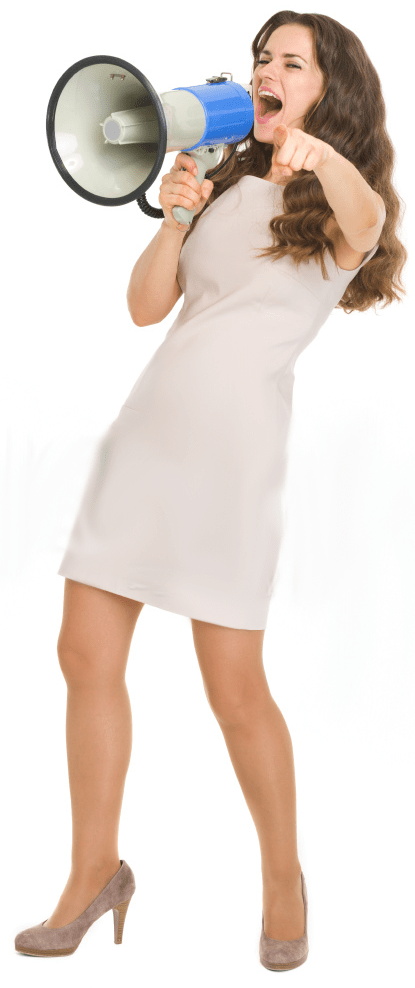 Despite all the great things Chargify has to offer, it does have its downsides.
First off, Chargify's recurring billing feature doesn't send statements every time a customer renews their subscription or other services requiring periodic billing. Furthermore, some customers don't receive statements for one-time charges.
If you need to set up an irregular billing cycle, you have to do so manually, and Chargify doesn't make that easy. While many businesses don't need a way to deal with irregular periodic billing, if you do, you'll probably need to contact Chargify for help.
Your Chargify dashboard contains a lot of information, which you might find confusing. Also, sometimes it takes a while to process payments that you should be able to process immediately. That could lead to billing delays, which can frustrate both you and your customers.
One thing that is perhaps both a plus and a minus is that you have no program or app to install on your devices. Chargify is entirely web-based and cloud-based. While many people would consider that a plus (because it doesn't take up space on your devices), some might find that off-putting, especially if they don't trust the cloud.
Chargify does take great pains to ensure your system remains secure. However, with the occasional but serious breaches in cloud-based programs and storage systems, you might feel hesitant to trust the cloud with such sensitive information.
Final Thoughts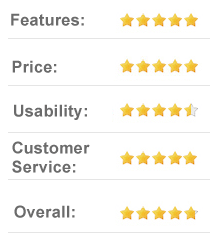 After going through so much information about Chargify.com, we can understand why Chargify works for so many business owners. They do everything for you, removing your billing hassles and headaches. The number of tiny details they handle for you makes running your business far easier not just for you, but also for your customers.
If you're a business where recurring charges, payments, and subscriptions make up the bulk of your revenue and cash flow, you can't beat Chargify. And if you're having problems with anything, even setting up irregular billing or using their manual features, you have so much help available that you're never left to try and figure things out on your own.
Who wants to spend hours just trying to ensure that every last part of their billing process works properly? We don't, and we're sure you don't, either. If you're searching for an excellent billing service, give Chargify a call. Their service is unmatched for many different types of businesses.