In today's modern world, everyone concerns themselves with getting work done while maintaining a high-quality effort. However, employees are also human and need to have some downtime for other essential things in their lives, like family and friends. This dilemma was the inspiration behind ClickUp.
ClickUp.com functions as a collaboration and project management tool compatible with businesses of all sizes and industries. It got released in 2017 with nearly 200,000 downloads to date. The ClickUp.com client base steadily grows in popularity. The ability to import projects, use integrations, and create tasks and subtasks have all attracted project management software users to ClickUp.
In this article, we'll discuss some key points about ClickUp that have led to its recent rise, including the top features of the app and key privacy points. We'll also discuss the different price plans and what they offer, as well as ClickUp's compliance policy.
About ClickUp.com
ClickUp contains project collaboration functions like docs and integrations, as well as group management functions like tasks and HR. This makes ClickUp.com the perfect tool for all businesses, big or small.
Save One Day Every Week
"Save One Day Every Week" is ClickUp.com's motto. The developers realize that employees have other responsibilities and lives outside of work, and a job should not consume every waking minute of someone's day. One of the main reasons people take overtime or work late is due to missing deadlines or not communicating correctly about a project.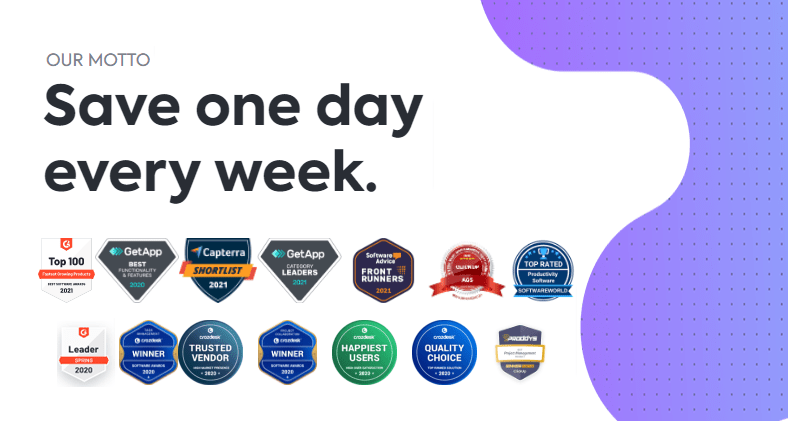 So, ClickUp decided to tackle this issue and create an app where communication would be prioritized, and everyone would remain on the same page. Everything from tools to docs is already there or can easily integrate into it, and it can be downloaded on both your desktop or phone, which will ensure you're able to stay on task and avoid a rush of weekend work to finish a project.
Keeping most of the work from HR to collaboration inside ClickUp saves at least 20% of work time since employees won't need to click back and forth from one application to another. This allows for a more relaxed work environment and overall happier workers.
One App To Replace Them All
With most of the work for a business contained in one application, productivity will rise, and employees will be happier. However, management will also be able to experience those benefits.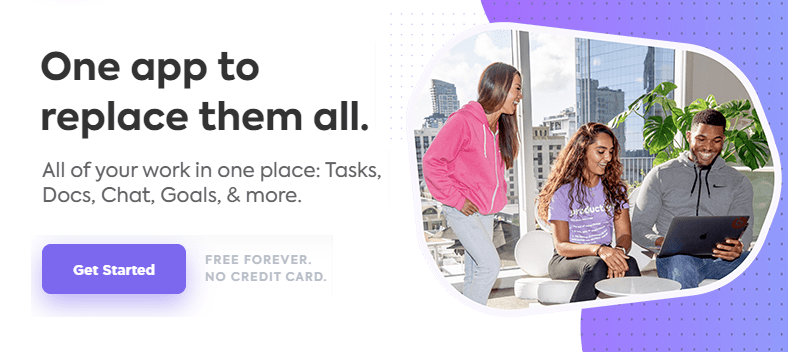 Management will be able to see an increase in their productivity. Instead of wasting time by clicking back and forth from an HR application to a tasks application, management will be able to keep the essential functions of their company in one place. This increases transparency and oversight as well.
Top Features Of ClickUp.com
The premise behind ClickUp isn't entirely new. Companies like Asana and Trello contain many collaborative project functions. ClickUp is unique in that it also has features for tasks and imports, while also providing templates for specific businesses, such as healthcare, nonprofits, and sales.
Tasks
The tasks feature on ClickUp allows project managers to plan and direct their workflow without any hassle. The tasks function will enable managers to plan on projects by using a calendar. They can also break down big tasks into sub-tasks utilizing this feature.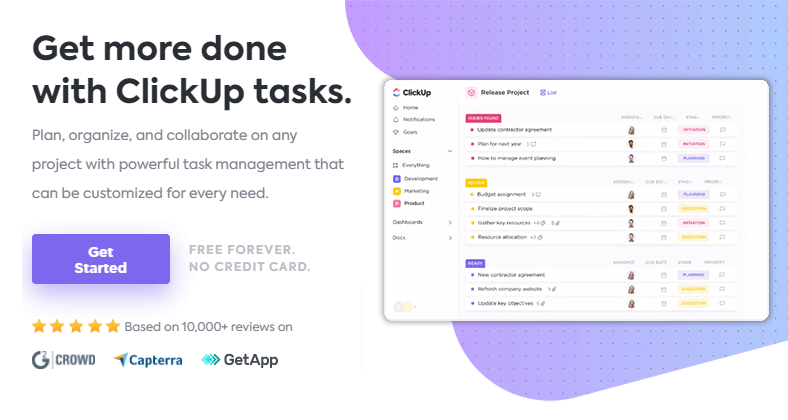 Comment threads and sharable screen recordings make managing tasks feel like a breeze. Quick communication and a shared vision ensured a high-quality group project done on time, and ClickUp's task feature provides those exact things.
Imports
ClickUp also allows you to import any existing tasks into its software. Excel, Asana, and Trello are all compatible with ClickUp's importing feature. This feature is available with any price plan and takes only about 60 seconds to complete.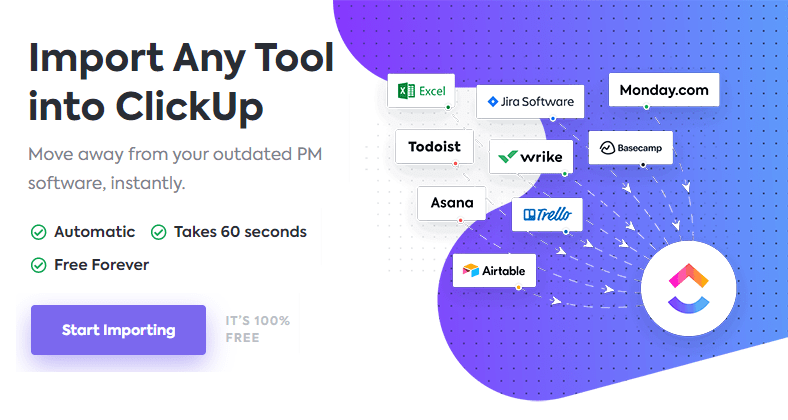 The only trick about ClickUp would be to ensure enough storage space for the new, imported projects. Thankfully, 100 MB of storage comes with the Free Forever plan, making switching easy and affordable. This feature ensures a quick and easy switch for a company from any sort of old project management software.
Templates
ClickUp also provides users with templates to use when designing a workspace for your company. For example, a nonprofit template includes spaces to track donations and volunteer hours, while a healthcare template provides data security to keep patient information safe.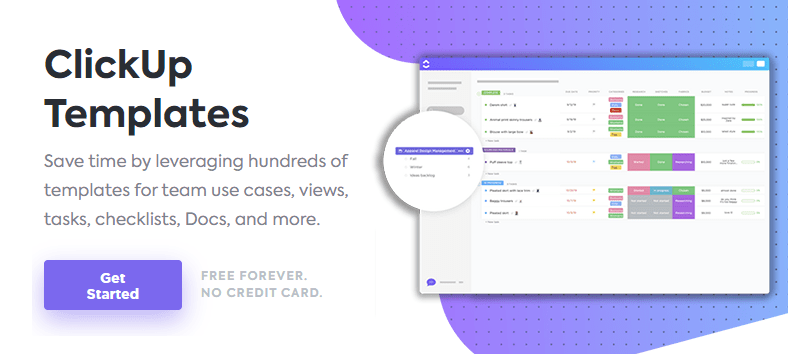 A brand new company or business can easily begin working with ClickUp as the app features a startup function. It includes project roadmaps and goal tracking to keep your business on the trajectory for success. Sales, remote work, and marketing are among some of the other team templates ClickUp offers.
ClickUp Costs
ClickUp has five different plans users can choose from, depending on their needs and the size of their company or business. Features vary between plans, so it's important to know what you'll need from ClickUp in terms of features before choosing the best fit for you.
Free Forever
Consider this plan for personal use
Price: Free!
Includes: Collaborative docs, real-time chats, time tracking, 24/7 support
Pros: 100 MB storage, unlimited members, unlimited tasks
Cons: It does not include teams (user groups)
Unlimited
Consider this plan for small teams
Price: $5 per member per month
Includes: Everything in Free Forever, teams, goals, and portfolios, unlimited dashboards
Pros: Unlimited storage and unlimited integrations
Cons: Missing Google SSO
Business
Consider this plan for mid-sized teams
Price: $12 per member per month
Includes: Everything in Unlimited, advanced time tracking and public sharing, Google SSO
Pros: Unlimited teams
Cons: It does not include team sharing
Business Plus
Consider this plan for multiple teams
Price: $19 per member per month
Includes: Everything in Business, custom role creation and permissions, admin training
Pros: Priority support
Cons: Missing MSA and HIPAA availability (for healthcare)
Enterprise
Consider this plan for many large teams
Price: Contact ClickUp sales
Includes: Everything in Business Plus, MSA and HIPAA available, unlimited custom roles
Pros: Access to Managed Services and guided onboarding, as well as consultation with a Dedicated Success manager
To use ClickUp to your advantage, choose a plan that best fits your company size, number of teams, and specific features you may require. Be sure to contact ClickUp sales if you plan to purchase either the Business Plus or Enterprise plans.
Customer Support
ClickUp proudly provides 24/7 support, even on the weekends and holidays. Support is always free and included in every plan. In addition to chats with live representatives, ClickUp also provides help in other ways. Video tutorials and a FAQs page made available provide references without the hassles of a phone call.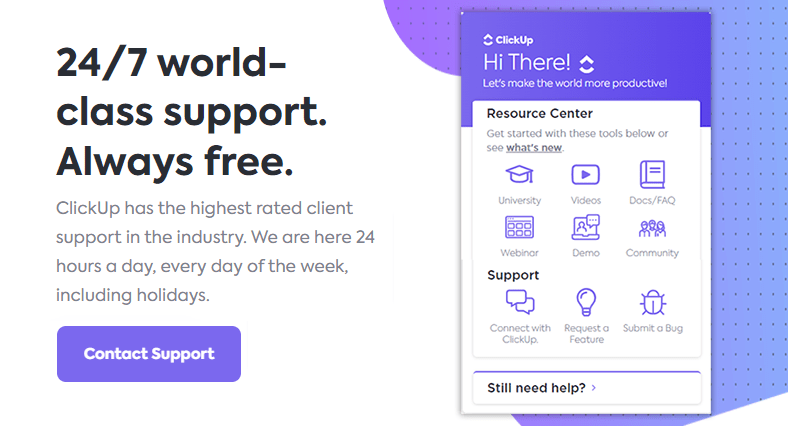 ClickUp Privacy And Regulation
ClickUp uses Amazon Web Services, also known as AWS, for its infrastructure. AWS helps ensure the privacy and security of ClickUp users, as do special ClickUp service teams.
AWS
AWS has a vast, secure network and dedicated service centers that help protect users' data. Data controls and residency, and data sovereignty help you choose what gets stored and who gets access to it.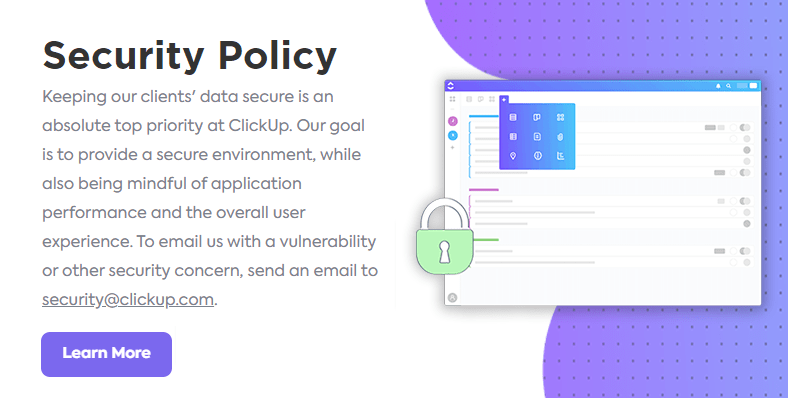 Compliance
AWS also enables ClickUp and ClickUp users to meet security and confidentiality requirements, like HIPAA. ClickUp complies with the AICPA, the General Data Protection Regulation, and HIPAA (included only with the Enterprise Plan). With such a secure and reliable network in place, you can ensure your business will run smoothly using ClickUp software.
Conclusion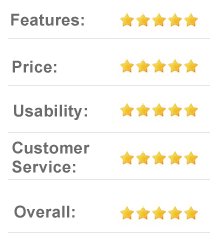 ClickUp offers more than simply an easy way to manage work and projects. This software helps foster a positive team environment by helping everyone deliver their work on time without dealing with the hassles of switching between software.
With tasks and reminders to keep everyone on track, hurried weekend work will cease as employees meet their deadlines. These employees become happier, now having time to pay attention to the other facets of their life.
Management also benefits as responsibilities such as accounting and HR can be dealt with in the same place. Increased management organization and productivity benefits the company as a whole.
Finally, the company itself will reap the returns of investing in ClickUp. Increased productivity of employees and better organization of management ensures smooth sailing in the sometimes stormy seas of the business world.
An investment in ClickUp yields returns for the whole company and works with any type of business, big or small. With impenetrable security and reliable resources, ClickUp provides the perfect network with which to base your business.