If you're looking to bet with Bitcoin, there are no shortage of gambling sites to pick from—but not all of these options may be reliable or secure enough to use. You've probably seen the name Cloudbet pop up more than once if you're looking for places to wager with crypto-currency, but is this sportsbook worth your time?
Keep reading for an in-depth look at how Cloudbet works, its top features, and whether you should be wagering your Bitcoin there.
About Cloudbet
As far as betting sites go, Cloudbet is a fairly new operation—the company has only been around since 2013. While they almost exclusively work with Bitcoin, they do offer a few broader crypto options—such as Ethereum, Bitcoin Cash, USDC, and even USDT.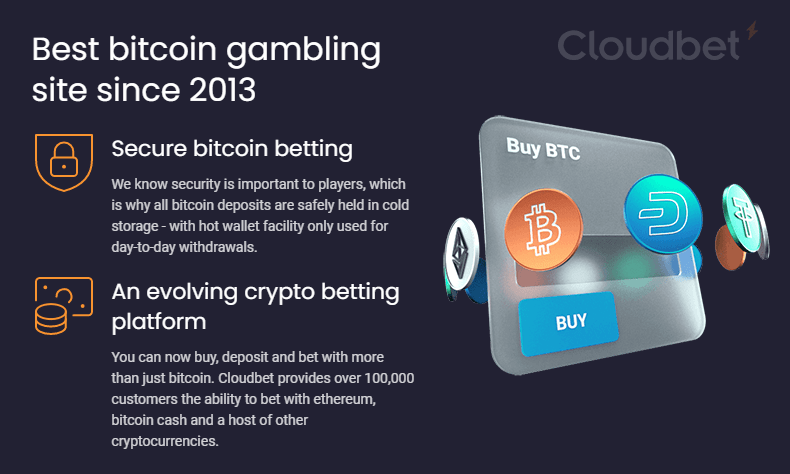 Although the team and their servers are located in the Netherlands Antilles, Cloudbet's services are open to players in 100 different countries, including the United States and most of Europe.
Cloudbet offers three main services for its users: a sportsbook, a casino, and a relatively new option for betting on eSports. Without getting into all the nitty-gritty features, here's a quick look at how these services compare.
Sportsbook
Perhaps Cloudbet's most popular service, their sportsbook, has a professional layout and easily allows you to navigate through different types of sports. And, unlike some sportsbooks, you don't need to click through a million ads or deal with pop-ups while you're trying to place a bet.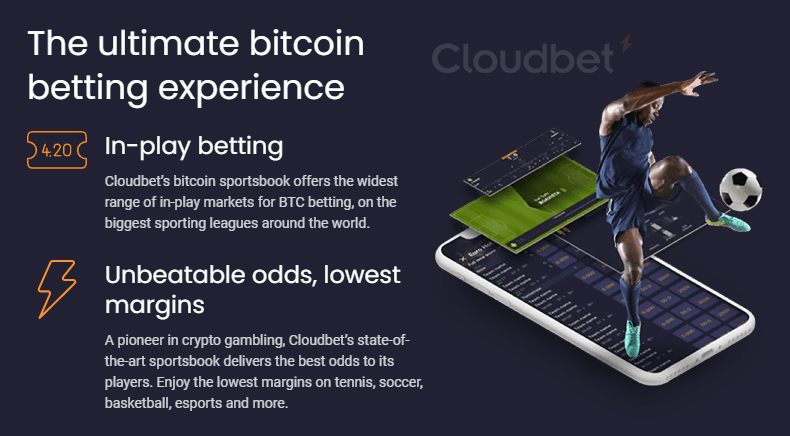 For those that prefer to place live bets, Cloudbet does offer live betting options, as well as coupons for sports that are playing that day. To place a bet, all you need to do is click on "In-Play" options, or if you'd like to keep track of your current bets, you can navigate to "My Bets."
There are several sports that Cloudbet allows you to bet on, including:
Football
Badminton
Basketball
Baseball
Boxing
Cycling
Cricket
Floorball
Golf
Handball
Darts
Tennis
MMA
Motor Sports
Volleyball
Winter Sports
Rugby
Keep in mind that these are some of the more popular options, but the sports selection may change depending on the season or what's trending.
Casino
While sports betting may be one of Cloudbet's major selling points, you can't forget about their casino. Like their sportsbook, there's a broad selection of different games to play—such as different slots, popular tabletop games like Baccarat and Red Dog.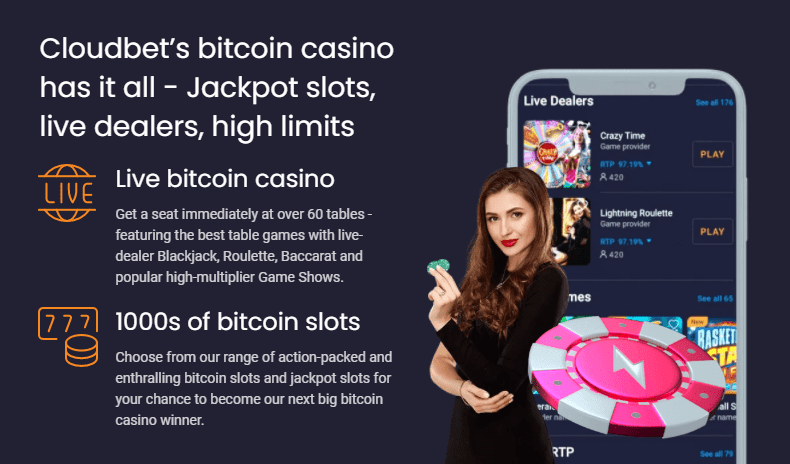 One of the newer parts of their casino is the Arcade, which allows you to play crypto games such as Mini Roulette or Plinko.
If you'd like the experience of a real casino without leaving your couch, you may want to try some of their live-dealer games, which are run in real-time with actual dealers.
eSports
If you're not sure you're ready to bet on real-life games, you can always start off with Cloudbet's newer service, eSports. These are virtual basketball and soccer leagues that are run 24/7 with scheduled games.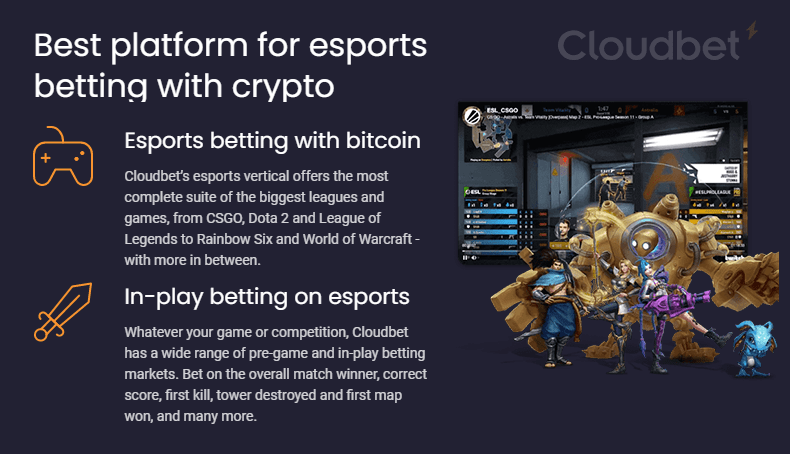 This also a great service if you're in a different timezone and can't always keep track of real-life games. With eSports, a new virtual match begins every 3 ½ minutes—regardless of the day or the time.
Since the eSports betting option is still a work in progress, the only sports you'll be able to bet on are basketball and soccer—which is a much narrower selection than what their sportsbook has.
Reasons to Join Cloudbet
Now that we've covered the basics of what Cloudbet has to offer, let's take a look at the site's overall benefits and why it may be worth your time.
User-Friendly
One of Cloudbet's major perks is how user-friendly they are, especially compared to other betting sites. As we've mentioned before, you won't encounter a lot of third-party ads on Cloudbet. Betting sites can be notorious for stuffing ads into the sidebar or making you click through pop-ups, but it's rare to see these kinds of advertisements on Cloudbet.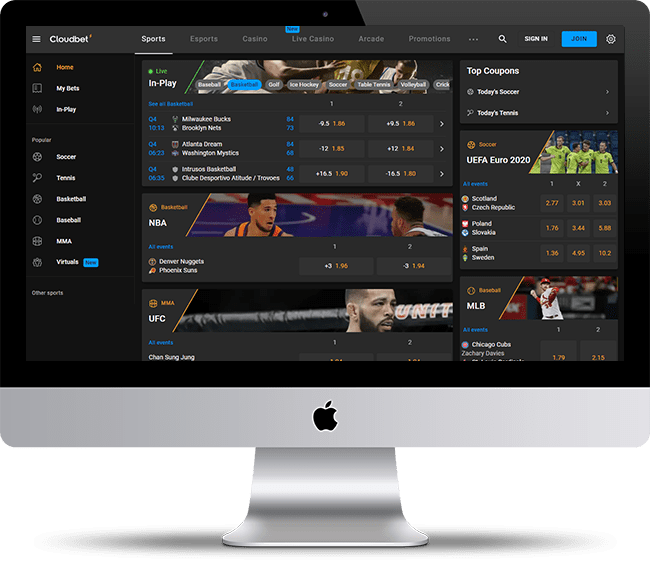 Besides keeping third-party ads at a minimum, Cloudbet is surprisingly easy to navigate. With sports betting, you can easily sort by the sport you want to gamble on.
And, while you're considering your odds, Cloudbet even allows you to change how your odds are displayed—there are five different options to pick from in total.
As far as loading time and site speed go, Cloudbet doesn't seem to have a lot of issues with failed page loads or lagging—which is a major perk if you're playing one of their online casino games.
Finally, since Cloudbet caters to players all across the world, they do have the user-friendly option to change the language of the page. The English layout may be what American players prefer, but if you're logging on from Asia or Turkey, switching the language takes just a couple of clicks.
Wide Selection of Games and Sports
We've already touched on some of the sports or games that Cloudbet offers, and when you compare their selection to other betting sites, Cloudbet tends to come out as the winner. You won't have trouble finding a sportsbook to place bets on sports like soccer, football, or basketball—but what about cricket, handball, floorball, or even darts?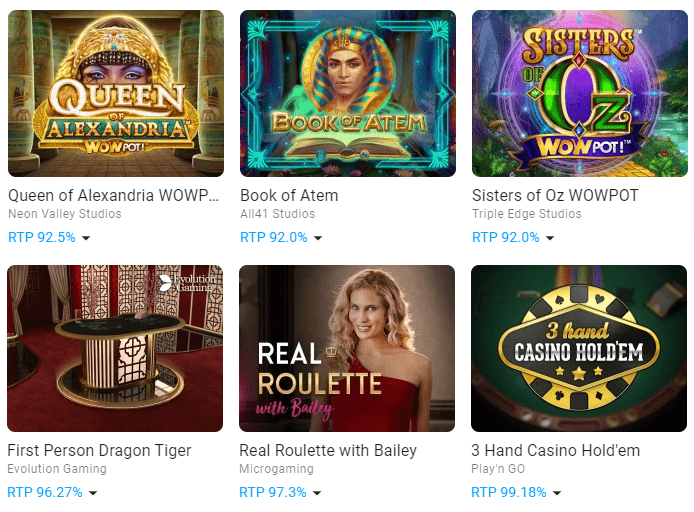 The casino game selection is also vast, and Cloudbet regularly adds brand name games to the list. Even if you don't find what you're looking for right now, you could find something you like in the near future. Their commitment to continuously improving and updating is a highlight.
Secure Transactions
Not all betting sites may be as secure as they advertise, but Cloudbet seems to place a lot of emphasis on keeping your transactions secure. Currently, the site requires two-step authorization, and they take specific precautions to ensure you're betting fairly.
High Limits
Although Cloudbet may deal almost exclusively with Bitcoin or Ethereum, working with these cryptocurrencies does have an upside: there are very high limits and low margins. This benefit is especially great for high rollers who are looking to bet a large amount of money without having to deal with high margins.
Instant Withdrawals
After you've placed a bet and won, some betting sites may hold your winnings for a certain amount of time before you're allowed to withdraw them. Or, they may place limits on the minimum amount of money you're allowed to withdraw.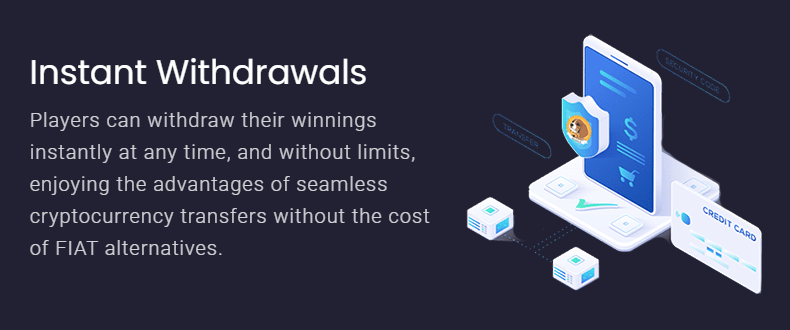 Currently, Cloudbet offers instant withdrawals, and it should take only a matter of minutes before you're able to get your winnings out of Cloudbet's virtual wallet.
Cloudbet Costs
After you've signed up for your account, Cloudbet gives you your own virtual wallet to deposit your Bitcoin into. Before you place a bet, you'll need to make sure you've got matching funds in your wallet. Currently, Cloudbet's minimum deposit and withdrawal limits are:
Minimum Deposit Limit: 0.001 BTC
Deposit Processing Time: Almost Instantly
Minimum Withdrawal Limit: 0.001 BTC
Withdrawal Processing Time: Almost Instantly
Keep in mind that Cloudbet may have different minimum or withdrawal limits for cryptocurrency options like USDT, USDC, or Ethereum. Previously, Cloudbet only offered Bitcoin as a banking option, but they're now opening their platform up to multiple cryptocurrencies.
If you're a new player, Cloudbet does frequently offer a promotion where they'll match your deposit, up to 5 BTC.
Customer Support
Good customer support is at the core of any site like this, and fortunately, Cloudbet seems to realize this. Their customer support team is currently available 24/7, and there are two ways to contact them: you can either use their live chat and speak with an agent when they're available, or email an agent and let them get back to you.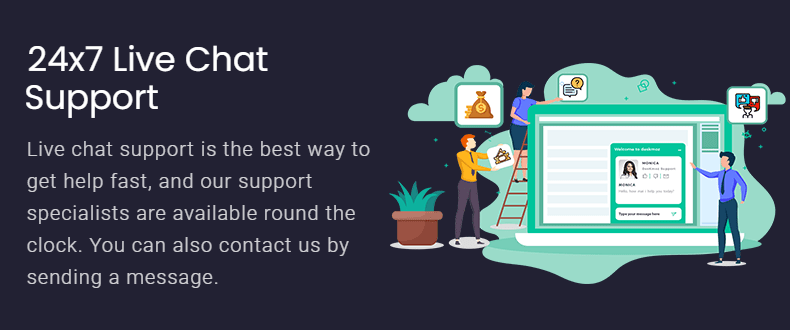 Depending on the time of day that you email, you may not get a reply instantly, but Cloudbet should contact you within twenty-four hours (but preferably sooner). If you need urgent help, especially late at night or early in the morning, speaking with an agent on live chat may be a better alternative. They may still take a few minutes to get back to you, but you shouldn't be waiting for long periods of time.
Currently, Cloudbet doesn't seem to offer phone support, but this may be a contact option in the future.
Cloudbet Licenses and Regulations
Before you even sign up for a betting site, it's always crucial to ensure the site is completely licensed so that you can gamble responsibly. You can view Cloudbet's license on their site, and they are fully licensed with a Montenegro License for e-gambling.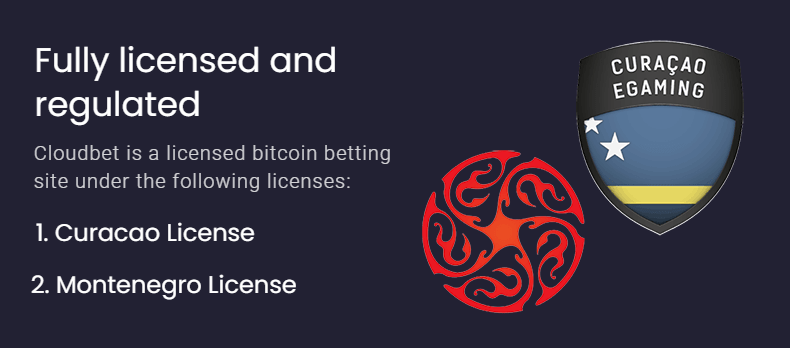 Final Thoughts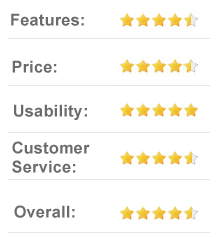 Cloudbet is far from the only sportsbook or betting site you'll find online, but it does come with some major perks. Not only is it user-friendly, but the low minimums, high limits, and instant withdrawals make it an attractive choice for both occasional gamblers and high rollers.
The one potential drawback that some users may find with Cloudbet is their limited banking options. If you're not familiar with cryptocurrencies like Bitcoin or Ethereum, Cloudbet can be a little intimidating to bet with. However, the site does have a blog for newcomers to read, and they're working towards expanding their deposit currencies too.