Choosing a brokerage is half the battle in buying and selling cryptocurrency. Coinmama is one of many brokerage companies that lets people buy cryptocurrencies through several methods. Newbies find Coinmama.com a useful place to start, and this review will help you understand why.
About Coinmama.com
Bitcoin is a relatively new currency, and Coinmama.com was one of the companies that first jumped on the opportunity to serve as a cryptocurrency brokerage. Miners discovered Bitcoin in January 2009, and they traded ten of them a few days later.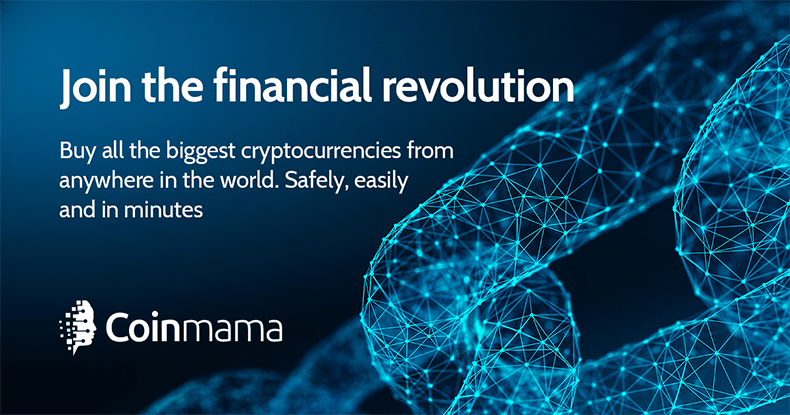 Between 2009 and 2013, Bitcoins were mined and traded online. In 2013, a Texas judge decided that Bitcoin was a real currency. This ruling created the opportunity for trading in the real world, and that same year the first Bitcoin ATM was opened in Vancouver, Canada. Also, in 2013, Coinmama.com opened in Israel.
Since 2013, Coinmama has expanded rapidly. The company moved out of Israel and now makes its home in Dublin, Ireland, under the name New Bit Ventures. More than two million customers have used Coinmama to buy and sell Bitcoins. Those customers represent 188 countries. Coinmama employs more than 30 people who also represent several countries.
Top Reasons to Join Coinmama.com
Buying and selling Bitcoin and other cryptocurrencies can be lucrative if you know what you are doing. Coinmama has taken steps and set up standards that protect themselves and their users.
A Plethora of Easy Payment Options
Coinmama is a popular brokerage company because they allow customers to buy the valuable currency using their credit cards, bank transfers, or online payment systems like ApplePay. Customers can also use wire transfer services like SWIFT, Fedwire, and Sofort.

Private Wallets
When you join Coinmama, you get your own private wallet. Once you make your purchase, your cryptocurrency arrives in your wallet. This benefit sets Coinmama apart from other brokerage websites. Coinmama has its own wallet system, while other brokers use easily-hacked third-party wallets.
Educating the Customers
Coinmama also has a user-friendly platform designed to make buying and selling cryptocurrency easy for the newest users. Coinmama shares information on easy-to-read charts and graphs. They also share information about cryptocurrency trading vocabulary like kill-or-fill orders and more.
Protective Customers Levels
To help Coinmama keep tabs on their customers, they require all of them to verify their IDs. The site requires all users to send a photo of themselves holding a government-issued ID card. Usually, Coinmama verifies new users within a few hours. Once verified, users can purchase up to $15,000 in cryptocurrencies without verifying anything else.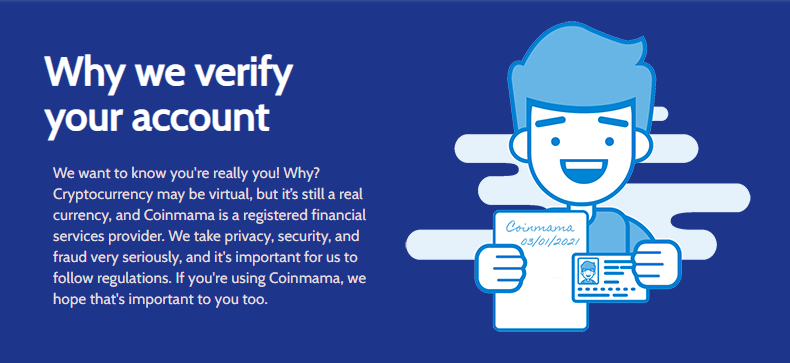 After your first verification level, you have the opportunity to move through three levels on the site. In Level 1, customers can buy up to $15,000 in coins. But once they buy $2,400 in cryptocurrency, they can apply to move up to Level 2, where they can buy up to $50,000 in currencies.
Once customers reach the $50,000 mark, they can apply to Level 3. What's notable about Level 3 is that Coinmama lets users spend $1 million in cryptocurrencies. Coinmama protects itself and users with the levels, so new users can familiarize themselves with the process of buying and selling cryptocurrencies. The levels prevent anyone from overspending right away.
In another measure to protect the website and the users, Coinmama does not let customers trade with each other. Instead, all transactions are conducted between the website and one customer at a time.
Responsible Online Security Measures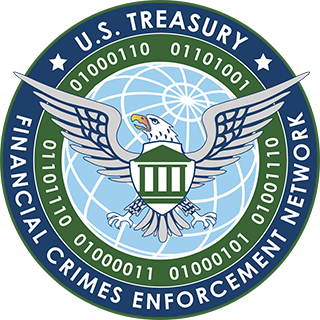 Since cryptocurrency is a virtual currency, online security matters. Unfortunately, governments have yet to regulate buying and selling them fully, so security standards are hit or miss. Coinmama proudly takes pride in using the FinCEN services in the United States.
Being a part of the Financial Crimes Enforcement Network gives Coinmama some teeth when they find fraudulent activities on the site. FinCEN investigates online fraud and other financial crimes. They helped Coinmama after the site had a security breach in 2019. Hackers got emails. Since Coinmama doesn't actually hold coins, they did not get currency from the site.
Tradable Currencies
Coinmama sells more than Bitcoin and Bitcoin Cash. The list of currencies include: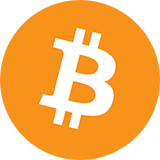 Bitcoin and Bitcoin Cash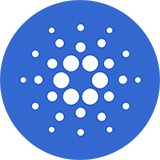 Cardano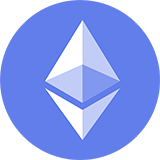 Ethereum and Ethereum Classic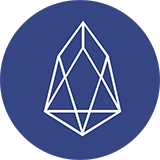 EOS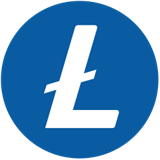 Litecoin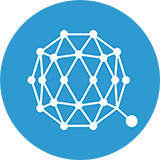 Qtum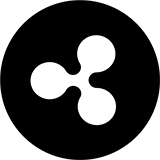 Ripple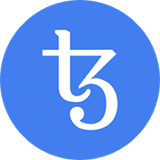 Tezos
Coinmama Commission/Costs
Coinmama has to make money somehow, so they use commissions on transactions. Every transaction has a fee, and Coinmama bases them on the payment method that customers use.
Buy Fees and Commissions
The most common commission is the price of the coins purchased plus 2%. On top of that, Coinmama charges a fee of up to 3.90% on the cost of the coins.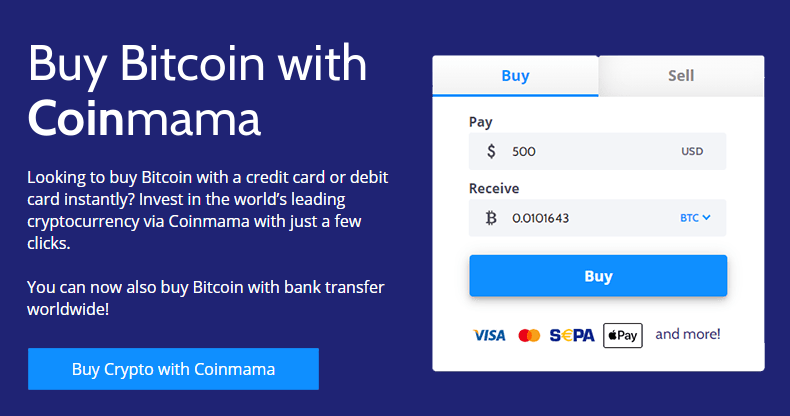 The other fees are percentages based on the cost of the payment method. Coinmama charges a 5% fee on credit and debit purchases. They also charge a minimum of 20 GBP on SWIFT bank transfers if the transaction is over $1000. Coinmama does not charge a fee on SEPA bank transfers.
Sell Fees and Commissions
Because governments do not control cryptocurrencies, all brokers can charge what they want, within reason. Coinmama charges the same market rate + 2% for sell commissions, but they also add a fee of 0.9%.
Coinmama pays for cryptocurrencies in USD or EUR, and they send the payment directly to customer bank accounts. They take payments in: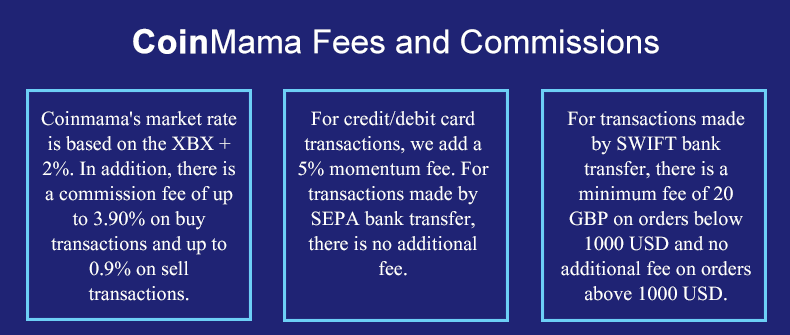 Coinmama also charges a fee on automatic feel calculations. They vary based on the customer rank in their loyalty program:
Unfortunately, Coinmama charges slightly higher fees and commissions than other reputable brokerage sites. Before executing any transactions, you should always calculate your fees, so you are prepared to pay them.
Customer Support
Coinmama has a dedicated customer service department with employees called Happiness Heroes. The customer service web page includes several informative articles about useful topics for rookie and veteran users. The articles are organized, so users click on a topic button to visit a collection of related informative pieces.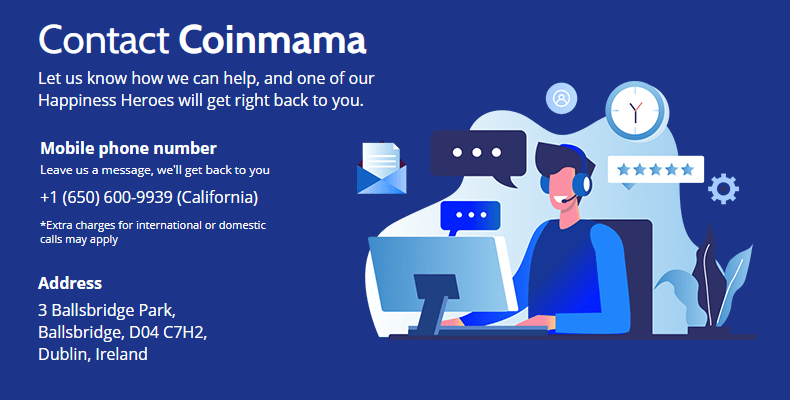 For example, in the New to Crypto section, users can read a glossary of terms, learn about blockchain and bitcoin mining, and open a wallet and begin using it.
If customers need something that isn't in the articles, they can contact Happiness Heroes through another web page. There, users enter their email address, choose a topic of concern, and enter details. Customers can also upload documents to help the customer service department better handle the situation. A Happiness Hero makes contact within 24 to 48 hours.
Coinmama Licenses/Regulation
As a growing part of the financial industry, licensing and regulations are emerging. Some governments have established minimal regulations, but experts realize that more are on their way.
With proper regulation, cryptocurrency brokers can avoid issues with crime, especially fraud. Brokers do not want to trade with money launderers, terrorists, or other criminals. By following regulations, Coinmama and its customers are safe when regulations are put in place.
Coinmama follows the regulations in the locales where they allow customers to buy and sell. The minimal regulations require Coinmama to verify users before allowing them to engage in transactions. To maintain its ability to work in cryptocurrency, Coinmama takes great pride in thoroughly vetting customers through their account-verification procedures.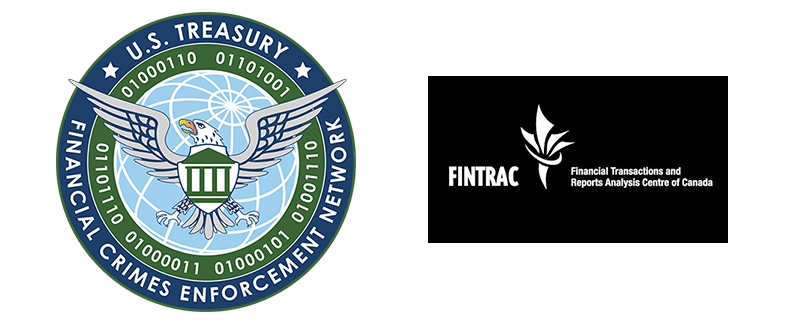 Cmama LTD operates Coinmama. As a regulated Money Services Business, Cmama LTD follows the procedures and regulations established by FinCEN and FINTRAC. These organizations provide financial companies with Know Your Customer and Anti-Money Laundering operations.
Coinmama has established the three customer levels as part of the regulations through FinCEN and FINTRAC. Before customers spend large dollar amounts, Coinmama is able to take time to get to know their customers. Before any customer can conduct a transaction with Coinmama, the website takes time to verify their identities.
Coinmama operates in countries all over the world. The site follows the rules and regulations of all nationalities. Customers in some countries might not be able to access all areas of Coinmama. Coinmama does expect that users will follow the laws in their land.
Final Thoughts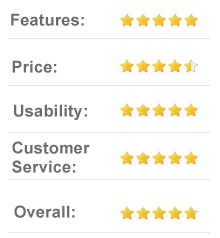 Coinmama is a legitimate cryptocurrency website that is useful for all buyers and sellers, especially new ones. Despite all of the features, the site is relatively simple to use, which is why it is so popular with rookie cryptocurrency traders.
Coinmama takes great care to follow the rules and regulations worldwide, making them safe for customers to use. On top of that, their customer service Happiness Heroes are responsive and take good care of trader's needs. Since opening in 2013, Coinmama has a solid safety track record.
Overall, Coinmama is safe and reliable because it does not hold cryptocurrencies on the site. Therefore, even after their 2019 hacking, nothing was stolen, except for email addresses. They sponsor a wallet, but they do not host it on their site.
Coinmama is available in almost every country around the world and most of the states in the US. Anyone can open an account, and once verified, can start buying and selling. What are you waiting for? Open an account and see for yourself how easy it is to use.