A beginner-friendly cryptocurrency trading assistant, Coinrule.com prioritizes user-friendly services with a coding-free dashboard. Their extensive services include a robust knowledge base explaining jargon and strategies.
History of Coinrule.com
Founded in the UK in 2017, Coinrule operates on a 24/7 schedule and promises an intelligent solution to trading jargon-free and still allows complete control of your trading for both beginner and experienced traders alike.
Since their founding, Coinrule sought to stand out in the market and has done so by creating a trading platform that doesn't require the user to be an expert already – or even have coding skills! Instead, it assists in setting up rules-based cryptocurrency trading, giving the user the option of setting their own rules or choosing from 150+ different preset rules.
Top Features
Coinrule offers many free and paid features, including:
Beginner-friendly trading platform
Easy to use user interface
Quick and efficient
Advanced functionality with custom API and rules
10+ supported exchanges
Unlimited options for trading strategies
Flexible pricing structure
Military-grade security
Live customer service
Easy to Use but Flexible Interface
The founders of Coinrule wanted to bring a user-friendly experience to the Blockchain space for beginner and experienced customers alike. Still, they found it lacking when it came to non-technical traders.
The space Coinrule.com now fills lacked a platform where new traders could compete with hedge funds and traders who use professional algorithms.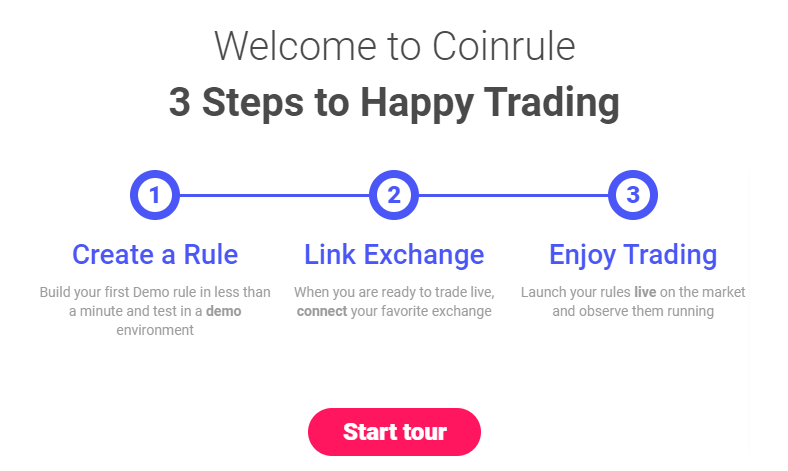 They designed Coinrule to adapt to the trading strategies the user wants to implement rather than having to choose a box to fit into. It achieves this with a product that implements an intuitive interface that doesn't rely on user coding or complicated strategy development.
They call themselves the "Lego tool-box for cryptocurrency trading strategies" because a user can plan their strategy, create and demo custom rules. If those rules don't meet expectations, they can be fixed and put back into the exchange.
Should a user choose to forgo custom rules, there are also preset rules and templates that you can use instead.
The Coinrule dashboard doesn't involve complicated terminology and in fact, controlling rules is as simple as clicking a button. The dashboard lists all the active and inactive rules. To pause a live rule, click the green button and press again to restart the rule.
Beneath the dashboard, all the active rules are listed and include performance and aggregate return of the portfolio.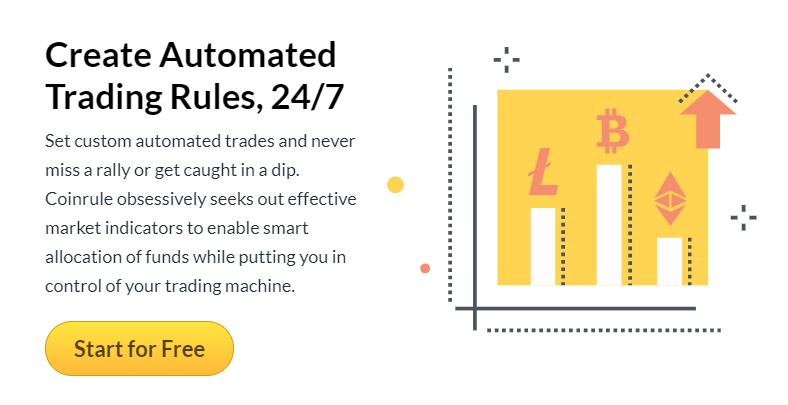 Quick and Efficient
All Coinrule orders are quick and secure and use technology to ensure the trader is in constant communication with their investment. They take roughly 500 Milliseconds to reach the market with minimal latency, and Coinrule uses SMS notifications and services like Telegram in their paid plans to upgrade their services further.
Supported Exchanges
After creating an account, the next step is to connect to a cryptocurrency exchange using API keys that have been created and enter the relevant API information.
Coinrule supports some of the most trustworthy exchanges and allows you to build rules on:

Bitfinex

Binance

Binance US

BitMEX

Bitpanda Pro

Bitstamp

Bittrex

Coinbase Pro

HitBTC

Kraken

Liquid

Poloniex
Security
Coinrule takes the security of its users very seriously, and they store all API keys in an encrypted form (256bit AES encryption). These encrypted private keys exist for one user and are generated separately for each user, which does not allow for withdrawal rights.
During a data breach, this lack of withdrawal rights means that people could not withdraw funds that had already been placed into the exchange. The private keys are on detached data storage encrypted with AES-256.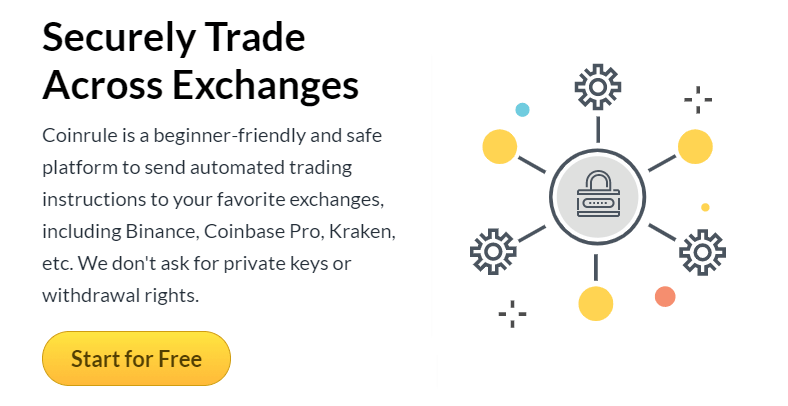 All data in transit is encrypted and protected between the web application, the application backend, and the database/cache nodes using TLS 1.2 or higher protection. For DDoS and other types of attacks, we use Cloudflare CDN on top of our other security protocols.
For purchase security, in addition to crypto payments, Coinrule uses Stripe and has been marked as a Merchant-Initiated Transaction (MIT) by Stripe, lending it added protection. All payment data is confidential, and neither Stripe nor Coinrule can access it, lessening the event of a breach.
Coinrule strives to stand out in the industry by showing the people behind the project as a new company. Their team, including their founders, are transparent about the financial health of the business and the fundraising efforts they are currently engaged in.
Information about the founders is readily available on the website to help develop trust, which is a rarity for cryptocurrency projects. For those who wish to become Angels for Coinrule, investing in their business is also readily available and milestones to their projects.
Unlimited Strategies
Since Coinrule allows for custom rules and custom strategies, there are unlimited choices available for traders of all skill levels. Their allowance for creativity encourages users to demo or invest in popular investing strategies, including dollar-cost averaging, trend-following theory, and Contrarian rules knowing they can then customize to their heart's content.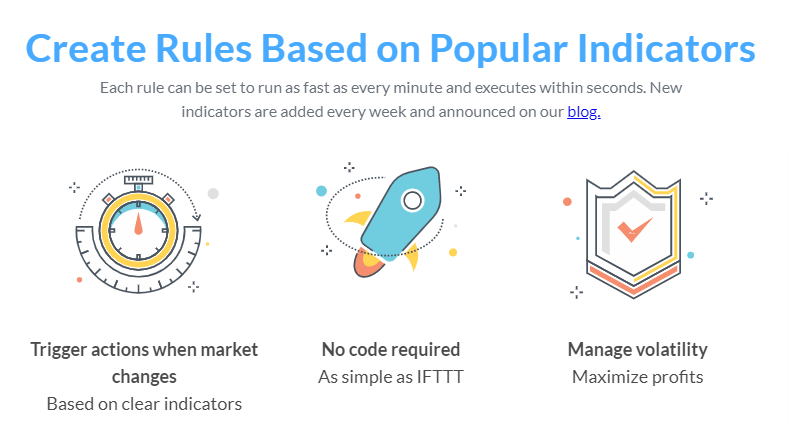 Strategies can be daunting, so the trader can protect their investment every step of the way by selling in profit or a stop loss when the rule conditions are met.
Coinrule.com Costs
They offer four different pricing plans with a discount for the purchase of an annual subscription:
Each plan offers an increasing number of available trading rules, templates, exchanges, and a higher monthly trading limit than the previous plan.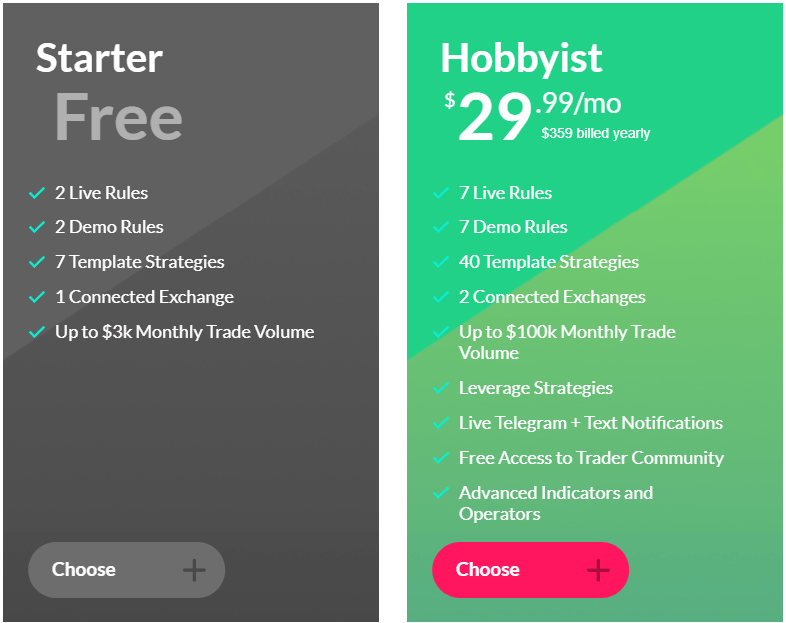 Their free plan, which is available to anyone who wants to make an account, is an excellent starting point as it offers enough to check out their services and begin to become comfortable with their dashboard. It includes two live rules, two demo rules, and a monthly trading limit that is high enough to accommodate starting traders.
If the free plan isn't enough for you, the paid plans Coinrule offers give the option for multiple rules, advanced indicators and operators, and a community of like-minded traders to share strategies with.
From hobbyist to pro, these plans are for customers who have begun to set up more rules and who are beginning to use leverage strategies. They also include features like telegram notification integration, and in the case of the most expensive plan, dedicated server access for quicker support and trading is also available.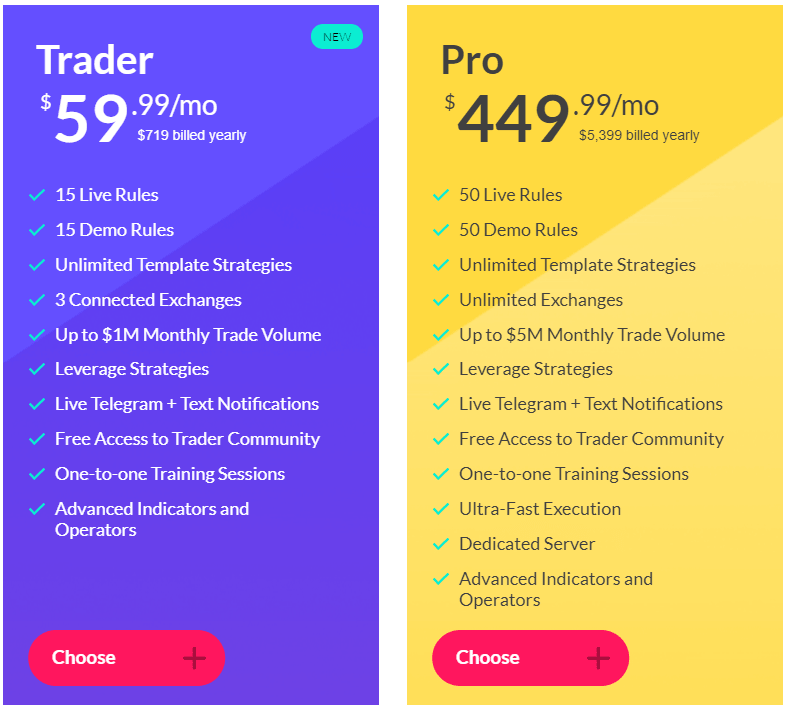 The Coinrule pricing page does a fantastic job of explaining where the monthly fee is buying. It offers a lot of detail and breaks down each plan into its key features.
Also available is a comparison tool that takes what the customer will invest per month and what features they need. It then compares what is available to give the plan that best suits your trading strategies and ensures it can accommodate what you're willing to put into the cryptocurrency exchange.
Customer Support
The knowledgebase on their website contains numerous guides and various resources to help new customers make informed choices and understand the jargon used in the market. Coinrule also has an official blog with the latest news and developments in the world of cryptocurrency.
Their FAQ and tutorial sections offer answers to common questions and step-by-step solutions to problems faced during trading. Of course, this wealth of knowledge only helps to emphasize their dedication to beginner friendliness and equalizing the playing field between their members.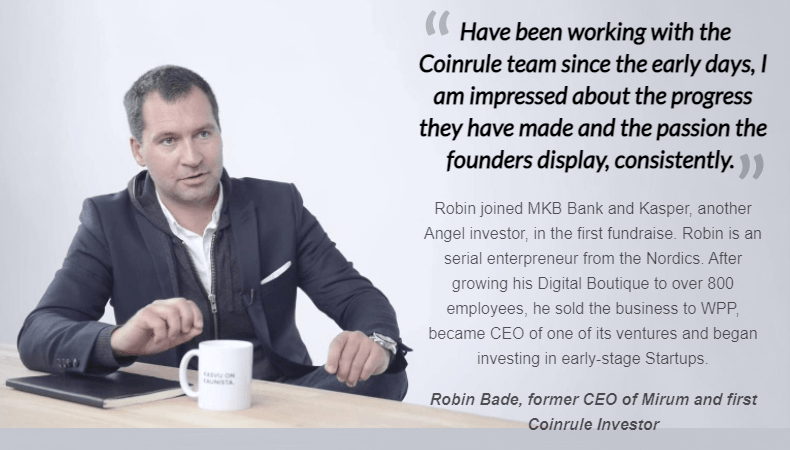 They offer support on a variety of platforms. Their staff can address problems on the Coinrule platform by contacting them through their live chat, by email, or by social media via Twitter or Facebook. In addition to text-based help, Coinrule also has a Youtube channel that explains cryptocurrency and trading in easy-to-understand videos.
All paid plans include access to the trading community, but users with their trader or pro plans, Coinrule also receive one-on-one training sessions with professionals.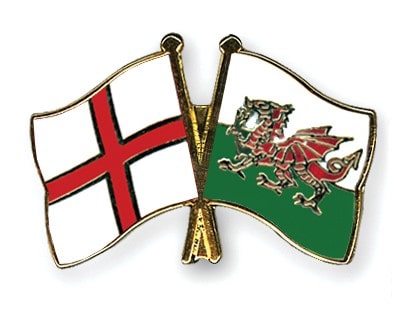 Coinrule Regulation
Coinrule is a UK registered Limited Company governed by English law and complies with all UK cryptocurrency regulations.
The trading platform operates in the jurisdiction of England and Wales, which means that the account holders have protection through the extensive financial and commercial laws that exist within the region.
Conclusion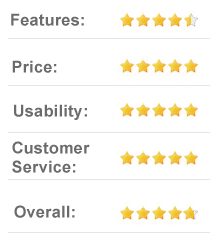 Coinrule may be a new platform that is still finding its feet and looking for investors, but it has captured a pocket in the market where traders are looking for a simple, intuitive platform that doesn't require coding. Modern traders may not wish to learn to code or are unable to hire a coder, so the features Coinrule offers of being able to set rules without it is a definite bonus.
Allowing for free plans gives a chance to "try before you buy" and witness firsthand what Coinrule offers by seeing and utilizing their dashboards to make trades.
The free plan further encourages new beginning traders to get their feet wet rather than hesitating by removing additional financial hurdles and monthly commitments.
Coinrule's founders knew what they were missing as traders, and it's this experience that shows in their polished website and simple interface. It's refreshing to see a crypto service featuring security and transparency equally and not being afraid to show they are willing to grow in full view of their audience.