While exploring the ever-expanding world of cryptocurrencies, one of the biggest industry names I came across is CoinSpot. It is Australia's most popular exchange site and worth reviewing before diving in, trading, and exchanging.
The CoinSpot mission is to offer users a hassle-free service where traders can do everything from buying and selling to managing different cryptocurrency accounts. Users can trade over 300 crypto assets, including Bitcoin, Ripple, and Ethereum. Recently, the exchange also added NFTs and Defi—more on this further down this review.
CoinSpot exchange is ideal for traders at all levels. One of the biggest draws is a minimalist interface that uses charts from TradingView. You can also de-risk trades by setting up stop-loss and stop-limit orders. A devoted SMSF team and OTC trading desk make it easy to trade high values.
About CoinSpot.com.au
CoinSpot is an online crypto exchange platform that makes it easy to purchase and sell various cryptocurrency tokens and coins headquartered in Melbourne. Russell Wilson found the exchange in 2013. Russel has been active in media and internet forums, speaking about the company since it opened.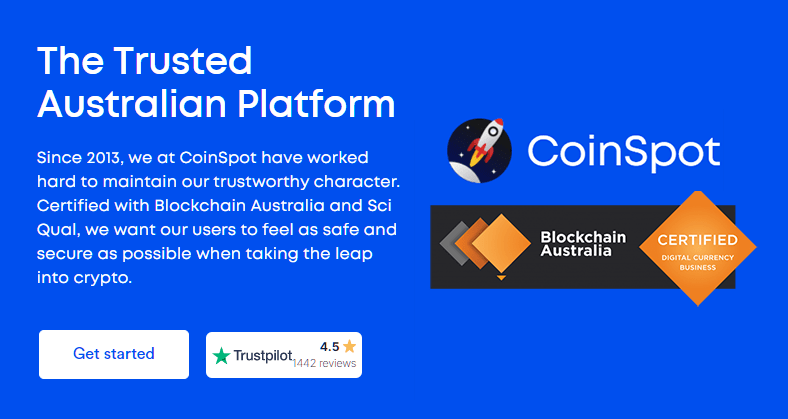 CoinSpot exchange also allows registered users to trade in the open market through crypto prices speculation and earning profits. The platform matches a buyer with sellers and charge a trading fee for its services. You can start trading on the platform as soon as you register and deposit some money into your CoinSpot account.
CoinSpot is also associated with the Over-The-Counter (OTC) space. This means they work with direct digital currency exchanges for institutional financial backers. However, you do not have to use this function if you are not exchanging substantial quantities.
Top Features of CoinSpot
You have many crypto exchanges to choose from. So much so, it is easy to be overwhelmed by the options. I have summarized the best services CoinSpot provides so you can see how it stands out.
The first feature worth mentioning is the ability to purchase cryptocurrency with AUD. Depositing AUD into a CoinSpot account is free and easy. Instant crypto exchange means you can buy Bitcoin or any other asset by tapping the Buy button. You do not have to wait for another trader or e-commerce counterpart to negotiate on the price before purchasing crypto on CoinSpot.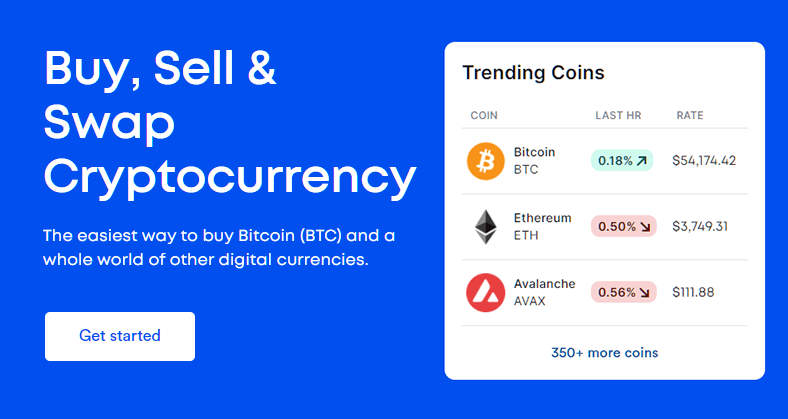 The straightforward interface helps a new user effortlessly explore the cryptocurrency world. Experienced traders will appreciate an additional price chart window available on the dashboard for technical analysis. The platform also offers hotkeys in the dashboard for fast selling and buying.
A useful and unique service is the CoinSpot Bundles. These bundles allow purchasing various assets in one transaction. Using this service will help diversify your portfolio quickly while spreading the risk. CoinSpot Bundles also minimize fees, save time, and you get an average price over split coins.
My favorite bundle is the "Top Ten Market Cap." The bundle introduces you to the top ten biggest coins, depending on their market capitalization. It includes all the popular coins, such as BTC, BNB, ETH, and ADA.
You can access CoinSpot through a web browser or one of their apps available at the iOS App Store or Google Play Store. These apps are a must-have for any trader who wants to watch coin prices and looking to buy or sell quickly. Use the apps to perform most of the functions of the desktop site, including instant buying and selling, deposits and withdrawals, and an overview of your wallet.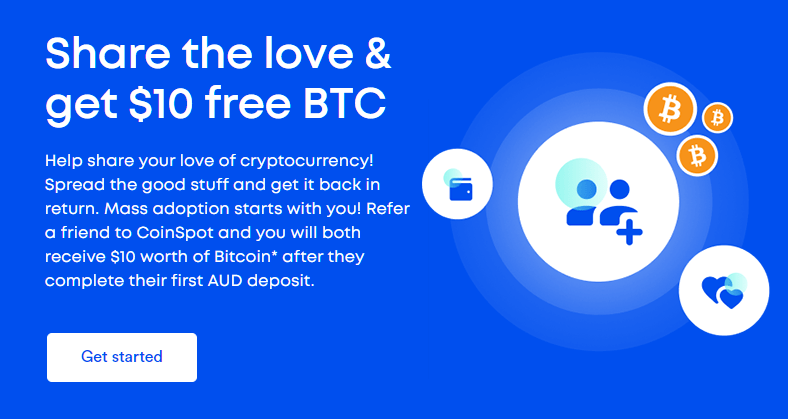 CoinSpot's referral program offers registered users an opportunity to earn $10 worth of Bitcoin after they make their first AUD deposit. To benefit, you need to share a unique referral code. You receive free $10 of Bitcoin for each family or friend who registers, verifies their account, and makes their first AUD deposit.
CoinSpot also supports Decentralized Finance (DeFi) tokens and coins such as Uniswap, Wrapped Bitcoin, and PancakeSwap. DeFi allows you to move and trade assets without having to wait on a bank transfer or pay fees. You can also use CoinSpot to buy Ethereum, which is used as currency for Non-Fungible Tokens (NFTs).
CoinSpot Security
Security is a major consideration when trading in crypto that you should never compromise on, and CoinSpot understands this all too well. The platform is the first Australian exchange to receive the ISO 27001 certification for information security. So CoinSpot combines best-practice security features, offline storage practices, and customizable account level to secure your data.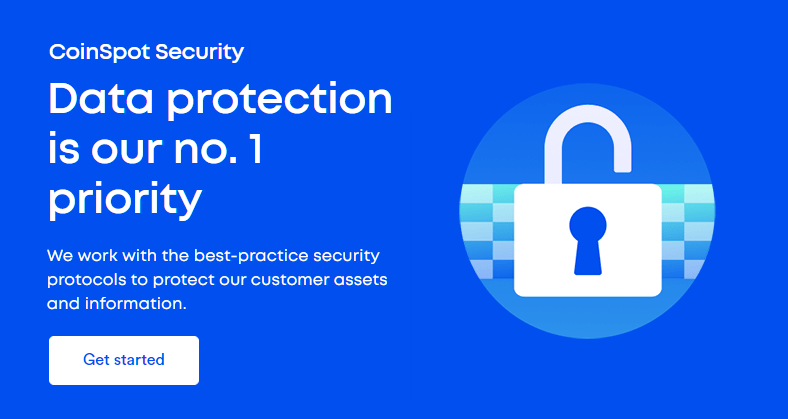 The platform also requires two-factor authentication before carrying out a transaction. A geo-lock feature restricts logins to Australian IP addresses to forestall abroad hacking. Telephone check express lets you choose an expression for verification anytime you need to call support.
Australia's government financial sector regulates activities at CoinSpot exchange. The Australian Government Financial Agency (AUSTRAC) keeps a close eye on all transactions. The agency is tasked with the identification of funds going into and from organized crime, terrorism, money laundering, tax evasion, and even welfare fraud.
CoinSpot is licensed under "Casey Block Services Pty Ltd.". It is also a member of the Australian Digital Commerce Association and Blockchain Australia. Unfortunately, CoinSpot is restricted to Australian citizens. Anyone outside the country will need to deposit funds through cryptocurrencies alone.
CoinSpot Fees
CoinSpot will charge a trading fee any time you place an order. The fee is 0.10% of the trade order, which is below the industry standard of about 0.25%. The instant buy & sell feature of CoinSpot attracts a 1% trading fee.
Some exchanges will charge a high withdrawal fee to make up for low trading fees. But CoinSpot only charges the network fees when withdrawing crypto assets. This is a significant competitive advantage of the platform, pushing it to one of the top exchanges.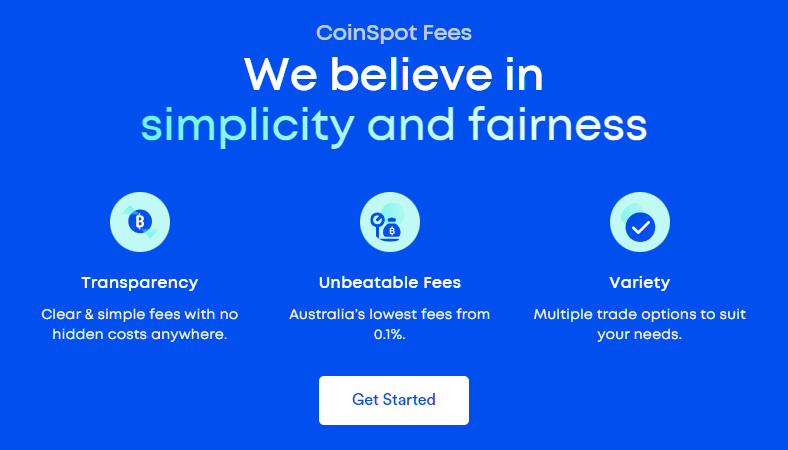 The CoinSpot buy & sell limits are lenient. There is no limit set on the amount you can purchase in a day, but the amount of crypto assets you can buy or sell in a single transaction has limits.
The maximum Bitcoin assets you can purchase and sell per transaction is AUD 100,000. POLi Pay allows the largest deposits at up to $20,000 daily, and BPAY deposits are $10,000. Deposits through Blueshyft are limited to AUD 8,000 a day.
These deposit allowances are impressive, even for big spenders. This means cryptocurrency pros will not feel restricted by CoinSpot requirements. These restrictions may not seem necessary, but they help maintain control and accountability.
Customer Support at CoinSpot
CoinSpot offers a comprehensive Help Center section that contains many guides. Included is an FAQ section to help newbies get started with the platform. Some topics covered in this section include:
Funds withdrawal
Account verification and login
How to trade on CoinSpot
Maintaining your account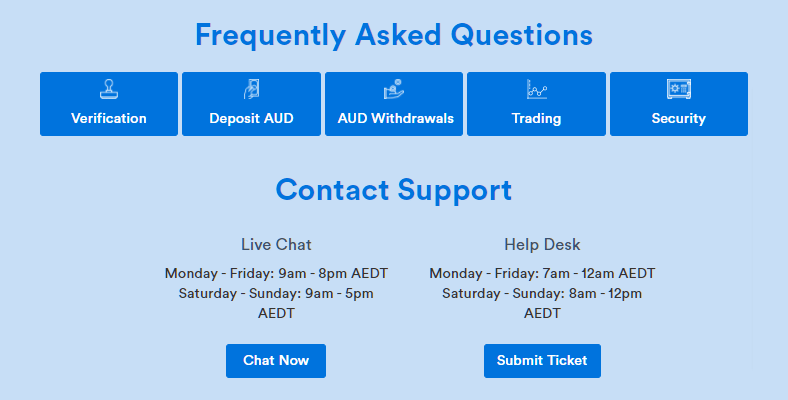 CoinSpot values user opinions and requirements. This is obvious when you consider they allow users to request new cryptocurrencies to be added to the platform. However, interest and security are major considerations before they add new projects. Plus, you can contact them if you have a token or coin you would like to be added.
If you do not find what you want on the FAQ page, you can always get in touch with the CoinSpot customer support team through the Help Desk. This option opens a form where you can ask specific questions. The support team will reply immediately or within 24 hours on business days.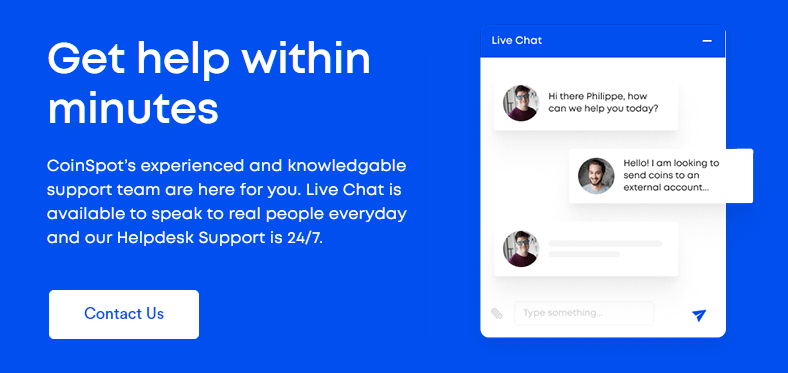 There is an added Live Chat feature that lets you get help instantly. However, this option is open between 9 AM through 8 PM AEDT on weekdays and 9 AM through 5 PM AEDT on weekends. Live Chat connects you to a live person. You do not have to go through a bot to figure out what you want, and there are no queues.
Final Thoughts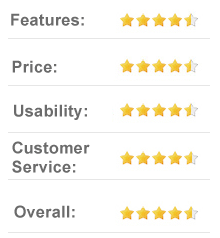 CoinSpot is the best exchange for buying cryptocurrency if you are in Australia. I came to this conclusion because of their top-notch security, so you are investing and trading with peace of mind. The platform features a user-friendly interface that makes crypto trading easy for beginners and pros.
People sometimes do not think about customer support when choosing a crypto platform. It can be stressful when you cannot find contact details when you are ready to make a deposit. Further, this exchange is a holder of internationally acknowledged ISO 27001 certification, which ensures bank-like security.
CoinSpot also offers several options that are a significant advantage. You can choose the payment and withdrawal methods to use, cryptocurrencies you want to trade, and if you want to do all your activity on desktop or mobile. Overall, CoinSpot is a fantastic crypto exchange with a lot going in its favor.