Since Coinsquare hit the digital trading market in 2014, it has quickly grown into an exciting and progressive cryptocurrency exchange in Europe and Canada.
This growth is widely due to the company's passion for providing secure and instant trading options in various currencies. Coinsquare's success shows that their approach must be working.
But what makes Coinsquare different from other digital trading platforms on the market? This review will go over the exchange's history and explain why Coinsquare is an intelligent digital trading option.
History of Coinsquare.com
Coinsquare.com is a cryptocurrency exchange that started in Canada in 2014. They offer customer trading services for cryptocurrencies like Dash, Ethereum, and Bitcoin.
As cryptocurrencies continue gaining popularity and credibility, companies like Coinsquare are rapidly growing in importance.
According to Coinsquare's About Us page, the platform was built in-house using proprietary technology. The exchange has a goal to be trustworthy and provide a safe approach to digital currency markets.
Top Features/Reasons to Join Coinsquare.com
The Coinsquare features are designed with traders in mind. The company truly cares about the customer experience, and they strive to make their platform easy to access for newer day traders and high net worth investors alike. It's full of information to help you trade intelligently.
Global Market
Because the exchange is geared toward Canadian investors, communication is available in French and English. But Coinsquare also has platform services for investors in the global cryptocurrency market.
User-Friendly
Customers enjoy using the user-friendly, web-based platform. You don't need a Ph.D. to understand detailed terms. The platform explains everything in transparent and clear language. Plus, the customer support team is available to help make the process even more simple if you need assistance.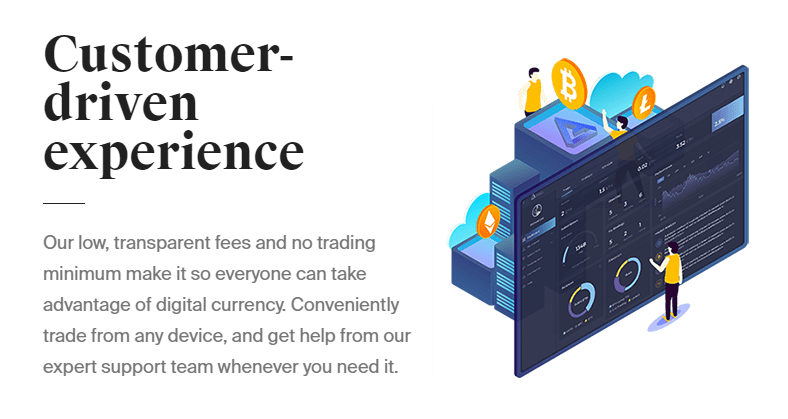 Secure Funding Options
At Coinsquare, customers have multiple funding options. They welcome FIat currency deposits, and the exchange has security among its top priorities.
Some say the company uses the same technology to protect its assets as the New York Stock Exchange. But the company has not lost a single coin since 2015.
The Mobile App
When using the Coinsquare platform, you can day trade from any device.
Coinsquare offers an app for customers to watch the markets on-the-go. You can download the app for both iOs and Android. The industry could change at any time, so this feature is precious for finding the right price even when you're not in front of your PC.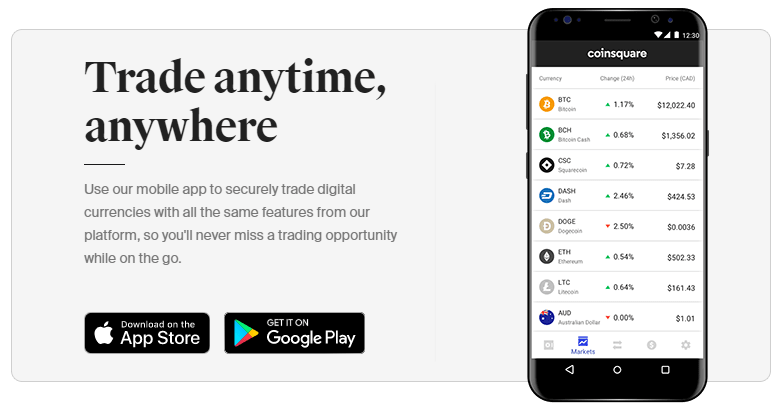 The mobile app is functional and well laid out. You can toggle between the functions for trading, funding, or withdrawing money. The only thing you cannot do on the app involves the advanced trade option. Users can't use advanced order types on the app.
Pros:
Nice selection of cryptocurrencies
Reputable exchange
Secure and safe
Welcomes Fiat currency deposits
Mobile app for on-the-go trading
Cons:
Only able to accept Canadian dollars
High credit card fees
How It Works
There are two main ways to trade with Coinsquare.
The easiest and fastest option is the "QuickTrade" feature that allows you to select the coin you want to purchase in the amount you designate. The second method involves using the spot market to trade cryptocurrencies.
Compared to the competitors, Consquare's trading interface in the sports market is more sophisticated. The platform features tools and charts you can access for more information about the various cryptocurrencies you can trade, including:
You can look out for other cryptocurrencies in the future. The company is ever-growing and has plans to add more options to its range.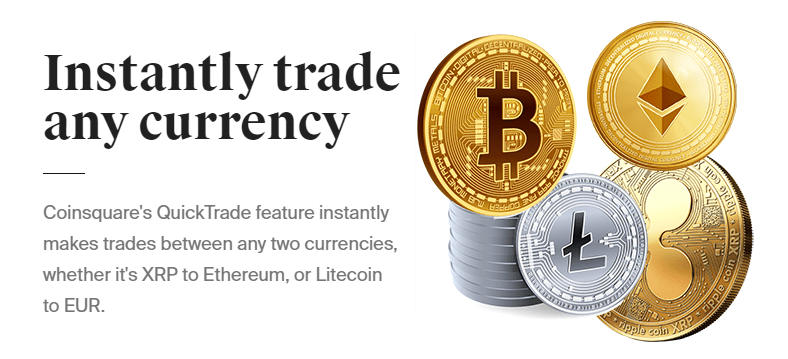 Coinsquare mainly focuses on the Canadian market, so they only accept deposits in Canadian dollars. Customers can fund or withdraw to a traditional bank account in Canadian dollars. But deposits are supported by the following methods:
Money order
Wire transfer
Interac e-Transfer
Interac Online
How to Verify Your Account
To fund your new account, you need to verify first using one of the deposit methods. The verification process is open to permanent citizens and residents of Canada. In other words, you must have a Canadian address to access the different banking options. Verifying allows you, as the account holder, to deposit and withdraw money.
How Long Does it Take?
The process typically only takes a couple of minutes. But it could take up to four business days. After you're set-up, depositing money into your account may take up to five business days to see the funds in your bank.
How to Withdraw Money
To withdraw money, you can access your money through a wire transfer or direct bank deposit. This feature is the biggest downside to Coinsquare, as not all international investors are located in Canada. You would have to convert your digital currency to Canadian dollars before use.
Security Measures
Security is a big deal at Coinsquare. It's one of the few online trading platforms not to fall victim to hackers. Customers can credit their accounts in any currency they want to trade in without worrying if the money is safe. Much of the safety comes from the verification system when you set up your account.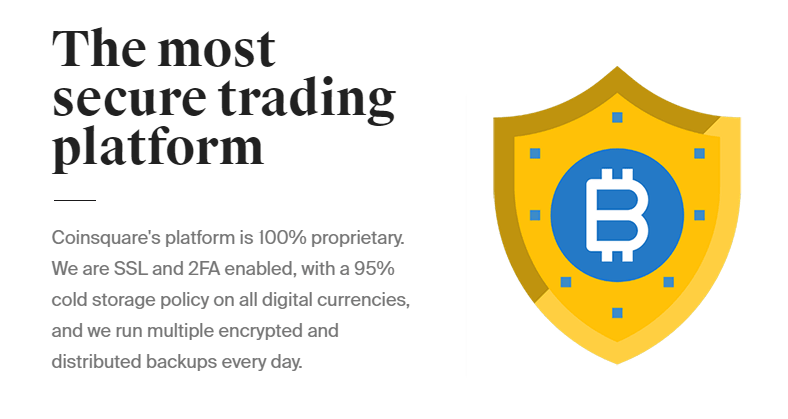 Coinsquare also offers multiple layers of protection, such as:
2FA authentication
SSL encryption
Encrypted and distributed backups each day
95% of the funds remain in cold storage
Coinsquare Referral Program
Enjoy the trading experience? Sign your friends up with Coinsquare and earn $20 per referral. The referral program has three options: You can send a referral link, referral code, or direct email with a referral number from your Coinsquare account dashboard.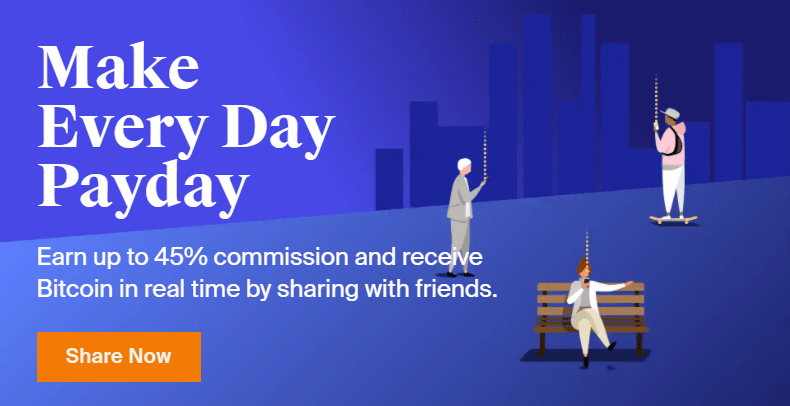 No matter which option you choose, anyone you send your referral to will receive $20 as a welcome free for signing up. After the newbie puts $100 in their account, you both earn your $20 payout.
If you're new to crypto trading, check out Investor.gov to learn how to protect your money. The site offers tons of updates to help individual investors thrive. Combined with Coinsquare's easy-to-use platform, you should be on your way to trading crypto in no time.
Coinsquare Commission/Costs
The trading fees at Coinsquare are on the high end. However, the fees are transparent and straightforward. Some competitors charge double the amount. Others claim lower fees.
Maker/Taker Pricing Model
Coinsquare adopted the Maker/Taker pricing model, which means that in spot trading, the fees vary. Makers are charged 0.1%, while takers pay 0.2%.
They also have a QuickTrade option that allows you to buy cryptocurrency on the main dashboard immediately for a flat fee. The QuickTrade fees are slightly higher. For single conversions, like trading a cryptocurrency once, the fee is 0.2%. Double conversion trades have a fee starting at 0.4%.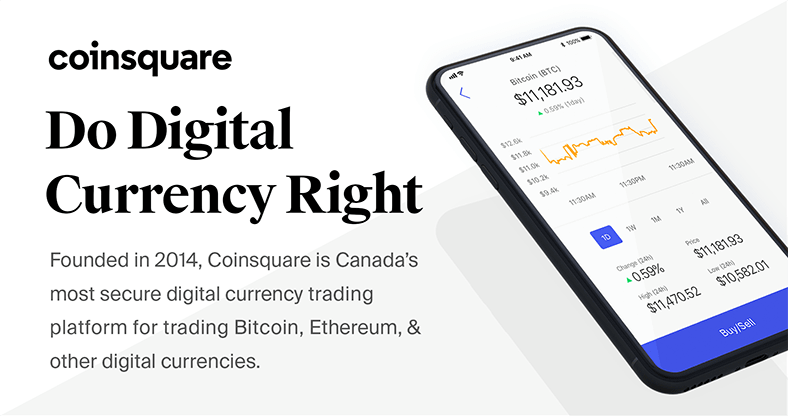 Deposit Fees
On top of that, there are fees for deposits, depending on how you transfer the money. Customers pay 0.5% for a wire transfer and 2.5% for all other deposit types. Withdrawals for wire transfers are also 0.5%, while a direct deposit to your bank would cost a fee of 1%.
Credit Card Fees
Finally, there are high fees if you want to use a credit card for purchases. Crypto credit fees start at 10%, which is much higher than most of the competitors' charges. However, you could use cryptocurrency to credit the account and avoid the fee.
Withdraw Options
You can use the "wealth wire" or "rushed wire" options to withdraw, depending on your account. The rushed method comes with an added fee, but the money will process into your bank account much more quickly.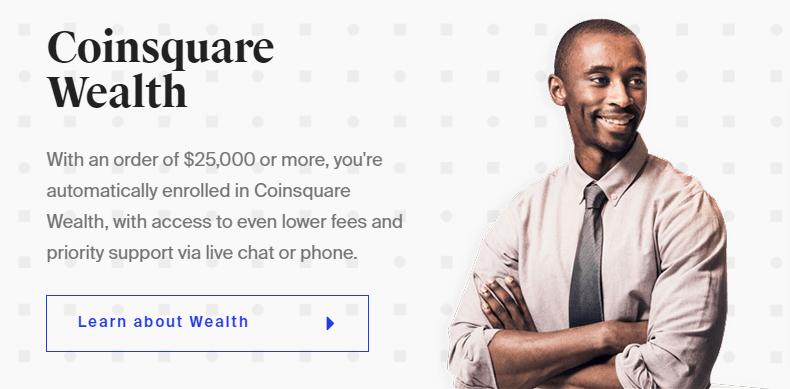 To avoid paying fees to withdraw money to your bank account, remove the coins from the exchange. You can avoid network mining fees this way. Coinsquare provides tons of options for each customer to manage their account.
Customer Support
Customer support is a huge consideration if you're a crypto trader. Coinsquare offers a help center, along with email and support tickets for customer support. Overall, the company's customer support team is efficient and speedy.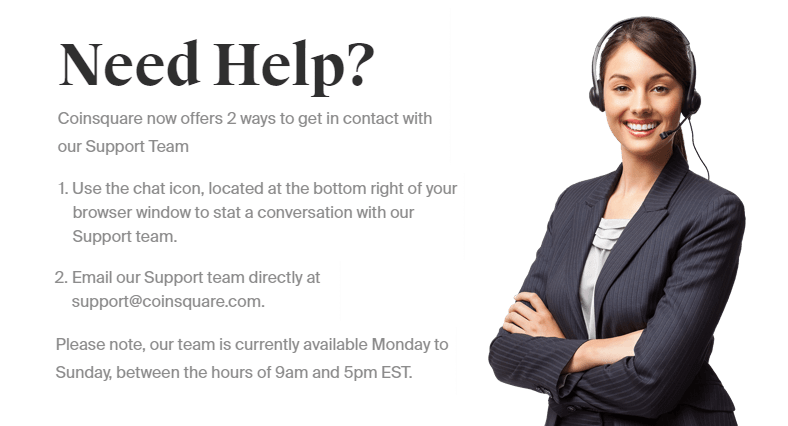 Check out the company's online FAQ page for general questions and recent announcements. Most people find the answer to their question in this section.
If you have a specific question that is not on the FAQ page, Coinsquare has a chatbot type of ticketing system to cut back on response time. You can expect someone from customer service to get back to you within 12 hours or up to three days. Their office hours are weekdays from 9 am to 5 pm EST.
However, there is no phone number for support. Many Coinsquare competitors offer telephone support 24/7 for customer questions. Perhaps the company will add more customer support to their team as they grow for people with standard accounts.
Final Thoughts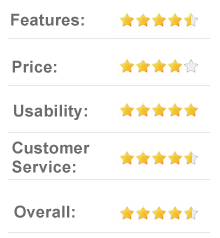 In our Coinsquare review, we dive into the main features that make the exchange attractive for crypto trading. The company is rapidly expanding in the industry. Customers particularly enjoy how user-friendly the platform is to use. But the high fees depend on how you access your account or transfer money.
If you're located in Canada and looking for a decent cryptocurrency exchange, Coinsquare is a popular choice. But the company may not suit international investors. Despite these concerns, Coinsquare is a quick and easy alternative to get started with crypto.