Whether you're just starting your cryptocurrency exchange research or are an experienced trader wanting to try a new platform, Crypto.com is an excellent contender.
Trust, reliability, and security are among the most important factors to consider when choosing a crypto exchange. Crypto.com checks these points off the list while offering loads of other incentives for people who trade with them.
We'll walk you through the background of Crypto.com, their features, what you can expect to pay in fees, and their licenses. By the time you finish this article, you'll have a good handle on whether you want to sign up for Crypto.com.
History of Crypto.com
Crypto.com has a longer history than most platforms in the cryptocurrency space. It started in 2016, which worked in its favor since the cryptocurrency bull run in 2017 drove Bitcoin's price from around $900 to $20,000.
The mainstream media attention that cryptocurrency received during that time showcased how vital user-friendly cryptocurrency exchanges are for new users. And Crypto.com fed into that.
Their mission is to offer their users an intuitive platform where they can easily buy and sell their cryptocurrency. The exchange has 2,500 employees that strive to achieve just that, and their over ten million clients prove how many people trust them.
Top Features
Crypto.com offers many features that make it stand out as a leading exchange in the crypto industry. We'll cover the most pertinent ones here so that you can decide if their platform is a good fit for you.
Over 90 Supported Countries
One of the first hurdles people face when looking at cryptocurrency exchanges is whether the exchange even allows them to use their platform. While some of this has to do with the exchange's efforts to make their services accessible, it often has a lot to do with whether a country has restrictions for a particular exchange.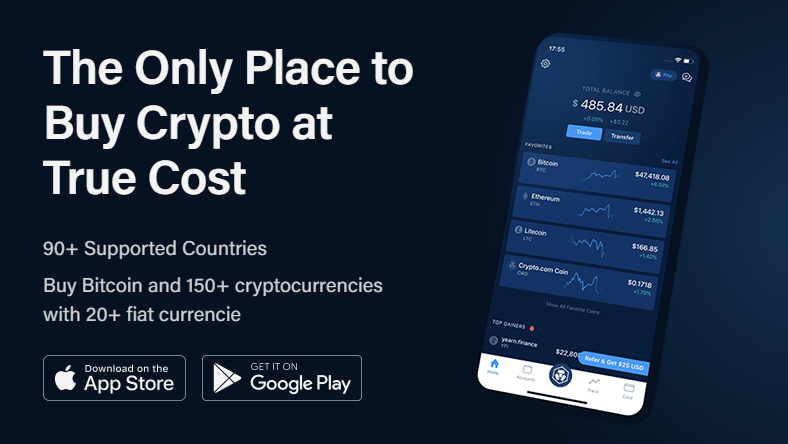 Crypto.com offers services to more than 90 countries and over 30 local communities. That goes to show that many governments and users trust them with handling money and personal information.
Earn Interest
These days, you lose out by holding your money in the bank between inflation and a bank's low-interest rates. But by keeping your crypto at Crypto.com, you can earn interest as high as 14%. What a difference!
To be fair, Crypto.com isn't unique in offering interest in return for holding coins on their exchange. However, they provide the option to earn more than 40 cryptocurrencies and stablecoins, which is among the highest on the market.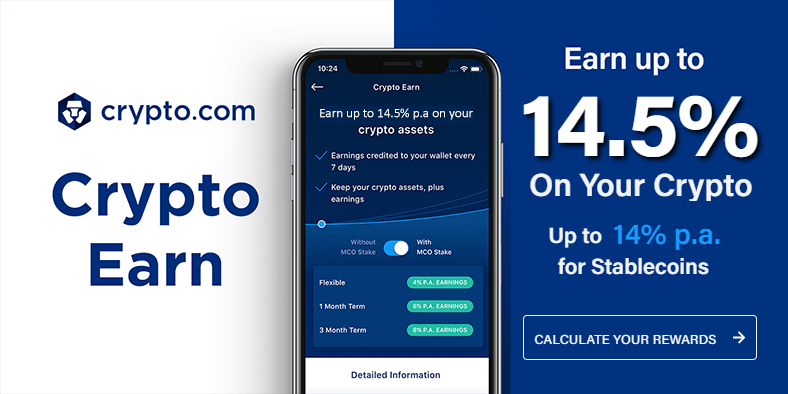 If you're curious how long it'll take you to buy that Lambo you've been dreaming of, Crypto.com offers an easy calculator to show how much interest you can make on any given coin.
The USDC coin is your best choice to maximize your interest earnings. That'll give you a 14% return. USDC is a great coin for beginners to start with since it maintains the value of the U.S. dollar.
Alternatively, Bitcoin and Ethereum are other high-interest earners, offering you a yearly interest rate of 8.5%.
That said, there are few factors that'll affect the final interest amount that Crypto.com will offer you. They include:
● The type of coin
● Deposit amount
● Deposit term (one month, three months, or flexible)
● The amount of CRO you stake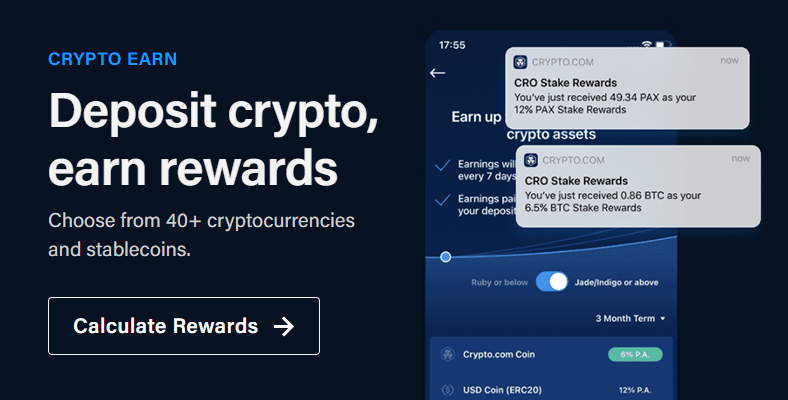 CRO is Crypto.com's own cryptocurrency coin.
If you think that this is all too good to be true, there is a catch—anything you hold on Crypto.com isn't protected by the Federal Deposit Insurance Corporation or Securities Investor Protection Corporation.
In other words, like nearly all cryptocurrency exchanges, if something happens to the exchange or there's a hack, you might not get your money back. So, it's important to diversify your investment.
Credit Card with Cashback Opportunities
Cryptocurrency debit cards are gaining traction, and Crypto.com is keeping up with the trend by offering five different card options.
The way it works is that you prepay the Visa card using your cryptocurrency. You can then earn cash back on select purchases when you spend your crypto.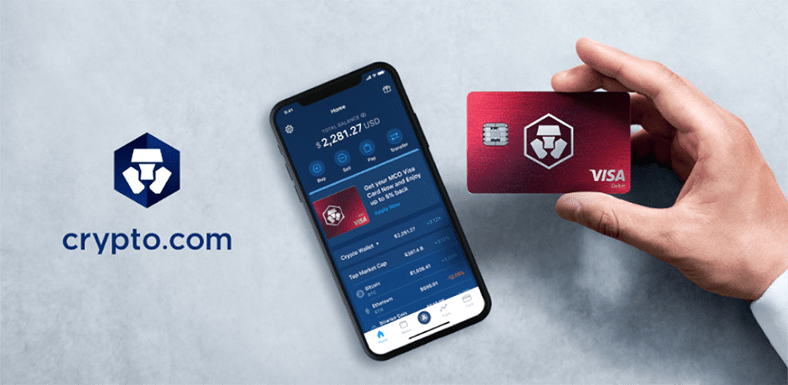 The offerings are more generous than what you'll find with traditional credit cards. For example, depending on the type of Visa card you have with Crypto.com, you could earn 100% cashback on your monthly spending of the following:
● Spotify
● Netflix
● Amazon Prime
You may also be eligible for perks like airport lounge access, private jet partnership, and bonus rewards.
If you're worried about the inconvenience of using a prepaid Visa card, Crypto.com makes it as easy as possible. You can top up your card using bank account transfers, cryptocurrency, or another debit or credit card you own.
You'll receive your rewards via CRO coins. Crypto.com calculates the amount according to the USD equivalent, and you'll be able to see your CRO rewards add up as soon as you earn them.
Tax Support
Many cryptocurrency exchanges run away at the word "tax," leaving their users to figure things out on their own. But if you're a U.S., Australian, or Canadian citizen, Crypto.com will prepare the information you need to send to your government.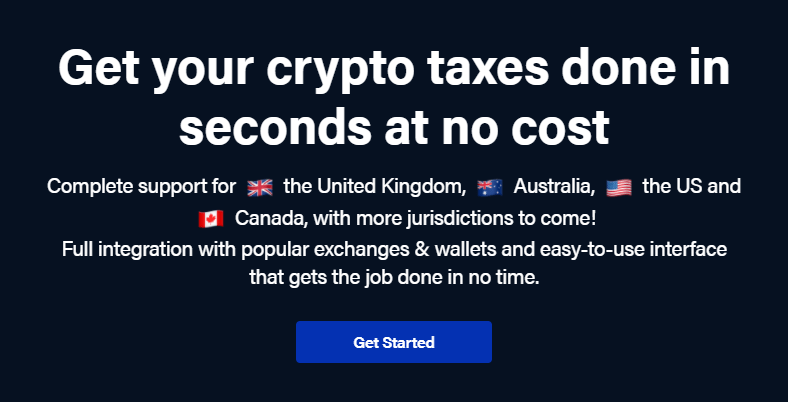 Best of all, they do it for free. Furthermore, Crypto.com offers tax calculations for an unlimited number of trades. That can save you hundreds of dollars on paying for crypto tax services if you're an active trader.
Crypto.com's tax report is clean-cut and user-friendly. You'll have the opportunity to review all transactions before soliciting the finalized document. That way, you can make any changes should you notice any odd transactions.
Fewer Fees if You Hold CRO
We'll talk more about fees next, but one of the great features about Crypto.com is that they offer discounts on trading fees if you stake their CRO token.
You'll need to hold your CRO coins on Crypto.com and pay for your trading fees with CRO to receive this benefit. You'll then receive a discount on maker and taker fees when you trade spot and margin.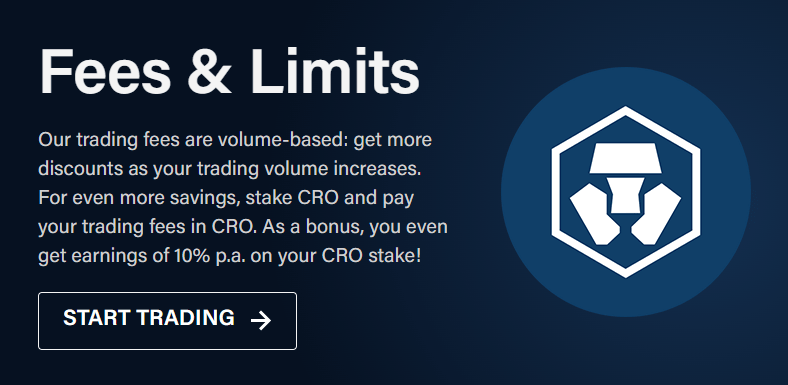 The amount of the discount increases according to how many CRO coins you stake. If you stake 5,000 CRO, you'll receive a 10% discount. Staking 100,000 CRO offers a whopping 60% discount.
Crypto.com calculates the discount payout within one hour, and they'll refund you the discount amount in CRO coins.
Crypto.com Costs
Like any exchange, Crypto.com makes money by charging a maker and taker fee when you buy and sell cryptocurrency.
They offer nine fee tiers, according to how much money in the 30-day trading volume you spend. The more often you trade, the lower the fees become.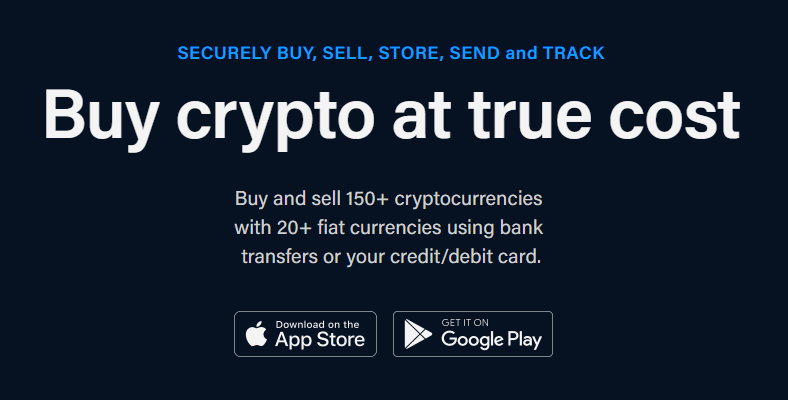 Crypto.com's trading fees start higher than their competitors like Binance but lower than the big U.S. exchange Coinbase. If you have a trading volume under $25,001, you'll pay 0.4% each in maker and taker fees.
Should your trading volume hit over $2 million in a 30-day period, you'll only pay 0.04% in maker fees and 0.1% in taker fees.
You can click here to see fees on trading volumes of everything in between.
Customer Support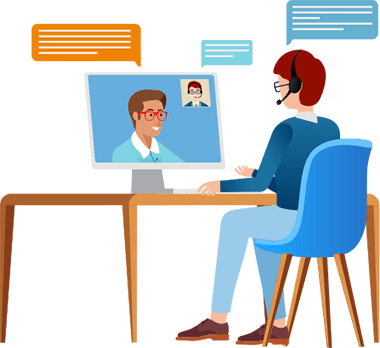 It can be challenging to find stellar customer support with any crypto exchange, which is the case with Crypto.com. Nevertheless, although it takes a while to speak with someone via their in-app live support, if you approach it with a little patience, you'll eventually receive help.
They also have a live chat option on the desktop version. Furthermore, clicking on the "Contact" button on their website will take you to three email addresses: General questions, regulatory inquiries, and law enforcement inquiries.
Crypto.com Licenses
Crypto.com has the following licenses and certifications:
● SGS
● Cryptocurrency Certification Consortium
● PCI DSS Certified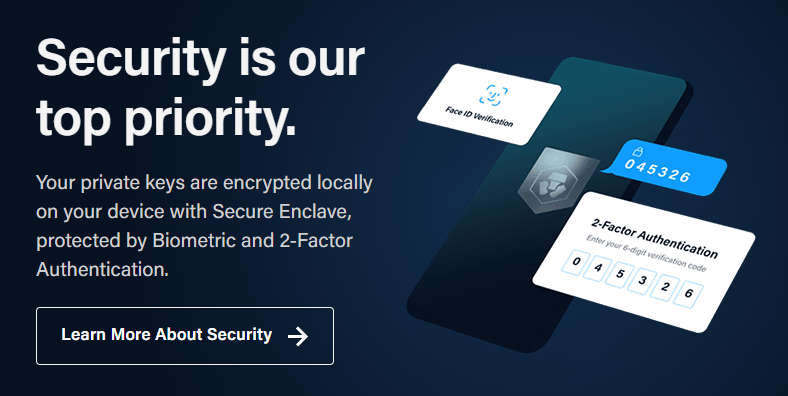 Furthermore, Crypto.com takes local regulations seriously. Therefore, you might not have access to all or some products and services, depending on your location.
Like so many investments, cryptocurrency comes with risks. So, you should only trade with money on Crypto.com that you can afford to lose.
Final Thoughts
Crypto.com is an excellent exchange for cryptocurrency newcomers and experienced traders alike. It offers generous rewards through its CRO token, Visa card, and staking opportunities.
Furthermore, the free tax documents they put together on your behalf can save you hundreds of dollars each year.
So, if you're looking for a reliable cryptocurrency exchange that has been in business for a relatively long amount of time, Crypto.com is a great option.