Cryptohopper.com is a cryptocurrency trading bot service that allows individuals to make automated purchases, trades, and sales of more than 70 types of cryptocurrency. Users can also make simulated paper trades, backtest their trading, and discover new trading strategies. Managing your portfolio is simple with Cryptohopper.com.
There are dozens of cryptocurrency trading bots from which to choose, and each offers unique benefits and disadvantages. Picking the best option is a challenge, particularly if you're relatively new to cryptocurrency trading. That's why it's crucial to review your preferred option's features and costs before signing up.
About Cryptohopper.com
Cryptohopper.com was founded in 2017 by two Dutch brothers living in Amsterdam. It began as a simple private program (on a Raspberry Pi machine) but soon blossomed into an international service. Cryptohopper.com has thousands of registered users and has grown exponentially since its creation.
As the cryptocurrency market continues to change and grow, so does Cryptohopper. There are currently more than 70 different types of cryptocurrencies available via Cryptohopper.com, and this list will likely expand as newer currencies arrive on the market.
Top Features of Cryptohopper.com
Cryptohopper.com offers users a wide range of tools and features to help them build their portfolio and maximize their cryptocurrency acquisitions and trades. Some of the most notable features of Cryptohopper.com include:
Automatic Trading
Mirror Trading
Algorithm Intelligence (AI)
Paper Trading
Backtesting
Exchange Arbitrage
Market Making Bot
Strategy Designer
Trailing Stops
Let's explore these features in greater detail to find out what they entail and why they're beneficial. After all, the best way to gauge a service's utility is to explore its features!
Automatic Trading
Staying up all day and night to keep track of coin values can drive you crazy. But with automatic trading, you don't need to lose sleep while closing deals. Simply choose the coins you'd like to trade and the values at which you'd like them traded, then sit back and relax.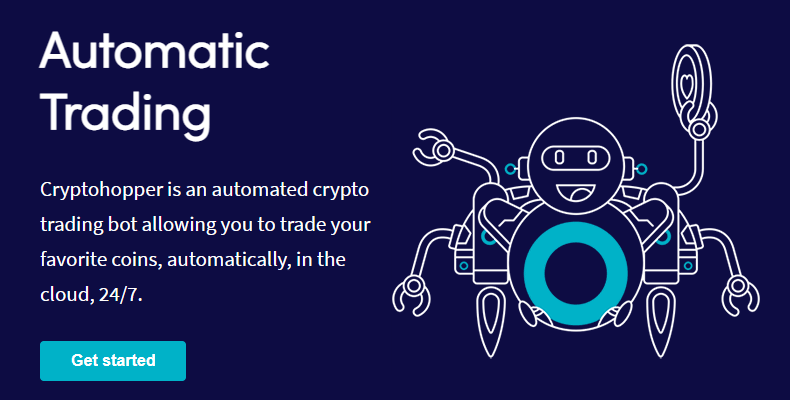 Mirror Trading
Mirror trading is quickly becoming one of the best, most convenient ways to build a cryptocurrency-focused portfolio. Instead of spending several hours each day following market trends and strategizing, you can follow the investment practices of other users. Sometimes it pays to imitate!
Algorithm Intelligence (AI)
When most people hear the acronym 'AI' they think about artificial intelligence. But when you're talking about Cryptohopper.com, AI stands for Algorithm Intelligence. In a way, this tool is very similar to many artificial intelligence programs. It rapidly analyzes market data to help you build the best trading strategies for today and tomorrow.
Paper Trading
If you've ever wondered how much you could improve your portfolio by investing in a particular coin or stock, then you'll want to try your hand at paper trading. Cryptohopper.com's paper trading tool allows you to simulate various trades without investing any currency.
Backtesting
Everyone who registers with Cryptohopper.com and begins using the service gains access to a personalized trading bot. But many users are unaware that this trading bot can be backtested and customized. With the backtesting feature, you can ensure that your trading bot is correctly configured and consistently making the right moves.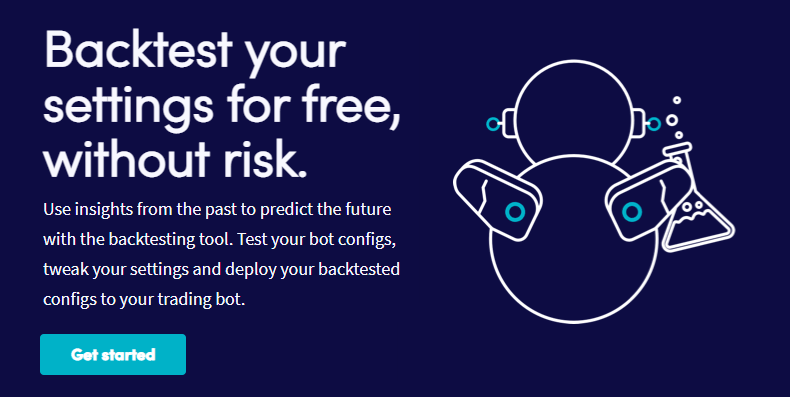 Exchange Arbitrage
Coin values are in constant fluctuation, and traders can use this to their advantage by accessing the Cryptohopper exchange arbitrage feature. You can profit from price differences without ever needing to delve into your exchange funds or bank account. Not only does this make it easy for investors to exchange coins, but it also helps them profit from the trade.
Market Making Bot
The majority of Cryptohopper.com features and tools make life easier for traders and investors. The market making bot is a fine example of how Cryptohopper can make your coin trading more convenient.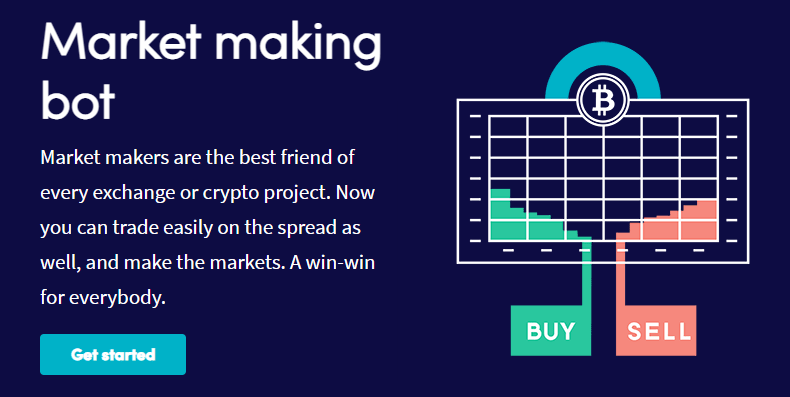 Users can secure consistent trades within the exchange without spending several hours each day scrolling through buy/sell options. The market making bot automatically picks the best possible market for your investments, ensuring the best possible outcome for your portfolio.
Strategy Designer
Becoming a professional cryptocurrency trader or investor doesn't happen overnight. It requires experience, technique, and strategy. Cryptohopper.com's strategy designer tool is ideal for individuals mastering or exploring various trading strategies.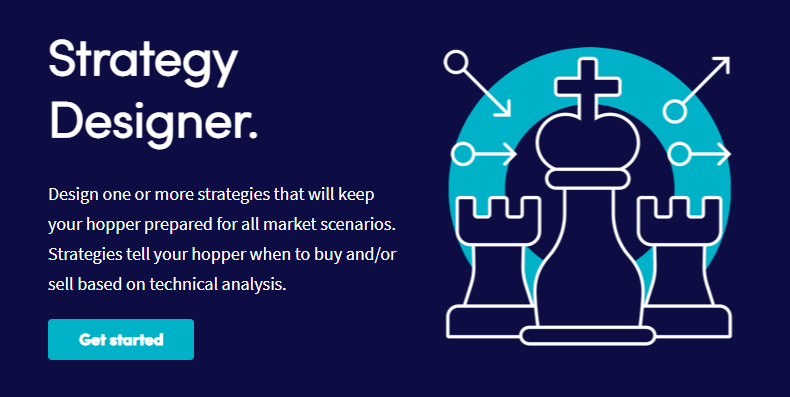 Users can create a wide range of buying, selling, and trading strategies linked to singular or multiple coins. They can then save these strategies for future use. This tool allows traders to gauge the success of their strategies.
Trailing Stops
Want to sell high and buy low? Trailing stops can help you see changes in the market values of your coins before values plummet or rise. However, the number of trailing stops allowed per user varies depending on which service tier you choose.
Cryptohopper.com Costs
Though Cryptohopper.com does offer a free payment plan, it's only a trial run. After seven days, this trial will expire and the system will prompt users to choose from three potential service tiers:
1. Explorer
2. Adventurer
3. Hero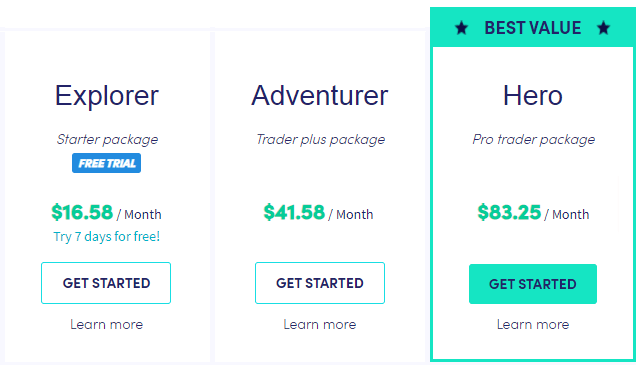 Cryptohopper.com users can choose to make monthly or annual payments, but it's crucial to note that month-to-month options are costlier than annual plans. For example, someone hoping to get the most out of their Cryptohopper.com account might use it for at least one year.
If this user has chosen the monthly payment, they'll pay between about $20 and $100 per month on the service. But if they pay ahead for a full year, those numbers fall to between $17 and $84 per month.
As you've likely guessed, each potential service tier features a unique price point. The Explorer plan is the most affordable, and the Hero option is the costliest. However, the best option for you doesn't solely depend on your budget.
Let's examine which services and features are included with each tier to discover which option might work best for you!
Explorer
The 'Explorer' tier is the most affordable option for traders using Cryptohopper.com. With this plan, users can select up to 15 coins for trading, and they can take up to 80 positions. There's a maximum of two triggers, but users can access analytics reports with intervals of 10 minutes.
Overall, this basic plan is ideal for individuals that are new to cryptocurrency acquisition and trading. This tier's tools are geared toward beginners. Though it doesn't offer access to some of the more advanced features, such as Algorithm Intelligence (AI), it includes everything the average person needs to get started.
Adventurer
Those hoping to enjoy more tools and services may want to opt for the 'Adventurer' tier. Users that fall into this tier can select up to 50 cryptocurrencies for buying/trading/selling and they're granted up to 200 positions.
Instead of a maximum of two triggers, users can utilize up to five triggers. Exchange arbitrage trading is also available to those within the 'Adventurer' tier. Intermediate-level traders may want to choose this tier instead of the simpler, 'Explorer' option. However, if you're an experienced investor hoping to maximize your investment potential, the 'Hero' tier might be the best bet.
Hero
The priciest tier also happens to be the most feature-rich one. Individuals that opt for the Cryptohopper 'Hero' tier gain access to everything Cryptohopper.com has to offer. With this service, users can take up to 500 positions and select every available coin.
This tier also grants access to high-level tools like Market Arbitrage, Market Making, and Algorithm Intelligence (AI). Users can also access consistently-updated technical analysis (TA) reports with intervals of two minutes. This ensures that investors are always aware of their trading statuses and current portfolio condition.
Customer Support
Technology often succeeds at making our lives better, but glitches do happen. If you're experiencing a technical issue with your Cryptohopper.com account, or you simply have a question about the service, you can contact Cryptohopper customer support in a snap.
Users can file a support ticket and wait for a reply from the technical support team. They can also reach out via Twitter and Facebook. In most cases, issues are resolved within 24 hours or less.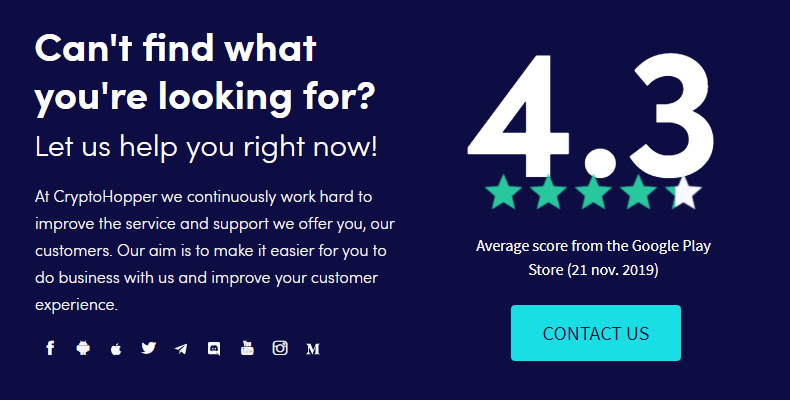 Cryptohopper.com also offers a ton of resources to help users troubleshoot any issues that may develop. Beginners should take a few minutes to read Cryptohopper's 'Get Started' guide, and it's always a smart idea to check out the comprehensive tutorial library.
With these resources at your fingertips, you can ensure that your Cryptohopper.com experience is a positive, successful, and profitable one. Naturally, if you continue to find yourself with lingering questions after studying these materials, the Cryptohopper.com support team is only a quick click away.
Final Thoughts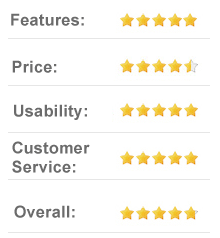 Those hoping to buy, sell, and trade a wide variety of cryptocurrencies may enjoy using Cryptohopper.com's services. Unlike other automated trading bots, Cryptohopper allows its users to select from more than 70 unique currencies.
Additionally, Cryptohopper.com's mirror and automatic trading features make it easy for users to improve their portfolio without spending hours watching the market and monitoring trades. Cryptohopper provides all of the necessary tools cryptocurrency traders need to get started and succeed, making it a worthwhile option for both beginners and experienced traders.