Finding the perfect swimsuit can be frustrating. Many brands only work for certain body types. Most retailers just don't have a large enough variety to be valuable to every woman. Cupshe is a swimwear brand that is dedicated to helping women improve their self-confidence by offering affordable fashions.
About Cupshe
Cupshe was founded in 2013 to offer affordable swimwear for real women. It features one-pieces, bikinis and tankinis.
Unlike many websites that offer inexpensive clothing online, Cupshe offers tasteful designs. Although you can find plenty of basics on the website, the company really shines in its ability to provide hard-to-find silhouettes.
Some of the standout trends of the 2018 season that can be found on Cupshe include:
Scallop-edged bikinis
Peplum tankinis
Cap-sleeve tops
Monokinis
High-waisted bottoms
We have even found knock-offs of more expensive brands, such as this halter bikini set, which is modeled after a style that is available on Modcloth.com.
The categories listed on Cupshe include: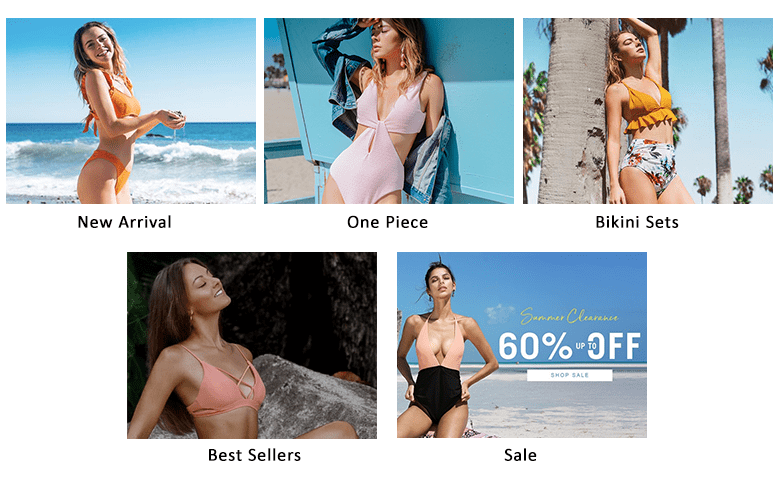 Pricing
Even though they don't contain a lot of material, most swimsuits aren't cheap. Even the most inexpensive bikini at a department store can easily run upward of $60. Most of the swimsuits at Cupshe cost between $20 and $30.
At those prices, most people can afford to buy more than one suit from the retailer. You also might be more likely to try out a new style or feel comfortable purchasing without trying on the item first if you don't have to shell out a lot of cash for it.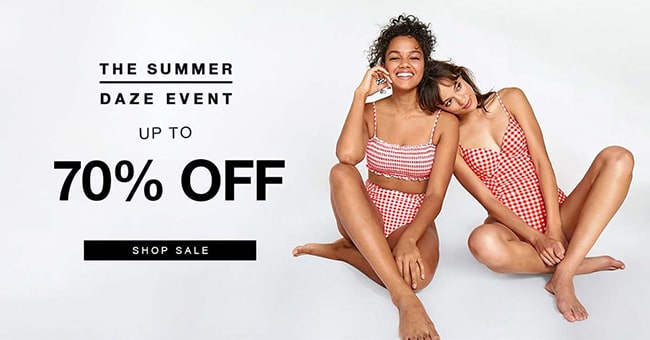 You can get additional discounts from Cupshe by downloading the free app for iOS or Android. The app has a user-friendly interface that lets you shop from anywhere. You can also subscribe to the newsletter from any page on the website to get exclusive offers.
The website says that newsletter subscribers also get free expedited shipping to the continental U.S. on orders over $60. That's great and all, but the shipping policy states that expedited shipping is free for orders over $60 anyway. You do get 10% off of your purchase when you sign up for the newsletter.
Students can also get a 10% discount on orders of more than $70. They simply have to register with Student Beans to verify their student status.

Shipping
One of the best aspects of Cupshe is that standard shipping to the U.S. is free. It takes an average of about 11 business days after the three business day processing time for most people to receive their orders. This isn't the fastest shipping time frame, compared with some other internet retailers.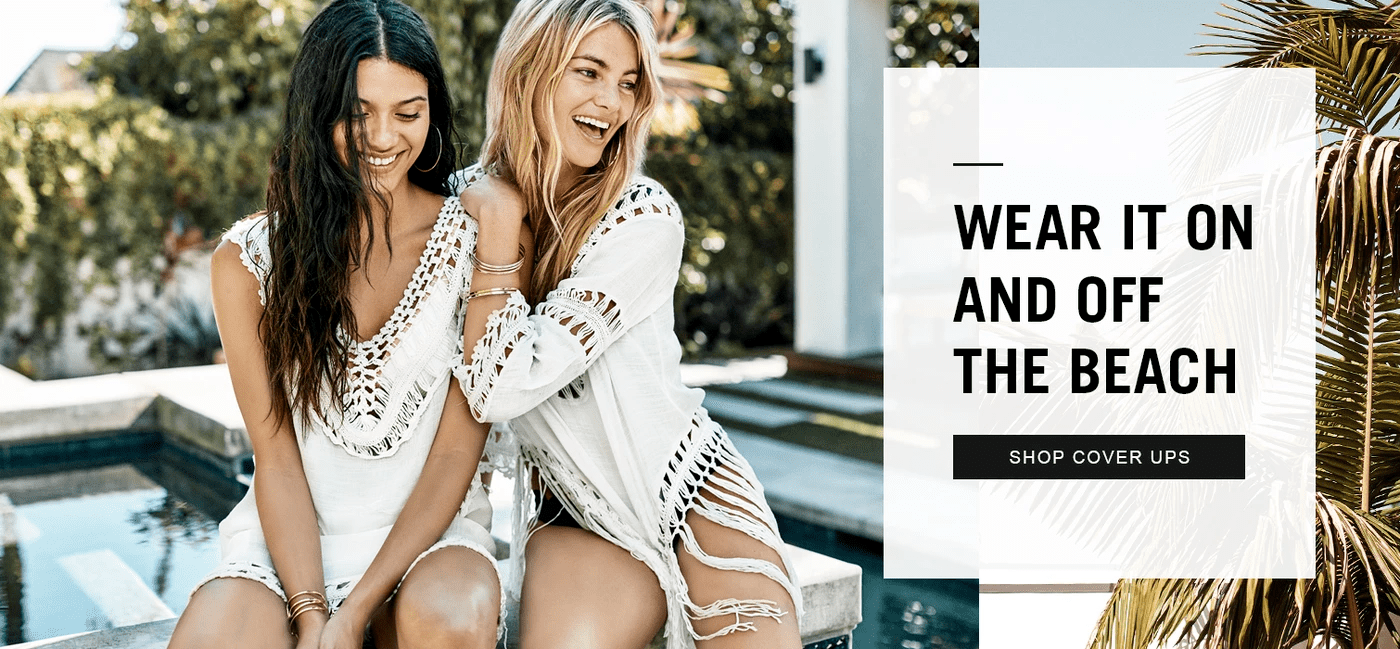 You can choose expedited shipping, which is free for orders that total $40 and over, $4 otherwise. Expedited shipping takes about six business days for delivery, on average.
Express shipping costs between $12 and $15 and takes three business days.
Cupshe ships all over the world, and shipping prices are affordable to virtually any location.
Read Real Reviews Before Making The Decision
In this day and age, many people are buying clothing online. The challenge in doing that is that you can't try the items on before you buy them.
Cupshe makes up for that by allowing customers to review the items that they buy. You can read about the fit, material and styling. Many reviewers share their height and weight as well as the size of the bathing suit that they purchased so that you can determine what size is best for your own needs.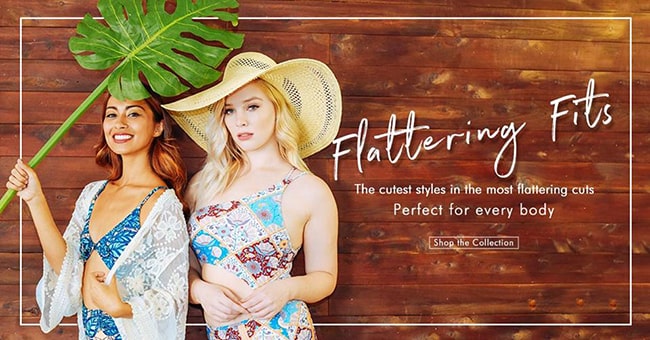 I wonder if all of the reviews are legitimate, though. Some reviewers mention that they purchased other products, such as dresses, which don't appear to be available through Cupshe. Maybe Cupshe sold different items at one time, and the reviews are based on those products.
There is also a "Styled on Instagram" section of the website that shows women wearing the swimsuits. This helps buyers understand how the suits will look on different body types.
Affiliate Program
If you are a blogger or someone else with a social following of women who might like Cupshe, you may benefit from joining the company's affiliate program. When you use an affiliate link on one of your web pages, any audience member that clicks on it is tracked by a 30-day cookie. If he or she places an order during that time, you'll get an 8%-10% commission.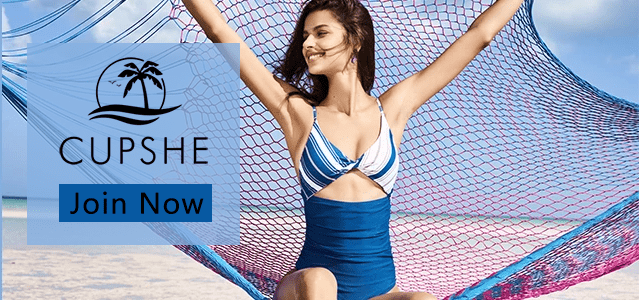 Cupshe makes it easy for you to promote its products on your site. It offers banners and text links as well as data feeds and widgets.
You'll be paired with a dedicated affiliate program manager to help you along the way. You'll also get a monthly newsletter with information that caters to affiliates' needs, including sales opportunities, promotions and contests.
What We Like About Cupshe
There are lots of things to like about Cupshe. It offers hundreds of different styles, and they are all sophisticated and classy. Some of the other benefits of Cupshe include: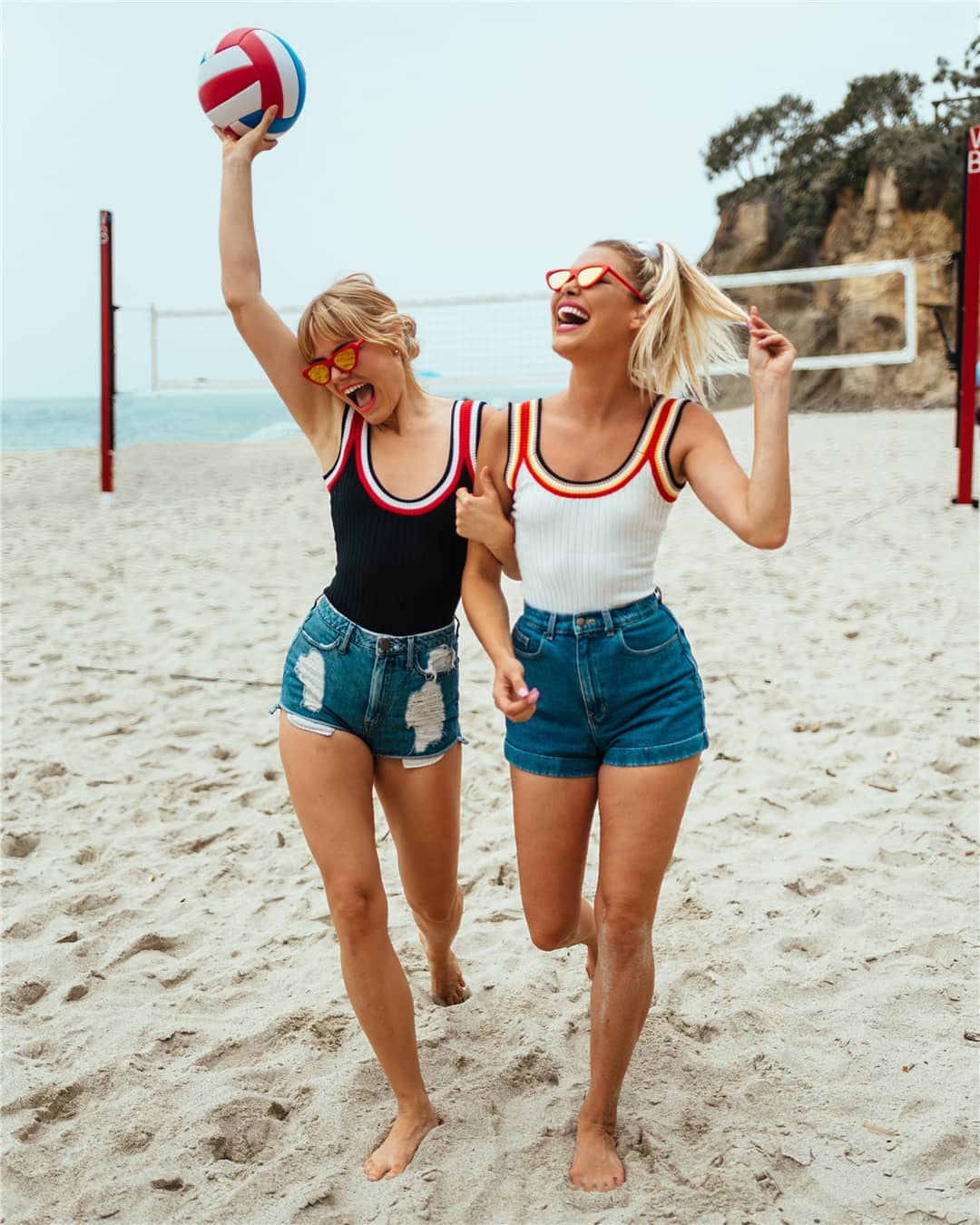 Price
Read reviews of most items before purchasing
Items are returnable within 30 days
Mobile app makes shopping easier
Shopping online can be daunting. We like that Cupshe provides as many details about its swimsuits as possible. The item page includes information about the type of fabric and the way that the bathing suit is secured, such as by a halter tie or bra-style clasp.
If a model is photographed wearing the suit, the website gives details about the model's height and size so that you can compare and buy the right size for your shape.
The sizing runs a little small, but it doesn't run as small as many other internet retailers that sell clothing. The sizing is fairly true to size and corresponds to U.S. sizing as follows:
Small – size 4/6
Medium – size 8/10
Large – size 12/14
Extra-large – size 16
Extra-extra-large – size 18
What We Don't Like About Cupshe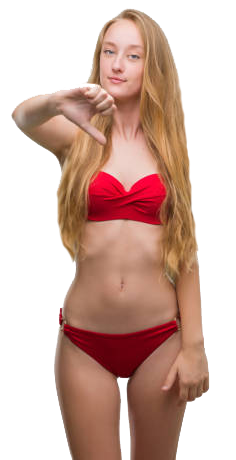 A small numebr of product photos aren't shown on models, which can make it difficult to understand how a swimsuit will look in real life. Of course, the Cupshe Instagram page has plenty of real-life examples which are useful in this respect. The reviews and Instagram photos help you get a better sense of the way that the suits look in real life, though.
Some of the shipping policies are quite complex, being based upon the value of your order. The more your spend, the cheaper 'Express' and 'Premier' shipping becomes. It would be nice to see a more simple structure, as there are currently 8 different possible prices for shipping depending on speed and value of order.
When buying bikini sets, you can't order different sizes for the top and bottom. That can pose a problem for many women, who may have a small bust and large hips, or vice versa. However, the pricing is so low that some people opt to buy two sets in different sizes to accommodate the difference.
Also, the swimsuit material is forgiving enough that many customers fit well into the suits even if they would usually buy differently sized tops and bottoms.
Is Cupshe Legit?
You might wonder if Cupshe is too good to be true. It's a legitimate company with many positive reviews on Amazon. If you look at reviews on the Better Business Bureau's website, you'll find several negative ones. Most of the negative reviews reflect the long shipping times and unclear return policy.
If you need your purchase right away or in a certain time frame, you may be unhappy with the delivery times. However, the company makes it clear that the shipping takes a few weeks and that your item may be delayed as it makes its way to your country.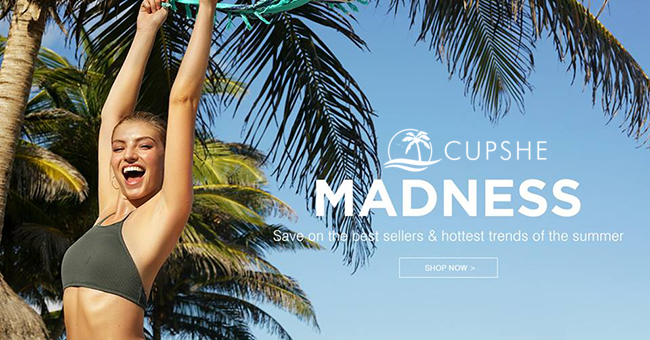 People who think that they'll be likely to return the item may not be satisfied with the company's return policy. If you're hesitant about buying through the Cupshe.com website, you might be better off making your purchase through Amazon.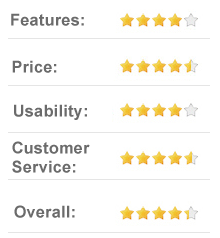 Some reviewers complain about the quality of the swimsuits. However, for every negative review, you can find a positive one somewhere else on the internet. The swimsuit quality may not be the same as for a designer bathing suit, but it seems like the products have a decent construction and should get you through at least a few summer vacations.
Every negative review on the Better Business Bureau's website has been addressed by Cupshe. It looks like although the company's customer service may be a little slow, the representatives will take care of your needs eventually.
Overall, this is a great place to get a cheap bathing suit if you're willing to wait approximately two weeks for delivery and don't mind getting an item that may only last one or two seasons.