Founded in 2013, DataCamp is a small company that provides low-cost data science and analytic education worldwide through an online learning platform and massive open online courses (MOOCs). They offer high-quality instruction at a fraction of the cost of their competitors.
About Datacamp.com
At Datacamp.com, you can learn all the data skills you are interested in, from coding to data science and machine learning to online interactive, self-paced courses. You have the option to pick and choose the paths that interest you most, making this service highly customizable.
DataCamp provides a hands-on learning experience right from your web browser. There is no need to install any software! You can gain new skills from various technologies such as python, R, SQL, Tableau, and more.
Top Features
We've outlined the top features of Datacamp.com below.
Courses
DataCamp offers hundreds of highly detailed courses on various data science topics with varying lengths and skill levels. In addition, they are constantly adding new courses and updating current ones with the latest information and methodology.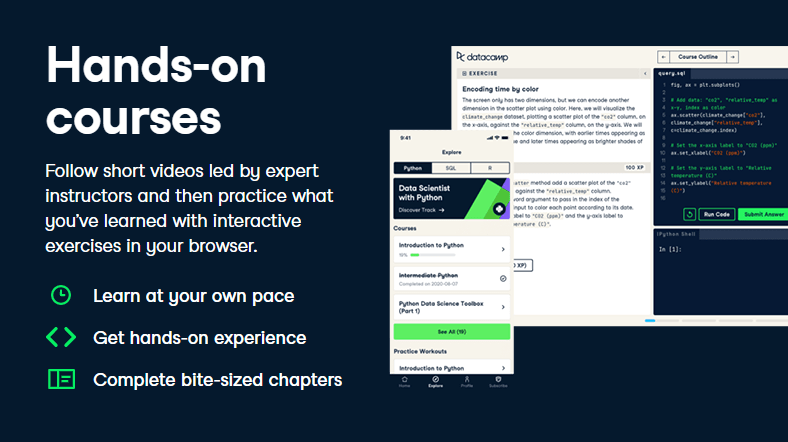 Their data science courses are hands-on and interactive. You can choose from hundreds of stand-alone classes to take. Most courses are structured as follows:
First, you watch short, bite-sized videos from the instructor.
Then, you practice the lessons from the video through interactive exercises.
There is also no deadline for completing each course so that you can learn at your own pace. DataCamp saves your learning progress as well.
These bite-sized videos present information in a digestible way, which is excellent for beginners or those who have never been introduced to specific software, technology, or topic. The courses are challenging but are not difficult or impossible to complete.
Technologies
DataCamp offers courses on many different data science technologies, including:

Python

R

SQL

Oracle SQL

Tableau

Power BI

Microsoft Excel

Scala

Shell

Git

Theory

Google Spreadsheets
Data Topics
In addition to a variety of technologies, DataCamp provides courses on data science topics. These skills could aid you in a career in marketing, management, and data engineering. The topics that DataCamp offers include the following:

Data Manipulation

Data Visualization

Probability and Statistics

Data Engineering

Programming

Importing and Cleaning Data

Machine Learning

Applied Finance
DataCamp is unique in that it only offers courses in data science and analytics specifically.
Instructors
DataCamp's course instructors are experts in their field. These professionals create each course with support from DataCamp, often using real-life examples for their interactive pieces.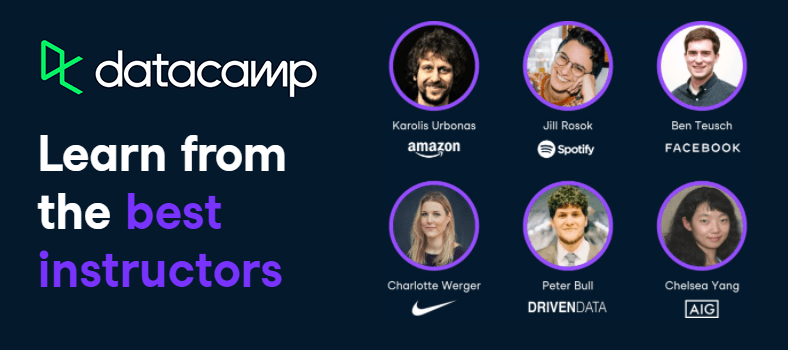 DataCamp has also partnered with thousands of companies and academic organizations to provide these courses to learners worldwide.
Career and Skill Tracks
A feature unique to DataCamp, their Career and Skill Tracks allow you to decide how you want to learn. Whether you wish to focus on completing courses that will help build a career in data science and analytics or learn by skills, these "Tracks" guide you in the right direction.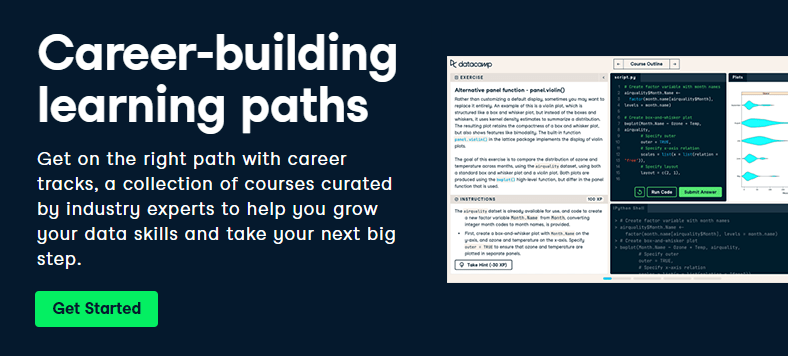 The Career Track puts you on a path towards a data science career, focusing on courses curated by industry experts to advance your data science skills for a particular occupation. Whereas the Skill Track takes a different approach, recommending individual courses that let you focus on mastering complementary skills.
User Interface
DataCamp's online learning platform features an attractive user interface that is incredibly easy to use. It is easy to get started. You create a profile, sign up for a subscription plan, and before you know it, you can access all their course offerings.
Your account features a dashboard to view your progress, change your track options, browse different courses, and bookmark courses to look into later.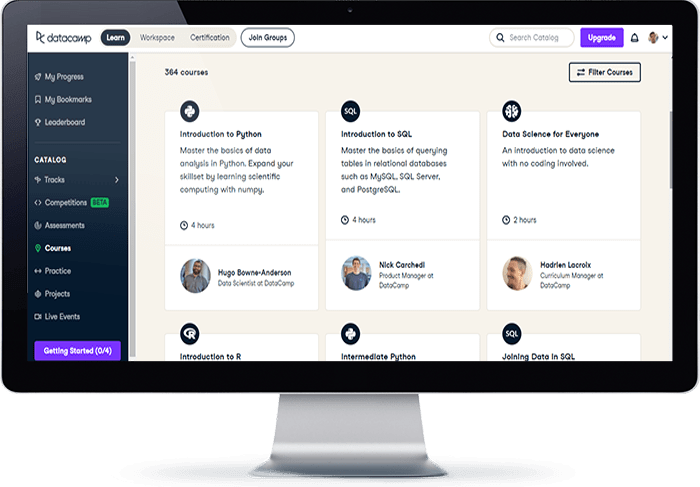 Browsing different courses is easy, as you can filter by type or search for the newest courses. Even though they offer hundreds of classes, it is easy to navigate through DataCamp's course offerings.
DataCamp uses your profile information to customize the learning platform to you. You will receive personalized recommendations for courses, in addition to the ability to search for them.
Overall, most information is straightforward to find on their website, and your personal account dashboard is easy to navigate.
Why Should You Join DataCamp?
The best part of DataCamp is that you do not need to know anything about data science to join! They offer courses for all levels, including beginners looking to learn new skills. You can also join and learn something new if you already have intermediate background knowledge in any of their subjects.
DataCamp also places a significant emphasis on hands-on, interactive learning. It will give you valuable real-world experience through their portfolio of data science projects. Recent projects include visualizing COVID-19 and learning about the data that led to the medically necessary discovery of handwashing.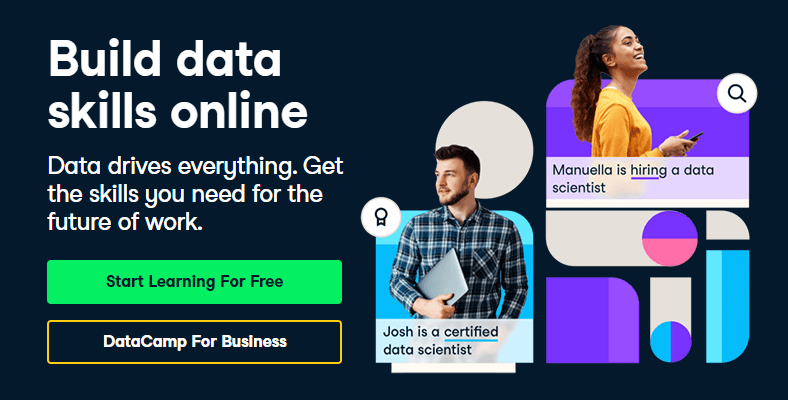 Another great feature of DataCamp is that you can complete all courses from your Internet browser. You do not have to pay for extra software or download anything to your computer for their classes, saving you time and money and allowing you to focus only on learning a new skill!
DataCamp allows you to track your progress through data skill assessments. This feature also allows them to provide personalized recommendations for additional courses that may interest you. DataCamp tailors its online learning platform experience to each user, providing flexibility and more personalized learning.
Finally, technology is an ever-changing beast. DataCamp prides itself on keeping its courses updated and relevant and are constantly working on expanding their curriculum. This expansion means that you will keep up with all the latest data science trends and methodologies.
Costs
DataCamp offers a variety of both personal and business subscription plans, so you can find something that fits your needs and budget. Their pricing structure is very straightforward.
For personal plans, you can try Datacamp for free, where you have access to a limited number of courses and projects. If you are looking for more, you can opt for the Standard plan, which is $12/month.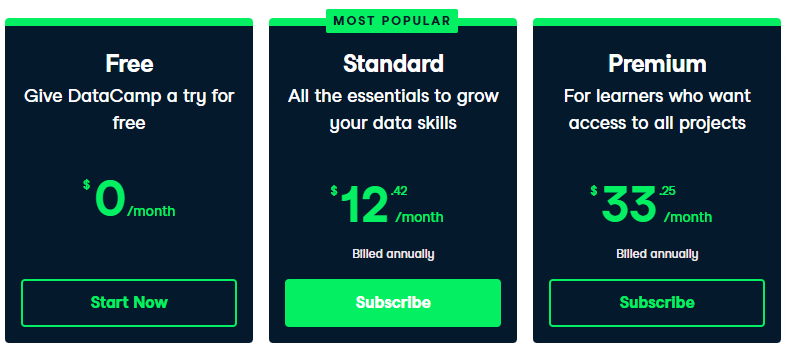 For business plans, DataCamp offers a Premium Individual Plan and a Professional Business Plan for your work team. At the time of this writing, the individual plan was 63% off and priced at about $12/month, and the business plan was 34% off at about $17/month.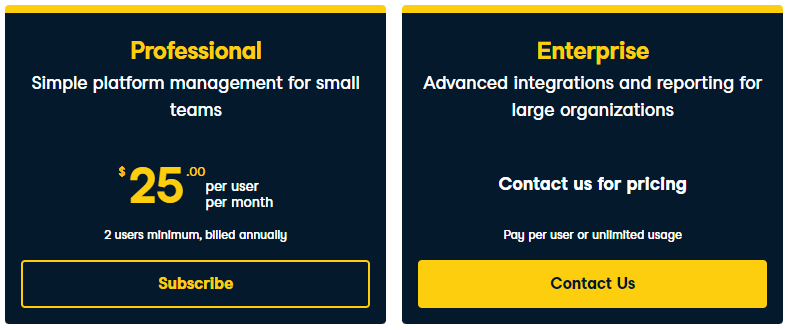 Finally, for larger organizations, DataCamp has an Enterprise plan quoted for your organization's specific needs.
You are also able to cancel your subscription at any time. You are not locked in. If you find that the service isn't working for you, there are no contracts or fine-print fees!
Customer Support
DataCamp has a designated Help Center, as well as a Support ChatBot. You can submit a web request via email or live chat with a customer service representative during business hours if you need additional assistance. As soon as someone is available, they will assist you with your questions.
System Requirements
You can access DataCamp on any internet-enabled device, including both desktop and mobile devices.
For desktop systems, DataCamp supports these browsers: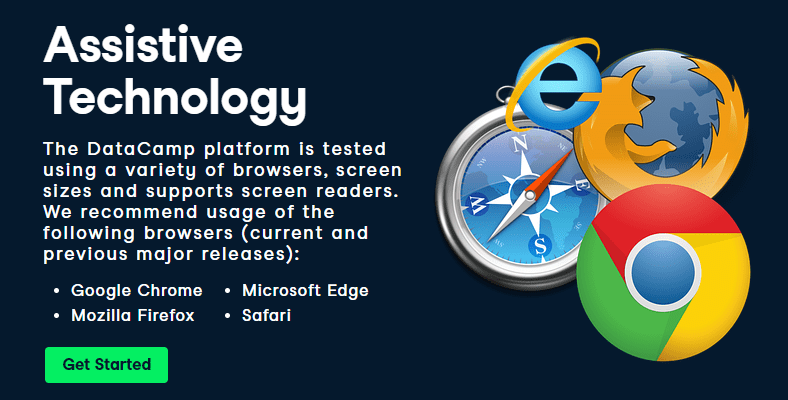 DataCamp recommends disabling extensions and ad blockers on your browser for the best video viewing experience on their learning platform.
For mobile devices, DataCamp supports both Android and iOS devices at specific software versions or higher.
Official Certifications
DataCamp does not offer an accredited certification but does provide you with a Statement of Accomplishment once you have completed a course or completed a learning track. You are also able to share this certificate on LinkedIn if that is of interest. These look great on your resume as well!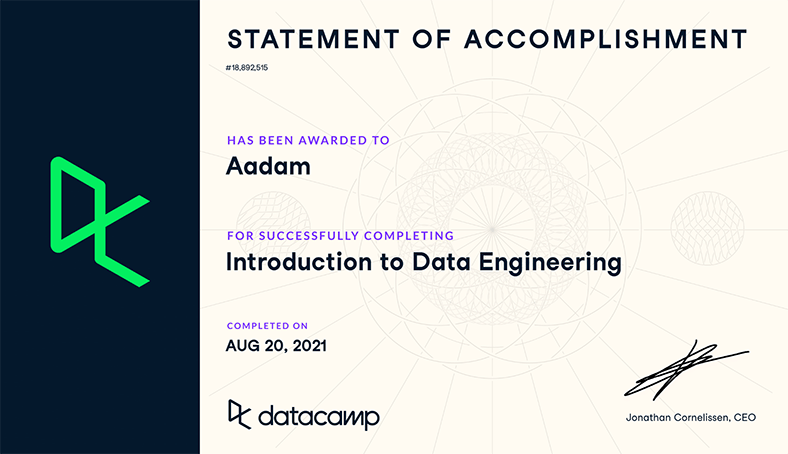 Final Thoughts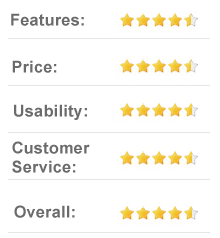 DataCamp is a great online learning option for those interested in gaining more skills and expertise in the data science world. You can study at your own pace with no deadlines and improve your skills by working on real-world challenges.
Their courses are engaging and interactive, designed explicitly with a data science student in mind. Their classes are taught by experts in the field, who are instructors with a great degree of real-world experience.
Not only is their online learning platform attractive and easy to use, but it is also available for use on multiple devices, making learning on the go easy. From desktop to laptop, to mobile, you can take your courses with you anywhere.
If you are interested in learning more about data science and analytics, doing a deep dive into a specific data topic, or looking to brush up on particular software skills. DataCamp is the e-learning platform for you! Check it out today.