There are tons of video conferencing platforms out there. But few are built for SaaS and other online business and marketing companies. That's what makes Demio.com unique, and it might be why it's the perfect application to bring your company together and take operations to the next level.
But what can Demio.com do for you and your business? Just keep reading for the most comprehensive review of Demio.com around.
History of Demio.com
Like most SaaS companies, Demio.com is relatively new. It was founded in 2014 by two marketers that got tired of old unreliable web conferencing platforms. They took the time to develop a web conferencing platform with marketers and users in mind – and the result was Demio.com.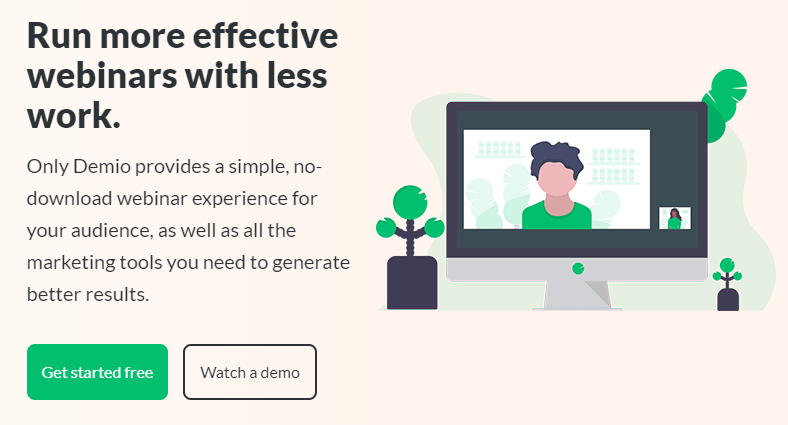 Today, Demio.com has employees throughout several countries in every corner of the world. Everyone of their employees works remotely, and they all have a singular focus. They want to make Demio.com a web hosting platform that is reliable, user-friendly, and distraction-free.
Top Features of Demio.com
Two marketers built Demio.com with marketers and SaaS companies in mind. As such, they have a litany of useful features that make it one of the most user-friendly platforms on the Internet. This includes unlimited sessions, unlimited registrations, and unlimited storage.
All these features combined make it easier than ever to schedule and organize events. Additionally, with built-in engagement tools for each room, you can transform each event into an interactive space to get attendees involved and interested.
Furthermore, you can limit events to specific geographic regions, which is ideal if you're advertising or promoting an event within a particular area. The best part for marketers is the detailed insights provided for each event.
You can establish and conduct polls in real-time, then choose to keep these results private or broadcast them to the group. If you're looking for insights and trends that you can use to promote your service or product, nothing could be more convenient.
All-In-One Software
It's an all-in-one software that allows you to share handouts or gifts directly through the site. Even better, since you can upload presentation materials directly onto the platform before the event – there's no need to switch platforms or download a thing throughout the event!
This puts the event's focus back on you – your attendees won't have to worry about falling behind as they struggle to get to the next platform. From an attendee's perspective, Demio.com is as easy as it gets. They don't need to download anything – instead, all they need to do is navigate to the meeting room to get started!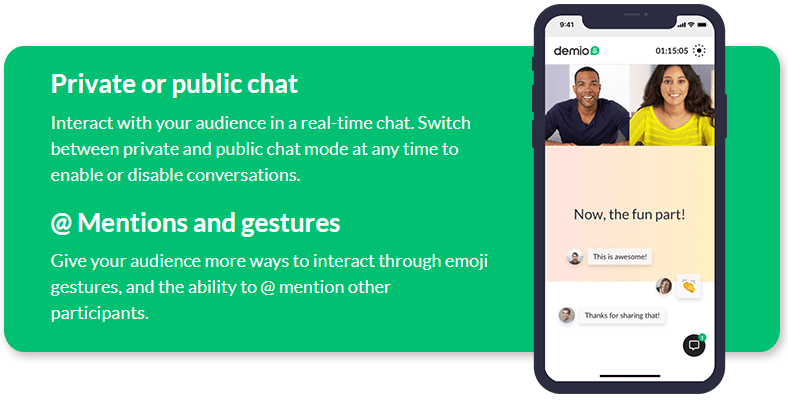 They have options for both private and public chats on the platform. So, if you're looking to get a vibe of the room or give the next presenter a quick tip or pep talk before they take the stage, you can! Of course, if you want to disable these features for the room, you always have that option too.
While most accounts only let you have one host – you can have up to 15 moderators or presenters for each event. Moderators can help you control the room and bring people to the stage, while presenters can step up and prepare materials for the event.
But even if a member isn't a presenter, nothing stops the host or a moderator from bringing a member of the audience to the stage to share!
If you're worried about how you're going to get the most out of all of these fantastic Demio.com features – they've thought of that too. While the entire program is extremely user friendly – they have two different training options to get you up to speed.
First, they have an interactive tutorial that will walk you through all the different applications on the site and how to use them. But if you'd prefer a more personal touch, Demio.com offers that too.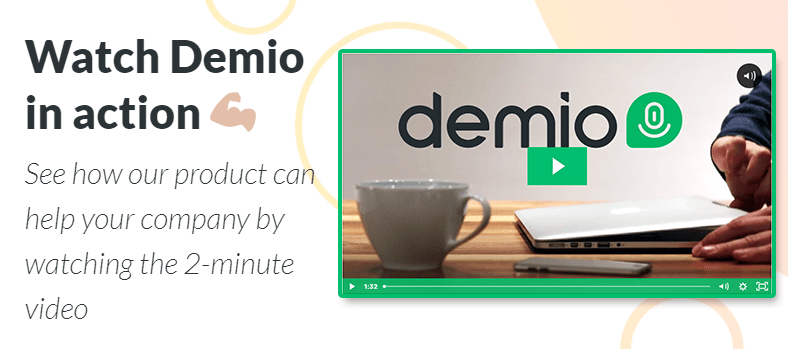 Whether you're new to the site or are just looking for a refresher, Demio.com offers 1-on-1 training on how to use the site. Their guide will walk you through everything you need to know, all while answering any questions you might have along the way!
Unlimited sessions
Unlimited registration
Unlimited storage
Built-in room engagement tools
Detailed insights
Event localization
Customizable registration options
Advanced event setup
Up to 15 moderators and presenters for each event
Up to 1,000 people per event
Demio.com Commission/Costs
Demio.com doesn't take any commissions from sales, but they do have subscription costs. They have three plans available, and for each plan, you can either subscribe monthly or sign up for an annual plan.
There is a 14-day free trial for all of their plans where you can try out the software – and if you don't like it for any reason, you can cancel without spending a dime!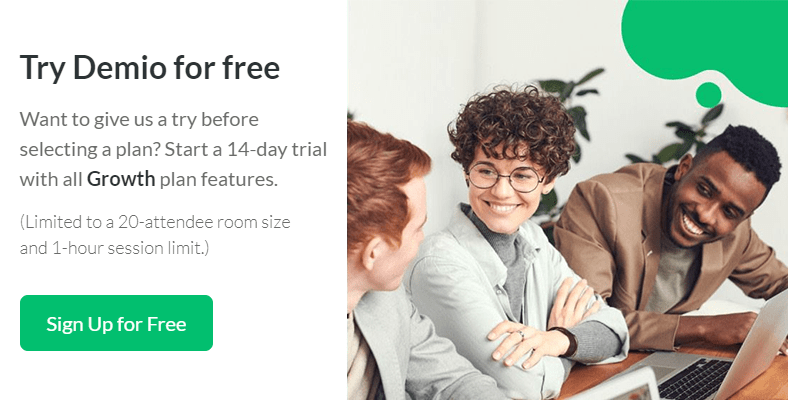 Even after you pay, Demio.com offers a 30-day money-back guarantee; if you're not satisfied with the program for any reason, they'll refund your subscription cost. While they offer annual plans, nothing stops you from upgrading or downgrading your subscription if your needs change throughout the year. Furthermore, you can cancel at any time.
The "Starter" Plan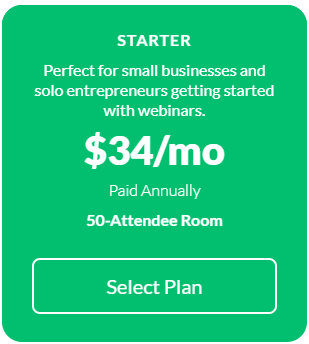 The Starter plan starts at $49 a month if you sign up for the monthly subscription, and it's only $34 a month when billed annually. The starter plan allows you to have up to 50 attendees in a room, and each session is limited to 3-hours.
You can still plan unlimited sessions, have unlimited registrations, and unlimited storage space on the site, but once you finish your three-hour event, you'll need to move to a new event room to keep going.
This can be a bit of an inconvenience if you're hosting a longer event, but the biggest drawback is the attendee limit. If you need larger events, you'll have to upgrade to either the Growth or Business plan.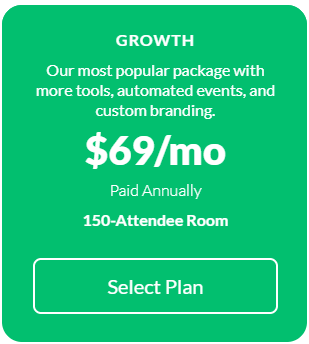 The "Growth" Plan
The Growth plan starts at $99 a month when billed monthly and drops to $69 a month when billed annually.
In addition to everything that the Starter plan offers, it ups your session limit to 5-hours and triples the number of attendees each event can accommodate – up to 150 attendees.
It also allows custom branding to your messaging and event spaces, giving your event a more professional and polished appearance.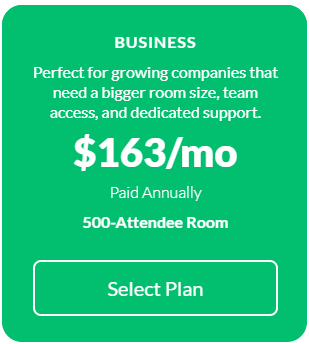 The "Business" Plan
Their top monthly plan starts at $234 a month when billed monthly but drops to $163 a month when billed annually. It includes everything in the Growth and Starter plans, plus allows you to have up to 4 hosts – which means you can host up to 4 events at once.
Each event can host up to 500 attendees, and you get a dedicated support team and account rep. If you need customer support, you'll get it instantly. If you need events with over 500 attendees, you'll need to reach out to customer support for a quote.
Customer Support
While their business plan is the only plan that offers immediate support and a dedicated service rep – every plan has 24/7 support to help keep your event on track. Whether you're experiencing technical difficulties or don't know how to use a specific feature, their team is always looking to help.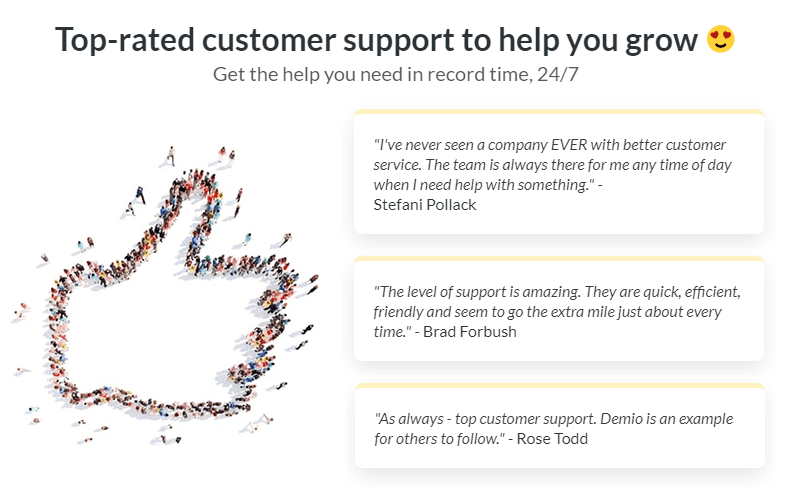 It's why they offer one-on-one tutorials on how to use the platform. They want your event to stay on track because they know that your business, and theirs, rely on it.
Final Thoughts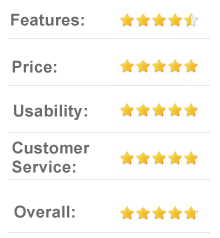 If you're tired of working through multiple platforms to complete a single event and want to upgrade to a reliable webinar platform that can take your company to the next level – you're ready for Demio.com. While it's attendee limits aren't ideal, they offer unmatched reliability that you need to put your business over the top.
So, what are you waiting for? Get started with their 14-day free trial today, and you won't regret it!