Making money trading options and futures with digital money is exciting, profitable, and rewarding. But without understanding the platform you're using for your trades, it can also be frustrating.
While the Deribit is a relative new kid on the block, people have used it effectively for their trades. We offer this short introduction to assist traders in understanding and eventually using the program successfully.
History
In March 2015, current CEO John Jansen and current CTO Sebastian Smyczýnski founded Deribit. They began operating it in June of 2016.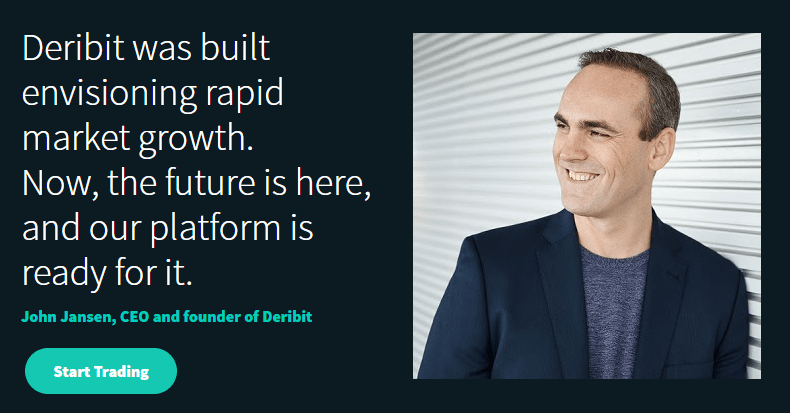 The two founders joined with partners Marius Jansen (CMO) and Andrew Yanovsky (lead developer) to create a platform to follow their passion.
To create the web site's name, the partners took the first four letters of the word "derivatives" and the first three letters from "Bitcoin." Viola!
Overview
Located in Amsterdam, Holland, Deribit.com is a derivatives platform that allows people worldwide to trade in options and futures.
The site does not take deposits except for Bitcoin, which may account for its small volume and user base.
Note: The company currently acts as an unregulated agent because Europe has not yet certified cryptocurrencies as financial entities.
As a CFD trading entity, no real crypto purchases occur on Deribit.com. The platform has these advantages:
It is accessible to residents of more than 100 countries
It allows traders free withdrawals and deposits,
It gives users as much as x100 leverage
It offers fair fees
Traders have been critical of Deribit in the past because of low liquidity. A bad algorithm lost the company 60 BTC ($200,000+). However, their numbers have improved since then, and for crypto fans who trade in futures, Deribit is gaining in popularity.
Technology
Deribit always aims to be technologically advanced. The trade-matching engine works with a latency of less than 1 millisecond. To trade, users can employ a web interface, API (application interface), or a mobile (Android/iOS).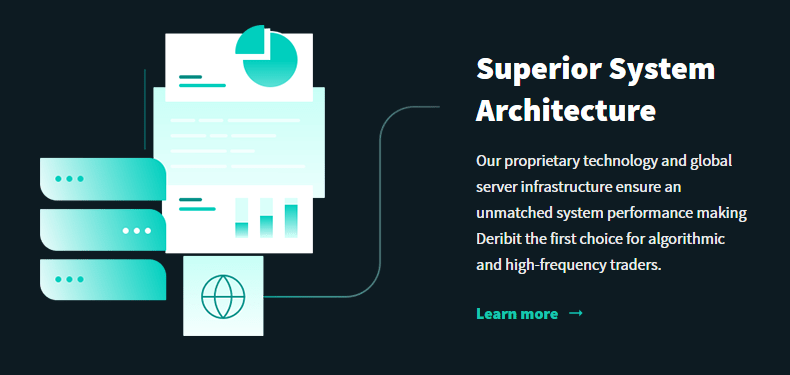 In addition, the platform works with bot software like BotVS, Actant, and HaasOnline. The site uses cold storage, which secures about 95% of its user's funds.
Functionality
Deribit.com's trading interface is intuitive and easy to use. It has broad functions and easy-to-view features like recent trades, trade history, and order book.
The platform has index, futures, and volatility charts along with technical analysis markers, statistics, and pertinent data about options and futures trading.
Trading Options
Deribit.com offers a large variety of trading alternatives, and users can access both Futures and Options exchange.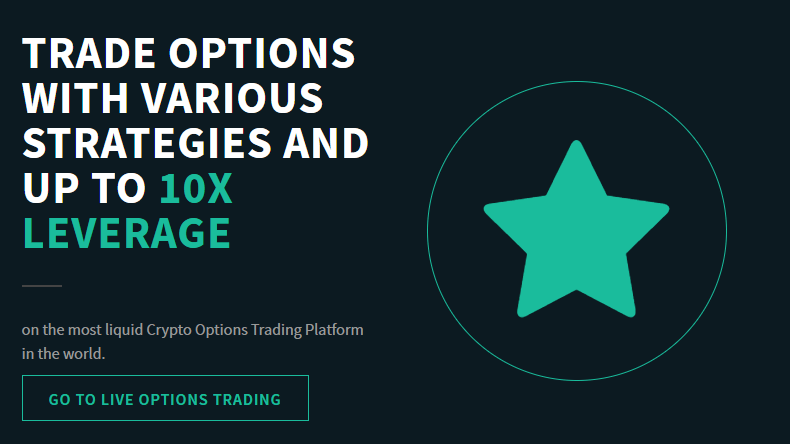 Its platform focuses on leveraged trading of up to x100 for BTC futures and up to x10 leverage on options. In addition, users can margin trade and practice their own trading approaches after they receive demo funds of 10 BTC.
Customer Support
There's a wealth of help available here. First off, the website is published in Spanish, Russian, Chinese, Japanese, Korean, Turkish, and English. The company's support helps users work with issues that may arise; the team also provides email addresses in its Members section.
Users can also contact the Deribit team via their Telegram group or Twitter account, and Deribit has a blog, a "docs" page, and an FAQ section. Finally, their Youtube channel explores several essential issues.
These together help explain essential points and trading tips.
Getting Started on Deribit.com
Let's look at some of the details about trading on Derbit, including how to set up an account, how to begin trading, and how to use their helpful practice program, free.
To begin trading on Deribit, start here.
Create Your Account
The site displays a register and login panel on the center of the initial page. If you're new, click "Create Account."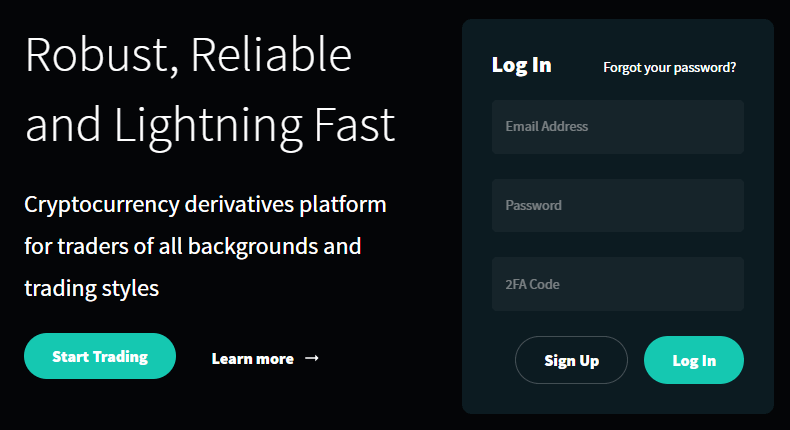 Enter your primary email address, a username, a secure password, and your resident country.
Deribit sends you an email by which you confirm the email address you entered. Now you can enter your account.
Make an Initial Deposit
Start initially by funding your account. Click "Deposit" on the top right part of the page. This generates a deposit address that allows you to transfer Bitcoin into your newly-created Deribit account. After your transfer processes, Deribit requires one confirmation before it allows you to start trading.
Withdrawals
Making a withdrawal is similar. You'll see the "Withdrawal" tab on the "My Account" page. Once you're on the Withdrawal page, enter your BTC's wallet address and the withdrawal amount.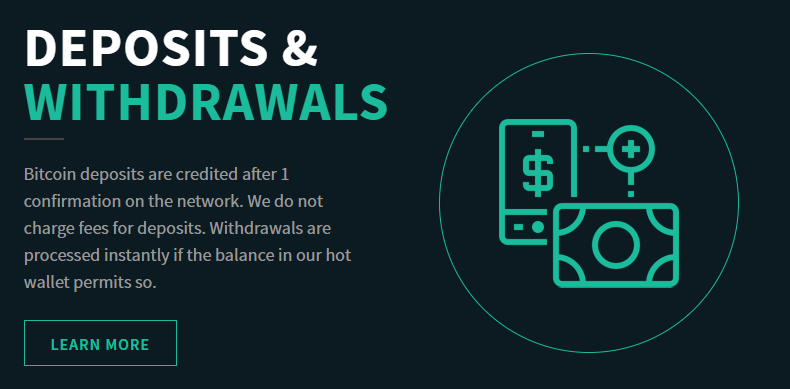 You have to choose the withdrawal's priority level. Deribit links these choices to the fee you pay. The higher the priority you choose, the higher the withdrawal fee you pay.
Select BTC Options or Futures Trades
Navigate the account to select the type of trade you want. The left part of the page shows the main choices; other basic features you will see at the center of the page.
Futures contracts are standard and show monthly expirations. Deribit derives its price index from top exchanges such as Bitstamp, Bitfinex, Gemini, GDAX, and Kraken.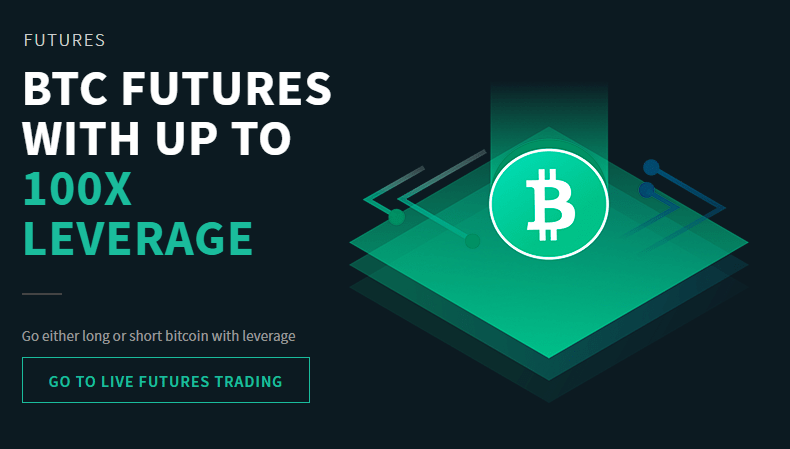 Deribit offers futures contracts at $10 each. Use the order panel on the left side of the page to choose the type of order you prefer:
A Stop Market option allows you to limit your risk. To do this, you can change the Stop price and Trigger, which depends on the Sell or Buy option you choose.
When you are finished reviewing your order, click SELL or BUY to confirm it. Confirmed orders show up on the bottom part of the page among the other open positions and orders.
Note: these are European-style options. This means you can't execute options on Deribit before expiration like you can for U.S.-type options. Click "BTC Options" located on the upper left side of the page to access the Options section.
From this area, click on any posted order to access any order form.
Free, Live Testnet
Deribit provides a live testnet to test yourself and your abilities. To use it, you need to go to test.derbit.com and create a separate account. At signup, you get 10 BTC demo funds, which you use to practice trading strategies and to become familiar with the platform and with trading derivatives generally.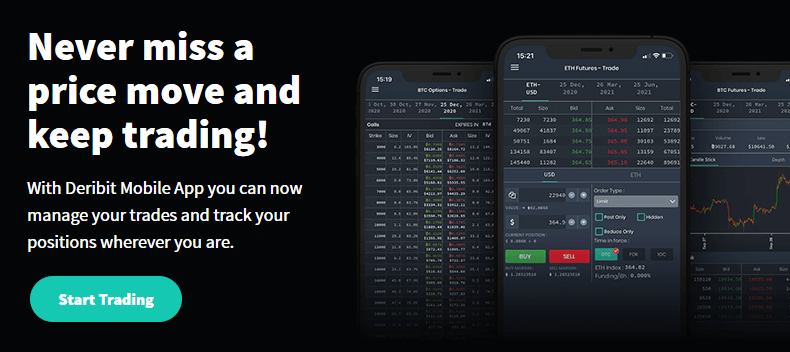 You can also use the testnet to fine-tune bots that you can use later on your live account using the Deribit API.
Supported Fees and Currencies
Deribit's specialty is Options trading and BTC futures. To trade, it requires users of the site to deposit BTC into their accounts.
At this time, it does not offer fiat deposit support. Experienced traders often make fiat BTC purchases on exchanges like Gemini, Coinbase, or Kraken before they transfer them to Deribit.
Deribit does not charge traders a fee for deposits. However, they charge fees on withdrawals. These fees depend on Bitcoin's mining charges.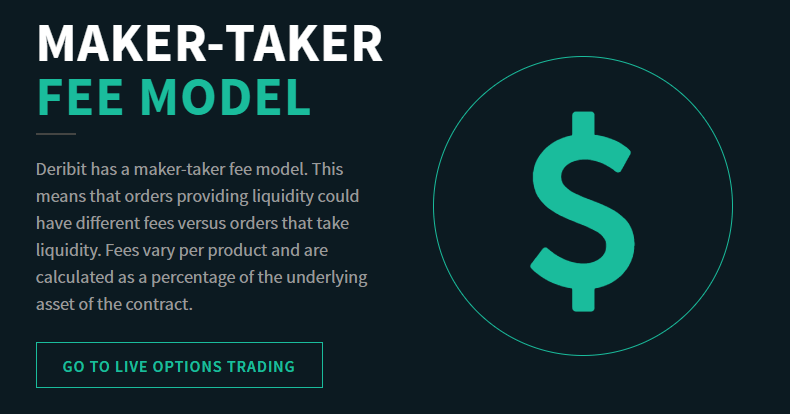 The platform also has a taker-maker fee schedule: for any futures orders that improve liquidity, it provides a 0.02% rebate; orders that require liquidity are charged a fee of 0.05%.
Perpetual orders on contracts that deliver liquidity get a 0.025% rebate; orders that remove liquidity are charged a 0.075% fee.
Here are some sample fees:
Perpetual Contracts
Taker fee: 0.075%
Maker rebate: 0.025%
Options
0.0004 BTC or 0.04% of the underlying option contract
The fee will never be higher than 12.5% of the option's price
Futures
Taker fee: 0.05%
Maker rebate: 0.02%
Options liquidations fees are 0.0019 BTC or 0.19% of the underlying option contract.
Futures liquidations fees are 0.35%
Perpetual contracts liquidations fees are 0.375%
For perpetual and futures contract liquidations, Deribit deposits 0.30% of the fees into their bankruptcy insurance fund; for options liquidations, they deposit 0.00115BTC or 0.15% of underlying for each contract to their insurance fund.
Deliveries
Deliveries generate half of the fees of taker orders, so:
Perpetual futures, 0.025%
The Safety of Deribit
With 95% of BTC held in cold storage, the platform is protected from hackers. (Cold storage also may cause slower withdrawals.)
Deribit also uses two-factor authentication, but you must set it up.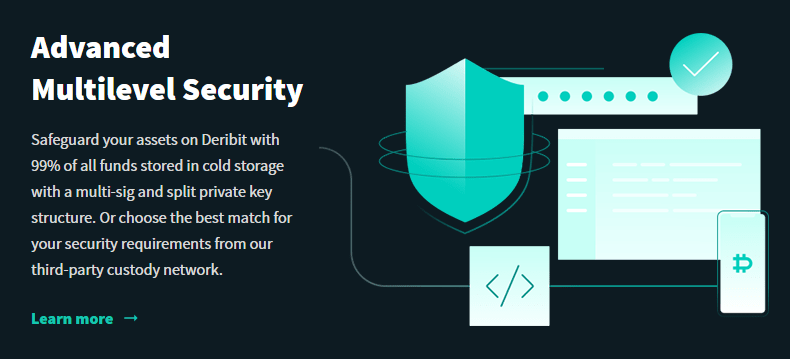 IP pinning identifies a switch of IP address during a session and ends the session if found. You can also adjust your session timeouts.
Note: experts advocate only retaining funds on an exchange when you are using them for trading.
Finally, Deribit maintains an insurance fund to cover bankrupt trader losses.
Conclusion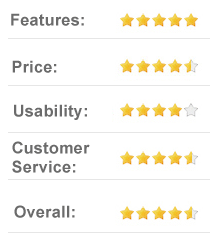 Deribit provides an alternative to other BTC trading exchanges and uses a wide range of features that make it appealing to more seasoned traders. It has a wide variety of analytics, it offers high leverage, and its insurance fund is appealing.
Combined, virtues like these make it a viable option for online futures and options trading.