In today's day and age, a website is critical to the success of your business, blog, or non-profit. But, not everyone wants to learn to code to have a beautiful landing page for their customers.
Having designed a few websites over the years and knowing that there are more accessible and more stunning designs and programs coming into the market, I wanted to see what Elegant Themes brought to the table. The most popular WordPress website builder on the market, it provides users with entirely customizable website layouts and a plethora of plugins.
About ElegantThemes.com
For the past 12 years, Elegant Themes has been growing to serve their customers and community by delivering unique, beautiful, and easy to use website designs. With over 650,000 customers, Elegant Themes has proven their websites work – both for them and the consumer.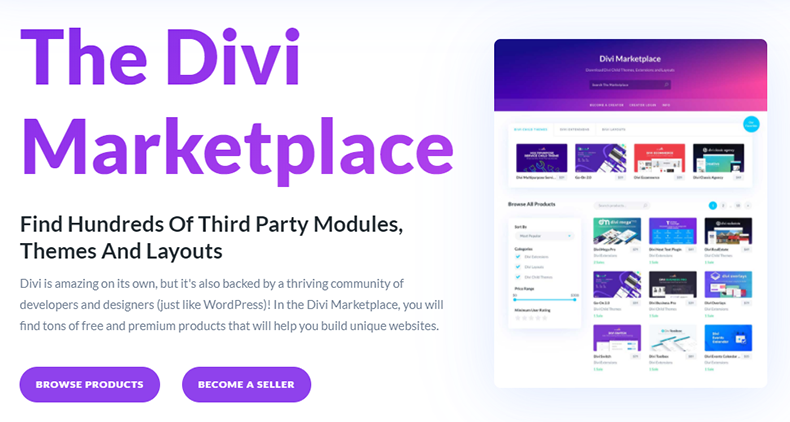 Elegant Themes allows you to build a website using a drag and drop system, allowing you to see what your webpage will look like as you go. This takes away the stress of coding and making changes on the backend, unsure of what the end product will look like.
Making web design accessible to the non-coding business owner and blogger is what Elegant Themes is built on, and they do it exceptionally well.
Top Products of ElegantThemes.com
Elegant Themes has products not just for your website but also for email marketing, social media, email, and sales. When you buy access to Elegant Themes products, you will have access to all four of their products. There is no option only to select one or two of them. But, it is crucial to understand what each brings to the table.
Divi
The unparalleled website builder, Divi, allows you to choose from over 160 layout packs and 1100 different layouts. This is the base on which each Elegant Themes product works on. The different layout options include:
| | | |
| --- | --- | --- |
| Restaurants | Learning Management | Fashion |
| Coffee Shops | Weddings | Copywriters |
| Real Estate | Doctors Offices | Blogs |
There are plenty more options, so almost anyone in need of a website could find something that fits their needs and themes.
In addition to building visually instead of through code, Divi allows you to insert effects to your website photos and background smoothly through their design interface. Choosing exactly where you want your picture in relation to the text is simple, too. Space dividers and sleek, clean lines help organize your website while keeping your brand at the forefront.
Divi speeds up the building process by allowing for bulk editing. This will enable you to change the font size of all your headings or text at once, rather than go one by one. Pairing this with the customizable layouts, Divi is incredibly easy to use – even for those who have never built a website.
Unique tools like their Find & Replace feature allow you to make brand changes quickly and to explore your options with ease. With the ability to look through the history of your site, you can also see where your brand has come from to help see where to take it.
Between the true visual editing and inline text editing, Divi simplifies website editing without taking away creative freedom.
Extra
For those bloggers or publishers who have new articles and content to manage constantly, Extra is the add on for you. Using the Divi Builder as its core, Extra builds pages and posts into categories, allowing you to organize your website well.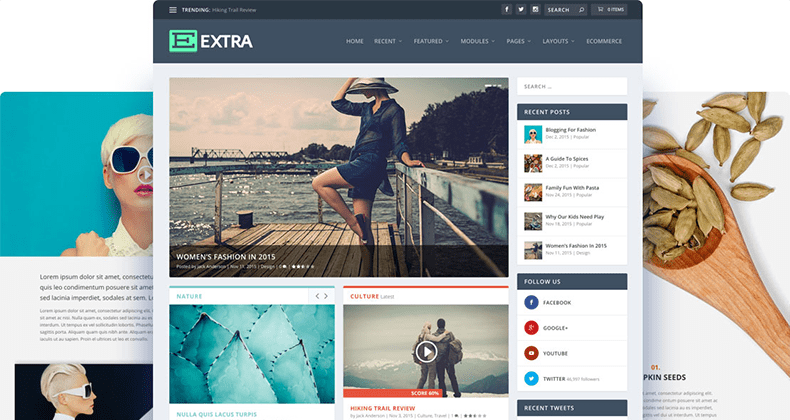 It is fully responsive, allowing users to view your website on any screen size and shape without awkward formatting issues. Extra has a built-in review system if you'd like your articles and posts reviewed and commented on. Also, it is built for eCommerce through an integrated WooCommerce plugin.
Bloom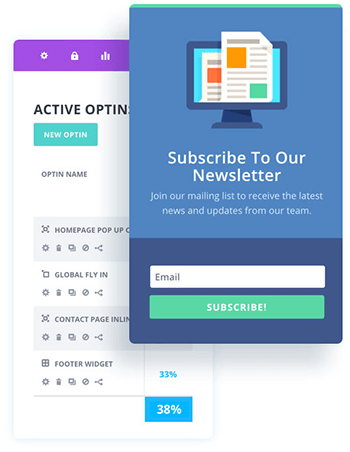 For those entrepreneurs desiring to get their email marketing ramped up, Bloom steps in. Email marketing will continue to be one of the best ways to communicate with your audience, and Elegant Themes knows just how to target specific audiences.
Bloom comes with the following options to increase your email reach:
Automatic Opt-In Fly-Ins
Opt-In Forms: In-line, Widget, and Below Content Options
Required Opt-In to Unlock Pages or Articles
Automatic Pop-Ups with Diversified Triggers
Integration with 19 Email Marketing systems like Mailchimp, Constant Contact, etc.
Lastly, the bloom dashboard allows you to check your website and email list traffic and data quickly to increase your reach in meaningful ways.
Monarch
Word of mouth recommendations now take places through ever-present social media platforms. Getting your content into the right hands and channels means huge sharing opportunities and a larger audience, which translates into more traffic to your site.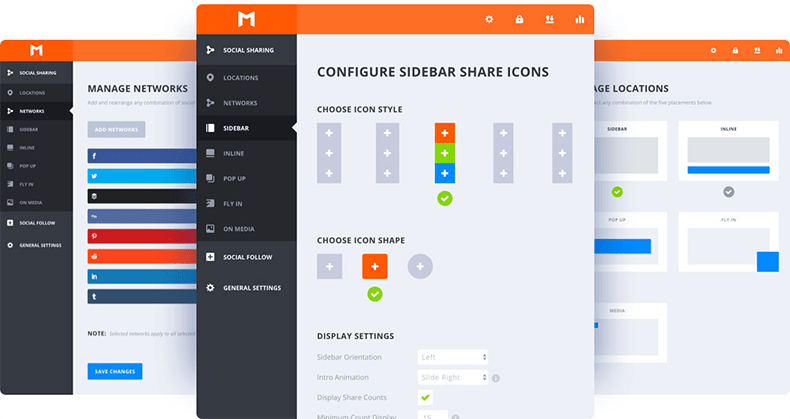 With Monarch, you will have a floating sidebar that allows people to share your content, photos, and pages to various social media platforms at the click of a button. With over 35 compatible networks and buttons tailored to your brand, Monarch delivers data and results that are well worth the investment.
Users can choose when they want pop-ups to appear, asking users to share or comment on the post. Options are:
Timed Delay
Bottom of Post

After Scrolling
After Commenting

After Purchasing
After Inactivity
These are paired with a multitude of orientation, layout, and color options, making sure your brand is represented while harnessing new opportunities.
Pricing of Elegant Themes Products
Elegant Themes has two different pricing options, a yearly access option, or lifetime access. Both get you access to Divi, Extra, Bloom, and Monarch, as well as hundreds of website options and layouts. You can build as many websites with Divi as you'd like, and updates are included as long as you have the subscription.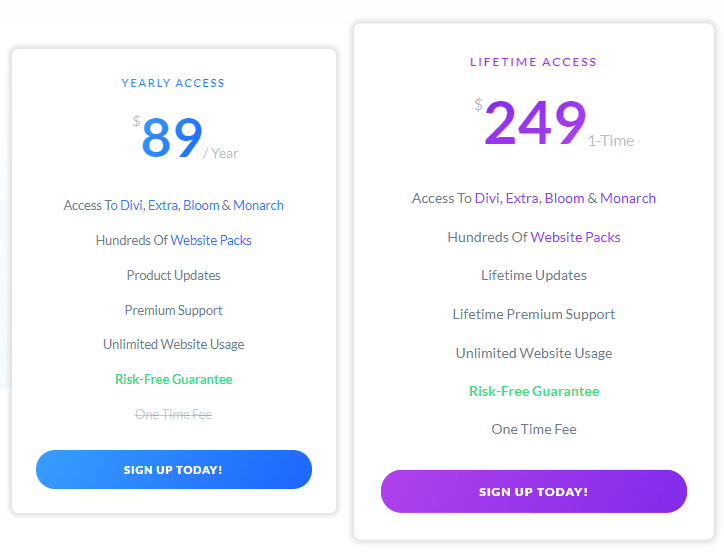 With a 30-day money-back guarantee, they make it easy to try it out for your blog or business. The Yearly Access option is $89 per year, while you can opt for unlimited lifetime access for a one-time fee of $249. Both of these are a bit pricey compared to the competition, but for most users, it will be worth it.
If you plan on having a website for more than three years or want to build a few, Elegant Themes is a steal. In particular, their one-time fee option is unique and assures you that you will have a top-notch website builder forever. We don't see Elegant Themes going anywhere any time soon, so this is a substantial investment in your blog or business.
Criticism of ElegantThemes.com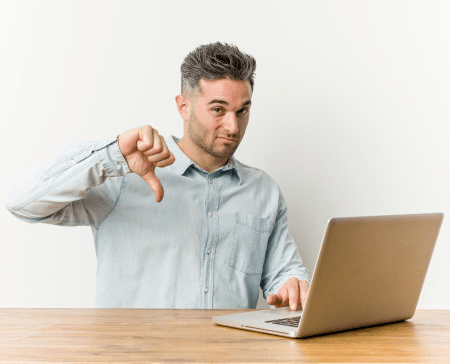 While Elegant Themes builds spectacular websites, some users may find it is more than they need. You are unable to buy just one single theme or product, so small bloggers or businesses may not want to spend the $89 for an initial subscription.
Besides, Elegant Themes has been growing in popularity in recent years. This has slowed direct customer service support, although there is a huge community to help support you.
If you stop your subscription to Elegant Themes, you can keep any theme you have downloaded and are using on a site. However, you will no longer get access to the updates, which may break down your website over time.
Lastly, the plugs in products allow users to get started with email and social media marketing but do not offer some of the features touted by their competitors.
Customer Support
There are three ways to get support with Elegant Themes: through the Members Area, Community Forums, or the Developer Docs.
The Members Area gives you access to account management and downloadable products. This is where you can start a chat with an associate, although the wait times have grown recently. To help alleviate the number of users using the chat, though, Elegant Themes has created plenty of documentation specific to each of their products.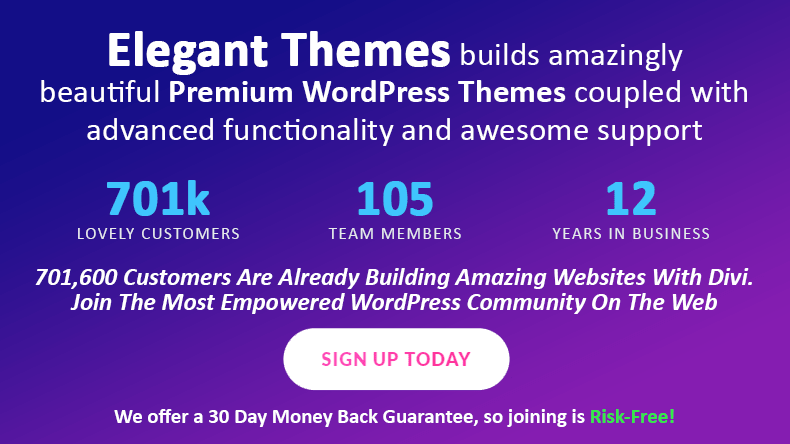 Community forums can be found through meetup.com and the Divi Theme Users Facebook group that has over 50,000 members. Not only will these provide you with people to help you work through issues, but the meetups can be a great place to brainstorm new site designs, ways to market, and get tips and tricks from fellow entrepreneurs on how to grow your business.
Overall, though, Elegant Themes customer service works hard and quickly to resolve any issue or hiccup you have. Always improving and publishing updates and bug fixes, I am confident in Elegant Theme's commitment to their customer.
Finally, the developer docs have in-depth tutorials, coding references, education on the most used hooks and modules, and more. I have found a few things that these documents and forums don't help with. The product they have built-in Divi is so straightforward and simple that few will find a need to reach out to the customer service.
Final Thoughts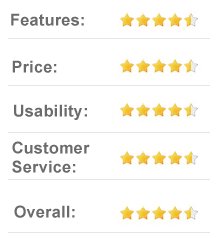 For those who love creating customized sites for their company or blog, Elegant Themes gives you cohesive tools to create an attractive and profitable website. But, this does mean you'll need to put some work into customizing the site to make it fit you and your brand.
Overall, though, Elegant Themes provides any novice or intermediate website designer with incredible tools to build their business.