Epidemic Sound is a global music distribution company that aims to empower creators with the best tools, services, and products in the industry.
They offer comprehensive music production, distribution, and monetization solutions, including an all-in-one platform for artists and labels, a one-stop shop for music supervisors, and a la carte licensing for all other uses.
The company's headquarters is in Stockholm, with offices in Los Angeles, New York City, Amsterdam, Seoul, and Hamburg.
Their all-in-one platform for artists and labels is convenient, and their a la carte licensing options make it easy to locate the perfect choice for your needs. Plus, with offices in major cities worldwide, they're a global player in the music tech industry.
About Epidemic Sound
Epidemic Sound is a royalty-free music provider that allows users to pay a monthly fee to access a catalog containing over 35,000 tracks and 90,000 sound effects. Listeners can filter by:
The monthly fee provides a music license that covers use across all online platforms. You can feel confident knowing that companies won't remove your content and that artists are getting paid for their work.
There are no ads and no catch. Simply browse, select, and download. Epidemic Sound is perfect for content creators who need quality music without the hassle.
History of Epidemic Sound
Epidemic Sound was founded in 2009 by Jan Zachrisson and professional songwriter Oscar Höglund. The company's goal was to streamline the process of adding music to digital media and remove the legal risks associated with the process.
In 2009 most downloads were illegally pirated. Streaming wasn't a possibility. Licensing was a mess, and straightforward music marketplaces didn't exist.
Epidemic Sound wanted to remove roadblocks for creators and eliminate restrictions. It was also crucial for Epidemic Sound to own all of the rights in its library.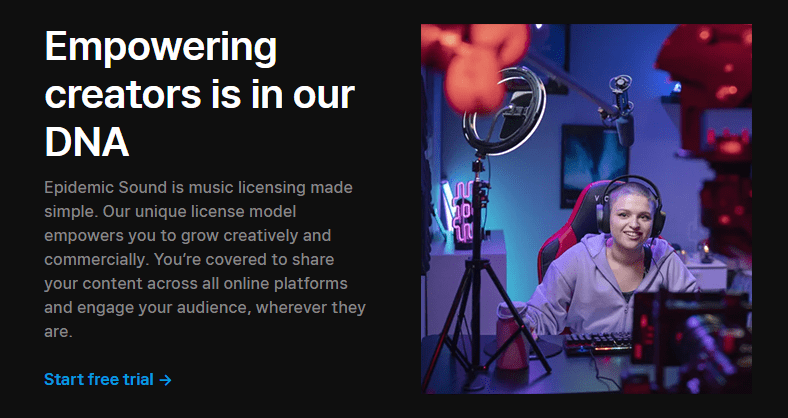 One early investor in Epidemic Sound was Creandum, who was also a Spotify investor. EQT also purchased a 40% share of Epidemic Sound in 2017.
The company has raised $34M in funding from investors such as Bonnier Growth Media, Kinnevik, and Industrifonden.
In 2019, Epidemic Sound raised $20 million from investors and reported revenues of $42 million. Operating costs were $68 million.
Epidemic Sound has entered into partnerships with companies including Canva and Adobe. People creating content on these platforms can include music from Epidemic Sound without leaving their project. Adobe Premiere Pro users can access their Epidemic Sound tracks directly through a library in Premiere.
Epidemic Sound uses artificial intelligence (AI) to recommend music based on what tracks get downloaded the most often. This process helps categorize music and sounds, and lets creators know where unfilled demand exists.
Epidemic Sound Music Features
Employees create curated albums to highlight the best new music in specific genres. These compilations are an excellent way to locate the best contemporary artists.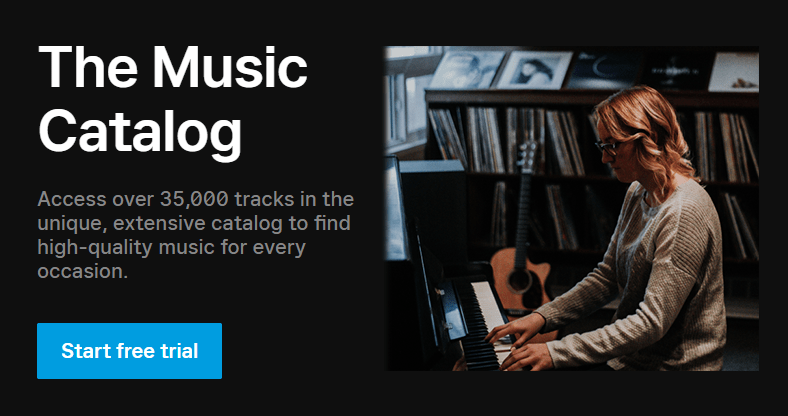 Featured music displays on the home page, including trending songs and the latest releases. The home page also shows the most downloaded moods and styles.
Staff picks are updated frequently and are a good way to find new music.
The Epidemic Sound App
You can use the app if you have an Epidemic Sound account. The app is available for both iOS and Android devices.
You must create an account on the website before logging in to the app.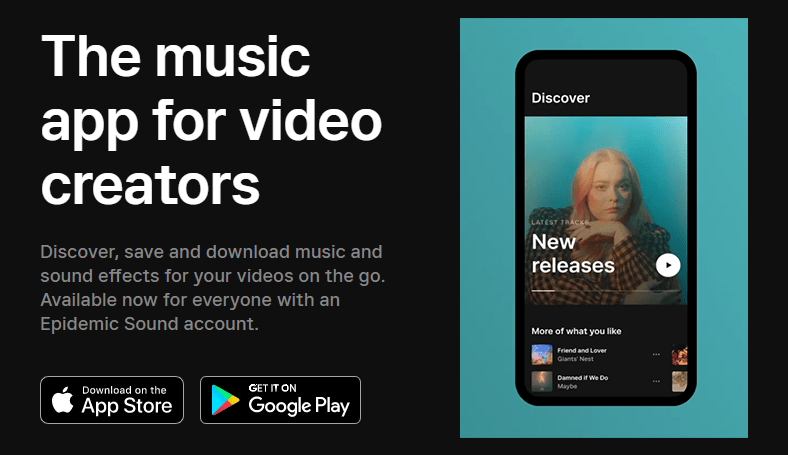 The app has all of the website's features, including the ability to search by genre, mood, tempo, and vocals. You can also create playlists and save tracks offline.
The app is also a great way to access your account if you're away from a computer.
You can download songs with the app and use them in editing programs, store them in a program like Dropbox, or email them.
Top Features of Epidemic Sound
Some of the top features of Epidemic sound include:
Unlimited downloads
30-day free trial
Direct license to use downloaded tracks
Epidemic Sound also has a 'Find Similar' algorithm that suggests new music based on what you have played. If you're looking for individual song elements (for example, only the drums), you can download stems.
You can also use social media to link to your Epidemic Sound library and live stream.
Reasons To Join Epidemic Sound
There are many reasons to join the platform, including the following.
Licensing and Copyright Policies
Having YouTube remove content is frustrating, and receiving three copyright strikes in 90 days will lead to a permanent ban from the platform. But you can trust Epidemic Sound to cover licensing requirements to avoid this situation.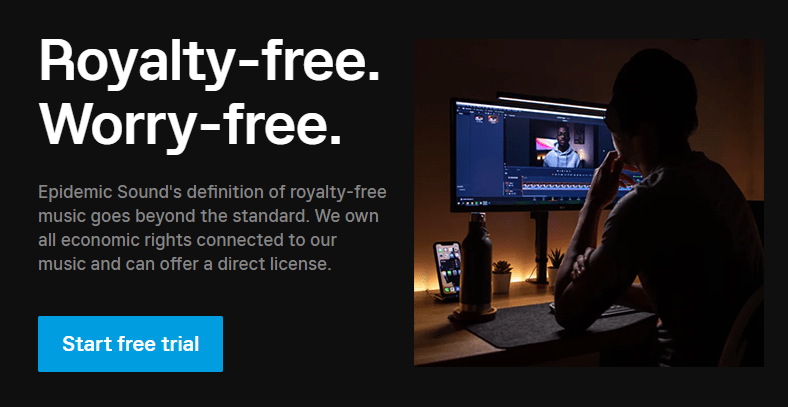 Songs used during an active membership will retain usage rights even after you cancel your membership.
Epidemic Sound also ensures all artists aren't part of a Performing Rights Organization (PRO). PROs collect royalties for songwriters and publishers when a song is performed or broadcast, which means Epidemic Sound has complete control of the rights to use music without fear of copyright claims.
Epidemic Sound Commission
Artists and producers submit tracks to Epidemic Sound for distribution on streaming platforms. The goal is to be part of playlists with millions of listeners.
Artists receive compensation for their music's masters and publishing rights, and Epidemic Sound offers a 50/50 split of streaming royalties. Contracts are short-term, so artists aren't locked-in forever.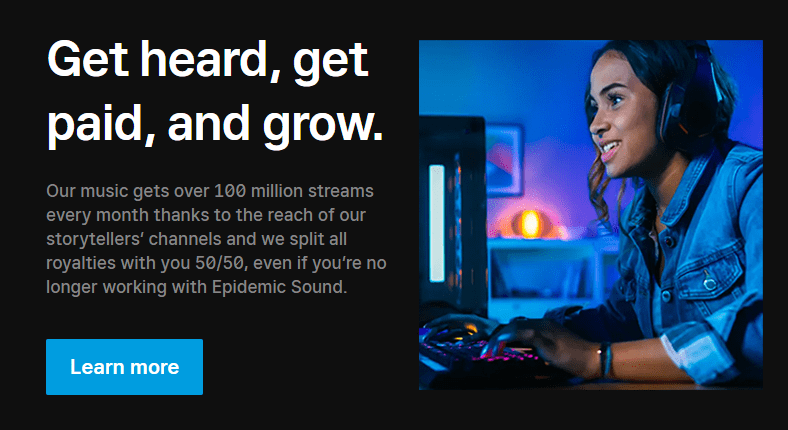 Artists can potentially make tens of thousands of dollars annually, with certain artists making hundreds of thousands.
Epidemic Sound is a good way for artists to get their music on popular streaming platforms and make money from their tracks.
Epidemic Sound Costs
There are three membership tiers. You can pay for an entire year or pay monthly.
Personal Subscription
The Personal subscription is $9 per month if you buy a year or $15 month-to-month. You receive unlimited downloads, and licensed use of tracks on TikTok, Facebook, YouTube, Twitch, Instagram, and podcasts.
You'll be able to have one monetized channel on each platform and access to a mobile app.Get Started
Commercial Subscription
The Commercial subscription is $19 per month if you buy a year or $49 month-to-month. You receive everything in the Personal subscription, plus coverage for websites, online platforms, and social media.
You also get permission to publish content for your business and clients, and unlimited use in digital ads.Get Started
Enterprise Subscription
The Enterprise subscription requires a quote from Epidemic Sound. You receive everything from the Commercial option, plus multiple user accounts, rights for use in TV shows and ads, and customized deal terms.Get Started
Customer Support
Epidemic Sound has a knowledge base with articles covering many common problems. There's also a contact form to reach the customer service team who are responsive and helpful.
Epidemic Sound has offices in several time zones, which speeds up response time. You'll likely get a response within 24 hours if you contact the support team.
Epidemic Sound Licenses and Regulation
Users can connect social media platforms to their Epidemic Sound account to prevent issues with YouTube copyright claims. You can only use tracks that you downloaded during the subscription period.
Epidemic Sound doesn't offer songs by major recording artists. The focus is on unknown and smaller artists. You will need to work with a different music provider if you need to license popular music.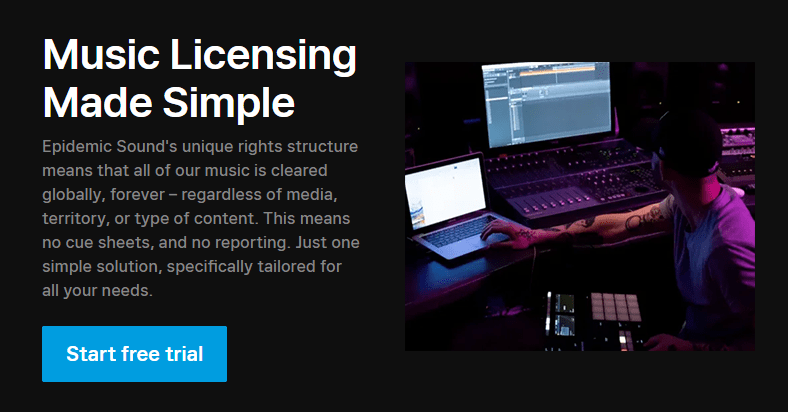 Due to regulatory issues, Epidemic Sound only works with artists in the US and Sweden.
However, Epidemic Sound is an excellent resource for high-quality, affordable music. The company has a strict copyright policy to protect users and artists, and the site is easy to use. You're sure to find the ideal song for your project with many diverse tracks.
Final Thoughts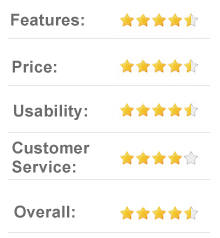 It's vital to read the terms and conditions before signing up for a subscription. You'll be responsible for all charges incurred by your account, even if someone else used it without your permission.
EpidemicSound.com is a fantastic platform for artists to share their music and get paid for their work. The site is easy to use and navigate, and the customer support team is excellent. The subscription costs are reasonable, and the licensing agreement is clear and concise.
Epidemic Sound is the way to go if you're looking for top-notch music production, distribution, and monetization solution. They've got you covered with an all-in-one platform for artists and labels, a one-stop shop for music supervisors, and a la carte licensing for all other uses.
Plus, their global reach with offices in major cities worldwide makes them a force to be reckoned with in the music tech industry.