CFDs are complex instruments and come with a high risk of losing money rapidly due to leverage. 67% of retail investor accounts lose money when trading CFDs with this provider. You should consider whether you understand how CFDs work, and whether you can afford to take the high risk of losing your money.
You've probably heard of eToro, one of the most popular global online financial trading platforms. eToro stands out for its intuitive web platform and excellent mobile app, which are ideal for casual investors. But is this broker trustworthy? Is using eToro's platform worth it?
In a word–yes. Because finding the right broker for you can be time-consuming and challenging, I want to make things easier for you. In this eToro review, we're going to assess the platform across several features and deliver need-to-know information.
Let's jump right in.
History of eToro
Though it's currently known for social copy trading and cryptocurrency trading, eToro has evolved since it was born in 2007. It was the idea of three entrepreneurs whose goal was to make trading accessible to everyday people–without relying heavily on banks. It allowed traders access to the platform's user-friendly graphs and simple-to-use interface.
In 2009, eToro launched WebTrader, a designated platform with tools for all traders, regardless of skill level. And in 2011, OpenBook was born, and it became the first social trading platform in the world.
eToro has since created mobile apps and expanded into cryptocurrency and commodities. It has become a platform that's well-tailored to anyone with a working knowledge of forex and cryptocurrency trading.
When it comes to trader safety, eToro performs well. Two tier-1 jurisdictions and one tier-2 jurisdiction regulate it, so eToro is a low-risk broker for trading forex and CFDs. Note that the company is not publicly traded and does not operate a bank.
Top Features of eToro

Headquarters: Cyprus
Broker Type: Market maker
Minimum deposit: $50 in the U.S. and Australia, $200 elsewhere
Regulation: CySEC, FCA, ASIC
Maximum leverage: 1:30
Platform type: Proprietary
Instruments traded: Commodities, metals, stocks, ETFs, CFDs, oil, gold, indices

Who Is eToro for?
eToro may be right for traders with many different interests, which makes it suitable for most traders.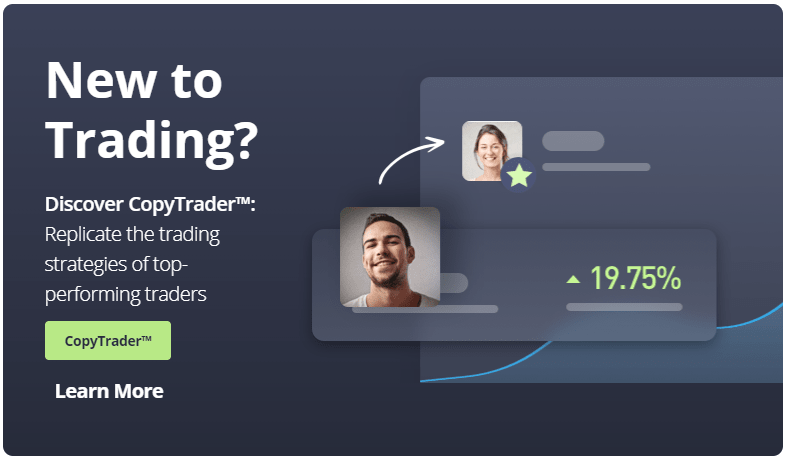 It's excellent for cryptocurrency traders in the U.S., thanks to its graphics-intensive platform. It's also well-tailored to users outside the US who want to trade stocks and contracts for difference.
Plus, its proprietary platform allows clients to implement copy trading with ease. (Keep in mind that there is no guarantee of gains or loss when it comes to copy trading.)
What Makes eToro Different from Other Platforms?
Users choose eToro for lots of reasons, but one thing that makes it stand out is the vast number of investment and trading options you can take advantage of. These options make it easy to use eToro for both traditional assets and cryptocurrency, making it highly flexible.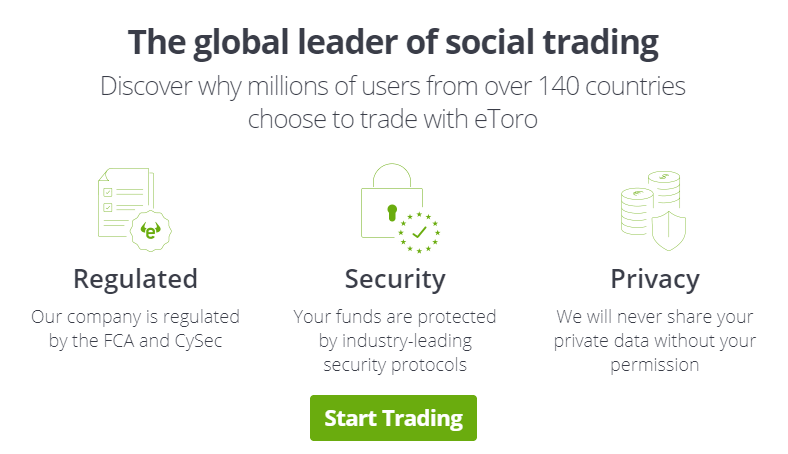 The company has also evolved over the years, adding unique features like CopyPortfolios, which allows traders to mimic investments from other successful traders.
eToro Accounts
One feature that makes eToro attractive is how easy it is to set up an account. Accounts can be opened online, and the process is straightforward. You have to provide some documentation, and after you do, there's typically a one- to four-day wait while eToro verifies your identity.
If you live in the United States or Australia, the cost of opening an account is $50. Elsewhere, the price is $200, and the platform allows you to fund an account with credit cards. You can also use platforms like Neteller, Paypal, or Skrill.
Finally, eToro utilizes Plaid to link a bank to your trading account.
eToro Commissions and Fees
With eToro, stock trading is free, and there are no deposit fees, although forex trading fees are on the steep side. If users are inactive for more than one year, they are charged a monthly inactivity fee. Additionally, fees for withdrawals outside of the U.S. are $5, and withdrawals in non USD currencies are subject to conversion fees.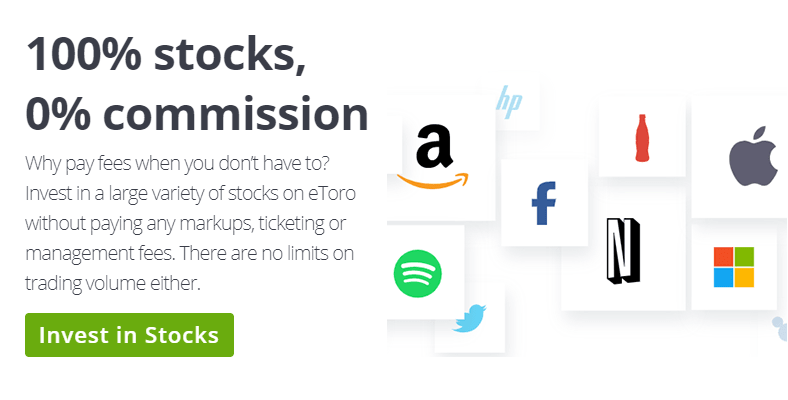 The spread for EUR/USD is 3.0 pips, and the spread for AUD/USD is1.0 pips. These numbers may be considered high for the industry; however, these costs may be justified considering that other brokers don't offer the same services as eToro.
eToro Supported Currencies
eToro offers a wide variety of support currencies. Their branded tokens include the following fiat currencies:
United States Dollar
Euro
Pounds Sterling
Australian Dollar
Japanese Yen
Canadian dollar
New Zealand Dollar
Swiss Franc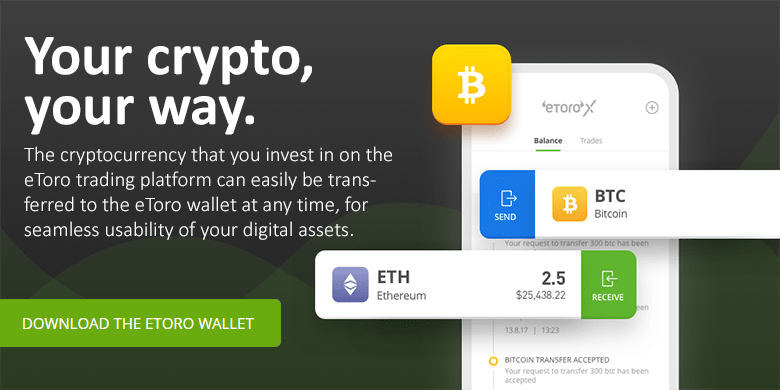 As mentioned, eToro supports several common cryptocurrencies. These include:
Bitcoin (BTC)
Bitcoin cash (BCH)
Ether (ETH)
Litecoin (LTC)
Besides stable currencies, eToro allows for the trading of digital assets linked to the price of commodities, including gold (GOLDX) and silver (SLVRX).
eToro Regulation
eToro has its main headquarters in Tel Aviv, Israel, and it operates under regulated entities in Cyprus, Australia, the UK, and the US.
Regulation is critical because it gives brokers recourse if they have issues with the platform. Regulation also means that brokerage firms must comply with rules and criteria set forth by a recognized international authority. It's designed to protect traders and foster a safe trading environment.
It's worth mentioning that eToro has had a couple of hiccups with regulation over the years, but traders can trust this broker. eToro publishes all required documents on its website, and they are serious about transparency.
Let's look at each of the regulations eToro is subject to.
Cyprus Securities and Exchange Commission
The first jurisdiction is the Cyprus Securities and Exchange Commission (CySEC) jurisdiction. The CySEC is the primary regulator for eToro, and it covers most of its traders. Additionally, traders receive protection under the Investor Compensation Fund (CIF) up to a maximum coverage of 20,000 euros.
Financial Conduct Authority
eToro is subject to Financial Conduct Authority (FCA) authorization and regulation as well. As a result, traders are covered under the Financial Services Compensation Scheme (FSCS) for an amount of up to 85,000 pounds.
Australian Securities and Investments Commission
In Australia, the Australian Securities and Investments Commission (ASIC) authorizes eToro.
Customer Support
Members can access customer support via several channels, such as live chat and a web-based ticketing system. Whichever you choose, getting the answers you need is straightforward. In the case of the ticketing system, issues are resolved via email. Additionally, customer service is available in all the languages the platform offers.
Where eToro's customer support falls a bit short is availability. Customer service has no weekend hours, and there is no phone support, either. Furthermore, finding the live chat feature requires a thorough search of the website, and it's often offline.
eToro Pros and Cons
Finally, here's a short list of eToro's pros and cons.
Pros:
Easy account opening
Free stock/ EFT trading
Innovative social trading
Highly regulated
In my opinion, the seamless process of account opening and commission-free stock trading are two of eToro's greatest assets. Users can also benefit significantly from the social trading aspect, which allows you to copy other successful trader's strategies. And as I discussed in the regulation section, eToro is subject to extensive regulation.

Cons:
Slow withdrawal times
High forex fees
Only includes one base currency
Assets aren't held
On the flip side, eToro's withdrawal times can be considered relatively slow, often taking days. Its forex fees are high compared to other brokers, and the only base currency it currently offers is in USD. Additionally, users are unable to access their assets. Instead, they can only be traded for fiat, which some traders aren't a big fan of.
Final Thoughts
Overall, eToro is a trustworthy broker with a long history. It's well-suited to anyone who invests or trades cryptocurrency, and its easy-to-use interfaces are what help eToro stand out. It's also excellent for anyone who trades regular stocks and forex or wants to invest in pre-built portfolios.
While I recommend doing plenty of research to ensure eToro is right for you, keep in mind that their demonstrated track record has given them an excellent reputation. If you're interested, it's well worth giving eToro a shot.