You can chalk learning to play an instrument alongside running a marathon and writing a book to the most common bucket list goals.
It's one of those goals that people plan to get to…one day.
Why wait?
Thanks to the internet, you can learn to play an instrument with apps or other software.
Have you ever wanted to be able to sit down at a piano and play? With Flowkey, now you can!
Available on the Google Play and Apple App stores, you can download Flowkey and learn your favorite songs in minutes.
What Is Flowkey?
Flowkey is an app that allows you to take online piano lessons any time, anywhere. The on-screen features show you the keys on the piano as you play.
You can find sheet music right under the on-screen piano. It shows a real-time video of someone playing that allows you to connect the notes you see on sheet music to your piano's actual keys.
Trusted by one million users already, Flowkey is a must-have tool for beginners. Better still, Flowkey enables you to master the songs you've always wanted to play.
With over 1,500 songs in the library, you're sure to find one that suits you. Flowkey teaches you how to play the piano, on your time, and with the songs you love.
Depending on your experience and skill level, you could learn some of your favorite songs in minutes.
Flowkey's Features Make Learning Fun and Easy
When it comes to learning to play the piano, Flowkey has built-in features designed to help you master important concepts. Flowkey creates an experience that is customizable to your specific needs.
With Flowkey, you'll learn how to play notes and chords using an interactive and engaging on-screen display.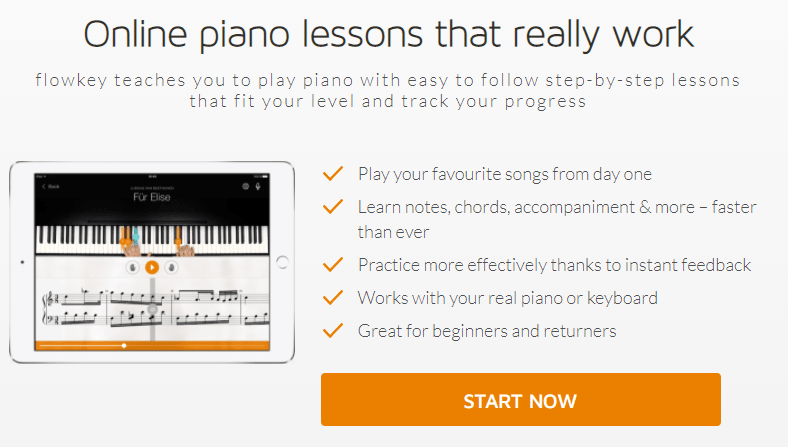 Flowkey offers interactive real-time integrations and features, like:
Video and sheet music
Wait mode
Slow-motion
Loop function
With customizable features, you'll tailor the lessons in a way that helps you learn best. Let's break down these features in a little more detail.
On-Screen Video & Sheet Music Display
Thanks to Flowkey's interactive on-screen display, it doesn't matter if you're an auditory or visual learner.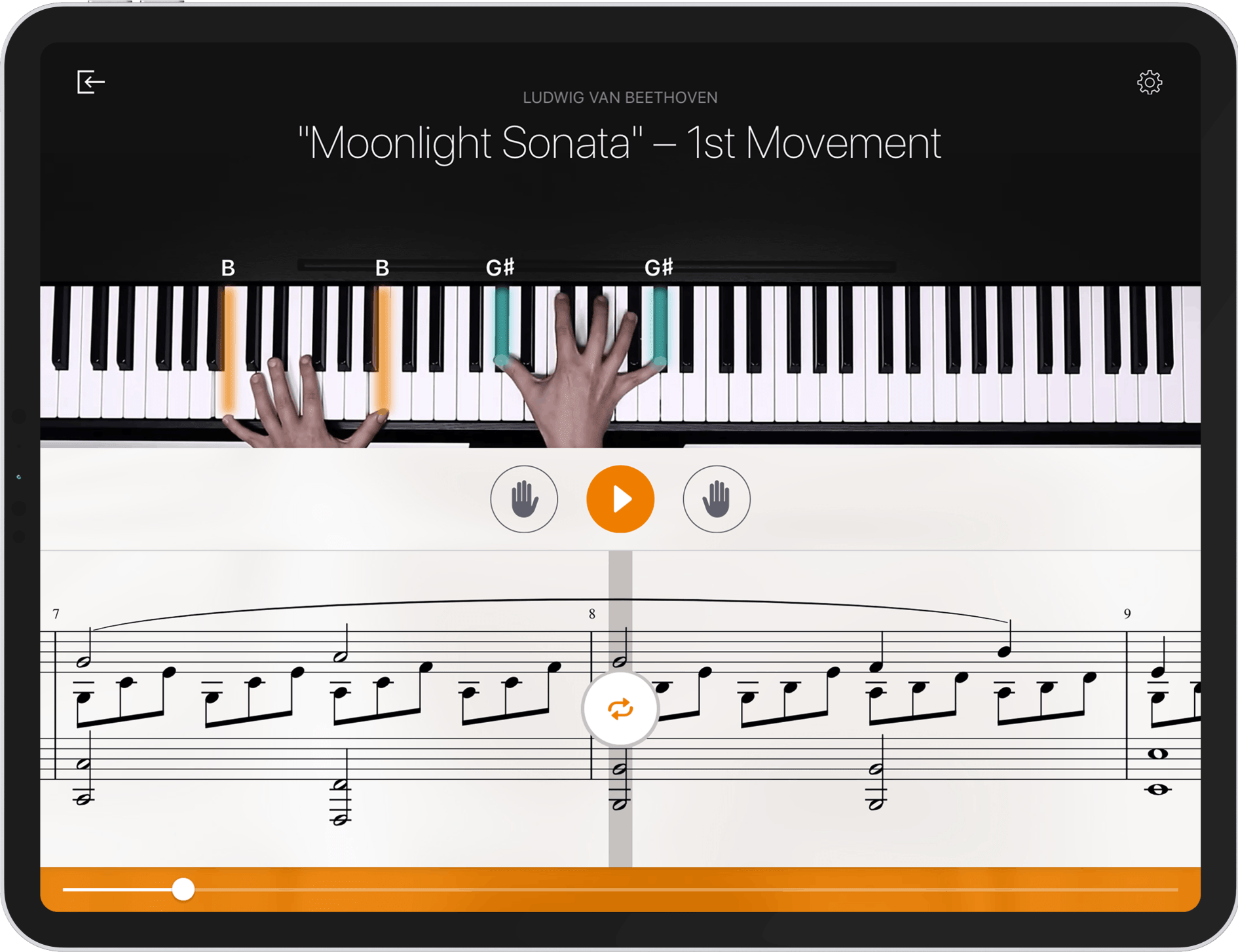 The on-screen video, sheet music display, and the real-time sound recognition software built right into the app has you covered.
These features create a learning experience where students can learn by ear or memorize sheet music.
Wait Mode Allows for Real-Time Feedback
Thanks to wait mode, you're able to receive feedback in real-time. The sound recognition software analyzes what you play and will wait until you play the correct note.
The real-time feedback allows you to make a few changes in the way you play before bad habits set in.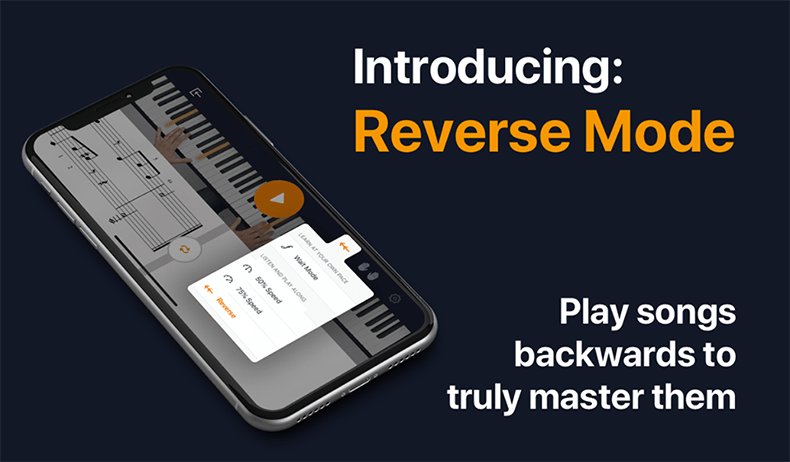 With positive real-time feedback, using the mic built into the app, you'll feel like you're leveling up with each correction you make in your playing.
Slow Motion Provides Different Speeds While Learning
Flowkey's slow-motion feature allows you to choose the pace of the song you're practicing.
When you start learning a new song, you can choose a slower pace to take the melody in and get all the time you need to memorize the notes.
The slow motion feature is an interesting benefit for beginners because it might take you a while to identify the right keys. Keeping up with the music can be frustrating when you need a few seconds to visualize where the keys are.
Loop Function Provides the Benefit of Repetition
Whenever you learn a new skill, it feels like work, until muscle memory kicks in.
Thanks to Flowkey's loop function, you can break down parts of a song. Play them on a loop without distractions to help speed up the muscle memory process inherent to learning a new song.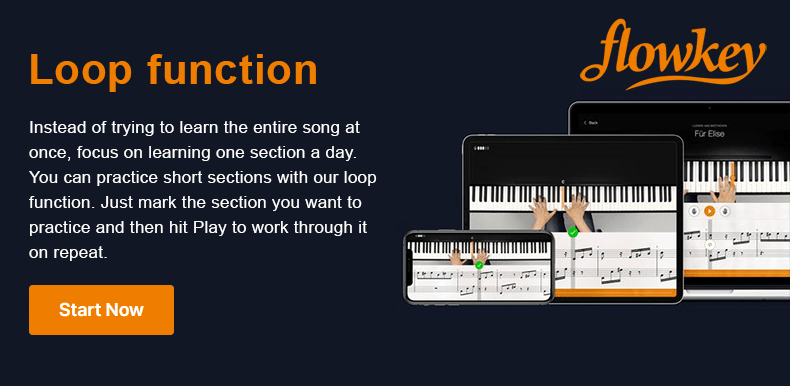 As you build up your chops, you can work on difficult sections of a piece with the loop function until you're ready to play all the way through.
Select a Hand Feature Allows for Customized Learning
Flowkey understands that when learning to play a new song, it may be easiest to focus on one thing. They have added the select a hand feature so that you can focus on the left or right hand when learning a new song.
You can master one hand before moving on to the other. Practice with one hand at a time and play the entire song when you're ready.
How Much Does Flowkey Cost?
Flowkey has a few different options when it comes to their pricing plans. If you're curious about the app and would like to test it about before purchasing a plan, they offer selected services for free.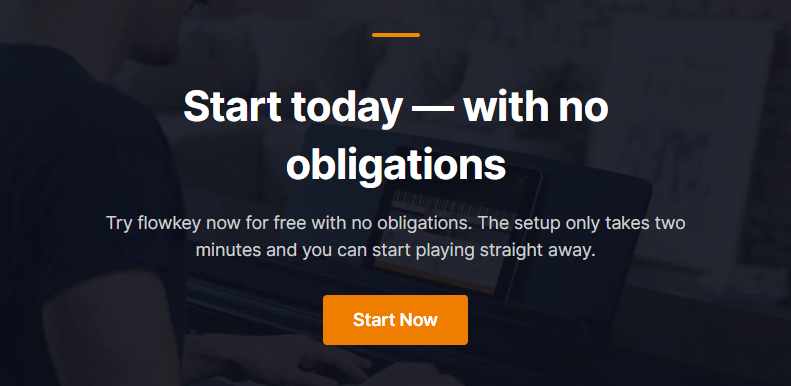 Here's what you get when you test the app for free:
Select online piano lessons
These freebies do not require credit card information to try out. All you need to do is set up a free account. You can start learning one of the eight free songs right away.
Flowkey Premium Prices & Features
While having the ability to try out the product for free is great, learning to play the piano requires an investment on your part.
Enter Flowkey premium pricing.
Flowkey offers four different packages depending on your needs. Here is a breakdown of Flowkey premium pricing packages: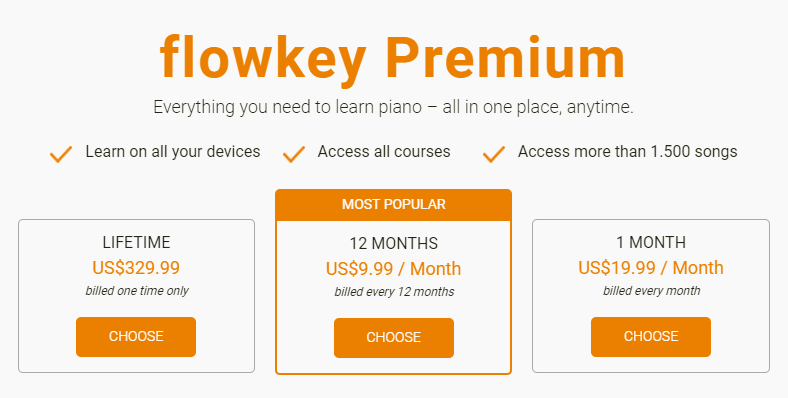 One month – $19.99 per month. Billed monthly.
12 months – $9.99 billed every 12 months.
Three months – $12.99 billed every three months. This is the most popular option.
Lifetime – $399.99 billed one time only.
There are benefits and drawbacks to each of these plans.
You can try out the one-month plan only to discover you like it. Then you have to switch over the three or 12-month plan, losing money on your initial investment.
While expensive, the lifetime license saves you the most money over time, but it's a considerable upfront cost. Our recommendation is to consider your current level and how motivated you are about learning to play the piano.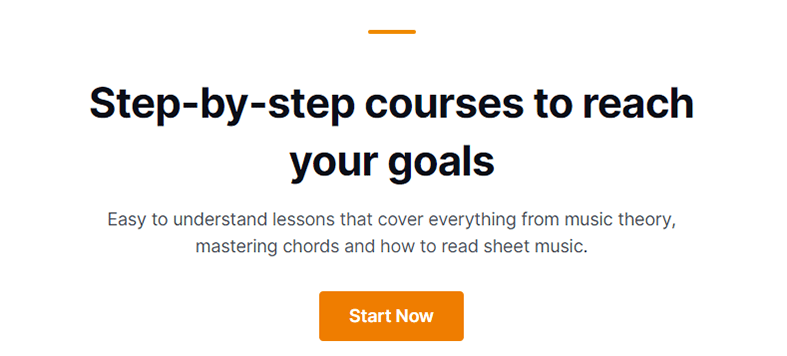 Compared to other online piano apps, premium prices seem to match other competitors.
Here's what comes with a Flowkey Premium account:
A library of 1,500 songs to choose from
Access to all of Flowkey's courses
Full access across all devices
These features seem great for the price. Flowkey is always updating courses, so the value for the money you pay will only increase, granted they don't raise their rates in the future.
Special Offer for Yamaha Owners
Did you know that Flowkey has a partnershipt with Yamaha?
If you have recently purchased a Yamaha digital piano or keyboard, you are eligible for three free months of Flowkey Premium.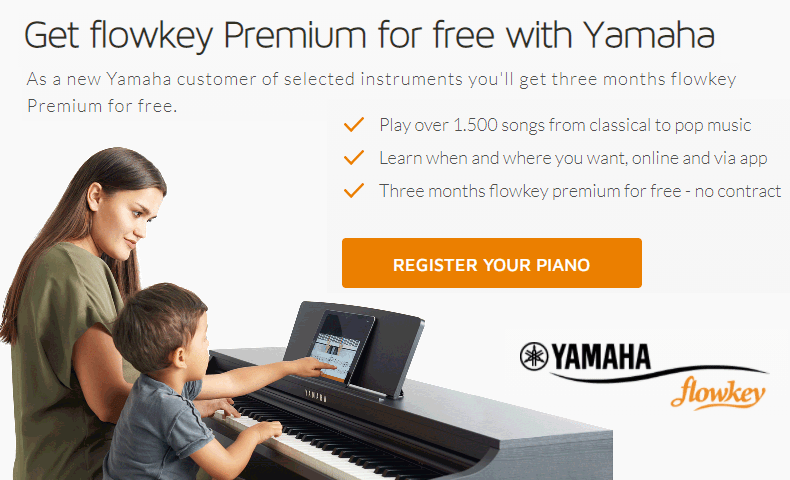 To get your free three months of Flowkey Premium, just follow these steps:
Create a Yamaha Account.
Register your new instrument.
Receive a voucher code from Yamaha via email to redeem in the Flowkey app.
Simply follow the three steps above to redeem your free three-month Flowkey Premium voucher, good until March 31, 2021.
Benefits and Drawbacks of Flowkey
Compared to other app that offer a similar service, Flowkey has a clear advantage in a few areas.
Benefits of Flowkey
Here are the main reasons to consider Flowkey over other options: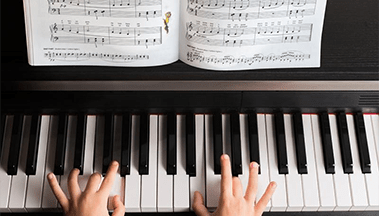 Music Theory
Flowkey offers an extensive array of lessons. They help the beginner piano player learn music theory. Other platforms don't offer this function. Flowkey focuses on learning to read notes, understanding different rhythms, and learning scales.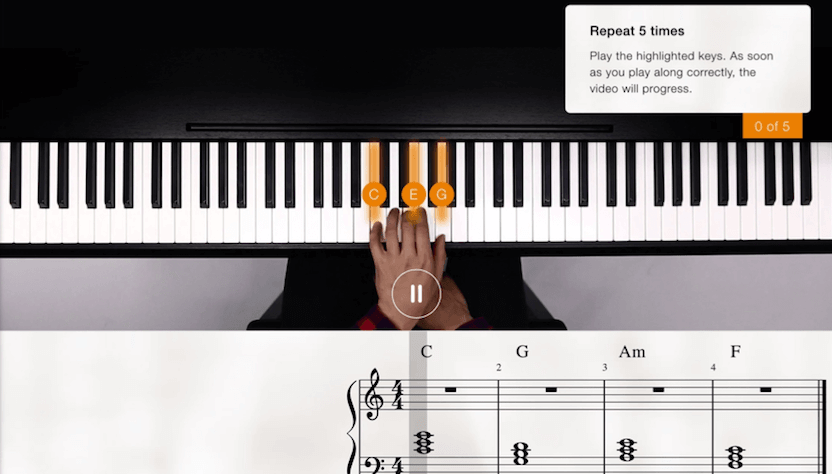 Learning Chords
Chords are the foundations of learning music. It helps that Flowkey puts a natural emphasis on learning chords. They have a few lessons devoted to learning chords. They also touch on three-note chords and four-note chords.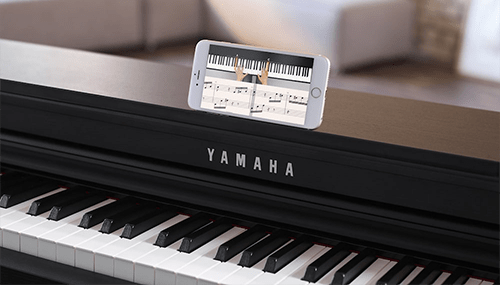 Real-Time Video
Other apps feature animated keyboards that light up. Flowkey uses real-time video to get a birds-eye view of the piece by watching someone's hands move along the keyboard.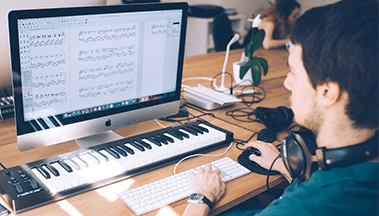 Challenging
Depending on your skill level when you start the app, some songs may be more challenging. If you're a person who likes a challenge, you may like that Flowkey has a better selection of songs with different levels compared to some other apps.
Drawbacks of Flowkey
There are a few drawbacks to consider:
Less space for music sheet – Flowkey puts an emphasis on being different. It shows real-time video. However, this feature takes away screen space for sheet music. If you're more comfortable with following sheet music than watching a video, the screen space could be a drawback.
Wait mode is the default feature – Unlike other apps on the market, Flowkey doesn't offer a practice mode. While it provides features to help you practice, you have to click through to find them. The default setting when you open the app is wait mode, which waits for you to play.
Navigation – Flowkey has many navigation elements you have to click through to get to the point where you practice the song. It doesn't support voice commands like other apps.
Final Thoughts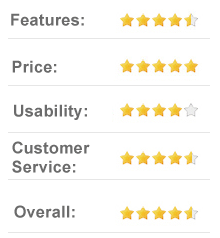 Flowkey is a great app to help beginners learn how to play the piano. With its advanced features and music theory lessons, you'll be playing like a pro in no time.
Help someone cross off learning to play an instrument from their bucket list.
If you would like to gift Flowkey to someone, Flowkey offers gift vouchers for three years. They offer three months and 12-month vouchers.
If you would like to test Flowkey for free, click here to get started.