FxPro is a trading company based in the U.K. that deals with Forex, CFD, and spread betting. Over the past 14 years, they have executed over 250 million orders. Today the company operates in countries all over the world with over 870,000 client accounts and 100 million euros of Tier-1 capital.
They are well-known in the field to be a reliable and trustworthy broker. And they are regulated by the SCB, DFSA, FSCA, CySEC, and FCA.
We're going to discuss some of the key features of FxPro, tell you what's great about them and what could be better.
About FxPro.com
Forex allows you to trade just about any currency pair that you desire and it's one of the more commonly traded markets. To use Forex, you need a reliable platform, and you need sufficient benefits to give you a trading edge.
One of the best international Forex and CFD trading platforms is FxPro. With FxPro, you can utilize several different tools. This gives you access to popular Forex pairs and many exotic pairs.
In addition to Forex, FxPro also lets you trade CFDs on many asset classes that cover over 200 different types of assets, which allows you to expand. This broker offers dealing desk access as well as true ECN (non-dealing desk).
FxPro was established in 2006. Since then, their growth has led them to becoming a top company specializing in Forex. They are now available in more than 170 countries with established offices in many major cities around the globe and their home base is in the U.K.
FxPro provides Contracts for Difference (CFD) on six separate asset classes. This is helpful because it gives you the opportunity to find the best fit for you and your situation.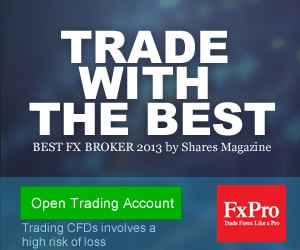 Another thing that we appreciate about FxPro is that they give you four different trading platforms, which include FxPro Trader, FxPro Edge, FxPro MetaTrader 4, and FxPro MetaTrader 5. We'll talk more about these in a minute.
It's a big plus that they give you the variety and option of choosing which platform best meets your needs. Many of their competitors can't offer that.
FxPro offers more than 250 instruments to use in trading. They cover Forex, Spot Metals, and Futures.
It's important that you can get fast execution and liquidity when you're trading. Looking for something fast? FxPro executes most orders in about 13 milliseconds!

The Top Features of FxPro
FxPro is a highly regulated trading platform that is secured in many jurisdictions
They offer a wide selection of reliable and efficient device platforms
They offer a wide range of research and trading tools, including a wide selection of trading assets
You can choose from six different classes of instruments used for FX, energies, indices, and stocks
They offer competitive spreads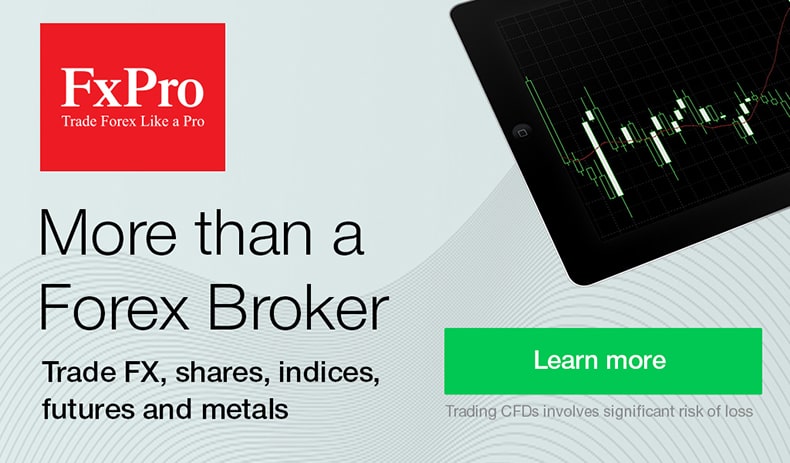 Commissions and Fees
On most trades, FxPro takes no commissions. The company advertises that they don't have an expensive dealing desk and this allows them to pass along cost savings to their clients.
Because of the high volumes of the trades by their clients, they are able to match a lot of their order flow internally. That means that they can minimize the risks and costs, and they do this without interfering with the orders in any way.
FxPro.com is an STP/ECN broker, which means that they have access to the interbank market. This access allows them to have low spreads. They also offer more than 3,500 tradable instruments. A normal spread for the EURUSD currency pair is 0.1 pips.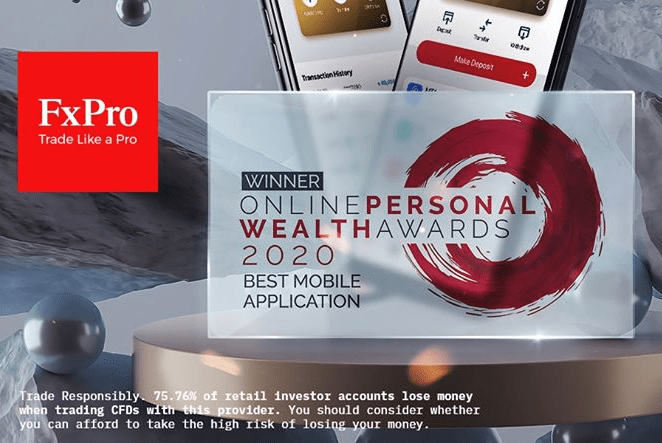 Unfortunately, some of their other fees are more burdensome. FxPro.com also doesn't offer discounts for people who trade at a higher volume.
On top of that, if a withdrawal is required without making trades, you also may have to pay up to a 2.6 percent fee to withdraw your funds.
If your account goes dormant for 12 months, you will have to pay a $15 fee. Plus, there's a $5 monthly fee.

Funding and Withdrawal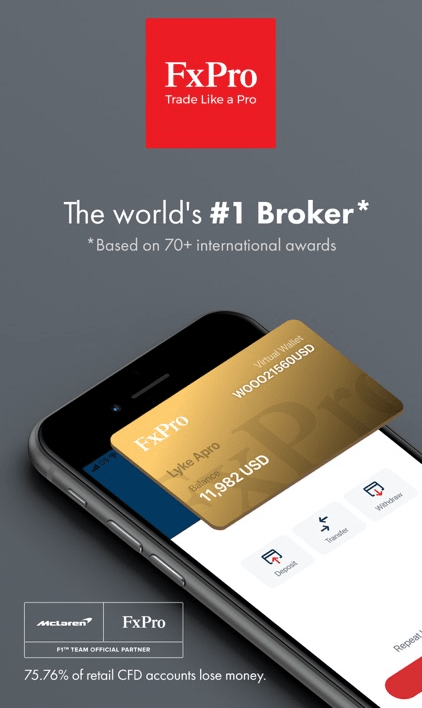 You can see a complete list of the withdraw and deposit information on the company's website. But we found that the general turn around and times are comparable to market standards.
It is possible to use payment methods, including bank to broker transfers, if you are under CySec regulation. Across the board, withdrawals take about one business day.
Overall we found FxPro.com to be one of the most robust brokers in the industry and they offer a wide variety of platforms. Between their proven data and market experience, they don't appear to be hiding anything.
One downside is that it looks like everything is traded as a CFD, which can be risky. Because of this, you should spend some time learning about the platforms and brokers. You can do this by opening a demo account. After you do this, there will be a few different accounts to choose from and one of them is sure to meet your needs.

Research
When it comes to research, FxPro provides its clients with a summary of daily market news. You can also take advantage of the company's blog.
With an FxPro account, you will have access to the following tools:
An in-depth market news summary every day
Trading Central technical analysis with 24-hour coverage of more than 8,000 trading instruments
A streaming FxPro trader's blog so you can stay up to date on market news
FxPro trader dashboard for instant information on markets and trading performance
Education
FxPro does offer a wide range of tools, but in the area of education, they are somewhat lacking. The only education resources on their website are a few short videos and articles.
The education resources that they do offer only cover the basic level of trading. These tools are best suited to beginner traders.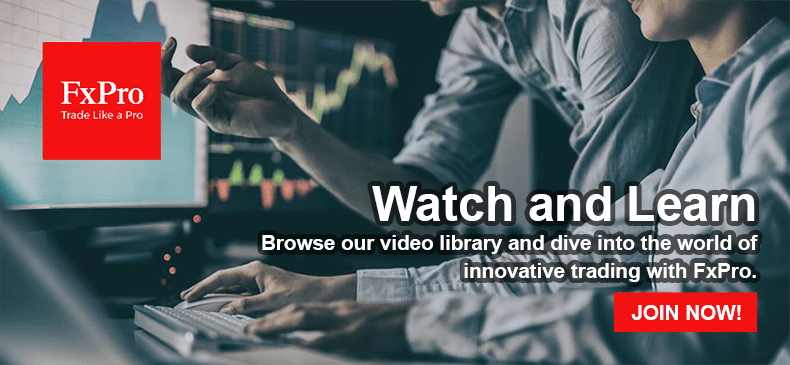 What About Customer Support?
FxPro offers excellent customer support, and you can reach them at any hour of the day or night. They are available 24 hours a day Monday through Friday. And they can communicate with you in 27 different languages.
To make reaching out to them more accessible, FxPro offers several different methods of contacting them. The best way to reach them is through their Live Chat feature. However, you can also get customer support on the phone, over email, by fax, on Twitter, or you can stop by one of their office locations.
If you need support in a hurry, you should use the Live Chat. It's certainly the quickest way to reach them. You can get live help in less than 30 seconds using this feature, and the staff is exceptionally well-trained so they can offer real support.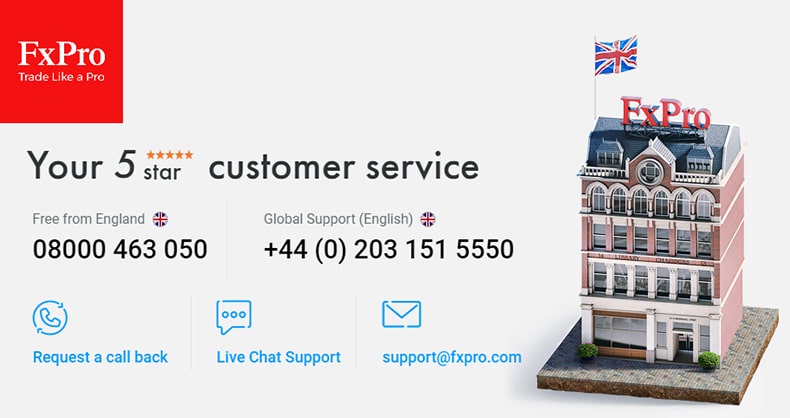 Their live phone support is very convenient too. FxPro offers a toll-free number that you can use in Russia, UAE, Germany, France, and the U.K.
They make it easy to get support, but it's unlikely that you will need it. The "Frequently Asked Questions" section on their website can answer most of your questions. It's still nice to know that you can always get a hold of a qualified support team anytime that you need.

FxPro Accounts
In addition to the four platforms, there are also a few different types of accounts that you can choose from. FxPro offers three types of accounts. You will want to select the right one to make sure that all needs are met with no extra costs or time.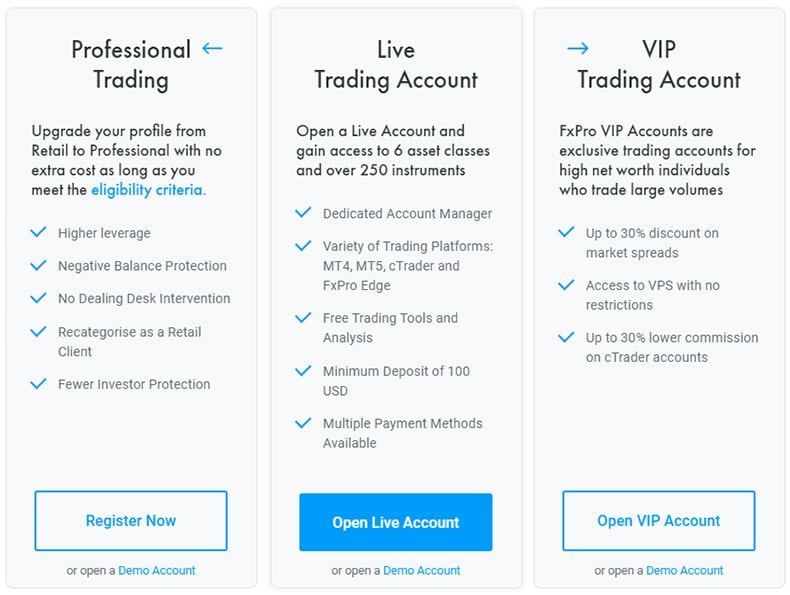 1. Live Trading Account
If you choose the live trading account, you are assigned an exclusive account manager. Traders get to choose between 4 different platforms, including the very popular MetaTrader 5. You get analysis and trading tools at no cost. The minimum deposit is $100.
2. Professional Trading Account
This account is a step up from the live trading account. If you choose the professional trading account, higher leverage is possible. That means that you will have the potential to make more money.
You also get no dealing desk intervention and negative balance protection with this type of account. People with this account get prudent separation of funds and are able to switch to retail.

3. VIP Trading Account
This type of account is for people who are looking for access to the Forex and other markets and who have a high-net-worth or HNW. The VIP trading account is also for people who trade in large capacities.
With this type of account, you receive a dedicated account manager, free VPS, and you never have withdrawal or deposit fees. Another benefit of this type of account is daily market analysis and member-only events through Trading Central.
FxPro Trading Platforms
When you're deciding how to trade, there are 4 various platforms that you can use: MetaTrader 4, MetaTrader 5, FxPro cTrader, and FxPro Edge. Let's take a closer look at each of them.
1. MetaTrader 4

FxPro MetaTrader 4 platform is one of the most well-known Forex trading platforms on the market. When you use MetaTrader 4, you have the ability to trade in various markets, including Forex, futures, and spot metals.

Once you start trading, floating and fixed spreads, an EA back-testing facility, and dynamic leverage all become available to you.

2. MetaTrader 5

The next platform is MetaTrader 5. When you use this platform, you receive tick chart trading, indicators and drawing tools, and added timeframes. You will also have an integrated development environment for EAs, negative balance protection, and market depth information.

Each of FxPro's platforms offers different benefits and tools. With so many options, you can take the time to explore and decide which one is the right fit for you. But it's worth noting that the name MetaTrader is well-established, which is why traders are attracted to this platform.
3. FxPro cTrader

Your third option is the FxPro cTrader. The full range of markets is available through this platform and it includes full market depth, spreads from 0 pips on major pairs, algorithmic trading through cAlgo, and no requites.

For many traders, algorithmic trading is an excellent asset. However, you must understand precisely how algorithms work before you implement any of them.

4. FxPro Edge

Finally, you have the FxPro Edge platform. FxPro calls this their evolutionary Spread Betting platform.

If you choose this type of account, you will be able to trade Forex, spot indices, shares, spot energies, and spot metals. Limited risk accounts are available and you can use them with no extra cost, tight spreads, and no commission.

The wide variety of platforms gives you a multitude of options. One of them is bound to fit your needs as a trader. There aren't many brokers who offer this many platform selections.
What's Good?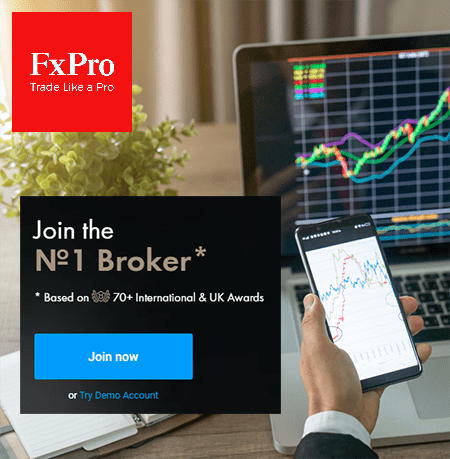 Several unique trading tools with a large selection of assets across six different instrument classes
Customer support in many different languages
Demo account
Excellent range of the most advanced software platforms available today, including MT4, MT5, and cTrader
No dealing desk execution which means no conflicts with the clients
Free withdrawals and deposits
A history of being a reputable broker regulated by leading agencies in the industry of Forex like FCA
Smooth and fast trading
The pricing is transparent
Real-time news
What's Not So Good
They offer no promotions or bonuses
The confirmation process takes multiple steps
Educational tools are lacking
Higher than average fees
The demo account isn't anonymous
Final Thoughts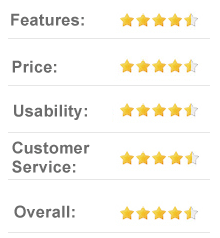 We found FxPro to be a well-regulated broker in numerous jurisdictions. They offer an excellent selection of technology, and they give you access to an incredible variety of assets.
FxPro also offers many platforms and tools to meet every trader's needs. They even have automated trading and spread betting through the cTrader platform.
The no dealing desk keeps the spreads really low. This is an awesome feature for advanced traders, especially those with high trading volumes.
We also like that FxPro gets high marks for trust. They are not publicly traded, and they don't operate a bank. They are authorized by a tier-1 regulator (Financial Conduct Authority), which is considered a high trust. FxPro also gets two tier-2 regulators and one tier-3.
We recommend starting out with a demo account. Once you have learned the basics, you can move on to a live account.