Gate.io is a cryptocurrency exchange that facilitates online trading. This review addresses who they are, their reputability, safety, and any lingering questions you may have about using Gate.io for online trading.
About Gate.io
Gate.io began in China in 2013. Gate Technology Inc now operates the company and works to offer its customers a secure, safe and reliable way to exchange Bitcoin.
However, the exchange was revitalized in 2017, and, as of writing, Gate.io is no longer associated with China. Instead, it attributes its registered address to Virginia, North America.
Not only does Gate.io aim to simplify the Bitcoin online exchange but its customer-first policy is designed to protect your assets and information throughout the exchange process. It further strives to protect user assets and promote an atmosphere of transparent trading.
However, it's worth noting that the team behind Gate.io is unknown, and while it handles most cryptocurrencies, there are a few notable exceptions to its availability. These include, in America:
Further abroad, exceptions to Gate.io's cryptocurrency handling platform include:
Gate.io recently ranked among the top 3 exchanges as a cryptocurrency exchange due to its traffic statistics, liquidity, and spot market trading volume.
Gate.io Features and Reasons to Join
Gate.io offers various features to its users. It's a site designed for easy navigation by beginners and professionals alike, and that being the case, one of its foremost features is the ability to choose the type of platform you need.
To cater to all users there is both a professional platform, and a beginner-friendly platform that helps new cryptocurrency traders find their feet. It's also possible to use Gate.io's testnet to practice currency trading until users feel sufficiently confident to take on the market.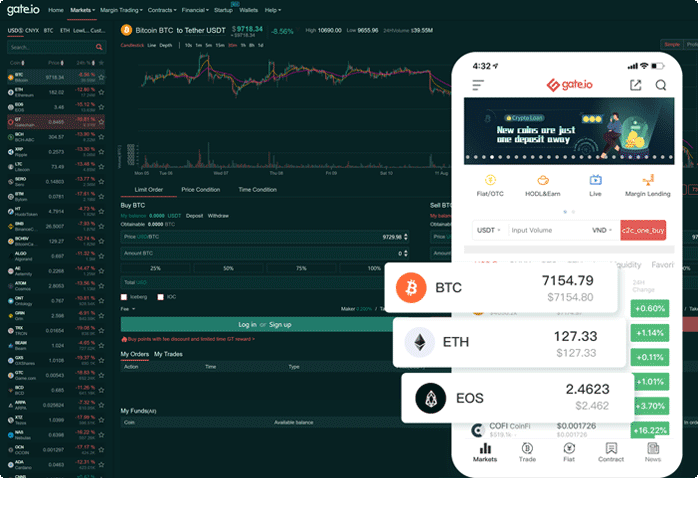 As well as a variety of platforms, other features include:
A spot market that entertains over 150 cryptocurrency pairs
Ability to trade crypto on margin, derivatives, and futures market at up to 100x leverage
Real-time market data and charting to facilitate trading altcoins, Defi tokens, and stablecoins
Testnet to simulate trade currency outcomes
Mobile app for easy access to portfolio and trading
Crypto loans and lendings on assets to borrow others
Trading fee discounts with high-volume cryptocurrency amounts and withdrawals
Extensive guide, FAQ, and customer support service
Additionally, there are:
150 cryptocurrencies available for users to trade in
0.2% trading exchange fees
Opportunities to earn interest on cryptocurrencies with the Gate.io wallet
Clients with concerns for the security of Gate.io will appreciate that it further offers:
Highly secure SSL links
Bitcoin Wallet Technology accessible offline
Instant withdrawal and deposit for Cryptocurrencies
Secure Two-Factor Identification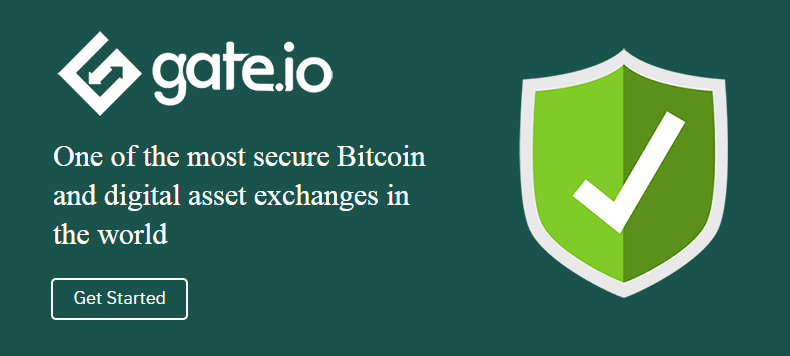 It also offers low fees including:
No deposit fee
Low trading fee
Low cryptocurrency withdrawal fees with optional service
Registering with Gate.io
Gate.io's user-friendly interface makes registration uncomplicated and navigable. New users will be asked to input: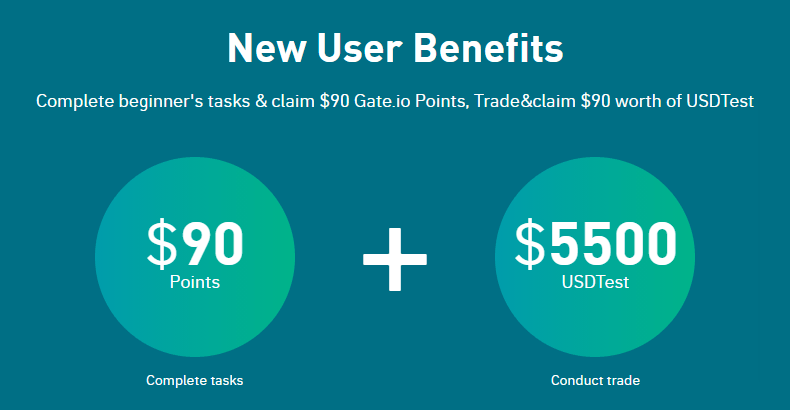 Note that the latter will be used to confirm any transactions you undertake while negotiating Gate.io's crypto-to-crypto currency exchange.
For your security, you must choose a funds password that is different from your account password. Otherwise, Gate.io prevents you from proceeding with the registration.
From there, new users must agree to terms and conditions of use, successfully enter a CAPTCHA code, and click and confirm a registration email. From then on, your account is live, and you can start engaging with Gate.io's projects and transactions.
Gate.io Fees
To begin trading on Gate.io, users must first navigate to the trading menu. Alternatively, you can select your preferred cryptocurrency from a drop-down menu and from there navigate to the relevant trading market.
Users embarking on trade transactions should be aware that although Gate.io has some fee exemptions, there are still fees users can incur.
Trading Fees
The structure of Gate.io's fee system is different from that of its competitors. It offers a spot trading fee of 0.2% that decreases proportionally to the amount of spot trading you undertake.
Comparatively speaking, this is higher than competitors like Binance or Bittrex, which offer a 0.1% rate of exchange.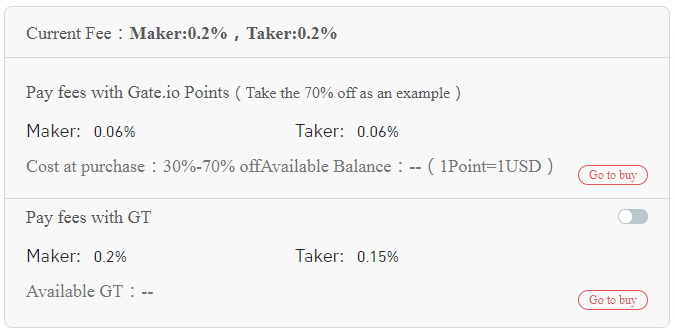 Gate.io also offers a 25% discount for users who pay their fees using a Gate.io token or G.T.
Whereas the fees charged for the Futures market follow a maker and taker-style model and range from range -0.025 -0.075. Generally speaking, this is markedly lower than other cryptocurrency margin trading platforms.
Deposit Fees
Gate.io does not charge traders for deposits made using their exchange.
Withdrawal Fees
However, withdrawing assets via Gate.io's exchange triggers a blockchain fee that adjusts to reflect the current market value. The value of the assets withdrawn also has the potential to impact the fees you incur.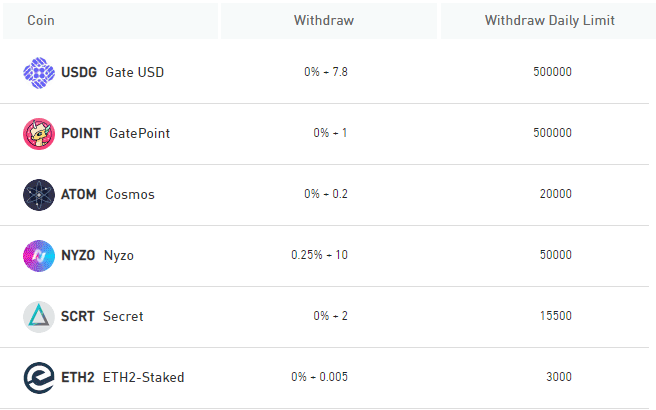 Similarly, the type of cryptocurrency you withdraw through Gate.io affects the withdrawal fee. This, in turn, makes it difficult to compare withdrawal rates across other cryptocurrency access sites, since their rates are similarly variable.
More detailed information on Gate.io's fee system is available on their website.
Gate.io Security: Is it Safe?
Despite multiple security features, Gate.io's system was successfully hacked in 2019. The lost cryptocurrency amounted to approximately $271,500. Subsequently, the funds were recovered, and security measures increased.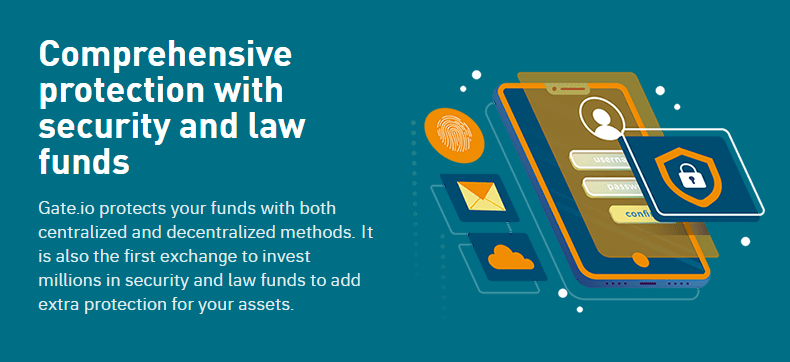 And despite the brush with hacking, Gate.io continues to rank as one of the most secure cryptocurrency exchanges available.
Customer Support
Gate.io has a dedicated help center committed to answering any user questions. Their FAQ page should guide beginners and experienced users through a variety of problems.
But if you continue to encounter difficulty, there is also a customer support team available 24/7. Customers can contact the support team through: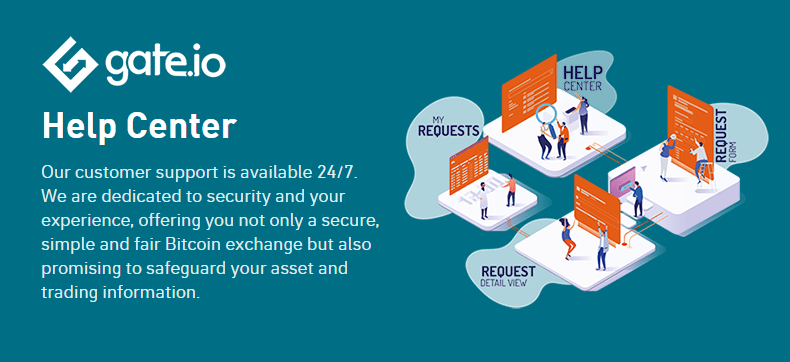 It's also possible to submit a request through the site by detailing your problem in an electronic ticket form. Request submissions will be ticketed and responded to as support staff becomes available.
Gate.io Licenses and Regulations
Because Gate.io is a site with longevity and an emphasis on security and transparency, it has put regulations on the use and administration of Gate Tokens. This is to prevent market manipulation and wash trading while simultaneously protecting customers' interests and assets.
Regulations divide into two primary categories:
The Project Assessment regulations endeavor to:
Protect teams and projects from legal complication
Ensure information cannot be audited by an external third-party
Confirm trading information is invulnerable to hacking and security weaknesses
Monitor trade volume and market fluctuations
Prevent token addresses and information from being disclosed
Oversee how frequently the repository is updated
Monitor how regularly social media is updated
Ensure on-chain data does not remain active
Watch for projects with too much media coverage or representation
Watch for projects that receive too many complaints from users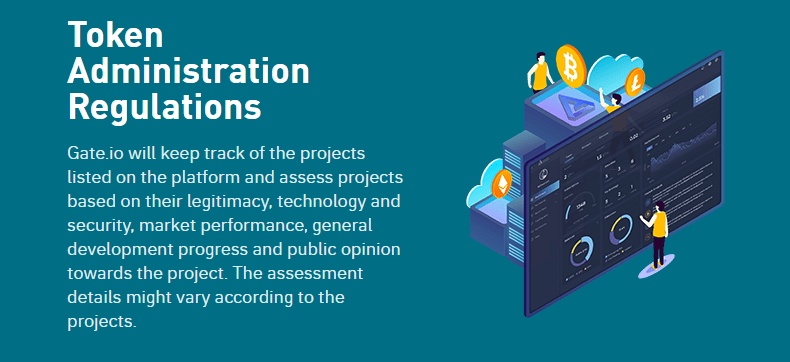 Project Handling regulations exist to combat violation of any of the Project Assessment regulations. They stipulate that:
Following project assessment, a project must respond within 2 weeks
Projects failing to mitigate extant issues can and will be transferred to Low Liquidity and have 3 months to correct the problem
Projects reassessed while in Low Liquidity Trading and that pass assessment for the next month are restored to regular trading
Users should be aware that while the legal backing behind Gate.io is ambiguous, this is not unusual when trading in cryptocurrencies. This is because cryptocurrency still occupies a legally complex space, making the legislature surrounding it is often challenging to navigate.
Likewise, the absence of obvious financial oversight is similarly typical of cryptocurrency exchanges and should not raise undue concerns in site users.
Conclusion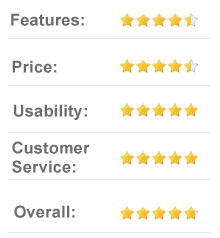 Despite its establishment in 2013, there are many ways in which Gate.io is a comparatively young cryptocurrency exchange. Nevertheless, its safety precautions and fast-acting customer support have gone a long way to make Gate.io a trusted online market for cryptocurrency transactions and exchanges.
Because it has fewer trading options than on more long-established sites, the experienced trader may find Gate.io limiting. However, testnet and the option to practice currency exchange make Gate.io an excellent place for nascent traders to cut their teeth on cryptocurrency.
The other benefit of Gate.io is its access to over 150 cryptocurrencies, some of which are harder to find than others when using different trading platforms. Moreover, the integration of the mobile app platform makes it possible to monitor your projects and transactions wherever and whenever you need to.
And notwithstanding a security breach in 2019, Gate.io emerged as the second most secure online cryptocurrency exchange. If you're looking to begin trading in cryptocurrency, then you'd be hard-pressed to find a safer, more user-friendly place to start.