Goldco is an online precious metals retailer founded in 2006 by Trevor Gerszt in Woodland Hills, California. The company, formerly known as Heritage Gold Group, Goldco Direct, and Goldco Precious Metals, has gone through several name changes since its early days.
Past offerings included platinum, palladium, as well as silver and gold bullion, but today, Goldco focuses primarily on Gold IRAs, Silver IRAs, and retirement planning.
About Goldco.com
Goldco specializes in rollover Individual Retirement Accounts (IRAs), Gold IRAs, and Silver IRAs. The company's mission is to help investors protect and diversify their investments with physical products, which help reduce risk in a volatile market.
In 2015, Goldco was named the #1Gold IRA Provider by Inc. Magazine and the #1 Gold IRA Company in the Nation by Inc. 500. Goldco is praised in the investing community for its high-quality educational resources and superior service.
The company currently boasts an A+ rating from the Better Business Bureau (BBB).
Top Features of Goldco.com
Goldco's two main offerings are direct gold and silver purchases and self-directed precious metal IRAs. Those who have earned income and are under the age of 70½ are eligible for traditional IRAs. Goldco offers gold IRAs, silver, IRAs, or a combination of the two.
Whether or not they have earned income, investors of any age can purchase non-IRA precious metals through the company. After purchasing precious metals, they can be delivered to your home (though they will not be counted as part of your IRA) or stored in a secure vault.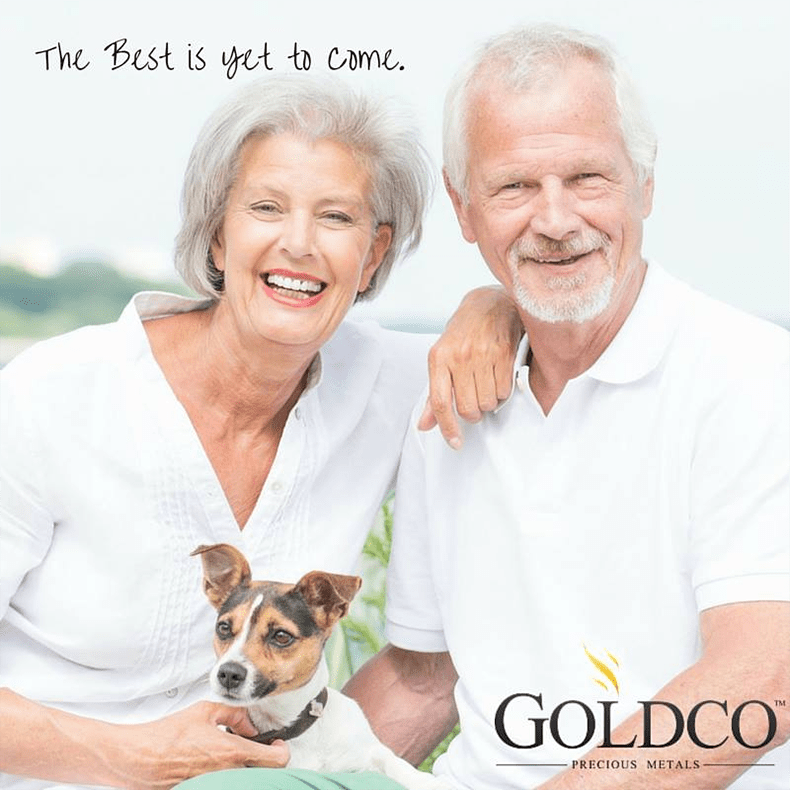 Goldco's precious metals IRAs function in much the same way as traditional IRAs that invest in stocks and mutual funds. Per IRS regulations, you are eligible to begin making penalty-free withdrawals at age 59½. With a traditional IRA, investors are required to begin making withdrawals by the age of 70½ in order to avoid penalties.
Because the market prices of gold and silver fluctuate based on factors such as market conditions, economic slumps, and availability, the value of your precious metals IRAs cannot be guaranteed.
However, thanks to its status as the long-standing favorite of precious metals and natural price floor, gold has been considered a "safe" investment for thousands of years.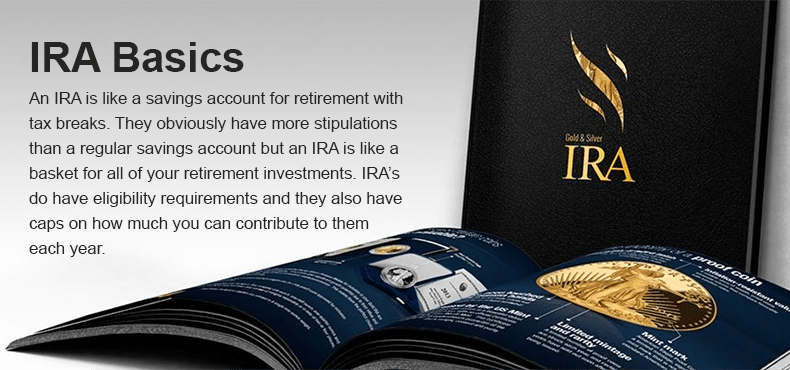 Due to government regulations concerning precious metals IRAs, you won't be able to purchase certain types of gold and silver, such as lump precious metals, commemorative coins, or ingots, for your retirement account. Additionally, there are restrictions on what you're allowed to do with the precious metals once you purchase them.
Restrictions include:
Any gold or silver purchased for your retirement account must meet the IRS required minimum standard of least .999 purity.
Currently owned gold and silver cannot be added to your IRA. Regulations require you to open a separate gold or silver IRA, and any additional purchases will be considered part of your portfolio.
The government does not permit the storage of precious metals in your own home, as Federal regulations require them to be stored by a third-party facility.
Collectable and commemorative coins cannot be added to your precious metals IRAs at Goldco, as they fall short of minimum required purity standards.
Goldco currently offers four precious metal coins for purchase, two gold, and two silver.
Gold Coins
Australian Saltwater Crocodile Gold Coin:
1/4 ounces of 99.99% pure gold
Meets the specified guidelines for quality
Made by Australia's Perth Mint

Worth $25 in legal tender
2017 Limited Mintage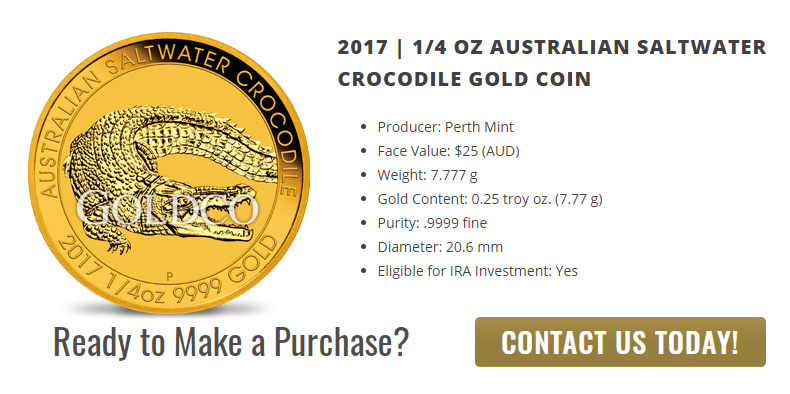 Lunar Dog British Gold Coin:
1/4 ounces of 99.99% pure gold
Meets IRS purity requirements
Produced by the United Kingdom's Royal Mint
Worth £25 in legal tender

The 5th in a 12 year series dedicated to the Chinese Lunar calendar
The obverse features the 5th official coin portrait of Queen Elizabeth II
Silver Coins
Silver Australian Saltwater Crocodile:
1/2 ounces of 99.99% pure silver
Meets the IRS's purity requirements
Worth 50 Australian cents in legal tender

2017 Limited Mintage
Made by Australia's Perth Mint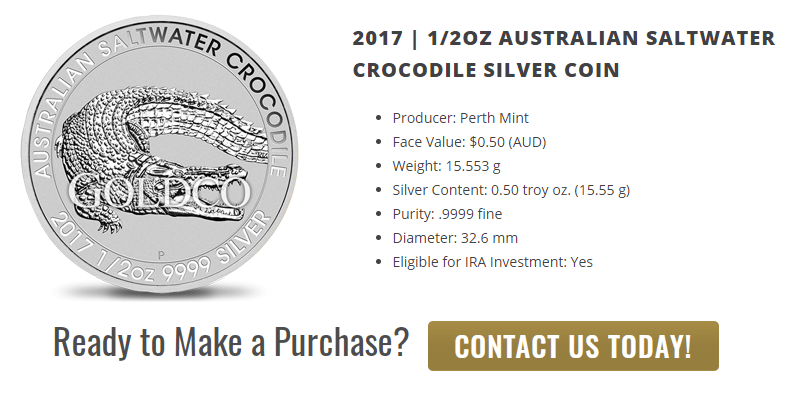 Canadian Silver Lucky Dragon:
1 ounce of pure 99.99% pure silver
Meets IRS minimum purity guidelines
Produced by the Royal Canadian Mint

Worth $5 in Canadian legal tender
Limited Mintage
While gold's natural price floor makes it appealing for many investors, silver should not be discounted as a valuable investment. The medical and energy technology fields rely heavily on silver in product manufacturing, causing experts to predict the price of silver will skyrocket in the near future.
More On Storage Requirements
As previously mentioned, Federal regulations mandate third-party storage. In keeping with those regulations, Goldco does not currently offer in-house storage options. Precious metals stored in your own home also cannot be considered a part of your IRA.

Goldco will assist you in transferring your gold and silver to an IRA-approved, secure vault in a depository owned by companies such as Brinks Storage or IDS.
Goldco.com Costs
Goldco's pricing structure aims to save you as much money as possible. Their regular, taxable accounts have zero fees: no start-up costs, no storage expenses, and no annual fees of any kind.
While there are quite a few precious metals IRA fees, they are priced competitively. The annual cost for non-segregated storage is $100. Segregated storage costs only $50 for a yearly fee of $150.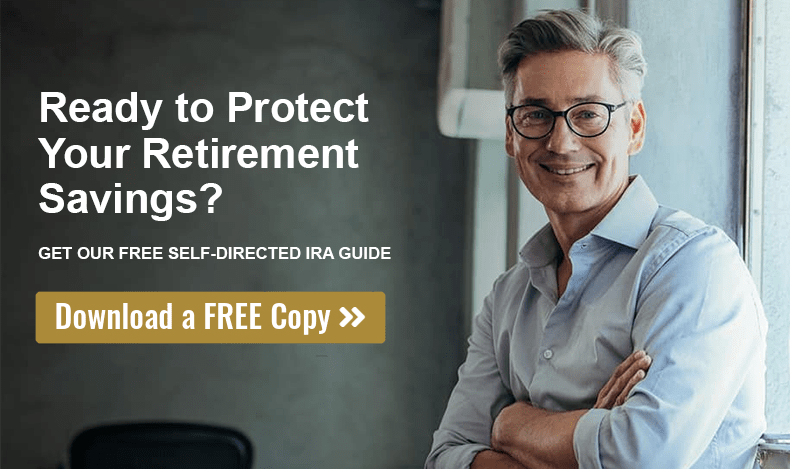 Annual maintenance fees cost $80, with a price increase of an additional $50 per year once retirement accounts reach $100,000.
Each IRA has a $50 setup fee, and wire transfers cost $30.
All fees totaled, your first year of non-segregated storage will cost $260, and you'll pay $180 every year.
For segregated storage, your first year will cost $310, with each additional year costing $230.
As with other companies, Goldco has starting balance minimums investors are required to meet. Precious metals IRAs require a starting balance of $25,000. The minimum starting balance for a taxable account is $3,500.
Criticism of Goldco.com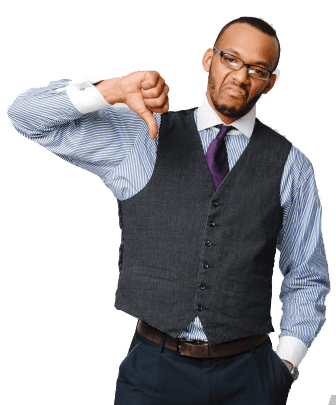 Accredited with the BBB since 2011, Goldco has met its high standards, including straightforward advertising, transparency, dedication to customer privacy, and responsive customer service.
Despite their impressive track record in the investing industry, even Goldco has a couple of weaknesses.
Their minimum starting balance for an IRA is costly at $25,000, higher than several other investment companies.
You can't set up your account online, an inconvenience for busy customers. Setup can be a lengthy process
Because Goldco is more of a niche investment company, they only offer a very small selection of precious metals.

Overall, Goldco's excellent features and customer-centric approach to doing business far outweigh its shortcomings, but potential customers should be aware of them before choosing to invest with the company.

Customer Support

Goldco's friendly and responsive customer service is one of its best selling points. The company has associates standing by to help you with any account-related issues or answer any questions you may have.

You can reach customer support during Goldco's regular business hours from 8 am to 5 pm, Monday through Thursday or from 7 am until 4 pm on Friday.

Associates can also be reached at any time through the Live Chat feature on Goldco's website or by filling out and submitting an online contact form.

It's also possible to reach someone at the company's email address, info@goldco.com. If social media is more your speed, you can contact support on Facebook and Twitter.

Goldco's multitude of ways to get in touch with customer support associates makes their client-centric stance clear. This company truly goes above and beyond the norm when it comes to providing support.

Education

While not technically an aspect of customer support, Goldco's educational section is a valuable part of their website.

Those interested in learning more about Goldco's precious metals IRAs and taxable accounts can take advantage of their Knowledge Center, which offers fantastic resources such as free eBooks covering timely, important topics such as:

"10 IRA and 401k Mistakes You Are Making"
"How China Will Destroy Your IRA or 401k"
"The American IRA and 401k Crisis"

"10 Reasons the Dollar Will Crash"
"How to Buy Gold and Silver"

Goldco also has numerous videos available in their Knowledge Center, covering topics like the risk of large banks, current threats to your retirement, and the benefits of investing in tangible assets, and the potential crash of the European market.

The site is also home to a blog featuring articles about the 2020 stock market crash, looming troubles in the American corporate bond market, and a Frequently Asked Questions section that focuses on topics relating to precious metals IRAs and rolling over your 401k.

If you want to find out what your investments are currently worth, Goldco also publishes a list of live prices for precious metals, further evidence of their dedication to their clients.

Final Thoughts

For those concerned about the value of the American dollar, potential financial crises, or the stock market's volatility, Goldco is ideal.

The stock market has bottomed out before, and while gold prices can fluctuate, they never reach $0, making Goldco a viable alternative for investors who prefer tangible investments over corporate securities.

If you already invest in stocks, diversification through incorporating gold into your investment portfolio is an excellent way to reduce risk in the event of a market crash.

Retirees and those nearing retirement will take comfort in gold's place as a safe haven asset in uncertain times.

With its low yearly fees, exceptional support, multiple storage options, and award-winning service, Goldco offers a secure, affordable solution for the challenge of investing in an uncertain environment.