Using the right tools and technologies can boost the workplace productivity of companies. While there are dozens of tools for improving workflow efficiency, a project management tool can come in handy. And when looking for an efficient and reliable project management tool, Hive can be your best bet.
This Hive review explores everything you need to know about the Hive project management tool.
What Is Hive?
Hive is a cloud-based project management tool that companies of any size can use for efficient operations.
This management tool is ideal for companies handling projects that require the collaboration of multiple team members.
With Hive, team members can collaborate, schedule, communicate, assign tasks, track projects and predict what might affect the workflow.
As a project manager, Hive helps you manage your team, ensuring everyone works towards achieving the desired goal.
Unlike most project management tools that provide limited functionalities, Hive allows your team to use a single app to fulfill all the requirements.
About Hive
John Furneaux and Eric Typaldos cofounded Hive in 2015 as a tool to help businesses handle their projects seamlessly.
Since its inception, Hive has been a SaaS provider that enhances workplace collaboration and improves workflow efficiency.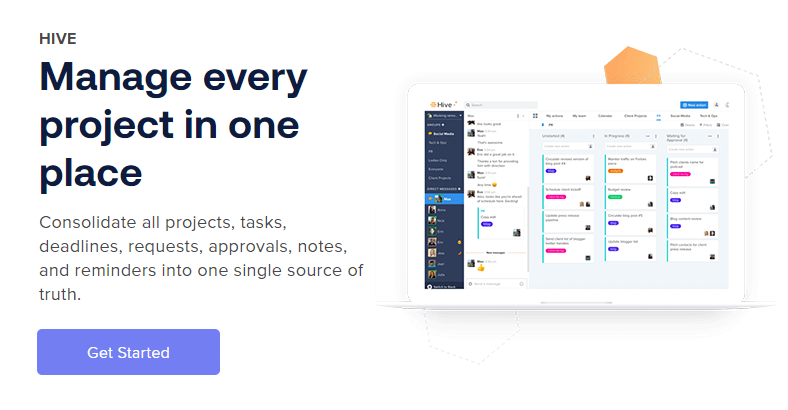 According to Hive, the tool is built by the users and for users to boost workplace productivity. Hive caters to multiple industries such as marketing, agencies, operations, education, and startups. And the good news is that team members can access Hive via Windows, Mac, iOS, or Android.
Hive integrates thousands of reliable tools, including Google Workspace, Microsoft Teams, Google Drive, Google Calendar, Dropbox, Zoom, JIRA, and Salesforce. Companies can use various Hive features to organize tasks, track productivity and ensure project completion.
Pros and Cons of Hive
How do you know if Hive is right for your business? Here are some pros and cons to using Hive.
Pros:
Some benefits of Hive include:
Intuitive and user-friendly interface
Eases communications across teams and departments
Allows easy tracking team members, task completion, and overdue deadlines
Accessible and responsive customer service
Lots of native integrations
Cons:
Some downsides of Hive include:
The multiple features make onboarding difficult
Hive's mobile app is not as functional as the desktop app
Hive Features
Below are some of the top features you'll enjoy when using Hive:
Project Management Layout Options
Hive allows access to numerous reliable administration solutions that make it easy for everyone to view and manage tasks.
Common options include the Gantt chart, Kanban boards, portfolio views, personal to-do lists, inbuilt table, and calendar view.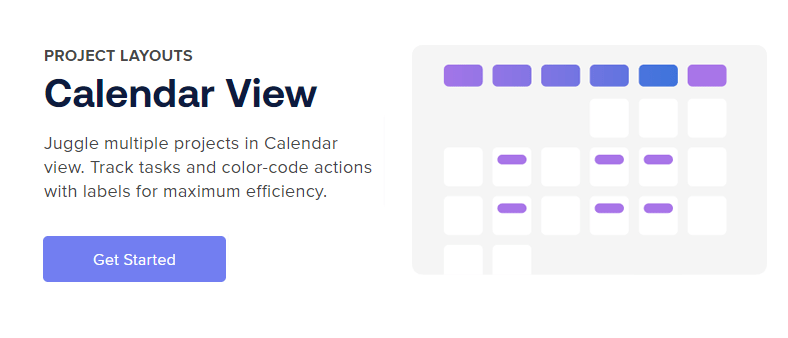 Project managers can choose the view that suits the company and its goals. They can also use the team view to see the task on each team member's calendar. Each team member has a personal column and the tasks they're handling.
This is a great way to ensure all team members are working towards project completion.
Proofing and Approval
Proofing and approval are best suited for content creators or marketing agencies.
If you're a remote-based team member, you don't have to send emails and attachments to your team members and ask for approval. All you need is to add your file in Hive and request team members to approve it.
After sending the file for approval, your team member receives a notification in the activity feed. Team members responsible for approving files can either approve or request changes within the software.
Automate Repetitive Tasks
Hive provides templates and intuitive optimization options to help you create and automate repetitive tasks.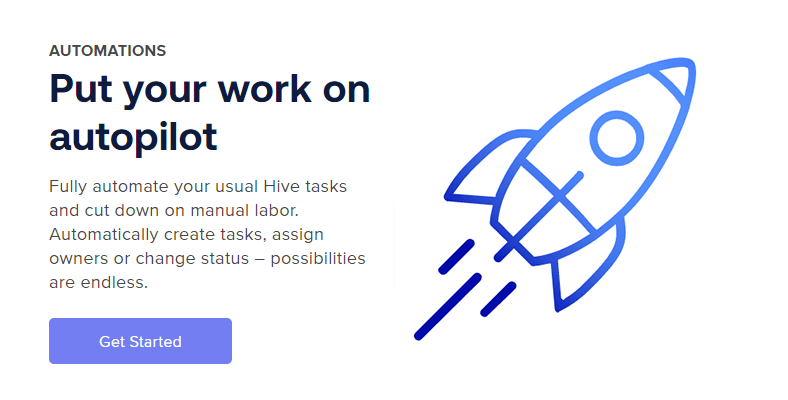 Automating repetitive tasks allows project managers and team members to concentrate on their work.
Hive Analytics
Hive Analytics is a handy tool that project managers use to maximize productivity.
As a project manager, you have to monitor project progress to know whether you're moving towards the goal or not. With Hive Analytics, you can track team and individual performance to recommend changes where appropriate.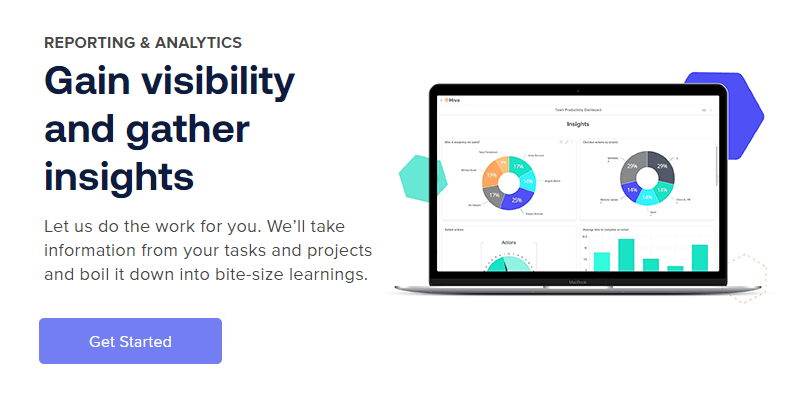 You can monitor employees, control workload, and analyze business performance. After conducting a performance assessment, you can predict successes and failures. In case of possible failures, you can make cost management and scheduling changes.
Personal Dashboard
If you're handling several tasks, it can be challenging to manage all of them at once.
This is where Hive comes in, offering a personal dashboard called My Actions. The tool serves as a to-do list where you quickly access all tasks assigned to you.
With all your tasks on the same dashboard, you can view your project's status, such as complete and incomplete tasks.
The subtasks option offers a detailed breakdown of the assigned tasks, such as the past, present, and future tasks.
Third-Party Integrations
Hive has partnered with Zapier to integrate over 1000 essential apps that help streamline workflow. Hive will allow access to your preferred program if you're interested in apps that enable optimal communications, collaboration, assigning and scheduling tasks, or documentation.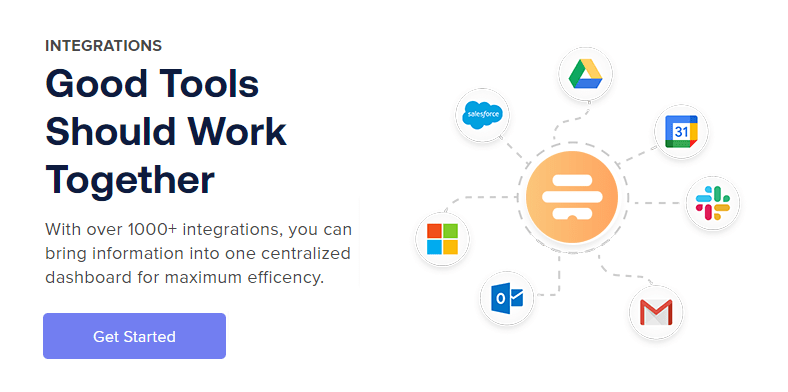 Apps such as Slack, Drive, Dropbox, GitHub, OneCloud, Outlook, and Zoom work seamlessly with Hive.
Hive Chat
Hive integrates with external software such as Slack, Google Hangouts, and Skype, allowing seamless communication among team members. The communication system lets team members quickly locate messages about various tasks or projects.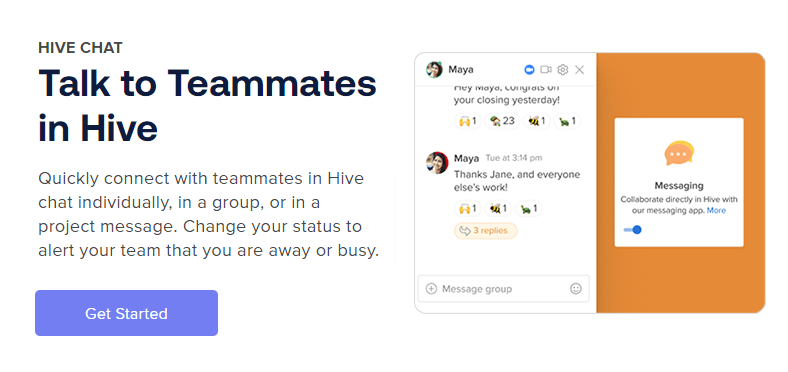 For example, you can use Hive's messaging board to start private or group chats with your team and react to chats with emojis.
If you want to alert an employee about something, the system allows you to @-mention them. The drag-and-drop option lets you share content and attachments with team members and receive feedback reports.
Hive Pricing Plans
After joining Hive, you'll want to access various features that improve workflow efficiency. Below we have outlined the tool's free version and the two paid plans you can use when managing your projects.
Solo Plan
Hive Solo is a free pricing plan that allows a maximum of two users. The plan is ideal for individuals who wish to manage their projects in one place.
With the Solo plan, you have access to Hive's basic features, including:
Project management
Project collaboration
Project Views
Workspace essentials
Project resourcing
Out-of-the-box integrations
Flexible add-ons and more
Teams Plan
This paid plan allows you to collaborate with colleagues and run multiple projects. To access the Teams Plan, you can either pay monthly or annually.
Every user can access the Teams plan at $12 per month when they subscribe annually.
Regarding the monthly subscription, every user pays $16 per month.
With the Teams plan, team members start with a 14-day free trial and get access to everything in the Solo plan, plus other features like:
Shareable forms
External guest access
Seven flexible add-ons (extra)
In-app calendar
Time tracking
Slack in Hive
Zoom from Hive
Enterprise Plan
Hive Enterprise plan is suitable for teams seeking the tool's complete set of add-ons, enterprise security, and extra support.
Unlike the Teams plan, the Enterprise plan requires companies to contact Hive to learn about the plan's pricing.
Hive's Enterprise plan includes all the features from the Teams Plan, plus the following features billed annually:
Flexible add-ons
Custom analytics and reporting
Enterprise API
Unlimited onboarding
Enhanced security and permission controls
Access to professional service
Besides the free and the two paid plans, Hive allows users to purchase workspace add-ons such as:
Proofing & Approvals: Pay $4/user/month plus base price
Timesheets: Pay $4/user/month plus the base price
Resourcing: Pay $4/user/month plus the base price
Hive Analytics: Pay $6/user/month plus the base price
External Users: Pay $4/user/month plus the base price
Enterprise Hive Security: Pay $4/user/month plus the base price
Who Is Hive Best Suited For?
Hive is for companies of all sizes, including startups and medium and large enterprises. Companies can use Hive for the following cases:
Operations management
Remote work
Marketing
Creative agencies
Customer Support
Hive stands out from other project management tools regarding customer support. The company allows its customers 24/7 help via email, live chat, or phone. If you have issues concerning the use of the tool, you can communicate with Hive's reps and receive timely and extensive solutions.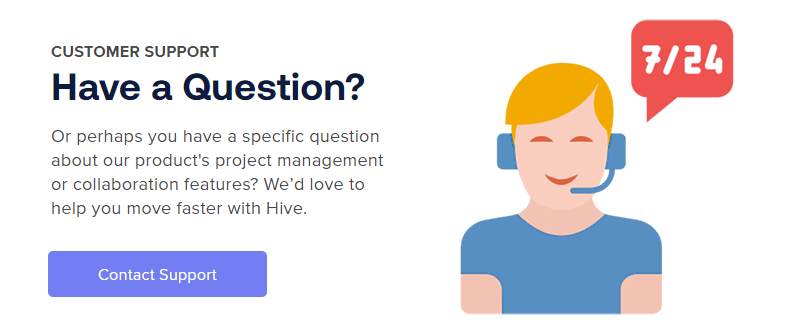 Before contacting the company's reps, you can head to their website and access Hive's knowledge base. This section has helpful articles, webinars, video tutorials, a blog, and a FAQ section. These informative resources cover all questions and queries you may have about Hive.
The support staff ensures Hive customers get all their answers from the knowledge base by updating it regularly.
Final Thoughts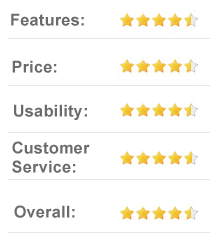 Hive is a suitable project management tool for companies interested in multiple helpful features, reasonable pricing, reliable customer service, and more. With this tool, you can collaborate with team members to improve workflow efficiency.
Hive offers multiple features and add-ons you won't find with other project management tools to ensure you manage your tasks efficiently. In collaboration with Zapier, Hive integrates over 1000 essential apps to enhance collaboration, communication, documentation, assigning, and scheduling tasks.