HubSpot provides a wide range of marketing software for businesses of all sizes and types. While they're most well-known for their free CRM program, they offer additional products that specialize in various aspects of marketing, service, and sales.
HubSpot functions as a fantastic toolbox of applications that businesses can use to improve their client outreach, customer communication, and marketing effectiveness. These products don't automatically increase client availability or site visibility, and users will need to learn how to use the software effectively before seeing positive results.
To help you discover what HubSpot has to offer, and which products may be right for you, I've decided to explore HubSpot in greater depth. So, let's take a breath and get ready for a deep dive into this inbound marketing software!
Help Getting Started with HubSpot
Because inbound marketing is a non-aggressive form of marketing that many users may be unfamiliar with, HubSpot also offers a ton of free marketing and management courses to help users improve their skills and techniques.
You can also familiarize yourself with the software while perusing these resources. And while you don't have to be a marketing genius to use HubSpot, but you do have to be willing to put in the extra time and effort to reap its benefits.
That said, HubSpot's CRM is exceptionally easy to master and use. The additional products, such as the Marketing Hub, or CMS Hub, are also built for maximum ease-of-use. Still, depending on the size of your business and your current rate of growth, you may or may not benefit from these extra applications.

Top HubSpot Products
No matter which HubSpot software you decide to use, you'll need to register with HubSpot by creating a free account. HubSpot CRM is completely free, making it one of the most accessible CRM options for small businesses.
Adding Marketing Hub, Sales Hub, or Service Hub access does cost more, but you can curtail this cost by investing in a HubSpot plan that meets your needs. Each product offers an extra layer of functionality to the base CRM, with the exception of the CMS Hub, which allows users to create and host a website.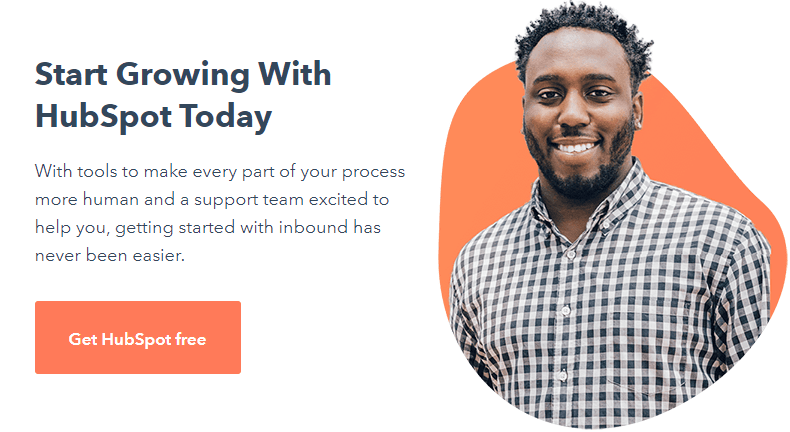 Still, even the CMS Hub is fully integrated with each of the additional HubSpot products. Depending on your business's needs, you could benefit from using only the free CRM, or you could help your business boom by investing in the entire HubSpot product line. HubSpot's notable products are:
Free HubSpot CRM
Marketing Hub
To discover which of these applications might be right for you and your business, let's discuss what each one does. After all, you may need SEO optimization tools instead of adaptive platform testing, and understanding what each product offers can help you avoid investing in a non-essential software.
HubSpot CRM
HubSpot's most popular product is its free CRM. While this tool can become a comprehensive marketing hub with the addition of the Marketing Hub, Sales Hub, and Service Hub, it's also completely functional on its own. This CRM functions as a dashboard, allowing users to view a simplified overview of site and sales analytics, as well as projections.

From the CRM, you can also manage emails, tasks, and customer information and contacts. Still, HubSpot CRM mainly functions as an accessible focal point that combines the various spokes of sales, marketing, service, and IT.
In this way, every member of these teams can communicate effectively and quickly without having to manage multiple systems and tricky integration techniques. Still, because the CRM is primarily a hub for other features, it's a great idea to integrate.

Marketing Hub
The HubSpot Marketing Hub is a great tool for SEO optimization, social media marketing, content strategy creation, email marketing, and revenue analytics. It's a powerful and multifaceted marketing interface that keeps businesses current with which practices and campaigns are working and which are not.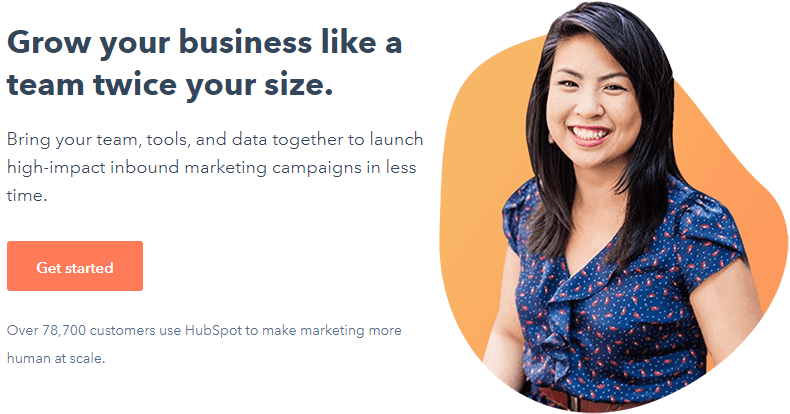 Sales Hub
When it comes to running an effective sales scheme, automation is crucial. Your employees or sales team may not be able to respond to client questions and concerns 24/7, but automated email response systems and invoicing systems can help. The Sales Hub is a wonderful way to keep track of emails, sales goals, products, and more.

Service Hub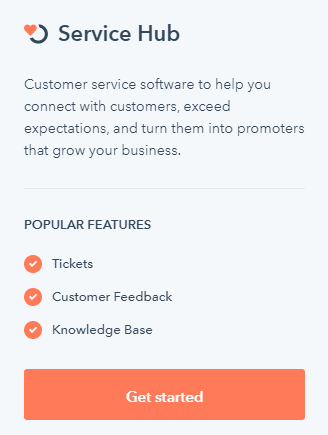 While the Sales Hub offers a scant amount of customer service-based tools, the Service Hub focuses on developing positive relationships between customers and your business. It does so by offering live chat functionality and chatbots for customers, ticket monitoring and tracking, productivity reports, and ticket analytics and reporting.
You can use the Service Hub to see how effectively you're solving problems, and what you may need to do to increase your service efficiency. The Service Hub is also great for scheduling service-related tasks and team meetings.
CMS Hub
For those without a website, or those looking for the easiest transition from their current hosting service to HubSpot, there's the CMS Hub. This software helps users build new sites while integrating advanced optimization features along the way. SEO optimization begins as soon as the site is created, shortening the overall time that business owners will spend attempting to edit, redesign, and optimize their pages.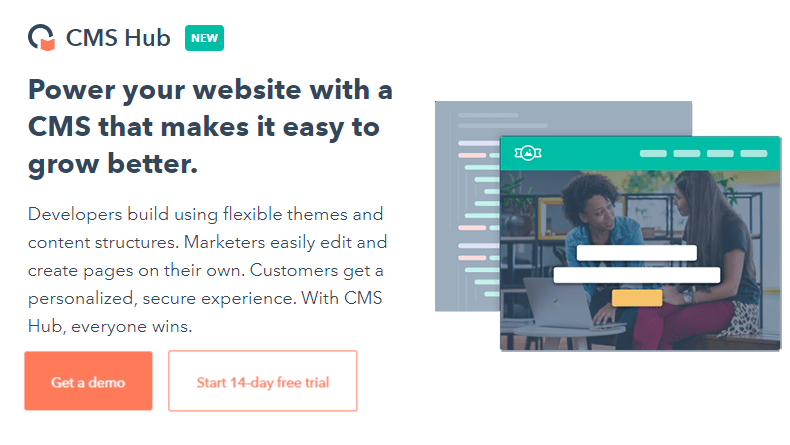 Security features, site development help, and adaptive site testing are all included within the CMS Hub. If you've struggled with creating a high-functioning site in the past, the CMS Hub might just be the light at the end of the tunnel you've been searching for.
The HubSpot support team can also assist you with website migration, ensuring that you don't lose years' worth of online content, including blog posts.

HubSpot Pricing and Plans
There are several options available to anyone interested in using HubSpot. Of course, the HubSpot CRM is completely free, but it's most functionally when used with additional products like the Marketing Hub or Sales Hub.
For that reason, HubSpot offers users the ability to either bundle products together, or buy singular products separately.
Bundles
HubSpot offers two different kinds of bundles. There's the Growth Suite option that includes every product except the CMS Hub, and then there's a Create a Bundle option that allows users to choose exactly what they'd like to purchase. Both of these bundles can be paid month-to-month or annually, and prices vary depending on chosen services.

Per Product
If you'd rather avoid the bundling process altogether, you can access the CRM for free and decide on a single, additional product to integrate into that CRM. Like with the bundles, these products can be paid for either on a monthly basis or via an annual subscription service. The annual option is not discounted, which is an exceptionally honest pricing practice.
Starter

The Starter plan always includes the most basic necessary features of a specific software. For example, the Marketing Hub Starter plan includes ad management, live chat, email marketing, and conversation bot features.

The Starter plan is always the most affordable of the three tiers and is a fantastic option for those looking to access the primary functions of a software. In short, smaller businesses may want to opt for the Starter plan.

Professional

The Professional tier of plans offers everything in the Starter plan, plus more. To continue on with the example above, if you were to choose the Marketing Hub Professional plan, you'd be getting smart reporting, marketing automation, video hosting, CTAs, and custom reporting features.

This is certainly a more advanced set of features and one that is applicable to businesses that are ready to take-on complex marketing tools. Still, these additional features pale in comparison to the bulk and depth of the Enterprise plan.
Enterprise
No matter which product you've got your eye on, if you're looking for the most advanced tools and systems, the Enterprise plan may be right for you. The Marketing Hub Enterprise option includes everything mentioned above, plus social permissions, partitioning, custom event triggers, calculated properties, and much more.
The Enterprise plans are the most advanced and complicated options, but they're built to withstand the needs of quickly growing businesses. For those looking to take the next step and continue growing their already-flourishing business, the Enterprise option may be the most ambitious-yet-appropriate choice.
Disadvantages of HubSpot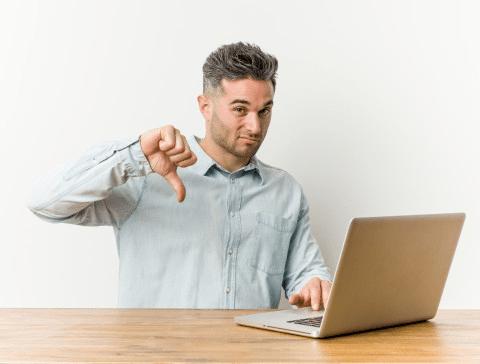 It's difficult to find something negative to say about HubSpot. Their services are transparent, straightforward, and highly effective. Also, HubSpot offers a great selection of plans and pricing tiers that are appropriate for all types and sizes of businesses.
Still, HubSpot CRM may not be able to manage complicated sales systems, even with the full range of products. The reporting tools and analytics aren't nearly as comprehensive as comparable software applications, though this simplification is done to make data more manageable.
Overall, HubSpot is an excellent option for small and medium-sized enterprises. Only those with exceptionally specific and unique needs may struggle to achieve all of their marketing and sales objectives with HubSpot.

HubSpot Customer Support
It's easy to feel overwhelmed when learning a new software system. HubSpot understands how important it is to become familiar and comfortable with their products, and that's why they offer quite a few customer support services. In addition to their free educational courses and marketing resources, they also welcome users to join the HubSpot customer forum to learn more about how to get the most out of their products.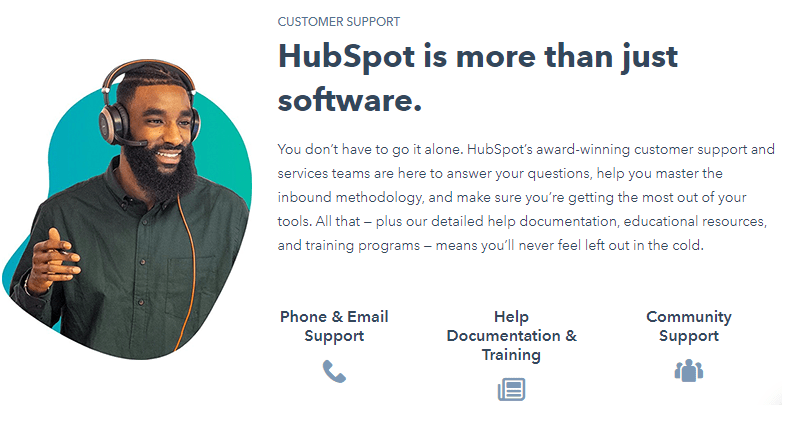 If you run into a technical issue or a question that you can't find an answer for, you're also welcome to call, email, or Tweet the HubSpot technical support team. Most issues are resolved within a 24-hour period, which is fantastic. There's really no lack of assistance, education, and support when it comes to using HubSpot.

Conclusion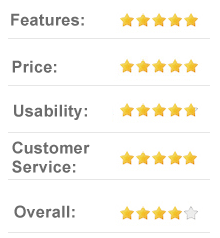 HubSpot software can help any business grow their clientele, become more visible, and elevate their sales, marketing, and service capabilities. While there is a bit of a learning curve, there's also plenty of resources available to help users master HubSpot products and improve their techniques. Also, the fact that HubSpot offers its CRM for free says a lot about this company's policies and attitude.
While the singular products can be expensive, this is only true of the most advanced and complicated plans. Starter plans are affordable, and they offer the primary features that most business owners are looking to integrate into their CRM. I've enjoyed learning more about the newest marketing strategies and how they work inside HubSpot, and it's been easy to do.