ICMarkets.com is an online trading platform that focuses on forex, contract for differences (CFDs), and equity markets across the globe. They offer accounts with spread starting from 0.0 percentage in points (pips) and flexible leverage options as high as 1:500.
As a global company, ICMarkets.com allows its customers to make deposits in over ten currencies. They also offer 24/7 customer support and have several regulating bodies watching over them.
So, if you're considering trading with ICMarkets.com, we'll help you understand how this company operates so that you can decide if it's the right fit for you.
About ICMarkets.com
ICMarkets.com caters to both retail and institutional clients, allowing them to invest in forex, CFDs, stocks, commodities, futures, bonds, and digital assets. They're a particular favorite among day traders, scalpers, and people entering the forex market for the first time.
Some of ICMarkets' most significant pride points are that they offer excellent liquidity, low latency connectivity, and cutting-edge technology to let investors design and execute the best trade possible.
ICMarkets started as an Australian-based company in 2007. They expanded rapidly, with their management team operating forex, CFD, and equity markets in North America, Europe, and Asia.
To this day, ICMarkets.com continues to have the goal of giving retail and institutional lenders access to trading options that formerly only banks and people with high net worths could access. In addition, they're focused on innovation and are constantly improving their services and technology to meet the ever-changing investment environment.
Top Features of ICMarkets.com
Below are some of the most significant features and perks you'll receive by choosing ICMarkets as your trading platform.
Fast Trade Execution
The speed at which a platform completes a transaction can make or break the potential profitability of a trade. By signing up with ICMarkets.com, you can have peace of mind that they prioritize fast trade execution and low latency.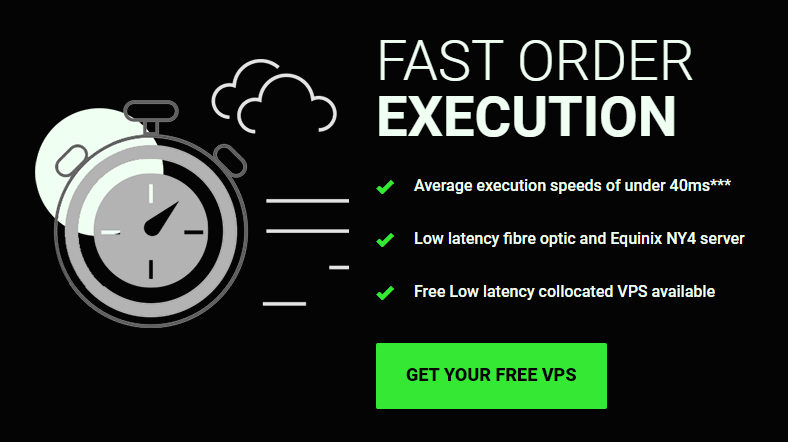 ICMarkets does this by using enterprise-grade hardware at data centers in New York and London. These centers work at lightning speed to stay on top of the latest information from their pricing providers.
Low Spreads
Regardless of the current market conditions, you'll receive some of the lowest spreads in the industry when trading on ICMarkets.com. The reason for their low spread powerhouse is that they work with dozens of high-quality liquidity providers.
Furthermore, they've developed some of the highest-end trading technology and are continually working to improve it further. Together, this means lower spreads for the trader so that you have the chance to earn more profit.
Great Fills
By taking advantage of ICMarket's bridge, you'll be able to fill trades ranging from one micro lot to 200 lots. As a result, you can rest assured that you'll be receiving the best price for your trade, regardless of its monetary size.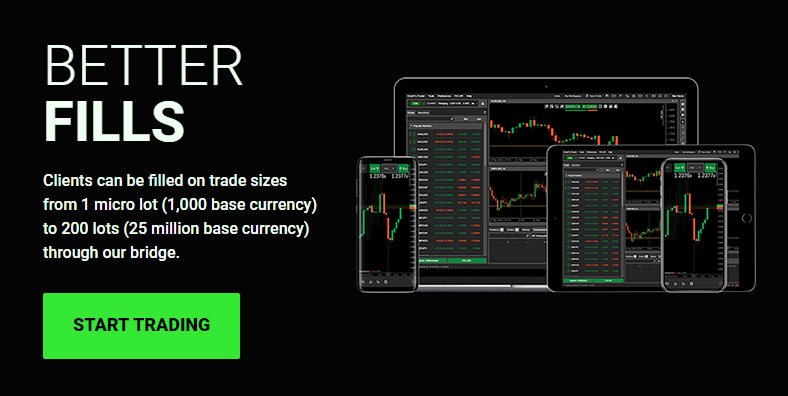 If you're managing large trades, ICMarket's technology will have several pricing partners execute them, allowing you to get better fills and prices.
Outstanding Technology
ICMarkets.com offers countless trading tools on their iPhone and Android apps so that you can trade on the go. Some of the many trading tools you'll have access to include:
Inbuilt spread monitoring
You'll even be able to perform automated close of trades using custom order templates.
Three Trading Platforms
Some trading companies limit their customers to a single platform. But by choosing ICMarkets.com, you'll have access to three top-of-the-line platforms, including Meta Trader 4, Meta Trader 5, and cTrader.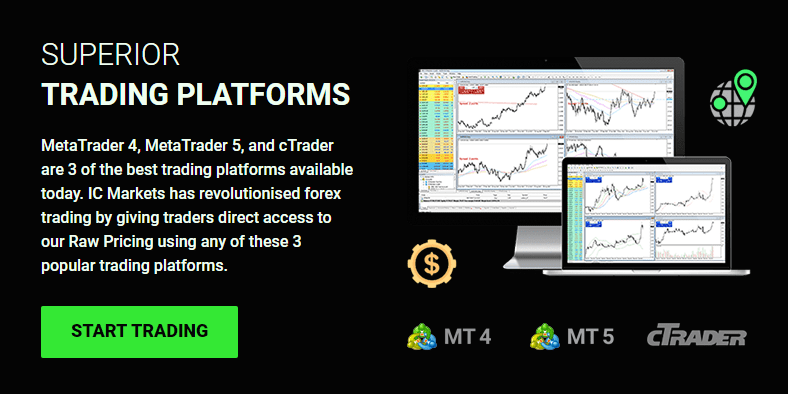 Each trading platform comes with its unique set of benefits, and you'll have access to ICMarkets' special Raw Pricing regardless of the one you choose.
Range of Permitted Trading
Not all trading platforms allow you to perform a variety of different trades. But at ICMarkets.com, you'll have three major trading choices—scalping, hedging, and automated trading—that make them a favorite choice among day traders and people who make a living from trading.
Unbeatable Forex Trades
ICMarkets.com currently offers 61 currency pairs, letting you trade from a range of popular and lesser-known currencies. As you can expect from ICMarkets, you'll have the option to choose from tight spreads starting at 0.0 pips, depending on the circumstances.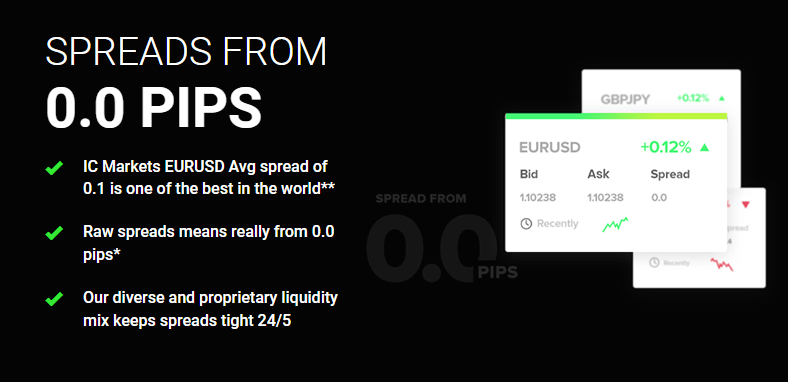 You'll also be able to trade with as much as 1:500 leverage. So, you can potentially turn a small amount of capital into a large bankroll if the markets work in your favor. Meanwhile, you'll be able to do all this while having deep liquidity so that you don't have to worry about your trade getting stuck.
Many CFD Trading Choices
Aside from forex, you'll have many other trading opportunities on ICMarkets.com, letting you keep all your trading on their platform versus spreading it across accounts on multiple trading sites.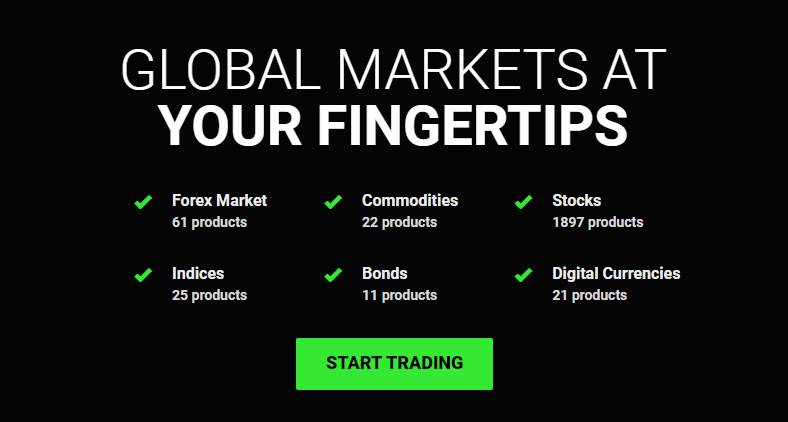 As an ICMarkets customer, you'll be able to trade indices, commodities, stocks, bonds, futures, and cryptocurrency. All of these are on a CFD basis, meaning that you'll be signing contracts on the future price prediction of any given asset. You'll then pay the difference in the settlement price between the open and closing trade.
ICMarkets.com Costs
ICMarkets.com offers trading and non-trading fees that are often lower than average compared to competitors. Given that they work with more than 25 liquidity providers, they're able to guarantee tight spreads, helping you keep more of your money for trading instead of fees.
If you're new to trading, ICMarkets' costs can feel difficult to follow at first, given that the spreads vary according to the following forex trading platform you choose: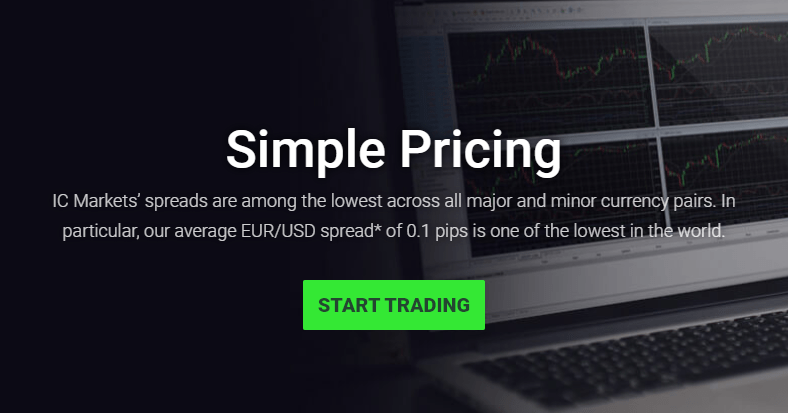 In some circumstances, ICMarkets even offers 0.0 pips spreads via their Meta Trader and cTrader Raw Spread platforms. But on average, their EUR/USD spread is 0.1 pips, making them one of the most competitive trading platforms in the world fee-wise.
As for the cTrader commission, ICMarkets.com charges it per side for each $100,000 you trade. In contrast, ICMarkets will charge you a fixed amount per lot if you trade on Meta Trader 4.
Because of so many variables in the costs of trading on ICMarkets, we encourage you to check out their pricing page to get a feel for how much you can expect to pay according to the trading platform you'll be using.
Customer Support
Because ICMarkets is a global company, they offer customer support 24/7. So, you can get in touch with a real ICMarkets staff member any time of day or night via the following two methods: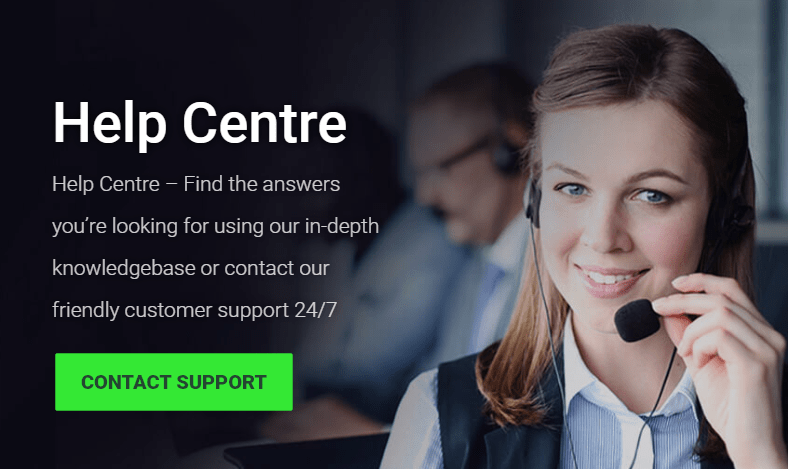 Keep in mind that international charges may apply if you try contacting them via phone. For this reason, many people choose to contact ICMarkets via live chat. Of course, this can also mean that you might have to wait a little while for an available live chat staff customer service representative.
Alternatively, you can send ICMarkets an email with your question. They have separate email addresses for client relations, support, accounts, and marketing, which you can view here. You can expect it to take a day or more to receive a response to an email.
ICMarkets.com Regulation
As a global trading platform, ICMarkets complies with regulations from many parts of the world. Therefore, they have some of the strictest financial regulators looking over their shoulders, ensuring that they offer trading services fairly and safely for their customers.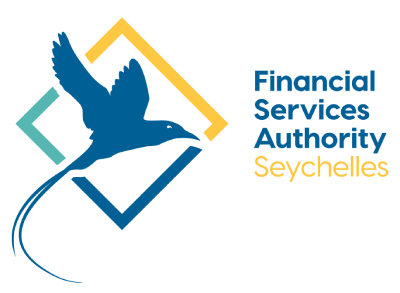 Some of the most notable regulatory bodies that watch over ICMarkets include:
Australian Securities and Investments Commission (ASIC)
Cyprus Securities and Exchange Commission (CySEC)
Financial Services Authority (FSA)
Securities Commission Bahamas (SCB)
You can view ICMarkets' regulation page for more details on their licenses, how they manage the segregation of client funds, and their anti-money laundering policies. ICMarkets.com also has varying regulatory approaches according to if they're working with Australia, European Union, Global, or Bahamas markets.
Final Thoughts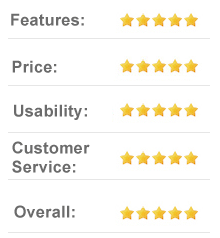 ICMarkets.com is a strong contender in the forex, CFD, and equity markets space because of its low spreads, various trading platform choices, and advanced technology.
Whether you choose to trade with ICMarkets or another platform, keep in mind that no trading company can guarantee profits, and certain assets, like CFDs, come with additional risk since you'll be working with leverage.
Therefore, in addition to researching the best-fit trading platform for you, make sure you also educate yourself on how to trade and its risks. ICMarkets.com offers many educational resources to get you started with your research.