If you're a freelancer or the owner of a small business, you know how time-consuming it can be to deal with invoicing. That's where InvoiceNinja.com can help.
This open-source software provides accurate, secure, and affordable invoicing to its customers.
Invoice Ninja receives contributions from all over the world as an open-source company, which keeps it at the forefront of software developments. They work with over 100 code base contributors to ensure their program utilizes the newest and most innovative technologies.
Let's break down what Invoice Ninja offers to subscribers, the pros and cons of its services, and how it could help you and your business.
About InvoiceNinja.com
Invoice Ninja began in early 2014 and now counts over 120,000 businesses as clients. Its most frequent customers are freelancers, as well as small to medium-sized companies, who need assistance with invoicing and payments.
There are three owners of InvoiceNinja.com who work to build and release new features every month. They aim to increase functionality using client feedback as a guide. You can even check out upcoming features on their website.
Specifically, Invoice Ninja is a free, open-source software option that automates administrative tasks, like invoicing, which helps free up your time and increase the productivity of your staff.
It offers tools to create and email invoices, as well as track payments and expenses. Users can also monitor their workflow and time billable tasks and projects for clients. With Invoice Ninja, you can access your account anywhere and from any device, including mobile devices. You can even link it with social media accounts like Facebook and LinkedIn.
Top Features of InvoiceNinja.com
The principal features of the Invoice Ninja are all designed to simplify the business owner's job. They take control of invoicing and payment so that you can spend your time focused on the goal and expansion of your business.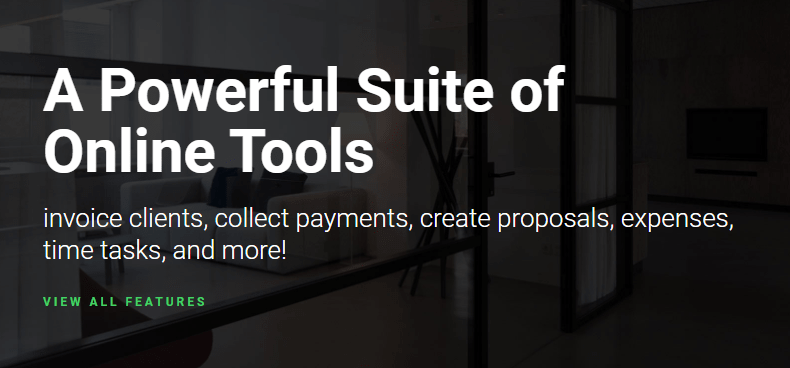 Here's a closer look at the top features InvoiceNinja.com offers its customers.
Invoicing Tools
Invoicing is probably Invoice Ninja's principal function. You can use their built-in templates to create professional invoices. You even receive templates with the free version of the software.
It works well for businesses because the templates are customizable, so you can add whatever you need to integrate them with your company.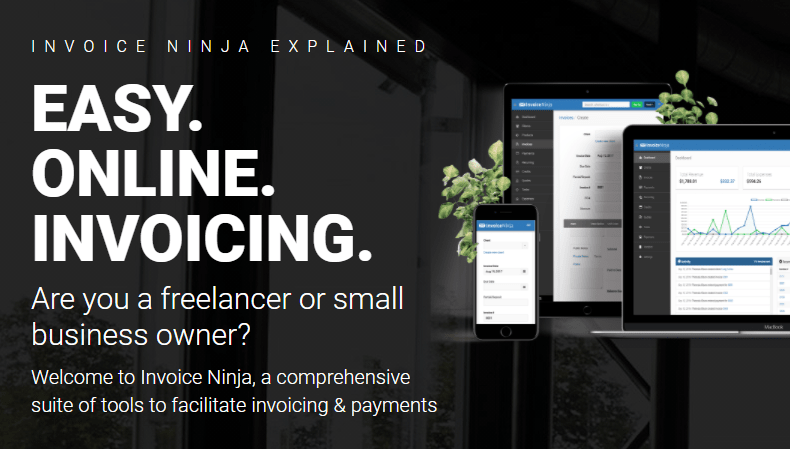 Since Invoice Ninja uses Live PDF for customizations, you can monitor your changes on the screen as they occur. You also have the ability to set up recurring invoices and prompts to remind customers of their outstanding invoices.
If you purchase a paid plan, you get mass invoicing and late fee capabilities, too.
Estimate Builder
Similar to invoices, you can create and customize estimates from built-in templates. The estimate builder saves a ton of time by automatically converting estimates into invoices upon acceptance.
Many customers also like that they can put a valid until date on their estimates.
Client Management Dashboard
Managing clients is simple from Invoice Ninja's dashboard, where you can view client information, like the number of invoices, earnings, and open balances.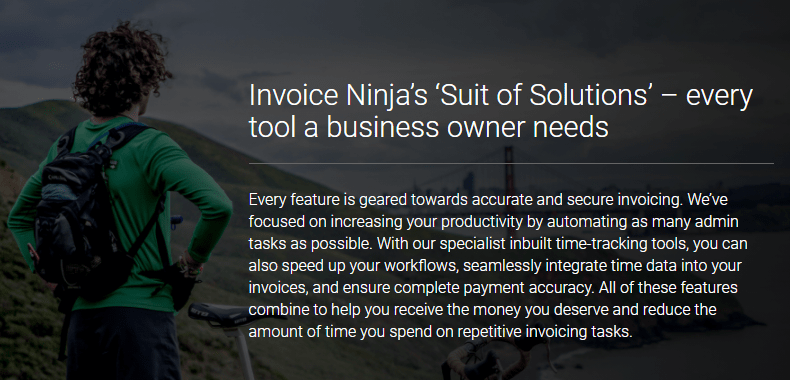 For customer convenience, you can save contact information, means of identification, payment conditions, memos, and other data for each client.
Expense Tracking
With Invoice Ninja's expense tracking feature, you can:
Manually input expenses
Link to your bank account
Import bank statements
Modify spending groups to keep track of expenses
Set up automatic importing of expenses from banks
Set up recurring expenses
Classify spending as paid
Choose whatever currency you need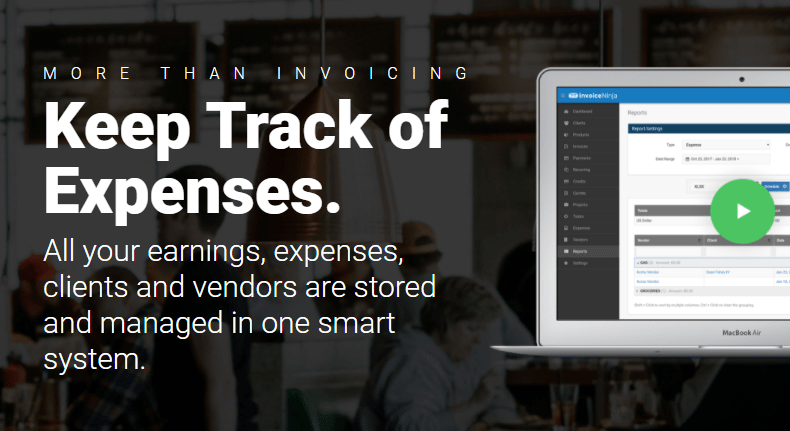 Expense tracking is one of Invoice Ninja's most useful features for small businesses looking to minimize the time dedicated to managing spending.
Task Organizer and Kanban Board
This feature helps users maintain their project to-do list. They can easily set customized categories and add due dates, budgeted hours, and descriptions for each project.
The Kanban board is a unique feature that enables you to conceptualize your tasks. You can customize category names to suit your needs.
Time Tracking
Here's a useful feature for freelancers who need to keep track of the amount of time they spend on each project for billing purposes. It has a built-in clock, but you can also manually enter your time.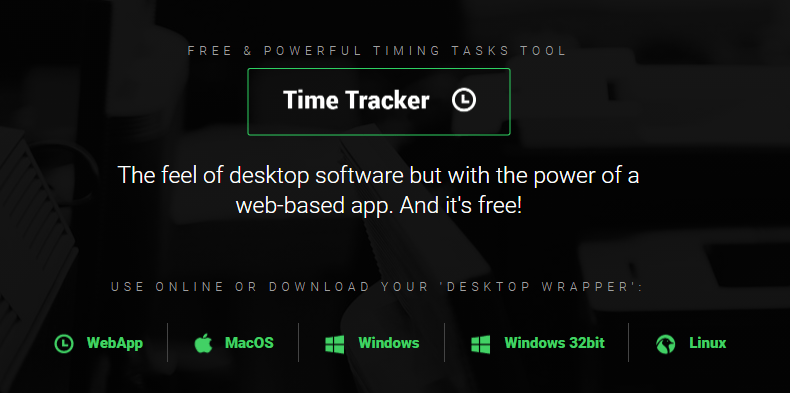 This convenient feature also allows you to transfer task time to an invoice with one click.
Exporting Abilities
Invoice Ninja offers the opportunity to export either all data or a combination of your choosing. Its importing and exporting features are second-to-none compared to its competitors.
You can decide which data to transfer from among the following categories: invoices, expenses, contacts, tasks, vendors, invoices, payments, and products.
Additional Features
There are several other features worth mentioning when it comes to Invoice Ninja. You can generate customer credits and modify sales tax as needed.
You can adjust each client's currency and language to suit their needs.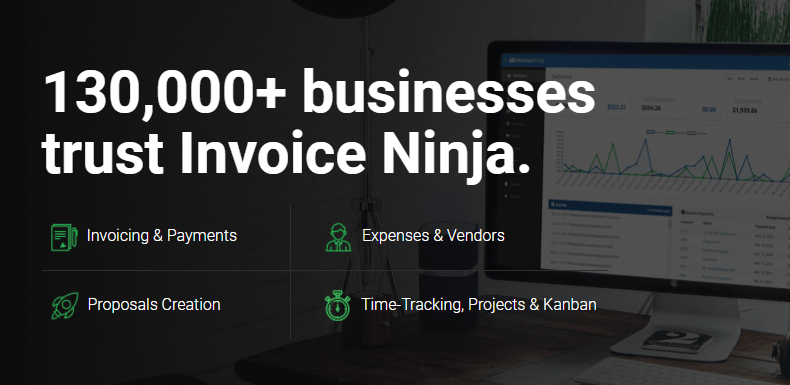 An unusual but interesting feature of InvoiceNinja.com is the ability to use integrated voice commands to direct the program, which works well if you're using a mobile device.
Additionally, the program minimizes the number of documents usually involved in invoicing. For example, clients can approve and convert quotations into invoices with just one click.
Prices and Plans of InvoiceNinja.com
Invoice Ninja offers a 14-day free trial for any of its three plans. You do not have to provide any credit card information, and you can cancel at any time. Invoice Ninja offers a free, self-hosted version of its software, as well as three web-hosted versions, one of which is free and two, which you can purchase at a reasonable price.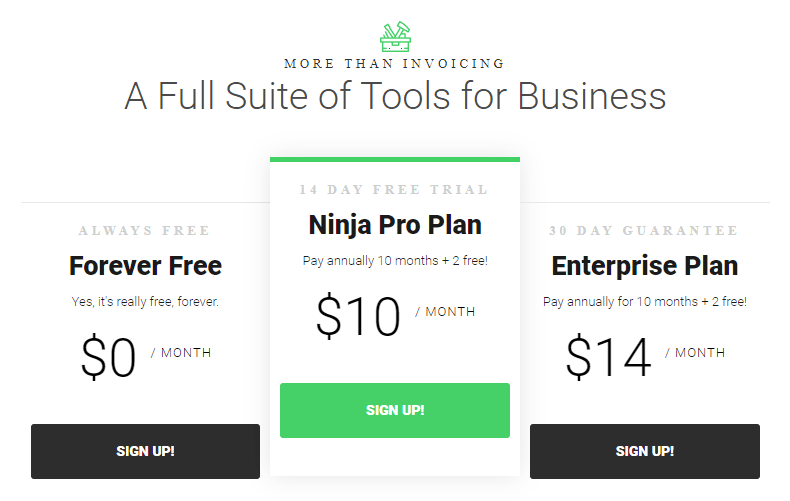 The Forever Free plan includes unlimited invoices and estimates, up to 100 clients, one user, and four templates. You get most other features of Invoice Ninja, too. The Ninja Pro Plan costs $10 per month and offers unlimited clients, ten templates, and the addition of buy now eCommerce buttons.
The most expensive plan is the Enterprise Plan, which starts at $14 per month. The price increases depending on the number of users you have, up to 20. You also get advanced customizations, user permissions, and fully branded portal links.
If you decide to purchase a plan and you pay annually instead of monthly, you receive two months of service for free. You can also enroll in the referral program to earn extra cash when you recommend InvoiceNinja.com to someone who ends up purchasing a plan.
Criticism of InvoiceNinja.com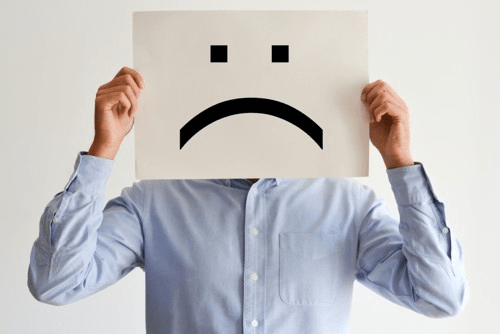 Invoice Ninja is an excellent program for managing invoices, work time, and expenses, but there have been complaints about a few of its services.
The most common criticism is that the software has limited reports. There are only 13 available, and several of them act more as summaries of certain features rather than actual analyses of data.
The self-hosted version of the software can be complicated to use. Most customers recommend you only choose this route if you have developer skills.
Other users would appreciate the addition of an inventory feature with their expense tracking software.
Customer Support
Invoice Ninja offers many options for their customers to contact them. You can choose from email and live support or use the contact form on their website. They provide superior service than many similar companies. The company's cofounders even answer email inquiries themselves.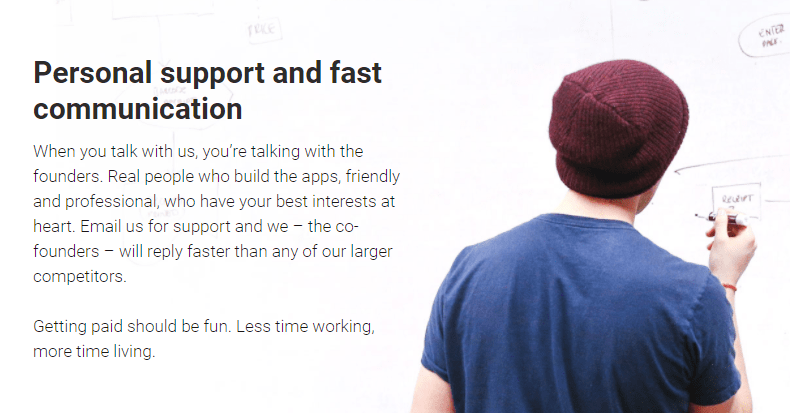 Customers can find plenty of resources on their website, including a knowledge base that is perfect for common operational questions and how-to articles. A FAQ page, user guide, and blog are great spaces for general information.
A user forum provides guidance for individual issues and questions, while their YouTube channel, Twitter, Facebook, and LinkedIn accounts are active and updated with current knowledge. They also offer in-software support, so you don't have to leave the program to get assistance, which can be inconvenient.
Customer support is always prompt and often provided by the founders of the company. Most customers report they have never had to wait longer than two hours for a response from customer service. Often, they received a response within minutes.
Final Thoughts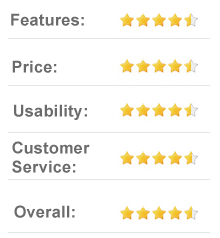 InvoiceNinja.com is one of the best and most affordable invoicing programs available. They provide detailed invoicing and expense features, along with time tracking capabilities, at a reasonable price. Their software and interfaces are clear and easy to use, and there are plenty of resources at your disposal should you encounter an issue.
Invoice Ninja is among the few that offer a free version of their software compared to similar programs. You can choose from multiple plans to select one that is most beneficial to your business. Even the free version comes with templates and automated features that will reduce the amount of time you spend on tedious invoicing tasks.
Despite some complaints about the limitations of reports and the complexity of the self-hosted version of the software, Invoice Ninja remains useful to freelancers and small business owners. You can integrate Invoice Ninja with many other apps and sites, including PayPal, Braintree, Stripe, and WePay, for your convenience.
Overall, InvoiceNinja.com provides a superior service that simplifies invoicing, freeing up the user's time so they can focus on other aspects of their business. It has bug-free software as well as an easy to use interface. Its ability to also track work time and manage expenses makes it an indispensable resource in business management.