If you are considering marriage, one of the most important decisions you are going to need to make revolves around the ring(s) you'll purchase.
Traditionally, the engagement ring has been the more impressive looking ring designed to represent your love, but plain wedding rings are also starting to become more stylish as well.
James Allen has you covered with a wide variety of Engagement and Wedding rings to choose from, as well as a complete selection of Diamonds and Gemstones.
About James Allen
James Allen was founded in 2006 and quickly grew to be a leader in online jewelry sales. Today it is the largest privately held online diamond and bridal jewelry retailer in the world. Its mission is to offer online consumers the highest quality diamonds and the most extensive selection at the best price.
James Allen is the only online retailer to present all of its products in highly magnified 360° HD. This method gives the consumer the best view of their diamonds and jewels before they buy them. In many cases, you will be able to see the diamond better from your home than you could in the jewelry shop.
What Does James Allen Offer?
James Allen offers a vast selection of engagement and wedding rings that will satisfy and taste.
Engagement Rings
James Allen lets you decide f you want to design your engagement ring or to purchase one of the pre-designed models from distinguished designers like Verragio, Danhov, Jeff Cooper, and Martin Flyer.
If you choose to design your engagement ring, you begin by selecting the style of ring that you want. Selections include the Solitaire, Pave, Channel Set, Side Stone, Halo, Vintage, and many more.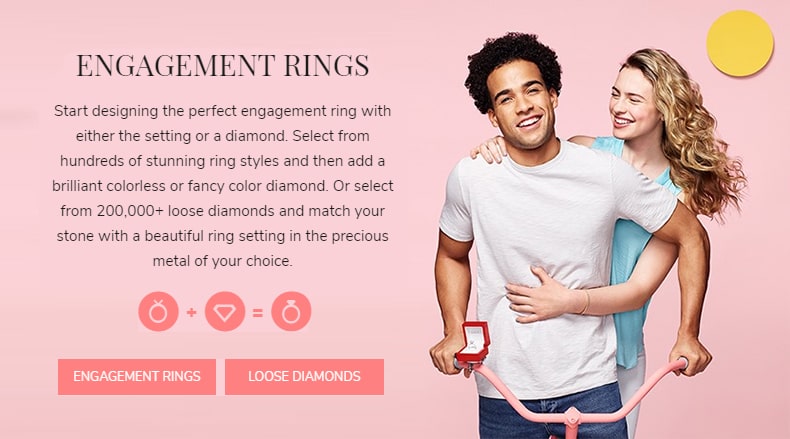 Once you have selected the style of ring that you want, it is time to choose the type of metal to use. Selections include 14k or 18k white gold, 14k or 18k yellow gold, platinum, and rose gold.
The last step in designing your engagement ring is to choose the perfect diamond. You can choose from an extensive selection of more than 200, 000 loose diamonds. You can narrow down your search by selecting the shape, color, clarity of the diamond you want to use in your ring. You also need to choose the cut quality, and the Carat that you wish to use.
You can also choose to use natural diamonds in your ring or lab-created diamonds. The lab-created diamonds are slightly less expensive than natural diamonds, but you can get natural diamonds in a smaller Carat that can be the least costly.
Wedding Rings
James Allen also gives you the ability to design your wedding ring and escape the traditional approach if you would like to. Of course, the Classic style is available for men and women, but you can also try one of the other types like Diamond, or Stackable wedding rings.
These new styles of wedding rings allow you to add a modern twist to an ancient tradition. The men's Alternative wedding rings especially stand out because they use different metals to create a fresh modern look that many men may prefer over the classic band.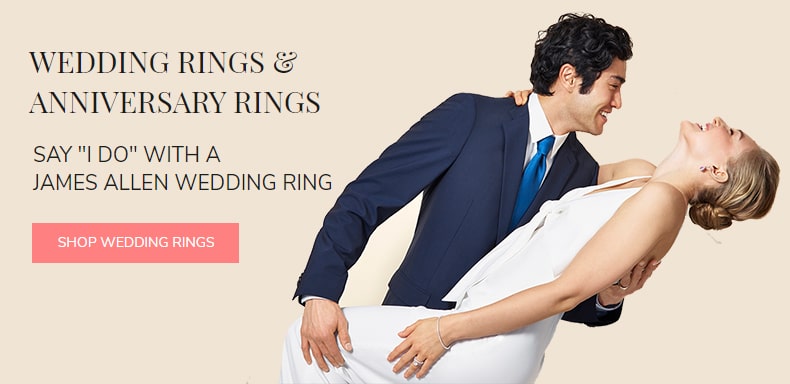 Anniversary Rings
The James Allen selection of anniversary rings is part of its wedding band category. Anniversary or Eternity rings are a great way to say "I love you" on anniversaries and special occasions like renewing your vows.
Eternity rings are very similar to a wedding band, but the design is a little fancier. They often incorporate diamonds and carvings that complement the shine of engagement and wedding rings.
Diamonds
One of the critical components of any engagement ring is the diamonds. James Allen features one of the largest selections in the world with over 200,000 certified conflict-free diamonds for sale, presented in stunning HD.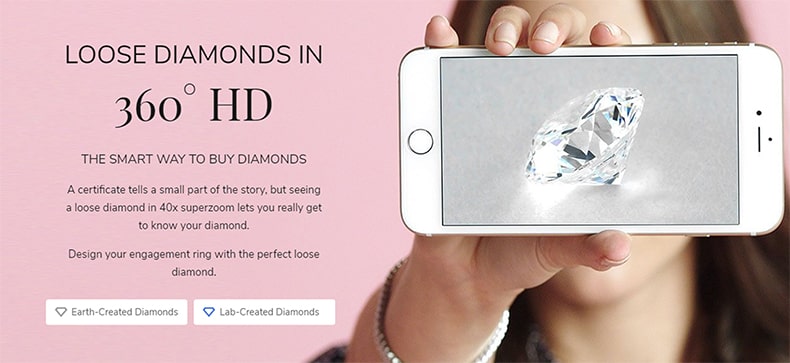 Choose one of ten cuts for your diamonds, including round, pear, and heart. You can also choose one of 10 colors for your diamond, including yellow, pink, purple, pink, blue, and even black.
James Allen offers both Natural and Lab-Created diamonds.
Gemstones
Diamonds are not the only gemstones that James Allen offers its customers. They also offer a vast selection of other gemstones like sapphires, rubies, and emeralds.
Just as with the diamonds, you can design your engagement ring using these gemstones, all presented in rotating 360 degrees of High-Definition to help you choose the perfect gem for your ring.
Fine Jewelry
The vast selection of jewels that James Allen offers extends well beyond wedding and engagement rings and into many other styles of jewelry as well.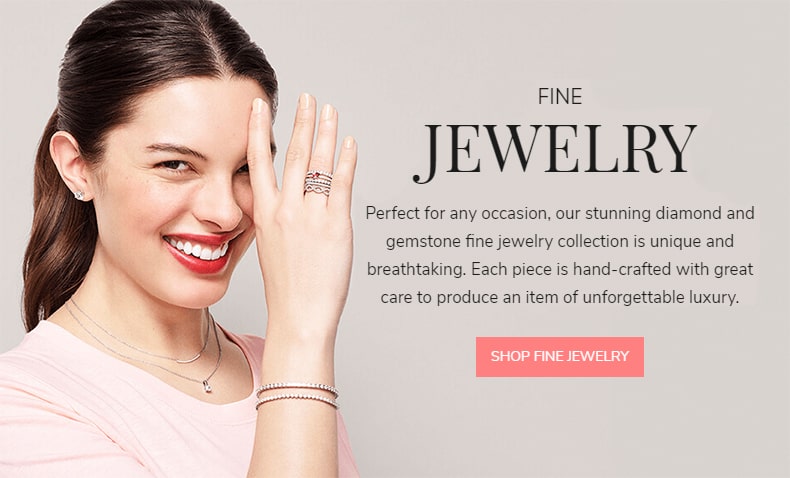 You can design your perfect diamond earrings, or choose from a selection of preset, ready-to-ship diamond studs. You can also find diamond and gemstone bracelets, necklaces, and pendants, to accessorize and complete your look.
Why Choose James Allen
Let's take a look at behind the scenes and see why we might choose to order from James Allen
Around the Clock Customer Service
James Allen provides diamond and jewelry experts that are available at any time to help you with any problems you might incur while searching for your perfect diamond. A click of a button allows the expert to share the screen with you while you both look at the screen and go over the details of the gem in question.

Lifetime Warranty
A lifetime warranty protects every piece of jewelry sold by James Allen, and they will repair and maintain your jewelry for your lifetime and includes free prong tightening, re-polishing, rhodium plating, and cleaning services.
Financing Options
James Allen offers different payment options to help you purchase the bridal jewelry of your dreams, and you can apply right online to get your answers quickly.
Free Shipping Worldwide
Purchase any item from James Allen, and they will ship it anywhere for free. James Allen provides fast, free shipping and insurance to all shipping destinations, regardless of the order amount. Every item is securely packaged and fully insured while in transit to your home or office.
James Allen uses FedEx for all orders and any order over $500 ship via FedEx Priority Overnight.
Free Engraving
James Allen offers free engraving on most of its products, and engraved messages can be up to twenty characters long.
Free Resizing for 1 Year
If you have any problems with the size of the ring that you purchased. James Allen will resize the ring for free up to a year after the purchase date.
What's Wrong with James Allen?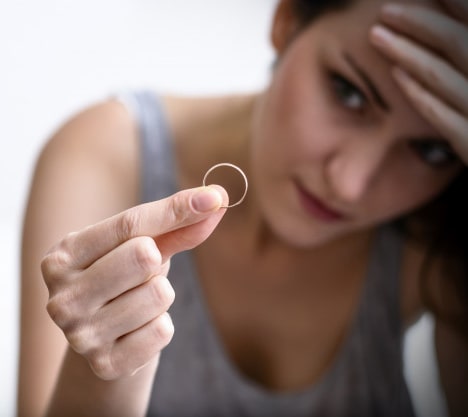 There are some complaints that James Allen had sold rings that were not in stock and forced the customers to choose from a small selection of inferior diamonds as a replacement.
There are also some reports that the smaller and more delicate rings may be prone to bending with some arriving bent when shipped. Some complaints of accenting side jewels falling out of their settings also exist.
Final Thoughts on James Allen
These are the grades that we have given James Allen in several categories.
James Allen provides an exhaustive supply of rings and accessories. The unbelievable amount of diamond to look at and choose from provides plenty of assuredness that you will be able to find a diamond that speaks directly to you.
An easy to navigate website makes all the difference when taking on a large project like selecting the perfect engagement ring. James Allen provides a website that that's easy to use and clearly shows the merchandise on sale.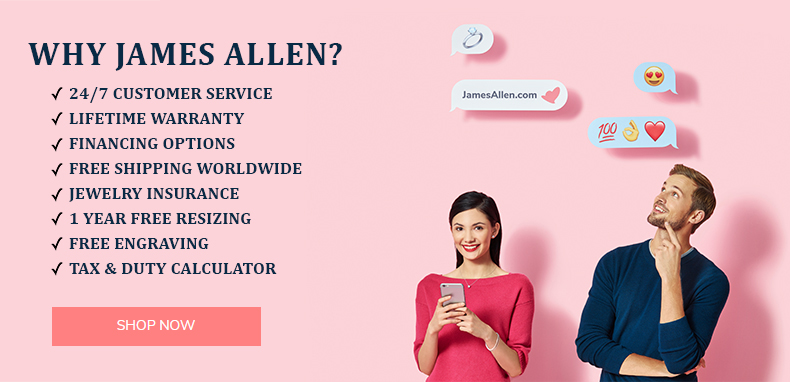 The James Allen 360-degree HD rotation feature to look at and study each diamond is a first in the industry, and competing jewelers are just now beginning to employ this same technology. This technology makes it easy and fun to select your diamond.
It's not that James Allen diamond prices are lower than competitor's prices; it's the huge selection that allows for a 5-star price rating. The sheer number of diamonds available all but assure that you can find one at exactly the right price for your budget. Lab-created diamonds add to the selection even more.
Customer Service
The jewelry experts that James Allen provides to all customers free of charge and around the clock, push this online retailer into the forefront of customer service. These experts are just one click away and will look over diamonds with you to help you select the right ones.
They will show you what you are looking at, answer all your questions, and explain all of the intricate details of jewelry building.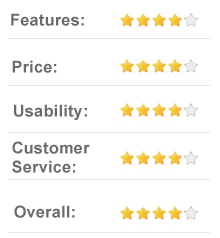 We give James Allen an overall score of 4 Stars. It is an excellent company with a huge selection of wedding and engagement rings along with all of the important accessories like earrings and necklaces.
The customer service is second to none and will be much appreciated by anyone who is searching for one of these rings that represent one of the most important symbols of love they will ever buy.
The reports of bent rings and late arrivals are a little worrisome because this is not something that can go wrong. Make sure you order the ring early to avoid any unexpected last-minute problems.