Kajabi is a marketing platform that allows you to easily create landing pages, product demonstrations, and other web content.
For marketers, the most important thing to know is that Kajabi offers a full suite of marketing tools for building websites, managing email marketing campaigns, and launching digital products.
With Kajabi you can host your website with everything included in one package. This includes domain registration, hosting, and even SEO services.
In this Kajabi review, we'll take a look at the software's features and what it can do for your business.
What is Kajabi?
Kajabi is a web platform that offers an online and centralized hub for your business to host and manage all its marketing assets such as:
You can also create different types of content such as videos, presentations, email courses, and more.
The web application makes it easy to manage all your projects in one place. This helps you save time and money so you can focus on what's important instead of wasting time.
Kajabi's Features
Kajabi comes with a wide range of features that will help you build your business.
The platform comes with a drag-and-drop editor, meaning everything gets edited in real-time. Use the editor to drag and drop elements such as call-to-action buttons, text boxes, images, and video clips.
Template Builder
The template builder is a simple tool that lets you create your own custom design without any coding knowledge. There are over 100 templates that will work for any kind of web content, including membership sites, blogs, and e-commerce stores.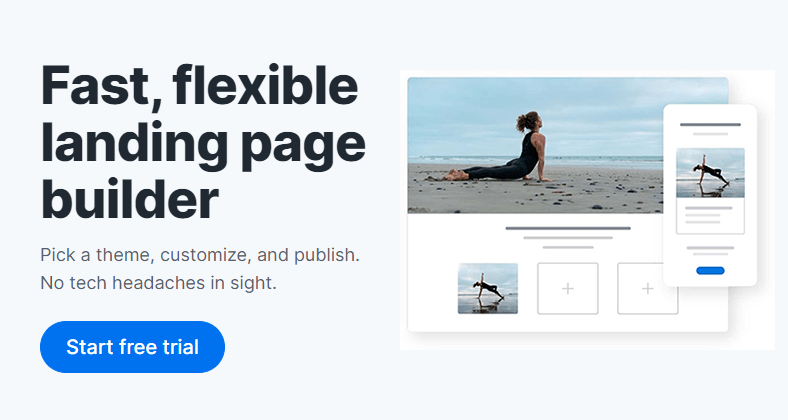 Campaign Builder
With the campaign builder, you can build and launch different types of marketing campaigns such as product launches, email courses, and events.
Animated Videos
The software comes with an animation tool that lets you create high-quality animated videos, making it ideal for marketing products.
Live Broadcast
With Kajabi's live broadcast feature, you can connect with your audience and offer real-time webinars to showcase your products.
You can also use this feature for Q&A sessions, testimonials, or event announcements.
Build Membership Sites
You can build membership sites with Kajabi.
Use membership sites to sell your products or services, give access to exclusive content, or just provide a place where your members can interact with one another. If you choose this option, then only logged-in users can view, download, and comment on the content you post in Kajabi.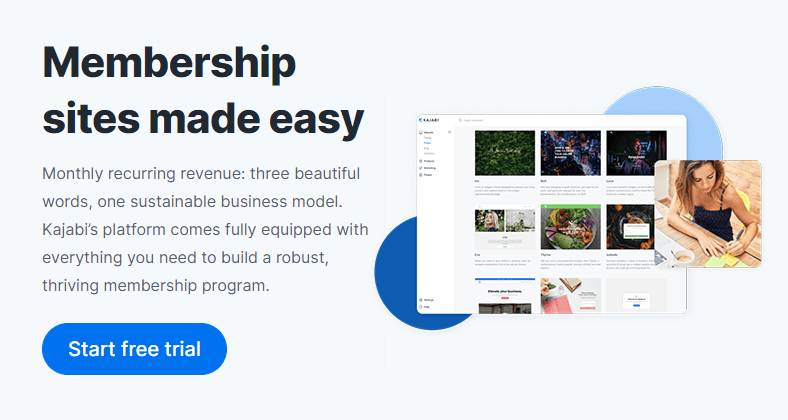 The best part is that you can customize memberships to fit your needs, even offering different levels of access for those who purchase different products from you.
Kajabi also offers an easy way to set up a payment system for your membership site. You can use Paypal or Stripe, for example, to accept payments from your members.
Unlimited Hosting
The Kajabi unlimited hosting feature allows you to host unlimited websites under your Kajabi account. This is a nice feature when you need to build numerous sites at once. It lets you save time and money when managing multiple business ventures.
Email Marketing
Kajabi also offers email marketing tools so you can send emails to your database of contacts. It's easy to create email marketing campaigns using the software. You can even schedule them in advance to automatically send them out at a set date and time.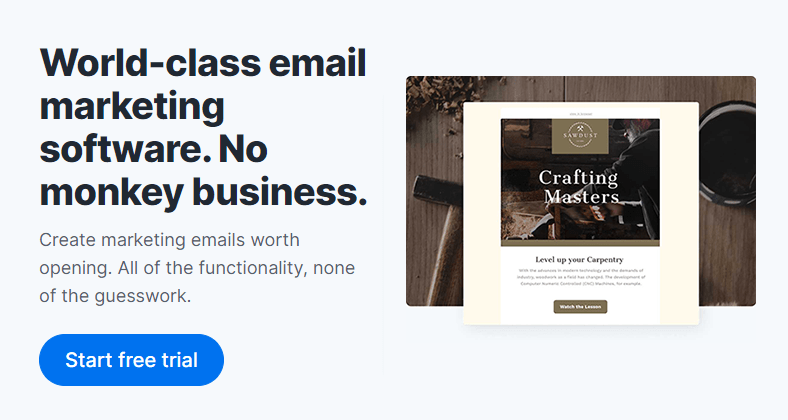 It's possible to segment your list. You can use Kajabi to send follow-up emails with specific content for each user. This feature allows you to automate your sales funnel so that your business can focus on the essentials without worrying about sending out emails or building your marketing strategy.
Custom Domains
With this feature, you can register a custom domain name for your Kajabi website and point it to your account. This is a great way to protect your brand identity as well as make it easy for users to remember your site's URL.
For example, if your site's URL is "www.mywebsite.Kajabi.com", you can register a custom domain such as "www.mybrandname.com". Then, link it to your account so users can access your website with the new branded URL. This boosts brand awareness and is a great way to build customer trust in your business.
Webinars
With Kajabi, you can offer webinars to your audience. Use this feature for Q&A sessions, testimonials or even announcements.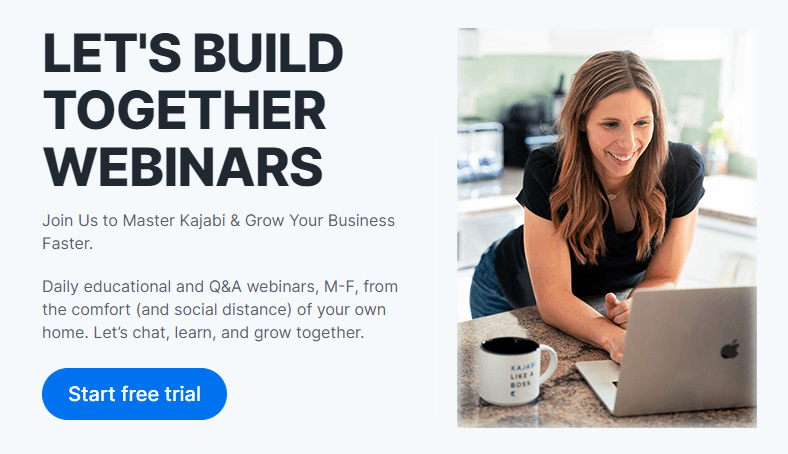 You can record all your webinars and then save them in your account's video library so you can use them for later promotional purposes.
If you run a business and need to teach something, then webinars are an excellent way to do it. Webinars provide extra value and help users at the same time.
Powerful Analytics
Kajabi offers analytics tools that let you monitor your marketing efforts and sales funnel. You can use this feature to gather data such as:
Session duration: This shows you how long your audience spends on each page of your course or event.
Conversion rate: This lets you know which pages lead to more conversions (e.g., purchasing a product).
Views by date: This provides a list of all the pages viewed by your subscribers in a specific period.
You can also use the analytics area to track the number of views, downloads, and purchases from your website.
1-Click Upsells
If you use multiple payment gateways (e.g., 2Checkout, Paypal, etc.), this feature is perfect for you.
With the 1-click upsells feature, you can easily sell products or services to your audience on different pages of your website without redirecting them to a separate page to complete their purchase.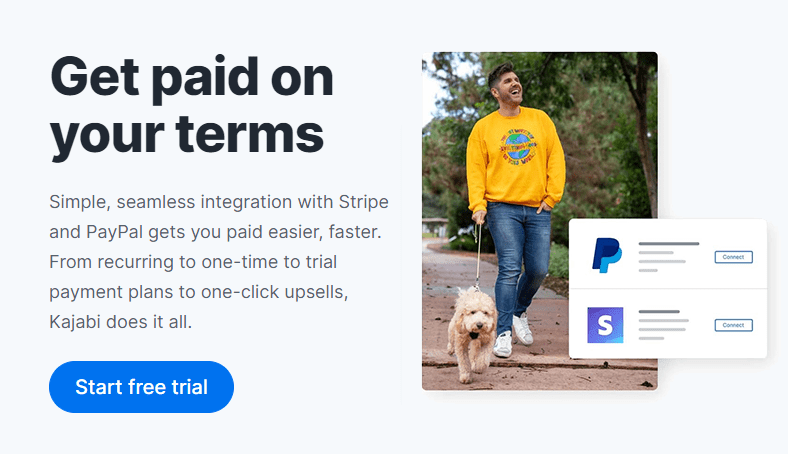 SEO Optimization
With Kajabi's SEO optimization feature, you can improve your search engine rankings.
It allows you to automatically add the most relevant keywords to your website pages so that they're more easily indexed by search engines like Google, Bing, and Yahoo.
It's important to focus on this because it helps your site get more visibility in organic searches, which helps you generate more traffic, leads, and sales.
Kajabi Pricing and Plans
Kajabi uses a pricing model based on a monthly subscription fee. You can test the software for two weeks before you decide to go with a paid plan.
Kajabi has three plans: Basic, Growth, and Pro.
The Basic plan gives you access to features like three products, unlimited landing pages, hosting for one website, unlimited email marketing, and one admin user. This plan costs $119 per month when billed annually.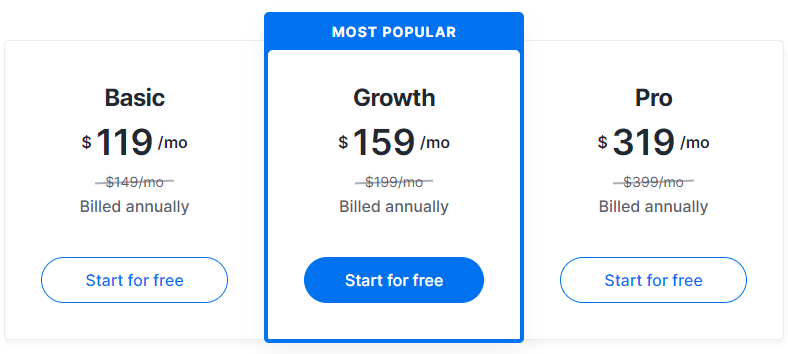 The Growth plan gives you access to 15 products, unlimited email marketing, unlimited landing pages, one website, and ten admin users. It also lets you remove all of Kajabi's branding from your website. The Growth plan costs $159 per month when billed annually.
In addition, with Kajabi's Growth plan you also have access to more advanced automation and 24/7 chat support (the Basic plan gives you chat support but not 24/7).
The Pro plan is the most comprehensive option as it gives you all the features of the Kajabi Basic and Growth plans as well as a code editor, three websites, 100 products, and 25 admin users. This plan costs $319 per month when billed annually.
Kajabi Customer Support
Kajabi offers quality customer support. You can contact the support team using submission forms, emails, or phone calls.
To get in touch with a customer care rep, just click on the "Submit a Ticket" option that's available to all Kajabi customers. This will let you send a direct email to their support staff so they can get back to you as soon as possible.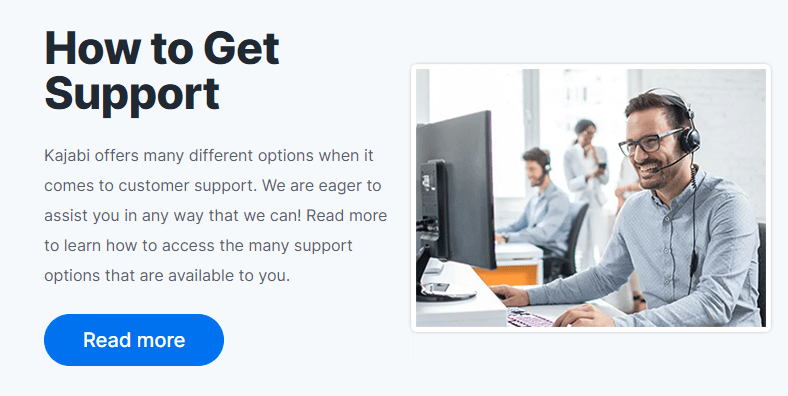 You can also get in contact with Kajabi by clicking on the chat option. This will open a chat window with a customer service representative who will answer your questions 24/7 when you're paying for the Growth or Pro plan.
In addition, you can also use Kajabi's knowledge base to get the help you need. On their website, they have a wide range of articles that cover nearly every question you might have.
Conclusion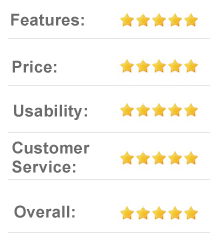 Kajabi can help business owners of all types run their businesses more effectively. With some work up front, it's possible to save time and money while gaining insights into your customer base and product/service offerings.
As a next action step, consider exploring the many features available in this powerful tool. You may find it particularly helpful for marketing automation, email campaigns, event management, lead generation forms, or social media messages.