As customers personalizing services and products becomes more of a digital marketing trend in 2022, Klaviyo is stepping in to help business owners do that for their clients.
The 21st-century transition into more digital marketing means that software companies must gear business owners on the right track to assisting their consumers by utilizing a professional and well-thought-out platform.
About Klaviyo
Klaviyo is a customer data software company on a mission to automate your marketing campaigns, personalize messages to different clients to engage them, and turn that engagement into higher sales.
Their motto is "Own your data. Own your growth."
The company simplifies marketing functions for small business owners and their startups. It can be daunting to find out what works when marketing. Klaviyo gives you the resources to keep your marketing campaign effective to yield a return on your investment.
Over 265,000 businesses throughout 80 countries trust Klaviyo to manage customer data and monthly customer outreach efforts.
They have become the resource behind making results for increasing business sales while helping you to retain customers in your small business.
You can choose to have email contacts only or send just SMS messages.
Maybe you want a hybrid contact system utilizing email and SMS contacts. Take advantage of the affordable rates for this option, too.
Klaviyo's Top Features
Klaviyo's top features make the company a reliable marketing and customer outreach resource.
Plan your emails and SMS messages to your customers. Have them send at specific times of the day based on when your customers are most active on their smartphones.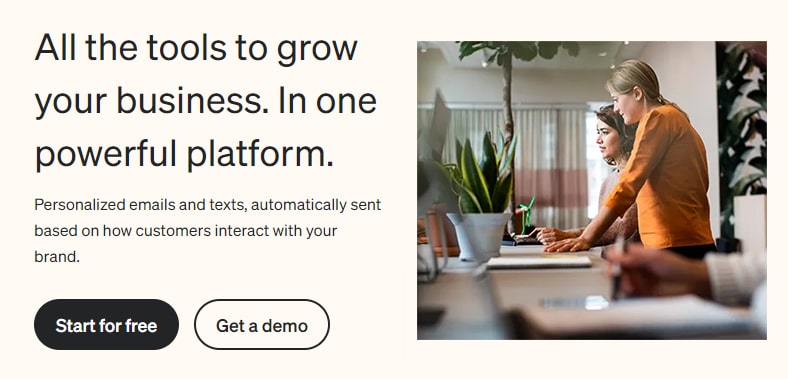 Besides storing and organizing customer data, Klaviyo will also secure it.
There's more than just this feature. Additional features are:
Campaign newsletters
Ecommerce automations
Email
Ready-to-go template libraries
Campaign Newsletters
If you have a specific marketing campaign, you can distribute correspondence to the customers interested in that campaign's subject.
You will receive suggestions on the best time to send your email or SMS messages.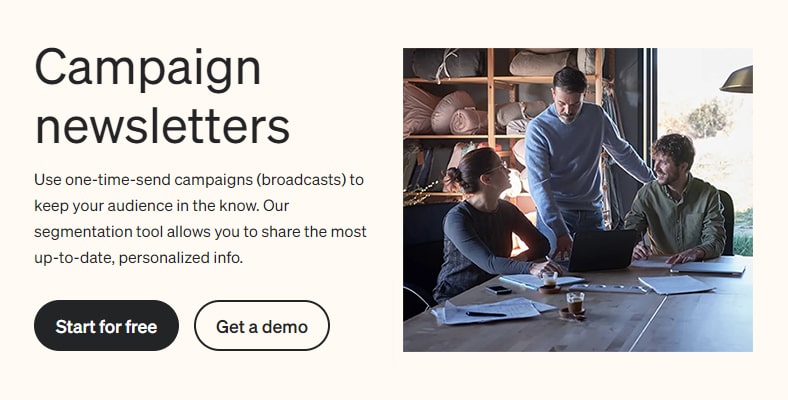 Receive guidance on the number of messages to send during your campaign. If you send too many at once, your customers may subscribe for constantly filling their inbox.
Emails you send once or twice a week should communicate everything about your campaign to prevent planning too many follow-up emails.
Klaviyo will help you make personalized marketing campaigns, whether by email or SMS, to increase engagement and loyalty amongst your clients. In turn, this will help increase sales.
Ecommerce Automations
The company specializes in multi-marketing automation to reach your customers only when it applies to promotions of products and services your clients are interested in.
Based on client profiles, automation will generate for you to get ready to send an email or SMS at any time.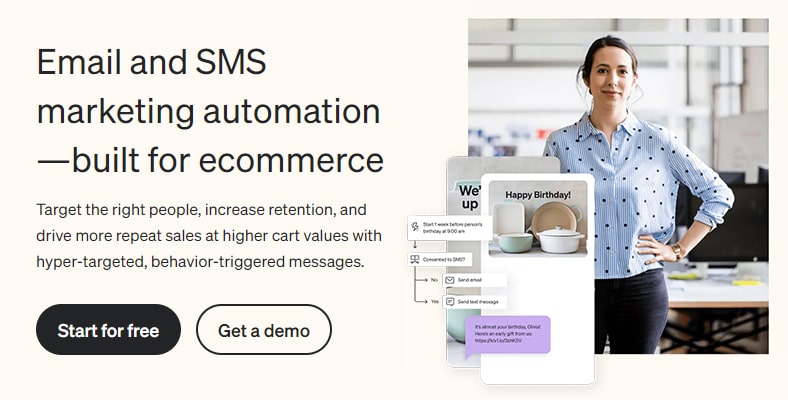 Receive suggestions on how to word your messages for enhanced engagement so that you get feedback by customer action every time.
You can contact customers by text or email or both modes if preferred. The automation technology will keep track of which customers prefer which contact method.
Email
Klaviyo gives its customers a segmentation tool to help with personalizing email and SMS messages.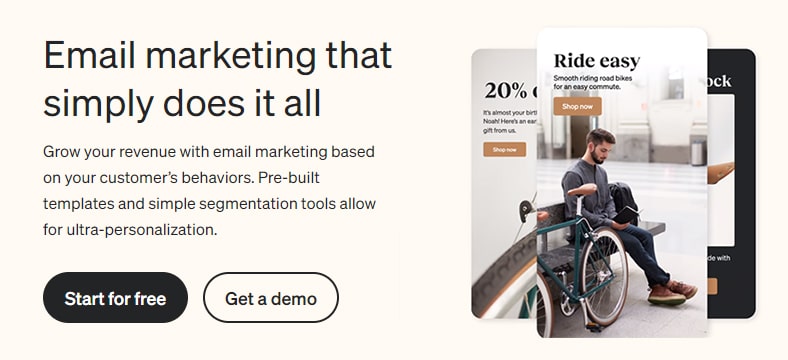 Whether you want to email your clients about their abandoned carts or a new product like one they have purchased in the past, Klaviyo can turn your correspondence into results with more sales.
Each email template does not require you to specially code it. Instead, just input the information you want to present to your clients, schedule the time you wish to the email sent, and watch the engagement increase!
Ready-to-Go Template Libraries
Whether you need to send an email about your marketing campaign, form an SMS message about a three-day flash sale, or create a form for a loyalty program, Klaviyo has you covered with ready-to-go template libraries.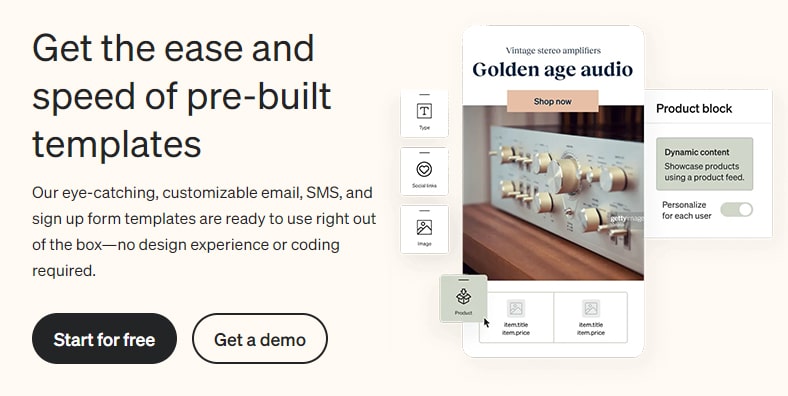 Pop-up forms may have clients sign up for a newsletter to receive a first-time customer coupon afterward. Other pop-ups may advertise flash sales to get customers to shop in that specific section.
If you are writing an email, the artificial intelligence in the Klaviyo software will help you create a subject line. You can use one of the pre-generated subject lines or create your own based on what the AI gave you.
Signup Forms
Signup forms are even easier to generate when you use Klaviyo. Entice your customers with a signup offer like 10% off their first order or a free product with their first purchase of a designated threshold.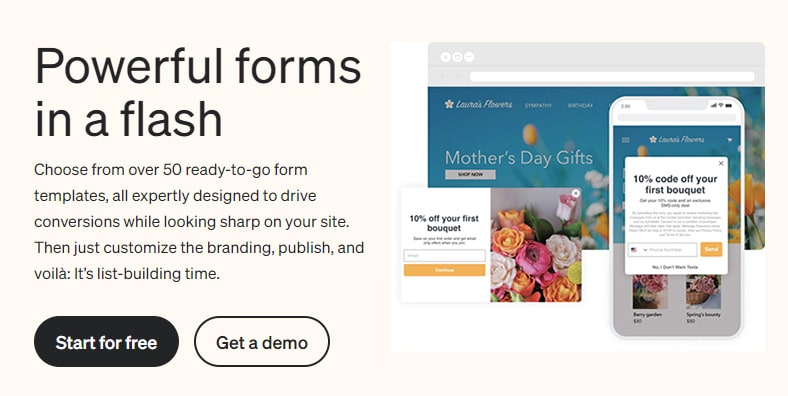 However you want to do it, Klaviyo helps create your signup forms to be professional, seamless, and quick for your customers to join your newsletter list.
SMS
Rather than your customers calling your business phone, they can text one of your representatives for help using the SMS feature.
You may want to send a quick message about a flash sale to remind clients to finish up their purchases to take advantage of it.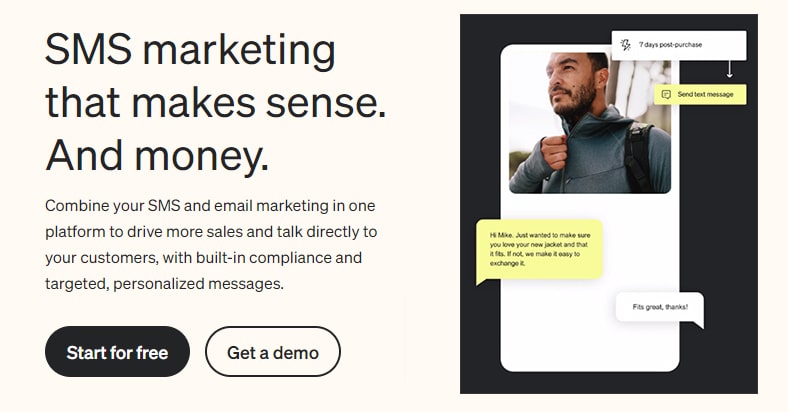 The best subjects for an SMS message include abandoned cart reminders, coupon code links, and pictures of the products in which the client is interested. These tactics will have the customer rethinking their purchase decision to drive more sales.
Klaviyo Costs
While Klaviyo has free packages, the rates increase as you have more email or SMS contacts to correspond with every month.
Get a flexible rate based on how many contacts you have for email, SMS, or both.
Free Packages
The Klaviyo email and SMS plan are completely free if you have 250 contacts or less. Send up to 500 emails every month.
If you want to send SMS messages to clients, you can have up to 50 SMS contacts. You can either send a maximum of 150 SMS messages or 50 MMS messages per month.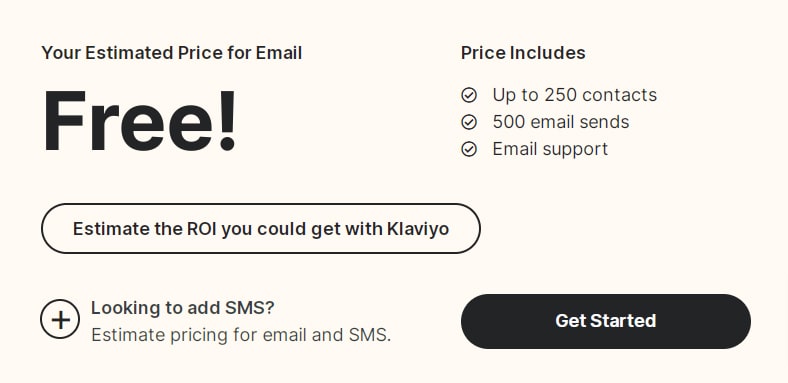 You can choose to contact your customers only by email or just by SMS if you do not want to do both.
Sending only emails for free entails having 250 contacts, and you can do 500 emails per month.
Sending just SMS messages allows you 50 contacts and150 SMS sends or 50 MMS sends per month.
Paid Packages
You can customize your package based on the number of contacts you have for email and/or SMS.
Go to Klaviyo's pricing page to type in the number of contacts for each category to receive your rate.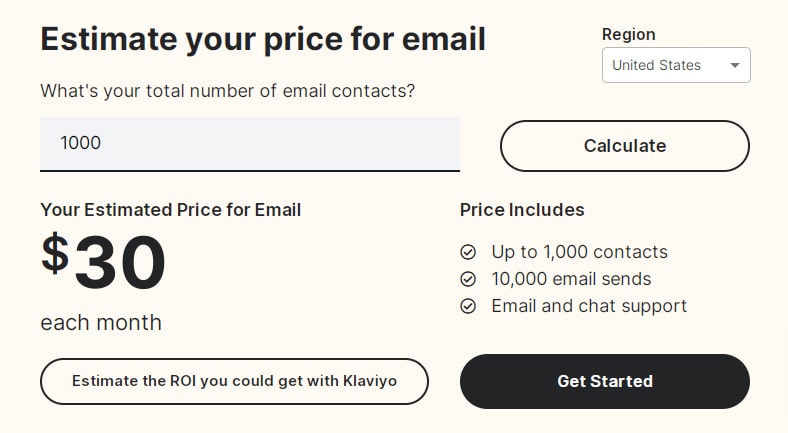 Here are some United States rates below based on each category. The company also serves the United Kingdom, Canada, and Australia.
Email Only
$20 per month for up to 500 contacts.
$30 every month for 1,000 contacts or less.
$45 monthly to have up to 1,500 contacts.
$60 per month to have 2,500 contacts or less.
SMS Only
$5 per month for up to 150 contacts.
$10 every month for 250 SMS contacts.
$20 monthly to have up to 500 SMS contacts.
$30 per month to have 750 contacts or less.
Email & SMS
The email & SMS category combines the costs of every single category into one cost.
If you have 500 email contacts ($20) and 150 SMS contacts ($5), it would be $25 per month.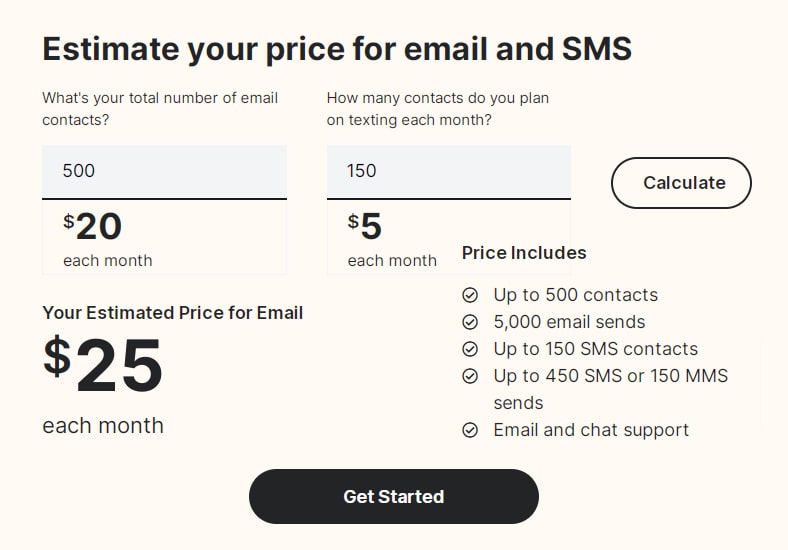 Maybe you have between 501 to 1,000 email contacts ($30) and between 151 to 250 SMS contacts ($10); it will cost you $40 per month.
Hence, Klaviyo allows customers to customize their marketing campaign package so that they are not overpaying for what they will not use.
Customer Support
If you are a Klaviyo customer using the free email feature, you will get email support.
As a Klaviyo SMS customer, you will receive email support and a toll-free number to call if you have any questions or concerns.
If you have a quick question, see if it can be answered at the Klaviyo Help Center. Browse the onboarding guide if you are just starting with the software. Get a preview of customer experiences in the community platform to see what has worked for users if they had a specific issue.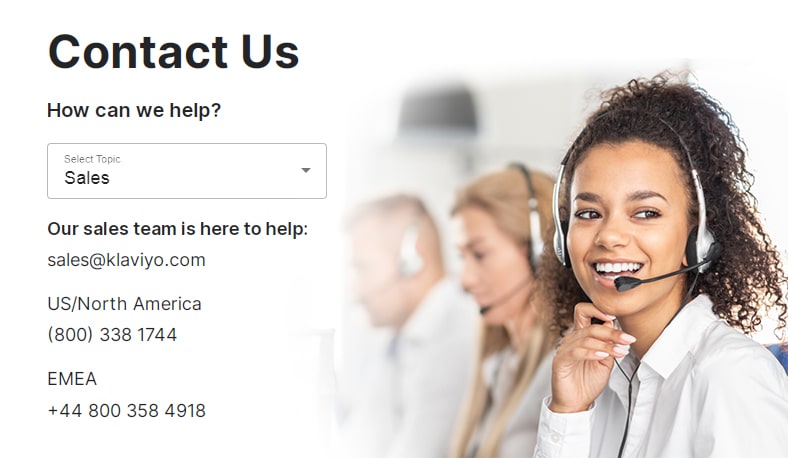 Direct customer chat is available for people utilizing paid packages from 9 am to 5 pm EST during the weekdays.
Email support is available from 6 am to 10 pm EST throughout the week and 10 am to 4 pm EST on the weekends.
Klaviyo Regulations
Klaviyo has an acceptable use policy that outlines what you can do with the software platform and what you cannot do.
You cannot use Klaviyo to:
Participate in illegal activities.
Show hatred towards someone of a specific race, creed, gender, sexual orientation, or other demographic in which you may not agree.
Invade on the privacy of other people.
Try to talk with or take advantage of minors under 13.
Get information about clients without their permission.
Amongst other violations of the Klaviyo acceptable use policy.
Final Thoughts on Klaviyo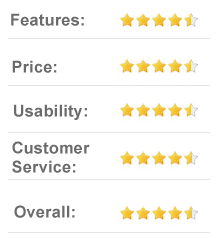 Klaviyo is a software company that empowers business owners to store, secure, and utilize customer data to advance their marketing campaigns and increase sales.
The digital marketing Klaviyo offers will enhance the relationship between a business and its clients.