If you are looking for a new landing page builder, you should check out Landingi.com. Landingi is a company that provides landing pages for businesses. This article will discuss the features, pricing and user experience. Keep reading to find out if it is the right fit for your needs.
History of Landingi
Founder and CEO Blazej Abel created the company in 2005. Landingi's mission is to help businesses increase their online conversion rates. Abel's company believes in the power of digital marketing and works to assist businesses in more than 80 countries drive sales numbers.
Landingi offers a wide range of landing page templates designed to increase conversion rates.
Landingi also provides a landing page builder that allows businesses to create custom landing pages.
The company provides a wide range of resources that businesses can use to improve their landing pages. The resources include:
An A/B testing tool
Video tutorials
An extensive knowledge base
Landingi has received positive reviews from customers and industry experts. The company
features in several publications, including Forbes, Entrepreneur, and The Huffington Post.
Top Features of Landingi
The landing blog is an excellent resource for those considering joining the site. It covers the top features of Landingi.com and reasons to join. One notable feature is the ability to create beautiful landing pages without coding skills. Also, Landingi.com integrates with over 20 popular email marketing platforms. Here are some products Landingi provides:
Landing Page Builder
You do not need any coding skills to create a landing page with this feature. The drag-and-drop interface helps to create responsive and memorable pages. It makes it easy to create, optimize and publish landing pages.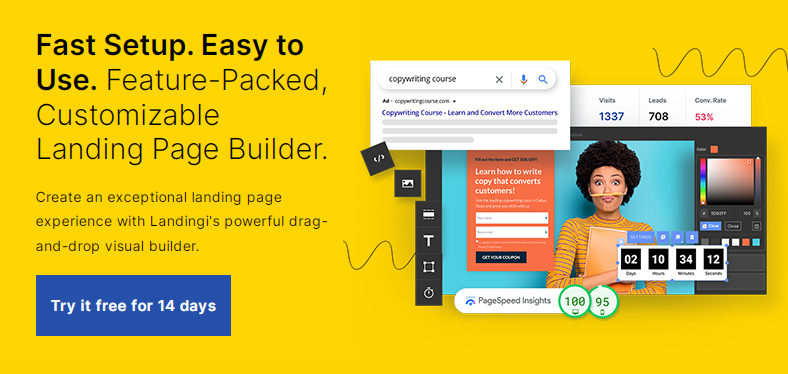 Pop-up builder
The feature helps create pop-up messages for your visitors. Its purpose is to grab the attention of a user and increase their engagement, which helps to convert visitors to leads.
Landing Page Templates
Landingi.com has more than 300 landing page templates. You can pick a template and utilize the drag and drop editor to create a page in minutes.
PageInsider
This feature provides solutions to optimize your landing page before publishing. It gives information on how to capture the visitors' attention. Once you attract eyesight, the result will be a high conversion rate.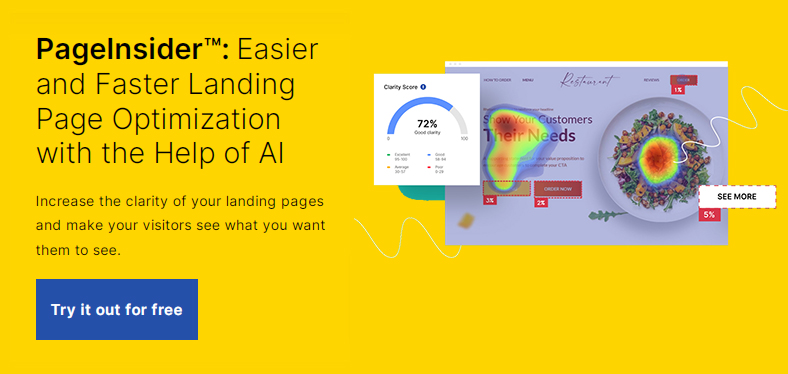 Digital Product Sale
The feature provides an easy and seamless way to sell digital products. There are plenty of products one can trade using the internet and landing pages. The products include eBooks, services, online courses, webinars and more.
Integration
When working with different platforms, switching from one to another is not easy. Landingi makes it possible to connect your account with various tools. Integration helps to automate your workflow and gain more in your marketing campaigns.
Funnels
It's a term used in marketing, and it outlines a set of steps your visitors will take to become customers. Funnels help to attract, convince and convert visitors to become regular
Customers. They increase sales, automate the sales process and identify problems.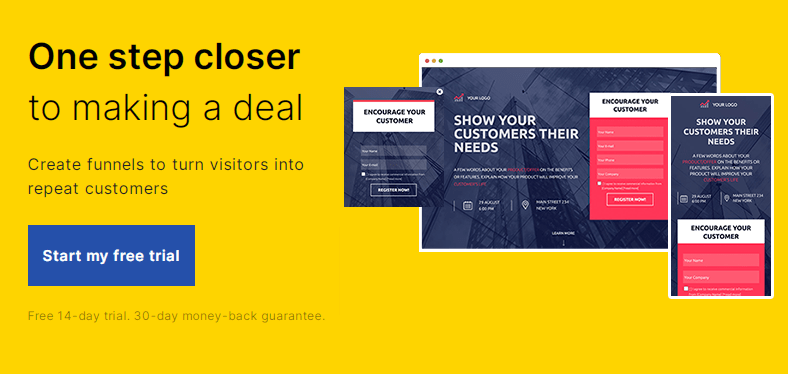 How to Access Templates and Build Your Page on Landingi.com
Templates make it easier to build a landing page, even for a beginner. To access templates, you begin by inserting a new widget section on your page. Then follow these steps:
From the top left side of your editor, drag and drop the widget into your active landing page.
You can browse through the templates and select a blank section.
On the left side of your page, there are categories with the necessary elements. Use the components to build a professional landing page.
Alongside each template is a description that specifies why it is suitable for your page.
Select one of the templates, save and then close.
Now, you have the template added to your landing page. You can add new elements, edit them, duplicate or move them as you wish.
Benefits of Joining Landingi
If you are looking to take your online marketing to the next level, Landingi.com is a great resource.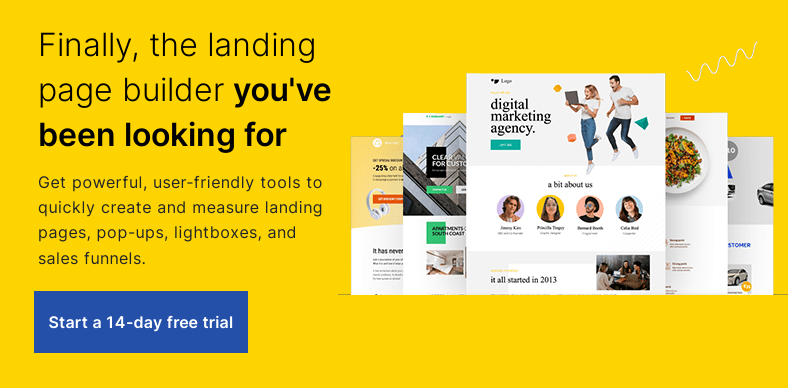 Here are some of the benefits of subscribing to their blog:
Stay up-to-date on the latest trends in online marketing.
Get tips and advice from industry experts on how to improve your marketing campaigns.
Learn the latest landing page design trends and how to create effective websites.
Get insights on how others grow online presence and drive sales using Landingi.com.
So, to boost your online marketing efforts, subscribe to the Landingi.com blog today.
Landingi Commissions and Costs
If you are looking to create a landing page, one of the first things you will want to consider is the cost. Landingi is a popular option, but how much does it cost?
There are two different types of pricing when it comes to Landingi: monthly plans and pay-as-you-go.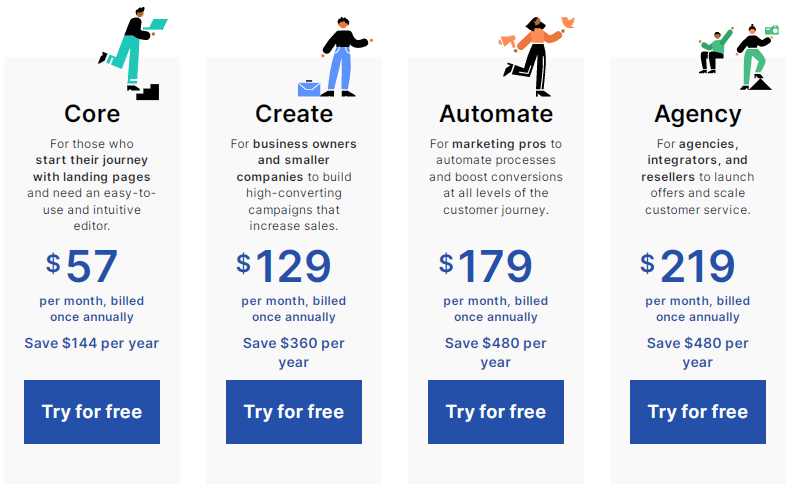 The monthly plans start at $57 per month and go up to $219 per month. The pay-as-you-go option starts at $9 per month, with no upper limit. So, how do you decide which choice is right for you? It depends on your needs. If you need many features and flexibility, then the monthly plan may be the better option.
If you only need to create a few landing pages, the pay-as-you-go option could save you some money.
No matter which option you choose, Landingi offers a 14-day free trial you can utilize to experiment with their software.
Customer Support
Landingi.com platform does not only help in creating landing pages. It also offers comprehensive customer support. If you lack the experience, time or capacity, then Landingi will provide you with solutions to achieve your goal.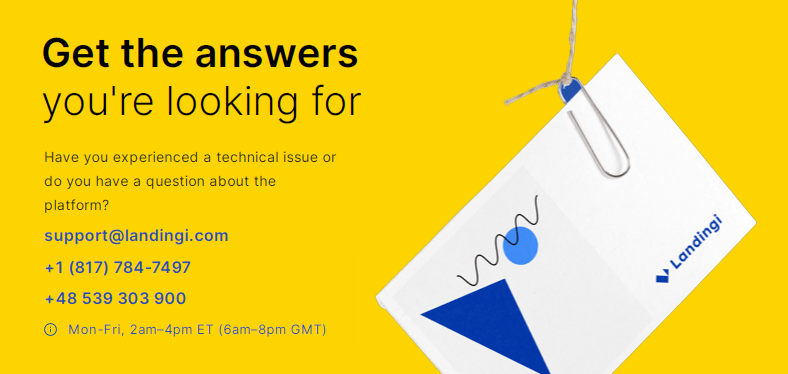 Here are some of the primary customer supports:
Offers support to design the look or even import your landing page from another platform. Your viewers' attention and goals are critical in the design process.
Complimenting your landing page through newsletters and banner advertising templates. The vocal support will help to improve and increase your campaigns.
If you have any questions about using Landingi, their customer support team can help. You can contact them by email or phone, and they will be happy to answer any of your questions. Landingi also has a blog where you can find helpful tips and advice on using the platform to its full potential.

Landingi Licenses and Regulations

The Landing blog is an excellent resource for up-to-date licensing and regulatory information. The blog covers many topics, from essential licensing and regulation to specifics on individual countries and industries.

This company's blog is a great place to get information on licensing and regulations, whether you are a beginner in licensing and regulation or a seasoned professional.

FAQs

Here are common questions related to the Landingi platform.

Conclusion

Landingi's platform offers an easy and fast way of creating landing pages. The company also provides comprehensive customer support through its team of experts. If you have minimal experience or time concerns, Landingi delivers the solutions. The company will help you achieve your marketing goals.

Creating landing pages without any coding skills provides a cutting-edge advantage. With the drag and drop feature and templates, you can quickly design a page that will help you reach your audience.