In today's world, we use passwords for almost everything. From your computer to your shopping sites, almost everyone uses passwords daily.
With the increased use of passwords comes technology designed to hold all those passwords for you. When you have to create passwords often but don't want to repeat the same one remembering all your passwords can be complicated.
That is where websites like LastPass.com come into play. LastPass helps you manage all those passwords from any location, making your life simple and secure.
What is LastPass?
LastPass is a browser extension that can easily be added to your internet browser. Once added to your internet browser, it saves and secures all your passwords. You can control and view what sites have passwords saved with LastPass and edit them if necessary.
The purpose of LastPass is to be your last password ever. The idea is that once you download LastPass, the last password you need to create is the one for lastpass.com. After you've made that password the rest of your passwords for any websites you want will be saved onto LastPass.
There are many ways LastPass saves passwords for sites you're using. It can save passwords from sites you log into the browser extensions. It can pull sites you have passwords from your email. You can also import sites and passwords from other password-saving managers.
A security vault allows you to view your passwords on LastPass. You can see all the websites and passwords you have saved with LastPass with the security vault. This allows you to go in and edit any weak or old passwords you may have. This feature also keeps track of the dark web to make sure none of your passwords get leaked.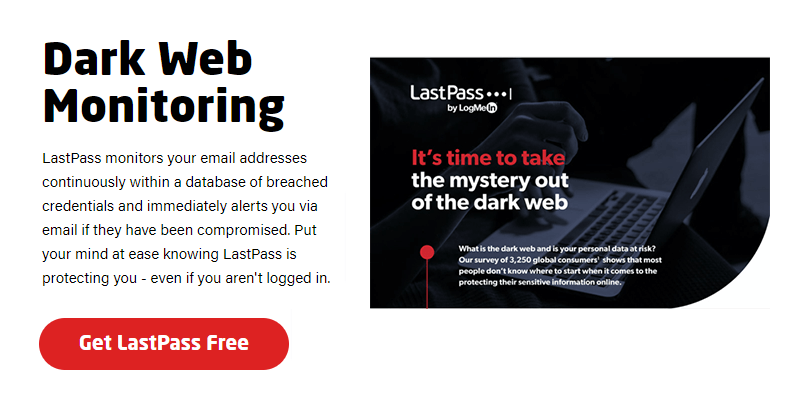 LastPass keeps track of any passwords you use for websites, but it also has a section where you can manually add passwords. You can manually add passwords or valuable numbers for things like:
Social Security Number
Credit or Debit cards
Passport information
Drivers License numbers
Insurance Policy information
Wi-fi
As a whole, LastPass aims to keep and secure all your passwords and important information for you making your life easier.
Is LastPass For You?
The big question is, do you need a browser extension like LastPass? Using the same password for everything provides abysmal security. However, using many different passwords makes memorizing everything difficult.
To get the most security from your passwords you use a different password for each website. LastPass can save passwords for over 100+ websites. Having a memory of 100 different passwords or a personal log of 100 different passwords is a lot to keep up with.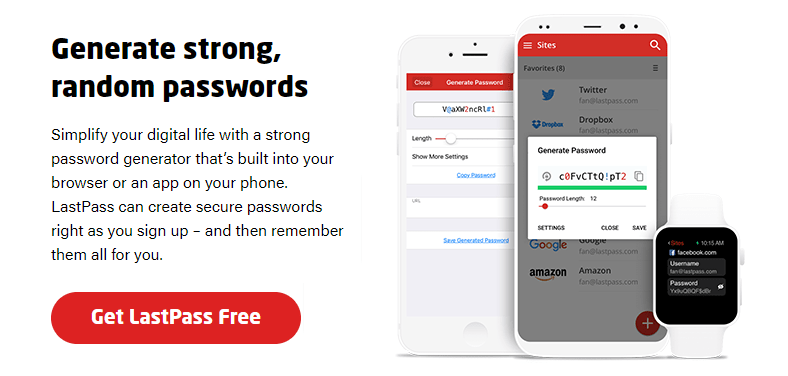 LastPass takes out the struggle of coming up with a new password and writing it down by doing it for you. Say you're logging in to a new website for the first time. With the LastPass extension, it will auto-suggest a password for you. It can do this for over 70 websites. So rather than adding some extra numbers to a password you already use, LastPass will create a unique and secure password for you.
Whether you want to start securing all your passwords or you're tired of keeping up with them, LastPass is a perfect tool for all those needs and more.
Features Of LastPass
LastPass has a variety of features that enhance the users' experience. Some of these features include:
Password Sharing
With LastPass, you can share passwords and any date with other LastPass users. You can choose whether the person you're sharing the password with can see the password you have shared or not.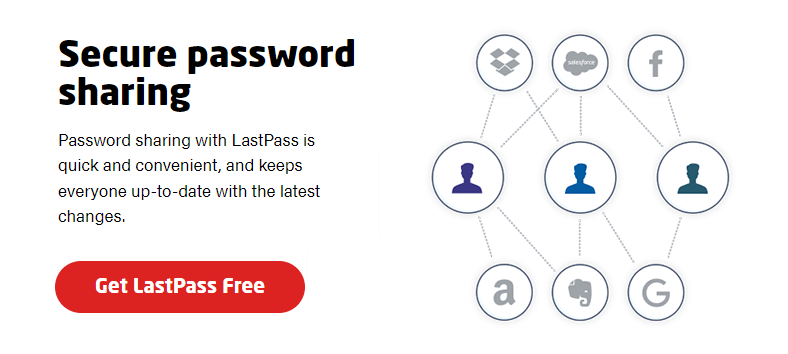 If the person using the password no longer needs access to the password, you can revoke access at any time. This feature is useful when sharing passwords for streaming websites or gaming websites that involve sharing an account.
Country Restrictions
When creating your LastPass account, you can log in from anywhere in the world. If you want to add another layer of protection to your account and you don't travel often, you can restrict access from certain countries. This makes it harder for hackers to gain access to your account.
Emergency Access
Emergency access is a feature that allows you to give access to your LastPass account to a trusted individual. This gives someone access to your account and passwords in case of an emergency. You can give someone immediate access to your LastPass account or have a waiting period of up to 30 days.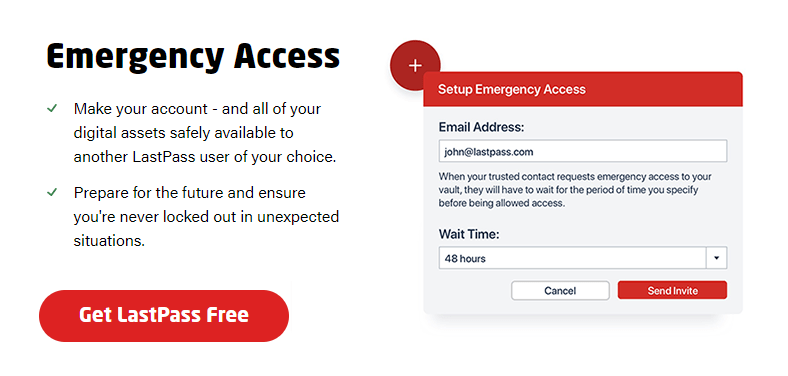 One-Time Password
This feature allows you to receive a one-time password. This password can be used to log in to your LastPass account from a device you may not trust. This makes it easier to log into your LastPass count without worrying about leaking your master password.
Credit Monitoring
LastPass can monitor your credit reports through your account. This feature allows LastPass to notify you if anything happens with your credit report that may indicate a compromised identity.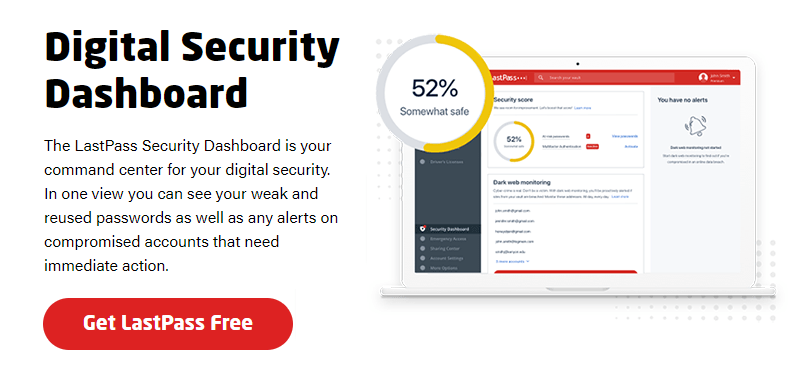 LastPass doesn't just save your passwords for you but also has various features like the ones above that add to its value. Having different program features like the ones available with LastPass allows the browser extension to be more user-friendly.
Is LastPass Secure?
When entrusting your passwords to a browser extension like this, it's good to make sure the extension is secure. The ultimate goal is to have peace and mind that your passwords are secure and strong.
The first way LastPass stays secure is by using a two-factor authentication process. This requires you to identify yourself in two different ways when logging into your LastPass account.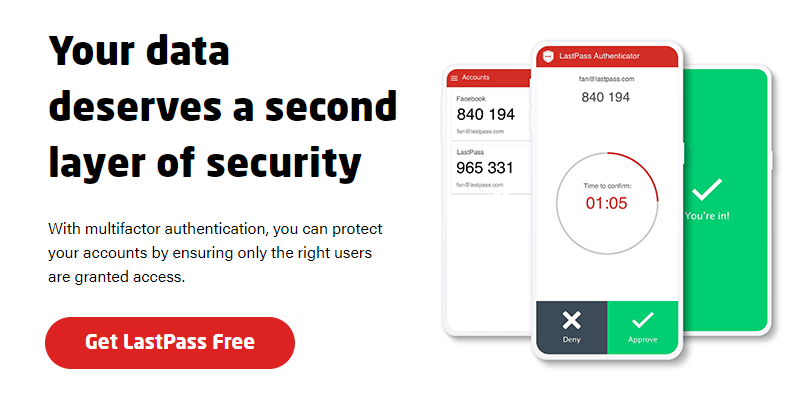 Depending on your computer or desktop, you will either enter a code or scan your fingerprint as the second form of authentication. You can also use 6-digit codes, SMS codes, or push notifications to identify yourself as well.
LastPass offers a variety of supported two-factor identification methods easily accessed through your account settings. From there you can choose which method works best to secure your account.
LastPass features strong encryption algorithms to keep your passwords safe and secure within the cloud. Any data you are inputting into your password vault is kept safe with local data encryption as well. Even LastPass does not have access to your passwords.
Overall, LastPass has a variety of methods in place to ensure your data is kept secure within their database.
LastPass Costs
There are three pricing plans LastPass offers. They range from 0-$4 a month billed annually or $36-$48 a year. Depending on the pricing plan you choose, the features will vary. The plan options include free, premium, and family.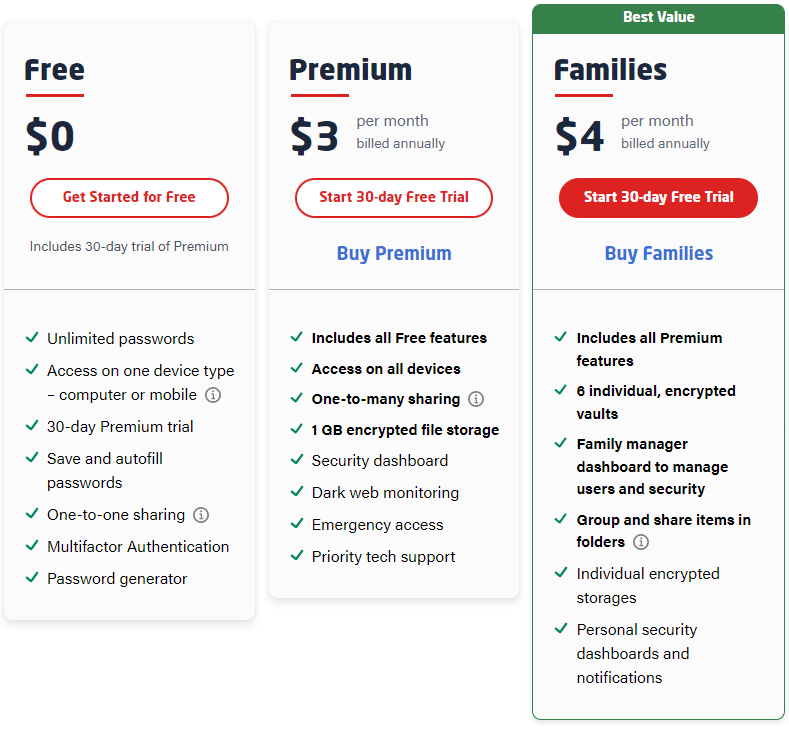 The free LastPass plan is free for anyone. Some of its features include:
1 user
One to one sharing
Auto-sync passwords
Password generator
Password vault
Secure notes
Multifactor authentication
LastPass authenticator
Self-service resources
The next step above the free plan is the premium plan. The premium plan is $3 a month or $36 annually and includes all the features of the free plan plus:
One too many sharing
1Gb file storage
Security dashboard and score
Dark web monitoring
Emergency access
Advances multiple-factor authentication options
Personal support
The final plan available is the family plan. The family plan is $4 a month or $48 billed annually. It includes all the features of both the free plan and the premier plan and also includes: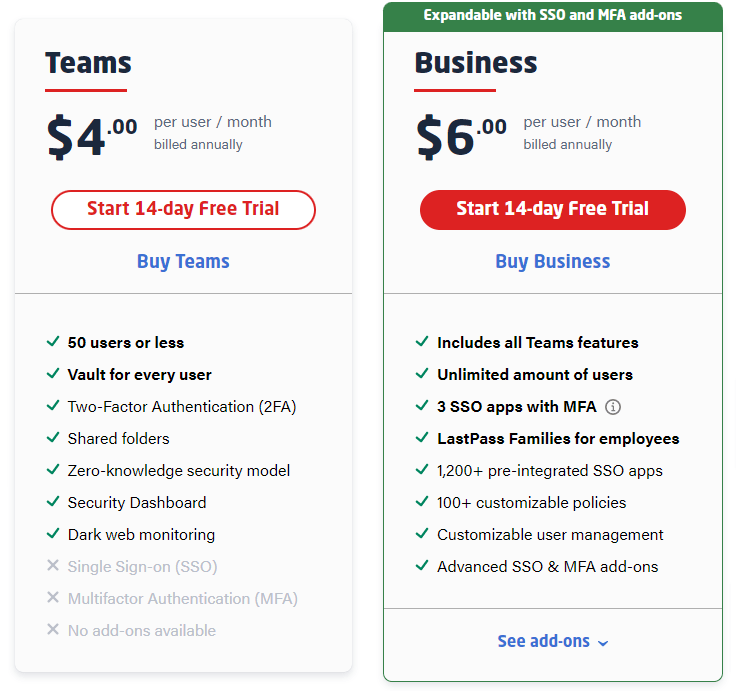 LastPass offers a variety of plans to suit anyone's needs when it comes to securing your passwords in a one-stop location. A free trial is also available with LastPass. The free trial gives you access to all the features available for a short period. Once you use up the free trial, you can upgrade to a premium or family plan. If you don't want to upgrade, you can continue using the free version of LastPass.
Next Steps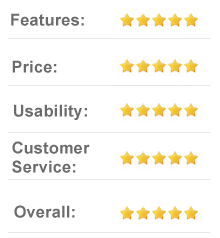 LastPass is a great solution when choosing a way to protect and secure your passwords. With their plethora of features available and a range of payment plans to suit anyone's needs, they are easily accessible.
LastPass aims to be your last password by securing all your current passwords, helping with generating passwords, and ensuring your information is safe from the dark web. Overall, LastPass is a great choice for password protection and will come in handy the next time you forget a password.