Cryptocurrency enthusiasts are always searching for products to help them secure and manage their investments. Ledger is a leading producer of cryptocurrency wallets designed to protect your crypto assets by keeping them offline and away from hackers. Ledger also offers a software application to help users keep manage all of their crypto investments.
If you invest in cryptocurrency, Ledger is a company providing security solutions worth considering. In this article, we'll explain what Ledger offers.
About Ledger
Ledger's mission is to provide security solutions for crypto assets, including cryptocurrencies, Initial Coin Offerings, data assets, Internet of Things devices, and digital identities. Eight experts in embedded security, cryptocurrencies, and entrepreneurship founded Ledger in 2014. The French startup has over 130 employees with offices in Paris, Vierzon, and San Francisco.
Ledger creates products to secure cryptocurrencies and is well-known for its cryptocurrency wallet hardware. The company developed an operating system, Bolos, which secures its various products. No other company uses this technology.
The company is best known for its two cryptocurrency wallets: The Ledger Nano S, The Ledger Nano X, and the Ledger Blue, which comes equipped with a touchscreen. These wallets provide direct support for 23 cryptocurrencies plus many more using third-party applications.
Another part of Ledger's business is providing enterprise solutions. They customize infrastructure solutions businesses can use to protect their crypto assets. Ledger counts hedge funds, individuals with a high net worth, and banks among their customers. They also work with top names in various industries on blockchain use cases.
Ledger's Top Features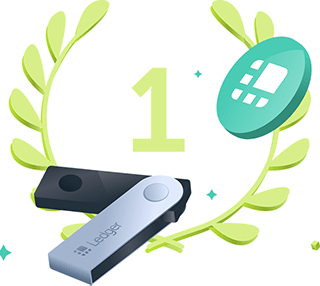 Ledger is overflowing with tools to help you with your cryptocurrency pursuits. Whether you need to secure your cryptocurrency's private keys in a hardware wallet or need an application for trading Bitcoin, Ethereum, or another cryptocurrency, Ledger's got you covered. In this section, we'll look at the following features Ledger offers:
Ledger Hardware Wallets
Ledger Live
Ledger Academy
Ledger Hardware Wallets
Ledger is a leader in producing hardware wallets for storing cryptocurrencies. A hardware wallet is an offline plugin device that allows you to access your crypto assets from anywhere securely. These wallets securely store your cryptocurrency's private keys. They are preferable to software because they aren't hackable, are immune to viruses, and make transactions easy.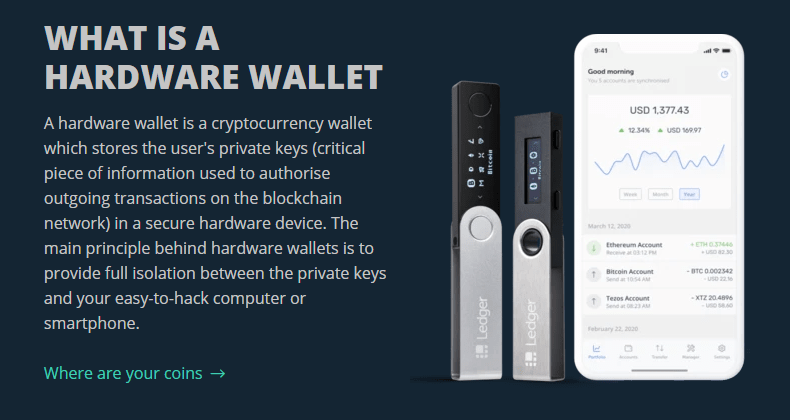 Ledger makes two hardware wallets: The Ledger Nano X and the Ledger Nano S. They are designed to keep your cryptocurrencies safe from online threats. The Ledger Nano S debuted in 2016 and quickly became a favorite of crypto enthusiasts. An updated version, Ledger Nano X, launched in 2019. These ledger wallets have consistently outpaced the competition.
Ledger Nano S features include:
Tamper-proof memory area: only accessible using Ledger's BOLOS operating system.
Secure element: protects private keys, locked with a pin code.
Private keys: never leave the protected area.
Connecting your Ledger Nano S to an infected device won't put your cryptocurrencies at risk because the Ledger Nano S keeps them protected at all times. Two buttons on the device's screen control transactions. Both buttons must be pressed to sign and send transactions. Since you must physically press buttons to sign a transaction, malware can't steal your currency.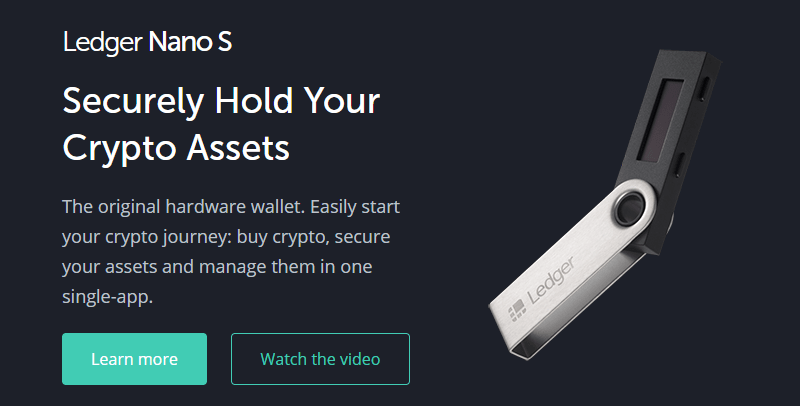 The Ledger Nano X uses the same security procedures as the Ledger Nano S. It's security chip element is stronger than the Nano S security chip element. Unlike the Nano S, you can use Nano X with mobile devices. It comes with integrated Bluetooth with end to end encryption, allowing it to connect wirelessly with your tablet or smartphone via the Ledger Live Mobile app.
Ledger Live App
The Ledger Live app allows you to manage your crypto assets using your computer. Ledger calls their app "the one-stop-shop for your crypto." The app is compatible with Windows, macOS, and Linux computers. You can configure the app using either an existing or new Ledger wallet. After the app checks the integrity of your device, you can use it to manage your wallet.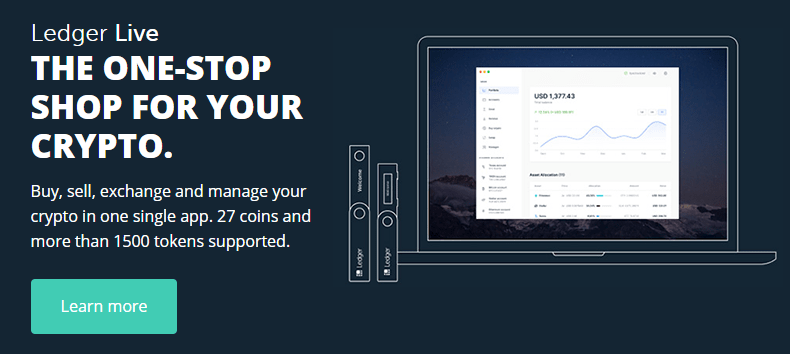 You can do the following with the Ledger Live App:
Buy crypto: Ledger has partnered with Coinfy so that you can buy crypto directly in the Ledger Live app. Whether you want to buy Ethereum, Bitcoin, Bitcoin Cash, or dash, you can do so with the Ledger Live app using a credit card or bank transfer. Your crypto is sent directly to your hardware wallet after your purchase.
Manage your assets on the go: With Ledger's, Nano X connected to the Ledger Live Mobile App via Bluetooth or using an OTG cable to connect your Ledger Nano S to an Android smartphone to manage you can secure and manage your crypto assets wherever you go.
Unlimited: You can manage as many cryptocurrencies as you want using the Live Ledger App. You can find out if the Ledger Live App supports your assets here.
Earn Rewards: Earn money in the Ledger Live App by staking Tezos. You stake Tezos by keeping money in a crypto wallet to support the blockchain network's operations. It's the equivalent of getting paid interest for holding cash in a savings account.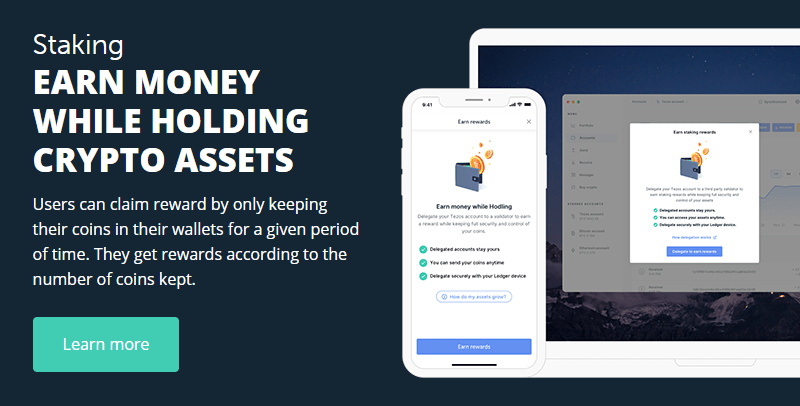 Create Multiple Wallets: the Ledger Live app lets you create multiple wallets for different purposes. For example, you could create a wallet for savings and another for shopping. It's a great way to organize your crypto assets and tokens.
Hide Tokens: To get an accurate view of your most important assets, you can hide tokens in the Ledger Live app.
Export Transactions: The Ledger Live app allows users to export an overview of the history of their operations. This can come in handy when doing taxes.
Protects Your Assets: Using the Ledger Live app, you can protect your emails, accounts, and more from hackers.
Costs
Ledger's website is free to use and has a wealth of information for those new to cryptocurrency. The Ledger Nano X costs $119, and the Ledger Nano S costs $59.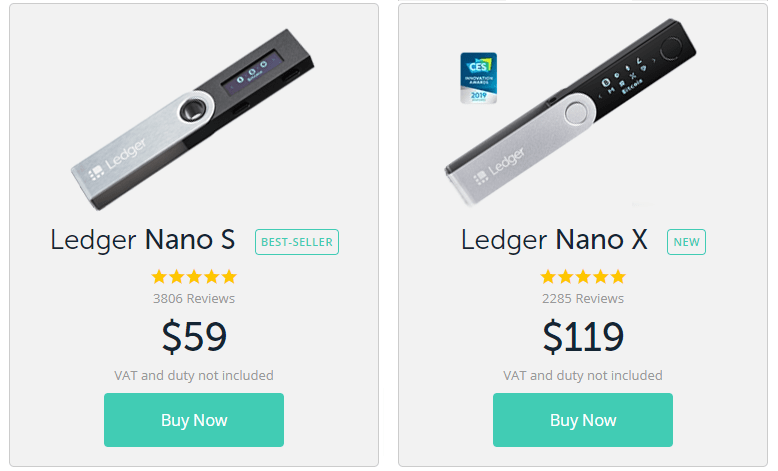 Ledger Academy
If you're new to the crypto world or an expert looking to refine your knowledge, the Ledger Academy is a one-stop shop for everything related to cryptocurrencies. The Ledger Academy covers topics such as blockchain, crypto, and security. You can learn everything from blockchain basics to how to add accounts to the Ledger Live App.
The Ledger Academy has several modules, including:

Blockchain
This module explains everything you'd ever want to know about blockchain, including what blockchain is, how to read a blockchain's transaction history, public vs. what are public and private keys, and what is proof of work.


Crypto
This section introduces you to crypto basics. Some of the topics include financial freedom, what it means to be your own bank, selling crypto, what is Ethereum 2.0, and what is a swap.


Hardware Wallet
If you've never used a hardware wallet or want to take full advantage of the wallet you have, you'll want to check out this module. Topics include how to make sure your crypto is safe, Leger and third-party wallets, and different options to protect your funds.


Security
This is an excellent place to start if you want to understand security principles. The modules include how to keep your crypto safe against scams, why two-factor matters, malicious wallet app, do you have a wifi password and the importance of certification.

The Ledger Academy also includes a section with tutorials for learning how to use all of their products. The academy's modules are labeled based on difficulty. Currently, there are only beginner and medium level courses.
Ledger Customer Support
Ledger doesn't provide support via the phone or live chat and only guarantees French and English support. If you have a problem with a Ledger product, you can fill out a help request on their website describing your issue. They'll email you a response. Their website does not indicate how long you may have to wait for an answer.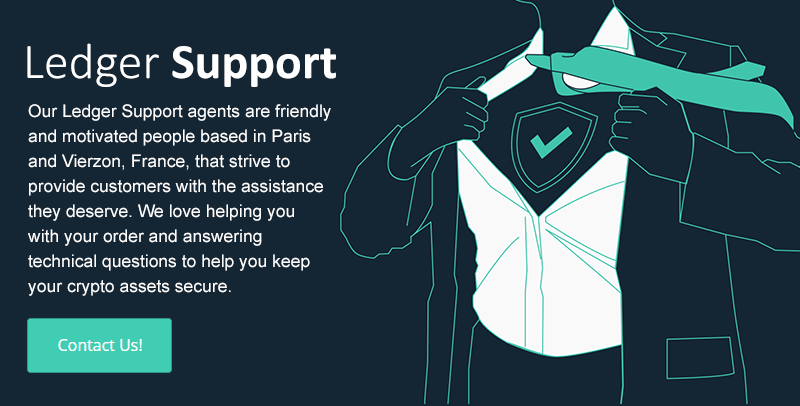 Although Ledger's customer support is a bit sparse, they do have an extensive FAQ section. They also have help sections for each of their products, which includes a troubleshooting section. The Ledger support page lists the latest security-related announcements and has a must-read section. You can also check the Ledger's system status on the support page.
Ledger Licenses
Ledger gives users personal, non-transferable, non-exclusive, and worldwide license to use its products software. They prohibit the copying, notification, distribution, selling, or renting of any of their software products. The license enables you to use their products and the associated features. None of this applies to the open-source licenses that Ledger has made available.
Ledger also prohibits the alteration of its products, including removing labels or distinctive features or trademarks. The inbox content should not be modified unless it's required to comply with local laws. Users may not reproduce or let a third-party reproduce any part of the products.
Final Thoughts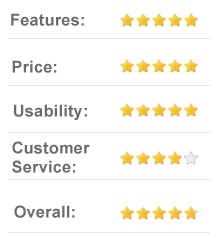 Securing crypto-assets should be a top priority for anyone who invests in cryptocurrencies. Ledger understands the importance of creating products to ensure people can keep their assets safe. Ledger offers comprehensive security solutions, including hardware wallets that let you store your assets securely offline and software that allows you to manage all things crypto.
Ledger is an industry leader for a reason. Their products deliver on their promise to keep crypto-assets safe from hackers and malware. If you own cryptocurrency, a Ledger hardware wallet is a worthy investment. We recommend you make use of all of the information available in the Ledger Academy to ensure you stay up to date on the crypto world.