Lefeet is a company with a team of underwater technology experts who produce high-end aquatic products. Their sea scooter put them on the map as a competitive business in the underwater world, making people from across the globe seek this product.
This review will cover background information on Lefeet.com, its features, products, pricing and other crucial elements to know as you consider whether to buy from them.
About Lefeet.com
Lefeet is a company that produces underwater products using cutting-edge technology. They have a team of experienced engineers and researchers to design the most advanced aquatic devices.
Not only does Lefeet.com produce innovative products, but they often influence trends in the underwater technology industry.
One of the products that they're most famous for is their Lefeet S1 PRO scooter. They also offer several other scooter types, and they sell several accessories and spare parts.
Top Features of Lefeet.com
Purchasing a Lefeet product comes with many benefits. Below are some of the most notable features they offer.
Furthermore, you should only operate Lefeet scooters in areas where regulations permit them. Doing so is for your safety, as underwater objects or passing boats can create a hazard.
Groundbreaking Technology
You'll be the envy of your fellow underwater explorers when you cruise around in one of Lefeet's scooters. They designed their scooters to move quickly and smoothly through the water, offering an unparalleled experience compared to other aquatic technology.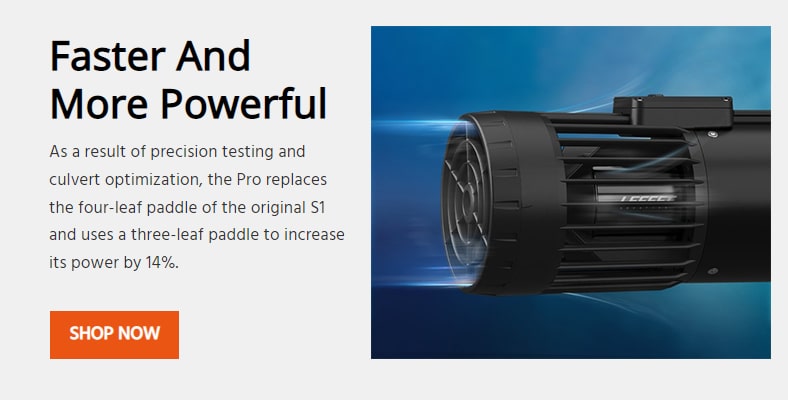 Their products also have pleasant aesthetics, and they're portable, making them easy to store and carry on all your favorite underwater outings.
Hardware Warranty
Lefeet has an excellent reputation for producing quality sea scooters. However, as with anything, the stray item can have issues. So, you'll have a one-year limited hardware warranty.
The warranty starts when you purchase the product, and the body has warranty coverage for the full 12 months. In contrast, you'll receive a 6-month warranty for the battery. In some cases, Lefeet might even replace the product, depending on the damage.
Fixable Parts
If you experience an issue with your Lefeet sea scooter that doesn't fall within the warranty coverage, the good news is that you don't necessarily have to invest money in a new product.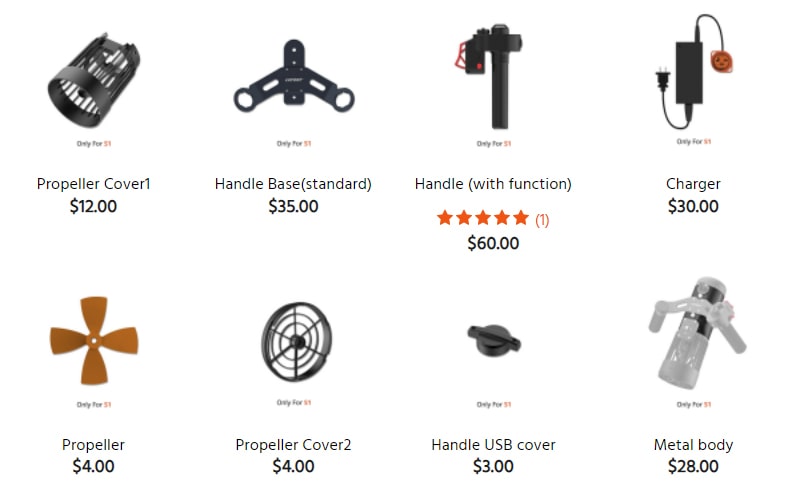 Instead, you can head to Lefeet's spare parts page, where you can order several replaceable parts. Examples include:
Propeller cover
Metal body
Of course, it isn't likely that you'll need to replace parts often because of Lefeet's superb design. However, if you need to fix something, they make it easy, unlike so many products these days where companies force you to purchase a new one instead of repairing the current one.
Worldwide Shipping
Lefeet's home base is in Shenzhen, China, but they ship their products across the globe, meaning that you can order them from anywhere.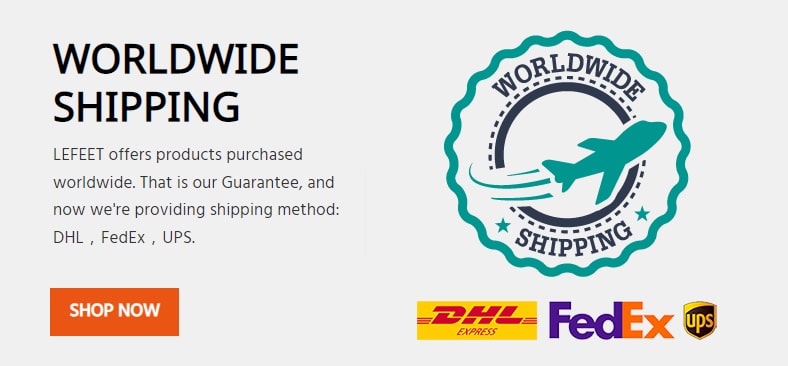 Once you place your order, they'll send your product through one of the following three methods:
The only downside is that there might be a shipping charge, depending on the product and your location. At the time of checkout, you'll know what the shipping charge is so you can determine if you want to move forward with your purchase.
Many Payment Options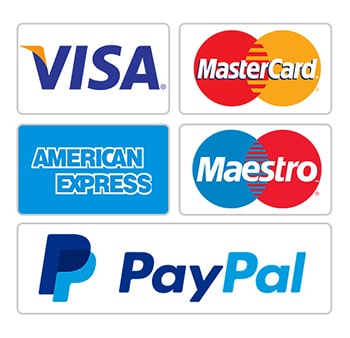 Even though Lefeet operates from China, they offer many payment options that are familiar to people worldwide. Examples include:
Credit cards (Visa, Mastercard, Discover and American Express)
PayPal
UnionPay
So, you can purchase your Lefeet product through whatever means you're comfortable with.
Lefeet Costs
If you're ready to become part of the Lefeet family, below are the costs and product overviews of their top-selling underwater scooters and accessories.
Lefeet S1 PRO Sea Scooter
The S1 PRO costs $859, although you can currently purchase it for $759 on Lefeet.com. It's the newest model of Lefeet scooters, offering a 5% more compact size than the S1, thanks to its modular design.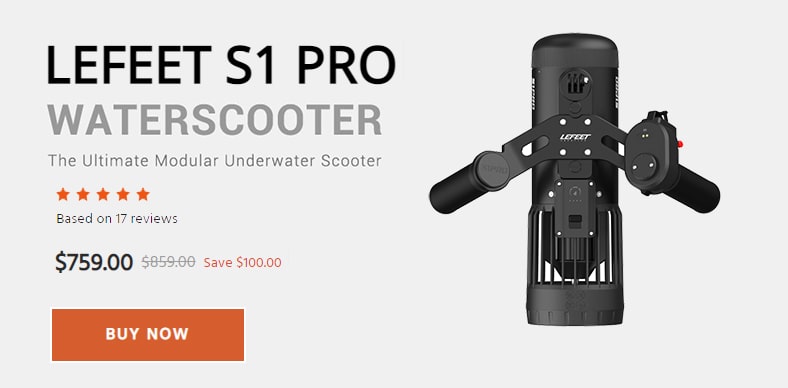 By purchasing the S1 PRO, you'll also receive 14% more power, which equates to 18 pounds of thrust.
Long battery life is another factor that makes the S1 PRO a more expensive but excellently valued product. You'll be able to use it between 45 and 70 minutes before recharging it. If you want to keep exploring after the 70 minutes is up, no problem — simply swap out the battery with a spare.
You'll receive other features by paying for the S1 PRO, including the device functioning up to 40 meters deep and wireless control.
Lefeet S1 Sea Scooter
The S1 scooter has a retail value of $799, with a $100 savings if you purchase it on Lefeet.com.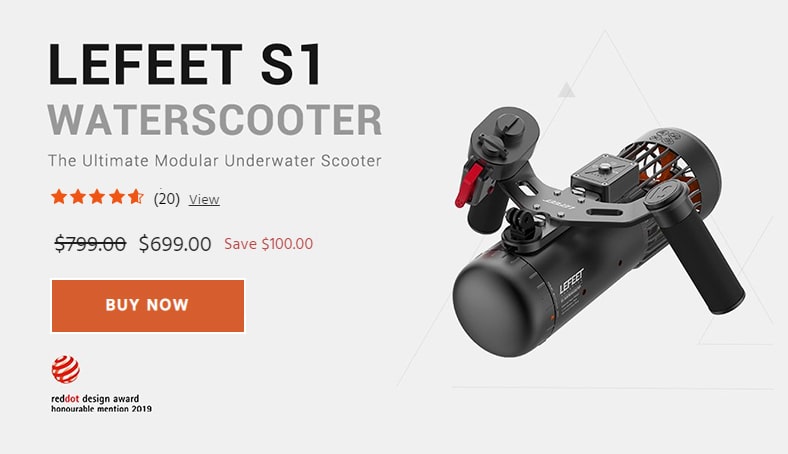 Given that this scooter is less than a $100 difference from the new S1 PRO, it makes sense to shell out a few dozen more dollars for their latest model.
Lefeet C1 Sea Scooter
Lefeet advertises its C1 model as the most versatile modular underwater scooter. It's also the most economical, coming in at $499.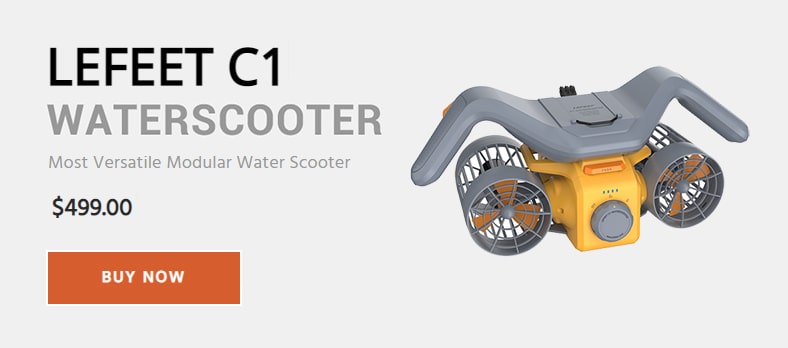 However, the C1 is bulkier, and it's one of Lefeets earlier designs. So, you won't have the same power that the S1 and S1 PRO offer.
Battery (S1 and S1 PRO)
Your Lefeet sea scooter comes with a battery. Having a second battery, which you can purchase for $145, is an excellent option if you want to spend more than 45 – 70 minutes in the water without interruption for charging.
The average charging time is 2.5 hours. An extra battery will add a little weight to what you're carrying around, but since it comes in at under two pounds, it won't be excessive.
Gear Backpack
You're welcome to carry your sea scooter in any bag, but for $119, you can purchase a Lefeet-made bag.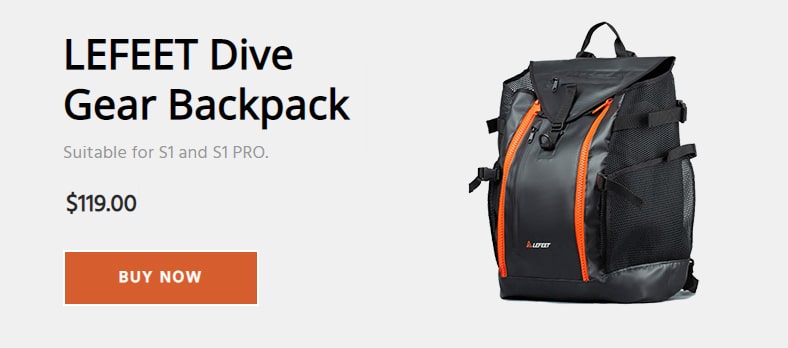 The bag measures 50 cm x 18 cm x 40 cm, having the capacity to hold a massive 45 liters. Furthermore, it contains two mesh side pockets large enough to hold fins.
Since you'll be around water when using your sea scooter, Lefeet designed their bag to have a top and front waterproof storage area. It also has a spill-proof container that collects excess water when keeping the bag seated upright.
Customer Support
Lefeet.com prides itself in offering excellent customer service before, during and after your purchase. The best way to contact them with questions is via their live chat.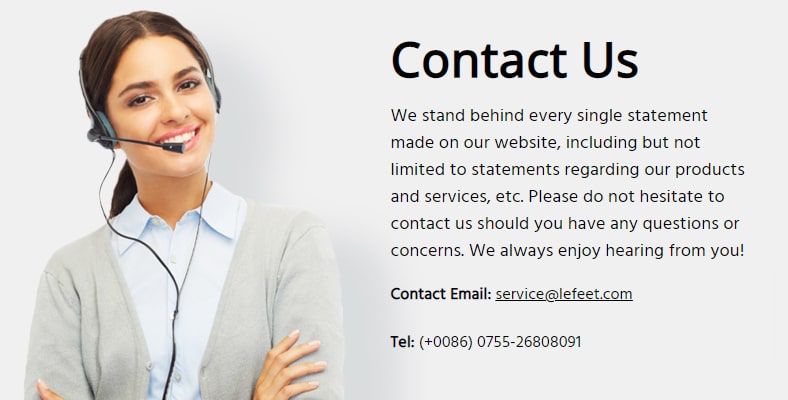 You can either log into Facebook Messenger or continue as a guest to chat with them.
Alternatively, you might be able to find answers to your questions on their FAQs page in the help center.
In either case, you can expect to encounter a friendly and knowledgeable team of people ready to help you with any inquiries you have about your current or future Lefeet product.
Lefeet Regulation
We encourage you to read the Safe Use section on Lefeet.com, as they talk about the regulations and safety measures they have in place.
Using an underwater scooter is safe. Abusive use or the occasional defective product can still create a hazardous situation. For this reason, Lefeet says that everyone must read their user manual and practice good judgment.
You're responsible for any mishaps if you become injured while using a Lefeet product. You should wear appropriate protective gear to reduce the chance of injury.
Some of the most significant regulations and risks to keep in mind include:
Never use a Lefeet scooter below 40 meters deep
Lefeet products will burn if you turn them on above water
Children under 14 years old shouldn't use this product
Never use a Lefeet scooter while under the influence of drugs or alcohol
Always wear a life jacket, pull back long hair, and dress in tight-fitting clothes
Final Thoughts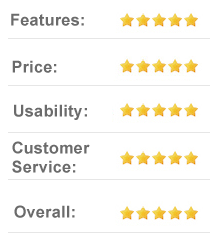 Using a Lefeet scooter will undoubtedly cause people to turn their heads while snorkeling or diving around you. Using these scooters is a unique, easy, and largely safe way to explore the aquatic world.
Although the noise level on Lefeet's scooters is loud enough that it might scare some nearby marine life, the reality is this is the case across many underwater scooter brands.
Lefeet.com makes their scooters compact so that you can easily transport them. You can even carry on its battery in an airplane. So, what are you waiting for? If you're looking for a new, modern, and energy-efficient way to explore underwater, check out Lefeet.com to see if their products are the right fit for you.