Investing doesn't have to come with costly management fees. While that's the reality for many retail investors, companies like M1 Finance aim to combat that by providing consumers with a self-managed robo-advisor investment platform.
Today, I'll be taking a closer look at M1 Finance. I'll review its investing features, as well as its other services, such as its rewards for using its checking account and the ability to take out loans with your investment funds as collateral.
Let's start.
About M1 Finance
M1 Finance was founded in 2015. It's based in Chicago, and it currently manages billions of dollars in investment funds.
Its mission is to help people save time and money when investing. Instead of paying for an investment advisor, you can use its robo-advisor services to make quick, solid investment decisions that can help you secure your financial future.
M1 Finance Features & Services
Let's quickly review the different features that M1 Finance offers.
Robo-Advisor Investing
Perhaps the service M1 Finance is most well-known for is its investing platform. With M1 Finance, you can choose from 80 expert portfolios or create a custom portfolio.
M1 Finance allows you to own any stock or ETF with fractional shares, even if you don't have enough money to buy a full share. Many other investment platforms do not allow you to own fractional shares.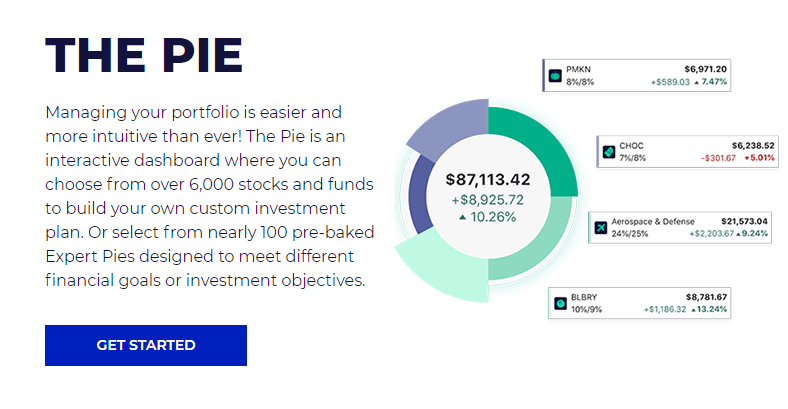 Building a portfolio is easier than ever with M1Finance.com's pie charts. These charts help you visualize your investments and decide how much of your portfolio to allocate to each one; there are over 6,000 stocks and funds to choose from.
You can quickly skim through 100 expertly-built pies and choose one. There are also community pies — these are pies that help you support a certain demographic.
For example, one pie focuses on women-led companies, while another focuses on corporations with LGBTQ+ executives.
If you decide to create a custom pie, you're not limited to one. You can make multiple pies, each focusing on a different selection of investments and guided by further investment and growth goals.
You can then combine all those pies in your main portfolio pie to help you reach all your goals.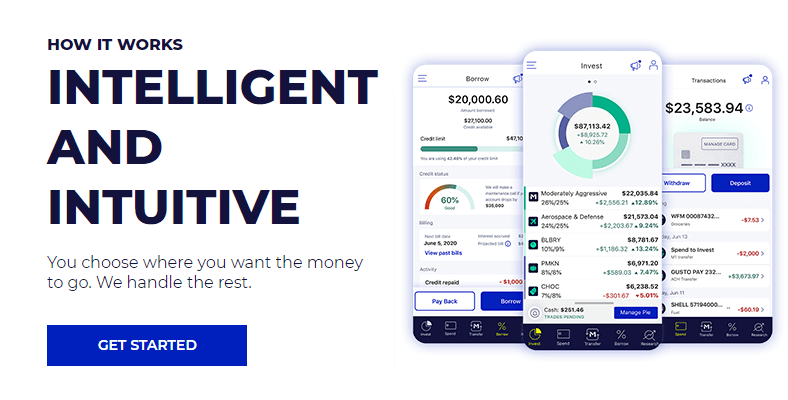 Although you can manually buy and sell stocks, you don't have to; M1Finance.com's automation features are designed to help the average person, busy with work and other obligations, prepare for the future.
The platform will automatically add money to your investment portfolios according to the investment schedule you set up. You can decide how often you want to add money to your investment account and how much you want auto-deposited each time.
M1 Finance will use dynamic rebalancing with every automatic deposit to ensure you reach your asset allocation goals.
Borrow Against Your Portfolio
You can take out cash loans using your investment portfolio as collateral. With rates starting at just 2%, M1 Finance beats other popular competitors like TD Ameritrade. You'll need M1 Plus to qualify for that low rate (more on M1 Plus soon). Otherwise, the rate will be 3%, which is still very low compared to the top competitors.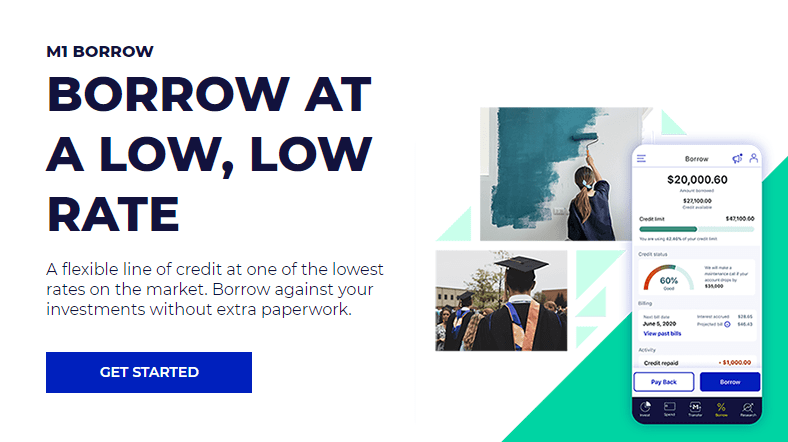 You can only borrow up to 35% of your investment fund, and it's only available for margin accounts that have a balance of at least $5,000. For example, if your balance is $10,000, you can take out a $3,500 loan.
Paying back your loans is easy with the auto-payment feature.
M1 Spend — Manage Your Budget
M1 allows you to track your spending and manage your budget using its debit card. You can move money between your investment and spending accounts quickly. There is no minimum balance, and M1 Finance will even reimburse one ATM fee per month. M1 Spend comes with FDIC insurance up to $250,000.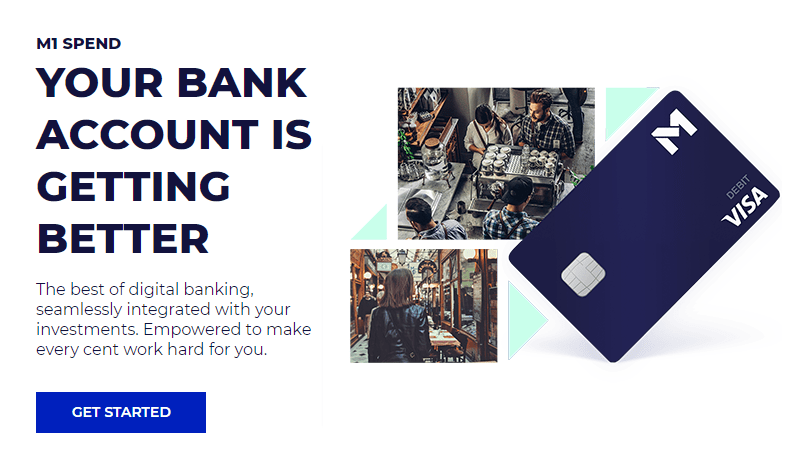 It doesn't stop there. If you have M1 Plus, you get additional perks, including 1% cashback on purchases. If you don't spend the money in your M1 Spend account, you'll still earn a 1% APY — so you're earning 1% either way! You'll feel no pressure to spend extra money just to earn cashback rewards.
With M1 Plus, you also get four ATM fees reimbursed per month, giving you more flexibility with withdrawing your cash anywhere. If you have M1 Plus, there are no international fees, making using the card abroad a good choice.
M1 Credit Card & Rewards
If you want to take your rewards to the next level, consider getting the M1 credit card. Standard cashback rewards with this card are 1.5%, but purchasing from some brands will win you 5% or 10% cashback rewards.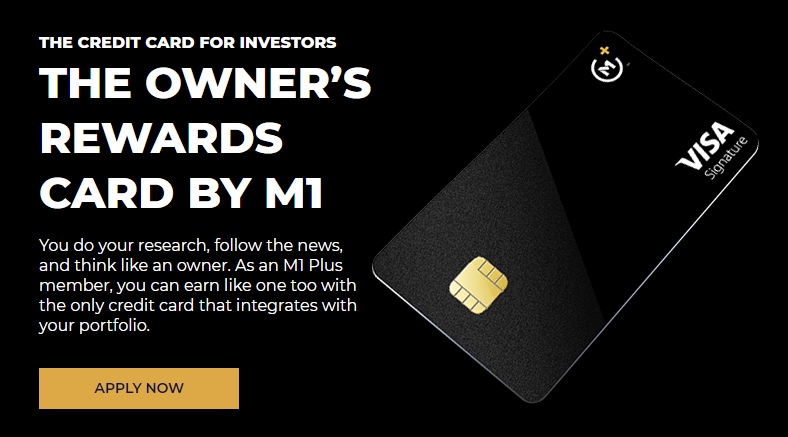 The M1 credit card integrates with your portfolio, like the M1 debit card.
However, this credit card is not yet available. You can join the waitlist here; refer to that page for any future updates. Also, you'll need to be an M1 Plus member to be eligible for the credit card.
Reasons to Join M1 Finance
M1 Plus is a premium membership option that will give you additional perks as an M1 member. The first year is free, but after that, it will cost you $125/year.
I've already discussed how M1 Plus can help you save money by giving you rewards for putting money on your M1 Spend debit card. Those rewards alone may make the $125/year fee worth it. You also get lower interest rates when you take out loans.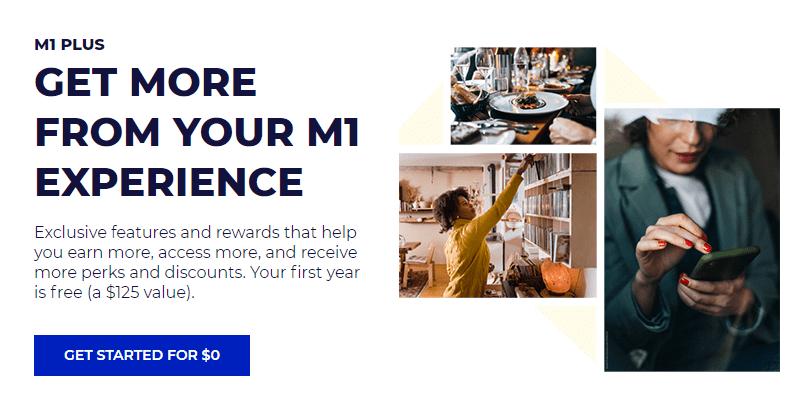 Some other advantages of having M1 Plus include being able to write checks from your debit account and being able to set up custodial accounts.
What Types of Accounts Can I Set Up?
M1 Finance supports the following account types:
● Individual brokerage accounts for buying stocks, ETFs, bonds, and more
● Joint brokerage accounts you set up with your spouse, child, or someone else
● Custodial accounts you set up for a minor
● The following retirement accounts: IRAs, Traditional IRAs, Roth IRAs, and SEP IRAs
● Trust accounts
You can see an updated list of supported accounts here.
M1 Finance Fees & Commissions
Unlike other platforms, M1 Finance doesn't charge any management fees. That means you can essentially invest and trade for free without paying any money to use the M1 robo-advisor platform.
Furthermore, M1 doesn't charge any sort of withdrawal or deposit fees to transfer money to or from your connected bank account to M1. It also doesn't charge any commissions or markups on trades, so you won't lose any money when investing.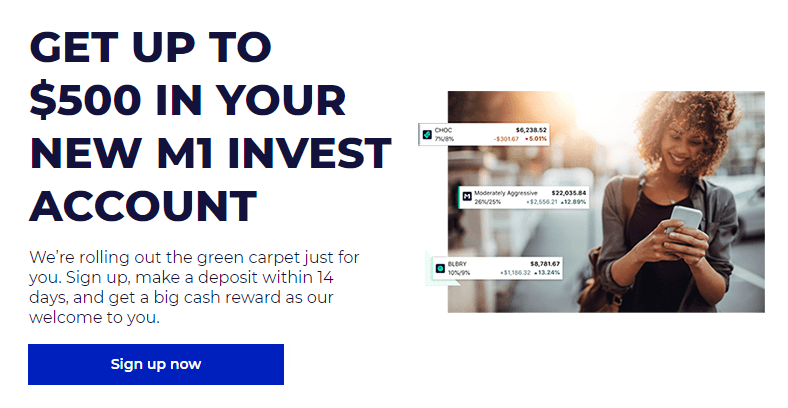 M1 can afford that because it only trades during two trading windows daily. That's a bit of a con, but it's a small price to pay for free trading and investing.
Nonetheless, M1 does charge some transactional fees. For example, you'll need to pay to get paper account statement copies. You'll also be charged fees for terminating an IRA, having an inactive account, and more. I'd suggest looking at the fees scheme for more details.
M1 Finance Customer Service
Visit the M1Finance support center to see help articles or to submit a help ticket online. You can also reach the support team by phone or email. M1 Finance's email is support@m1finance.com, and the phone number is (312) 600-2883.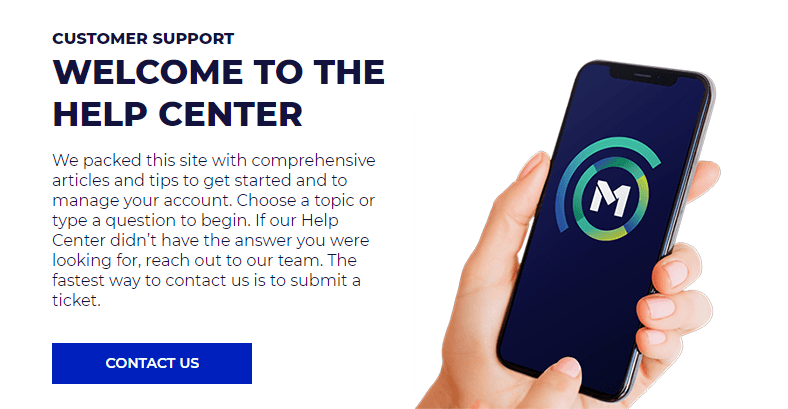 Is M1 Finance Safe to Use?
Yes, M1 Finance is very safe to use. It uses military-grade encryption to protect your data, with various safeguards in place to protect your funds. Two-factor authentication ensures nobody else can access your money, but if you're using the mobile app, you can quickly sign in using your fingerprint or facial recognition software (if your phone has one).
Do be aware that FDIC insurance only covers up to $250,000 in M1 checking accounts. If you put in more than that, you won't be insured. Also, investment funds are insured up to $500,000 by the Securities Investor Protection Corporation. Altogether, M1 insures funds up to $750,000; that's more than enough for most people.
Final Thoughts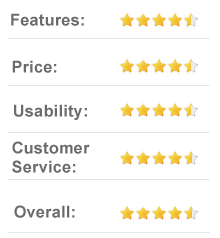 So, Is M1 Finance worth it? I'd say yes. It's rare to find an investment platform without management fees and trading commissions. Despite having some disadvantages, such as trades only being placed during one or two trading windows daily and only offering buy and sell orders, M1 Finance is an excellent platform.
You can invest your money securely in the knowledge that if you ever need some cash later, you can take out a cash loan with your investment as collateral. That way, you don't have to keep extra cash in your account to cover unexpected expenses.